Traveling to Nepal, Tibet, and Bhutan in one trip is an amazing adventure that covers three of the most stunning places in the world.
Tibet and Bhutan are predominantly Buddhist in terms of religion as well as culture. Despite Nepal being the birth country of Buddha, only nine percent is Buddhist, with Hindu taking a leading role. This leads to a diverse and beautiful journey.
Location of Nepal, Tibet, and Bhutan
Tibet, Nepal, and Bhutan are the main Himalayan regions of Southeast Asia. The largest of the three is Tibet, which covers almost the entire Tibetan plateau, with the exception of some lower-altitude areas in Sichuan and Qinghai Provinces of China. Ringed to the west and south by the Himalayan Mountain Range, Tibet is a vast land at the roof of the world, on the highest plateau on the planet that attracts millions of tourists to come for Tibet tours.
To the west of Tibet lies Nepal, a relatively small country that has India on all its other sides. Slightly rectangular in shape, Nepal is a landlocked country that has the Himalayas on its northern border, shared with Tibet Autonomous Region of China.
To the south of Tibet, surrounded on it other borders by the Indian states of Arunachal Pradesh and West Bengal, lies the small, landlocked kingdom of Bhutan. The last true Himalayan Kingdom and known as the last Shangri-La in Asia, Bhutan is a small country with an even smaller population.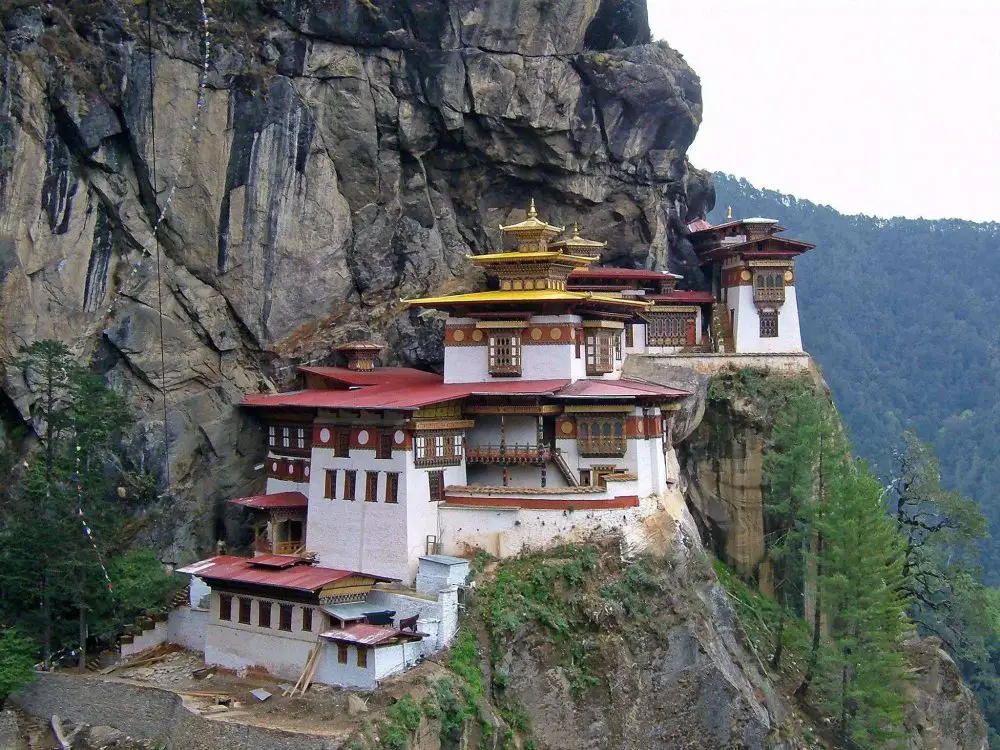 The most convenient entry
Getting around between Tibet, Nepal, and Bhutan is more usually done by flights, as this is the easiest way to travel between the capitals of the three places. While overland travel is possible between Tibet and Nepal or Nepal and Bhutan, the majority of tourists prefer the option of flying to save time.
Travel must be from Nepal
Traveling directly from Tibet to visit Bhutan and vice versa is impossible, despite sharing a border. Throughout history, since the flight of the lamas from many of the minor schools of Tibetan Buddhism in the 11th century, the border between Tibet and Bhutan has been closed, and Bhutan has remained a mainly isolated country.
There is also no flight to Bhutan from Tibet, as the Bhutanese government only permits inbound flights from five countries across Asia. In order to get to Bhutan from Tibet, one has to first get to one of those five countries, which includes Nepal, Singapore, India, Bangladesh, and Thailand. And since there are no direct flights to four of the five countries, the main option for getting to Bhutan after visiting Tibet is by traveling via Nepal.
Nepal – Tibet Flight
Flights between Tibet and Nepal run daily, several times a day, and take just 90 minutes to make the trip. Flights depart from either Tribhuvan International Airport in Nepal or Lhasa Gonggar International Airport in Tibet, depending on which way you are traveling.
Flights from Kathmandu, the capital of Nepal, and Lhasa, the regional capital of Tibet, are run only by domestic Chinese airlines, such as Air China, Tibet Airlines, and Sichuan Airlines. Flights cost around US$ 250 per person for a one-way economy flight, and Nepal has the only international airport that provides flights to Lhasa.
Nepal – Bhutan Flight
As one of only five countries that are allowed to offer flights to Bhutan, Nepal is the closest to the Himalayan kingdom in terms of distance. However, getting a flight is not as easy as you might think. Aside from there only being two or three flights per week, it is not possible to book a flight without first having booked a tour to Bhutan with a registered tour operator.
All flights to Bhutan are done using either Druk Air or Bhutan Airlines, the only two air carriers in Bhutan and the only airlines permitted to travel into the Paro International Airport. Bhutan has very strict restrictions on entry to the kingdom, and these two airlines run all the flights to Bhutan the ten airports in five countries that have permitted flight plans.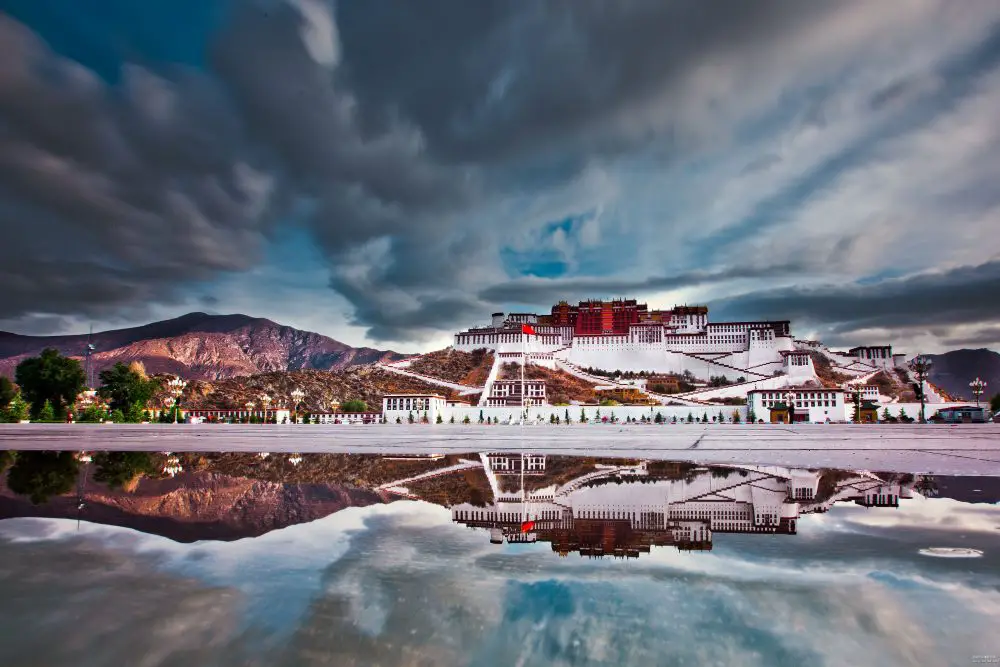 Recommended Travel Route between Tibet Nepal and Bhutan
There are really only two possible routes to use to travel between Bhutan, Tibet, and Nepal that make sense. There is not much point in traveling to Nepal and then Tibet, only to have to travel back to Nepal to visit Bhutan or vice versa.
Route 1: Arrive in Bhutan – Flight to Nepal – Overland to Tibet
Route one starts with your tour of Bhutan. Since you can get to Bhutan from India, Singapore, Bangladesh, and Thailand, as well as Nepal, you can start your tour from any of the other four countries you wish, depending on the availability of flights from your home location and from the Asian country to Bhutan.
After your tour in Bhutan, the next step is to fly to Nepal, to start the Nepali leg of your tour. Flights to Nepal from Bhutan will cost from around US$ 200, depending n the date of your flight, the airline used, and the time of year. Off-peak travel is much cheaper than peak travel to Bhutan and back. The flight takes around 1 hour 15 minutes to reach Tribhuvan International Airport in Nepal from Paro International Airport in Bhutan.
From Kathmandu, you actually have two options, to fly to Lhasa and tour Tibet on your chosen itinerary or take an overland tour of Tibet that starts at the border with Nepal, and travel by road to the Tibetan capital of Lhasa. Overland travel is one of the most popular ways to get to Lhasa from Nepal and includes visits to Mount Everest, Shigatse, and Gyantse Kumbum along the way. From Lhasa, you then have the choice of taking a flight out of Tibet or traveling by train from the Tibetan capital to one of seven gateway cities across China.
Route 2: Arrive in Tibet – Overland to Nepal – Flight to Bhutan
The alternative route is pretty much the same, just the other way around. You can travel to Tibet from many cities in China by air or by train. The train is fast becoming a more popular option, as it is cheaper by far despite taking anything from 22 to 55 hours to reach Lhasa.
From Lhasa, after a few days acclimatizing in the stunning capital, you will travel overland to Kathmandu in Nepal, traveling via Gyantse, Shigatse, and Mount Everest, as well as many other places across the plateau. After crossing the border at Gyirong Port, you will get the bus to Kathmandu, the capital of Nepal, and begin your tour of Nepal. Nepal is well-known for its hiking trails in the Himalayas, especially around the areas of Mount Everest and the Annapurna Range.
Once you are done with touring Nepal and have seen the sights of the exotic city of Kathmandu, it is then off to the Tribhuvan International Airport to get the 1-hour 15-minute flight to Bhutan. You will not be able to book the flight without a booked tour of Bhutan with a registered tour operator, and it is a good idea to book early to ensure you can get the dates you want.
In Bhutan, you will get to visit the most popular and interesting places the kingdom has to offer, all under the caring hands of your local Bhutanese guide. Once you are finished in Bhutan, you can get the flight out with Druk Air or Bhutan Airlines to either Nepal or any of the other four countries that are served by these two carriers.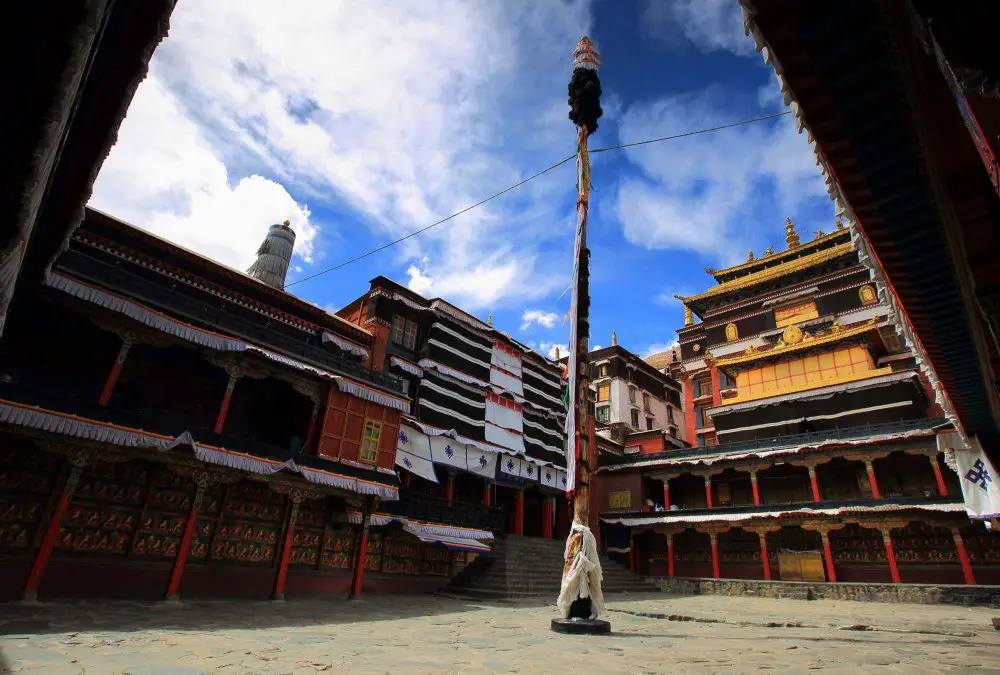 Get these travel documents before You Go
There are several documents that you will need to obtain before you even travel from your home country. These permits passes, visas, etc., are not readily available to independent travelers and must be obtained by tour operators on your behalf before you travel.
Tibet Travel Permit
The Tibet Travel Permit (TTP) is the primary permit needed to travel to Tibet, and without it, you cannot even board the train or flight to Lhasa. The permit cannot be obtained individually, and before being applied for, you need to have booked a tour with a registered tour operator such as Tibet Vista. Once you have booked your Tibet tour with us, we can make the application for the TTP, using scanned copies of your passport and Chinese Entry Visa. Processing takes around 15-20 days, so it is best to book your tour early to avoid disappointment.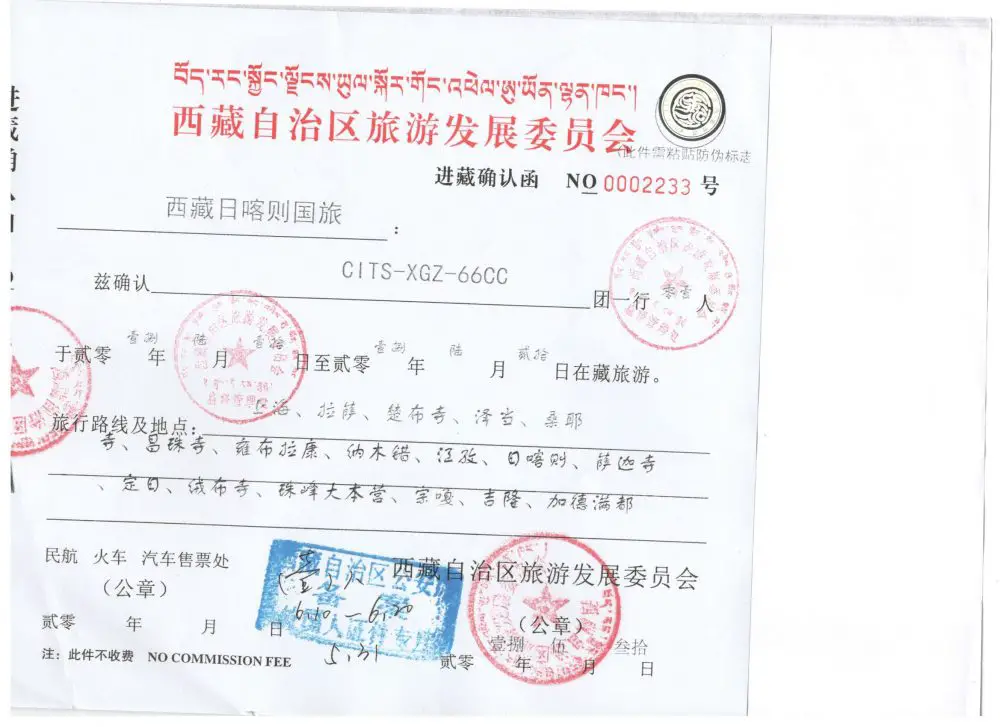 Chinese Visa
The Chinese Entry Visa is a requirement for all tourists traveling to Tibet, and which visa you need depends on where you enter Tibet from. If you are traveling from mainland China, then you need to obtain the visa before you leave your home country. China does not have a Visa on Arrival service, and all visas must be issued by the Embassy of the People's Republic of China in your home or resident country.
You will need to have a valid passport with two blank visa pages that are valid for at least six months from the date of travel to China, two passport-sized photos, a copy of your hotel booking reservation, a copy of your return flight booking reservation, your expected itinerary in China (do not include Tibet in your itinerary for the Chinese Entry Visa), and the fee for the visa.
The fee varied depending on your country of origin, and for citizens of the United States, it can be as high as US$ 140, while for others it can be as low as just thirty dollars.
Bhutan Visa
A visa for Bhutan cannot be obtained personally from any Bhutanese embassy around the world, and since most countries do not have a Bhutan Embassy, it is actually a good thing. To get the visa, you first have to book a tour with a registered tour operator, which can also be done through a registered and approved travel agent, such as Tibet Vista. Once your tour is booked, we can have your visa processed in Bhutan with the Bhutanese immigration department.
The visa for Bhutan is not forwarded to you, however. On approval, you will be sent a letter of Invitation from the Tourism Council of Bhutan (TCB), which you will need to book your flight and get into the country. A copy of the Letter of Invitation is sent to the two Bhutanese airlines as well, so it is not possible to book a flight unless you already have the LOI.
Once you arrive at the Paro International Airport in Bhutan, you simply need to show the Letter of invitation to the immigration officials, along with your passport. Once you have been checked against the approved database, your visa stamp will be issued into your passport, and you will get any permits your itinerary says you require and be allowed into Bhutan.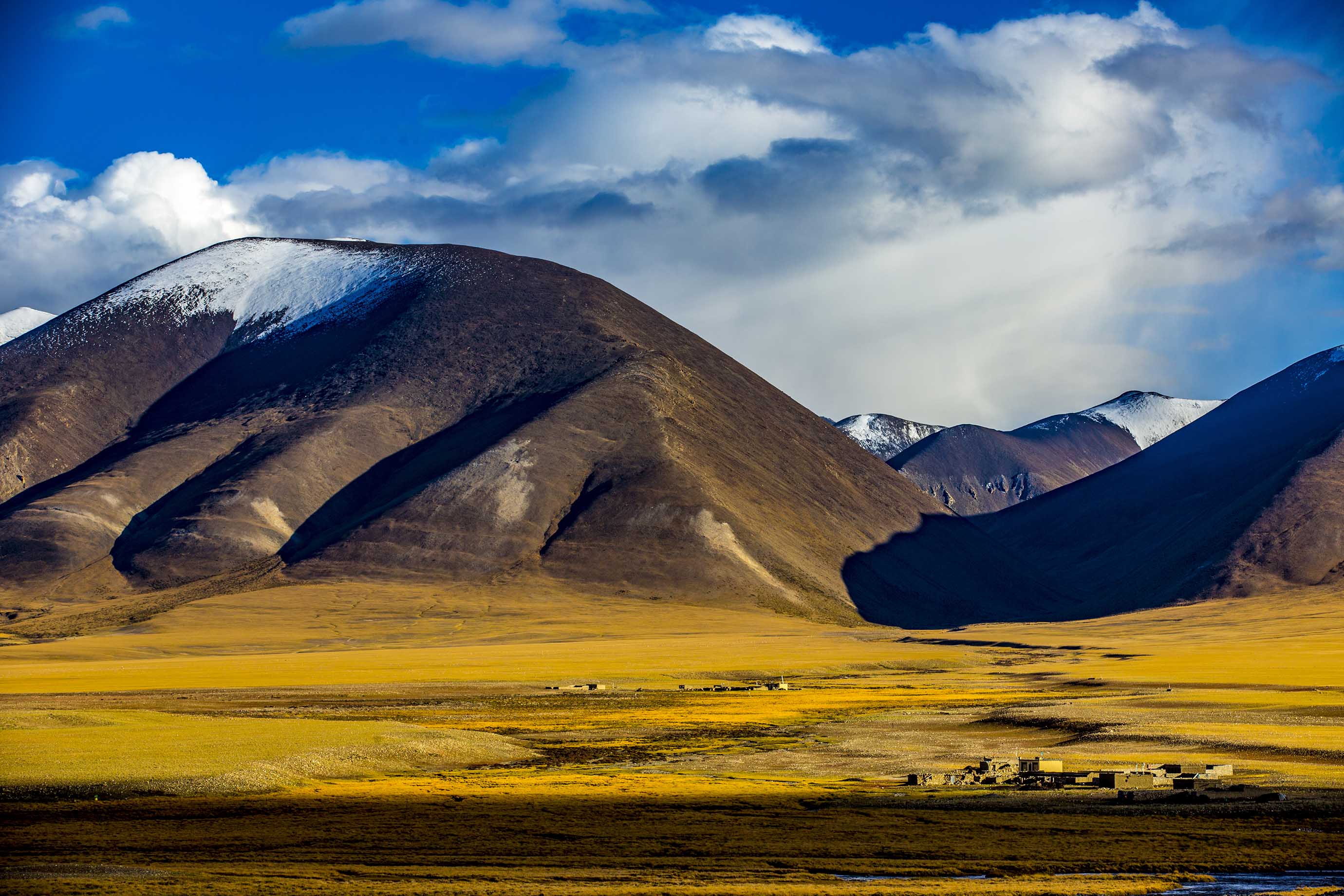 Nepal Visa (on-arrival)
Nepal has a very good system for the Visa on Arrival service, which can be used by almost any nationality in the world. Once you arrive at the land border or the Tribhuvan International Airport, you can fill out the visa application form and submit it to the immigration desk, along with your passport, photos, and fee. Once approved, which normally takes around an hour to process your visa application, you will be called forward to receive your passport with visa and allowed to enter the country.
Visas to Nepal on your arrival cost 30 dollars for a multiple-entry visa for 30 days, which must be paid in one of the major international currencies, such as US Dollars, Euros, Pounds Sterling, etc. While many currencies are actually accepted, the immigration officers prefer to have US dollars, and you must have the correct amount, as change will not be given.
FOMO - do you have it?  Well there is no need to Fear On Missing Out here at Explore With Erin. Sign up to receive updates directly to your in box. I won't spam you, but I do promise a whole lot of awesomeness. What are you waiting for? Join Me!