The State of Wyoming is filled with natural abundance, and cowboy flair which inspires Jackson Holes's delicious cuisine. Whether you're looking for the perfect family snow vacation or attempting your hand at skiing for the first time, you can find a meal in Jackson Hole that will satisfy.
Below you will be able to join me as we nibble our way through one of the most loved ski destinations in the United States. Here's all the food I tried and recommend!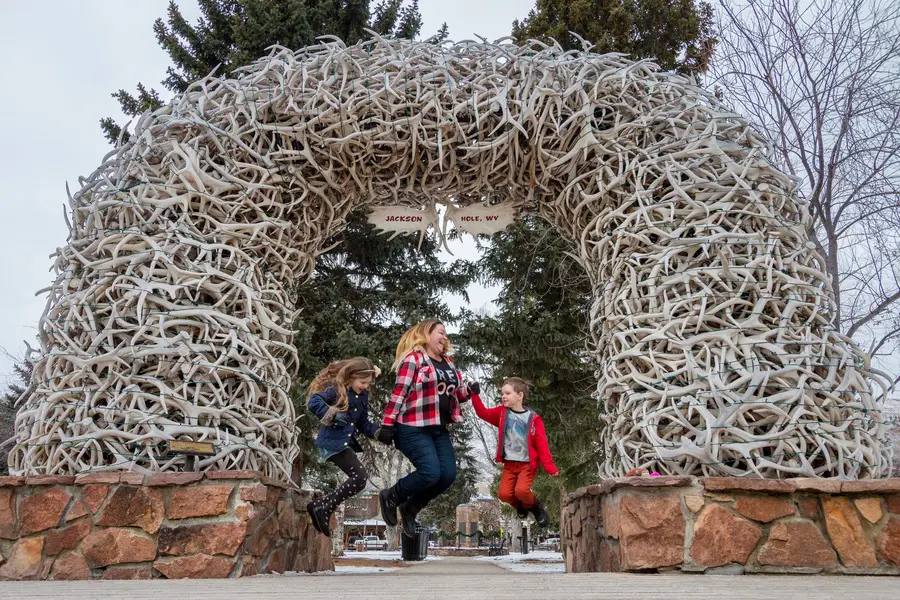 Café Genevieve
This popular cafe is where all the locals meet and oozes a warm, homely feel. I got to celebrate my birthday breakfast here on our last day in Jackson Hole.
I'll never forget those eggs benedict with pork belly. Mia devoured a serve of French toast and Caius ventured off-menu with a bowl of fresh berries and a sausage patty.
As a special surprise, the staff also brought me out a plate of apple fritters with boiled pudding complete with a candle. The best start to a birthday especially when accompanied with a chorus of "happy birthday to you".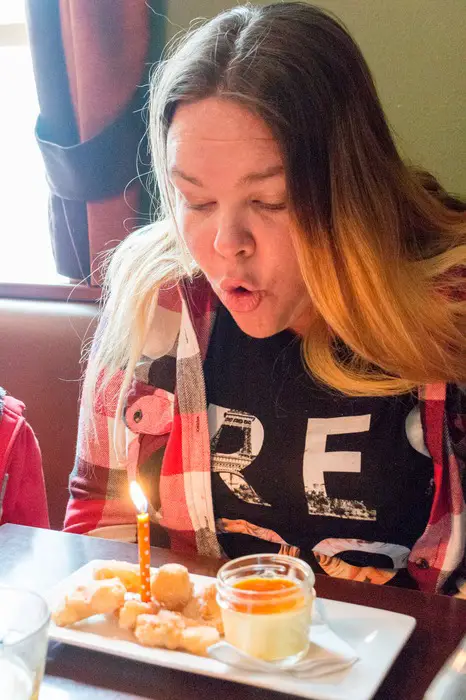 The wait staff was friendly and I wish I had more time in Jackson Hole so we could go back again.
Handle Bar (Four Seasons)
After our day of skiing, there was no better way to relax than après at the Handle Bar within the Four Seasons. I must admit since I have never skied before I had never heard this word. So to save you the potential embarrassment that I felt, "après" is a hearty, large warm snack that fills the gap between lunch and dinner. Consider it the brunch of the afternoon, linner. Pair it with a warm drink, cider, or beer, and you've got a magical afternoon in.
The Handle Bar is a concept by celebrity chef Michael Mina who teamed up with Four Seasons to offer a more accessible dining option for mountain goers. The relaxed, friendly atmosphere matched the heart-warming food in a cozy combination that we thoroughly enjoyed.
The kids and I sampled a few of après and my favorites were the pulled pork toast and the homemade pretzel. While the kids inhaled the sweet potato tots.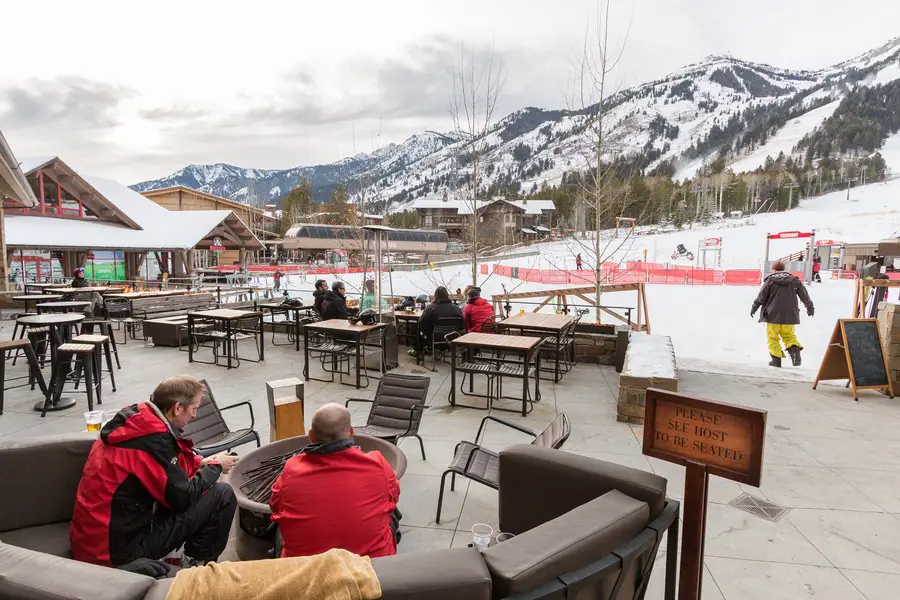 Café 6311
This place has a pretty price on it, but we enjoyed the delicious soups and sandwiches. Convenient location situated beneath the ski rental shop (near the base of the Bridger Gondola). So when you're on the slopes at Jackson Hole Mountain Resort, you can ski right up to the door.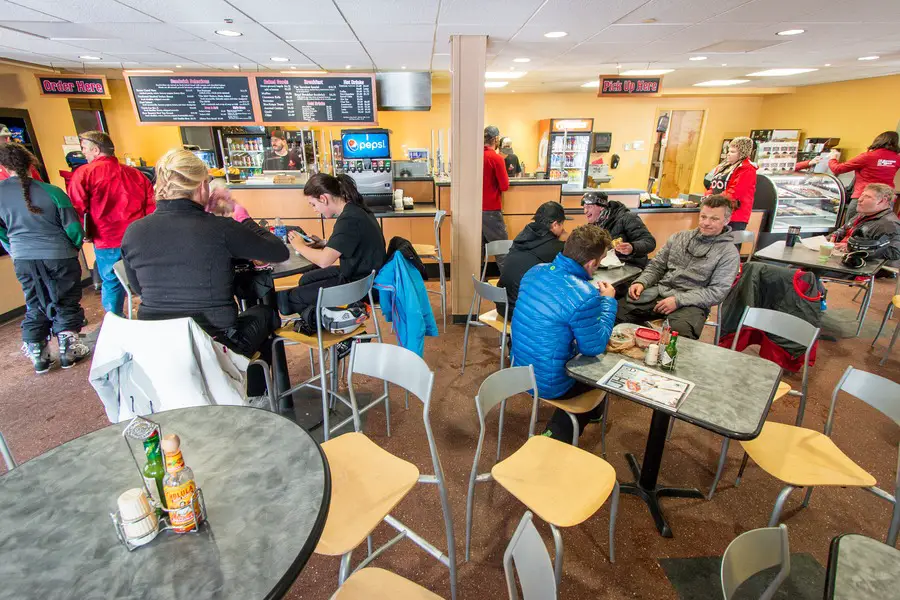 Spur Restaurant
Located on the lowest floor inside Teton Mountain Lodge, this cowboy-themed eatery is popular during peak ski season. So, of course, we just had to try it out and we enjoyed dinner and breakfast. The staff was consistently friendly and Executive Chef Kevin Humphreys is regularly recognized by the local community as the best Executive Chef in Jackson.
For dinner don't go by the giant juicy, thick steak. Or the American take on the classic Canadian poutine, the 307 fries. Make sure you save room for dessert. The deconstructed lemon meringue was divine with light biscuit, sweet lemon filling, and marshmallow fluff. The apple spice cake also didn't last long on the table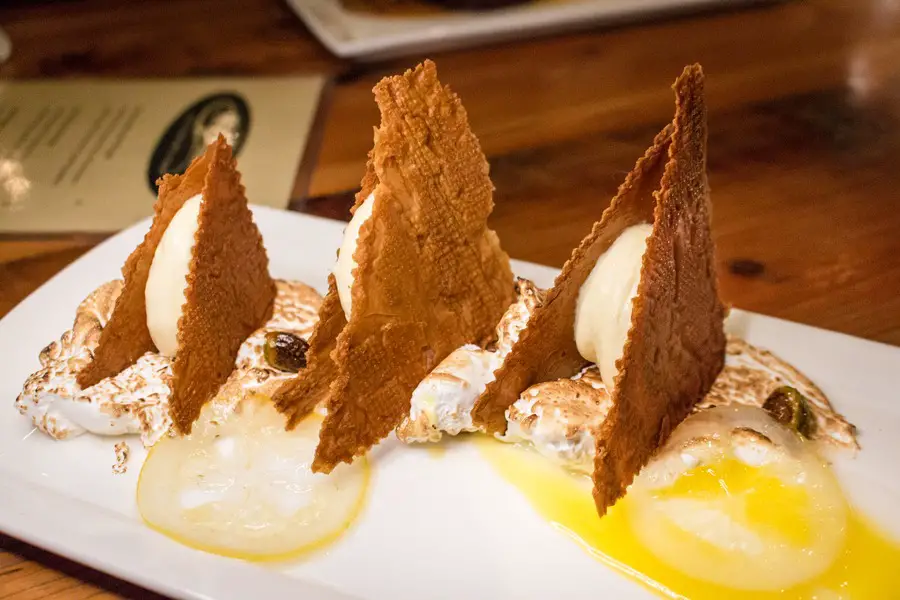 The breakfast was nothing to rave about. The fluffy blueberry pancakes hit the spot. But the fried egg with bacon was subpar and the oatmeal was on the bland side.
The kids did enjoy the small kid's nook located at the entrance which featured a TV playing cartoons and plump cushions. 
Rendezvous Bistro
So popular, make a reservation for this relaxed restaurant with French flair.
My beef bourguignon was better than any dish I tried in France. But if you order this gorgeous steak I'd recommend swapping our those frites for some mashed potato.
Rising Sage Café
This is inside the National Museum of Wildlife Art and serves a simple selection of good food. But the biggest drawcard is the stunning view over the Elk Refuge.
Silver Dollar Bar
Although I couldn't take the kids in after 6 pm, you should at least pop your head in here when you can. The iconic bar laden with hundreds of silver dollar coins is a must-see. The hallway walls are lined with historic photos and fascinating newspaper clips.
Million Dollar Cowboy Bar
As above if your kids are in safe hands elsewhere, you will want to check out this famous bar (under 21 not allowed entry). The barstools are actually saddles, which were surprisingly comfy. A huge collection of eclectic western-themed knick-knacks adorns every available space. And it's easy to find, opposite the town square.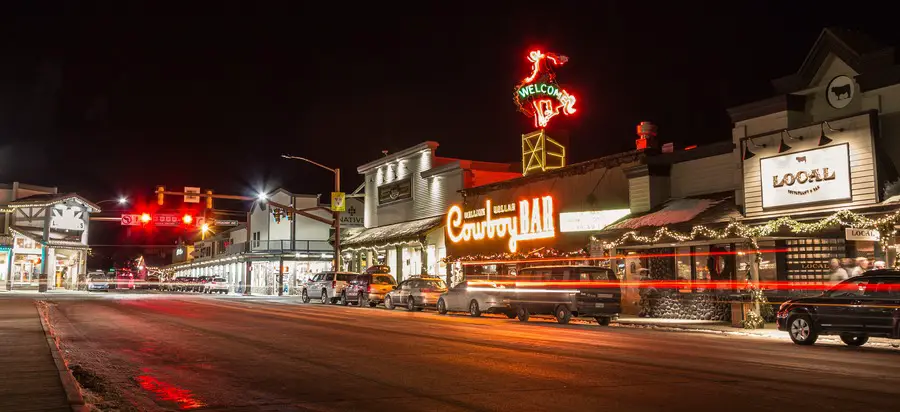 BONUS: Dust Cutter Beverage – Premium Huckleberry Lemonade
While this technically isn't a "place" to eat in Jackson Hole, this refreshing drink can be found in local stores and is a must drink while in Jackson Hole. If you're seeking a taste that encapsulates the natural wonder of Jackson Hole, then this is it.
Explore With Erin Wrap Up
The range and quality of food in Jackson Hole is everything you would expect from a world-class ski destination. So get out on those slopes and work up an appetite, because there is an abundance of options waiting at the end of the trail and beyond.
LOOK HOW EASY IT IS TO PIN THIS!
FOMO - do you have it?  Well there is no need to Fear On Missing Out here at Explore With Erin. Sign up to receive updates directly to your in box. I won't spam you, but I do promise a whole lot of awesomeness. What are you waiting for? Join Me!