Masks, physical distancing, fresh air. Skiing at Jackson Hole is the perfect family snow vacation. There has been no better time to be planning a trip to Jackson Hole than this winter, or the next.
During our epic road-trip of the US, as we made our way from Idaho to South Dakota, a Facebook fan recommended a stop at Jackson Hole. It had never even crossed my mind. I mean I have never skied a day in my life. 35 years old and I've never even thought about it. My kids had barely even seen snow. But could there be a better place in the US to learn than North America's favorite family snow vacation?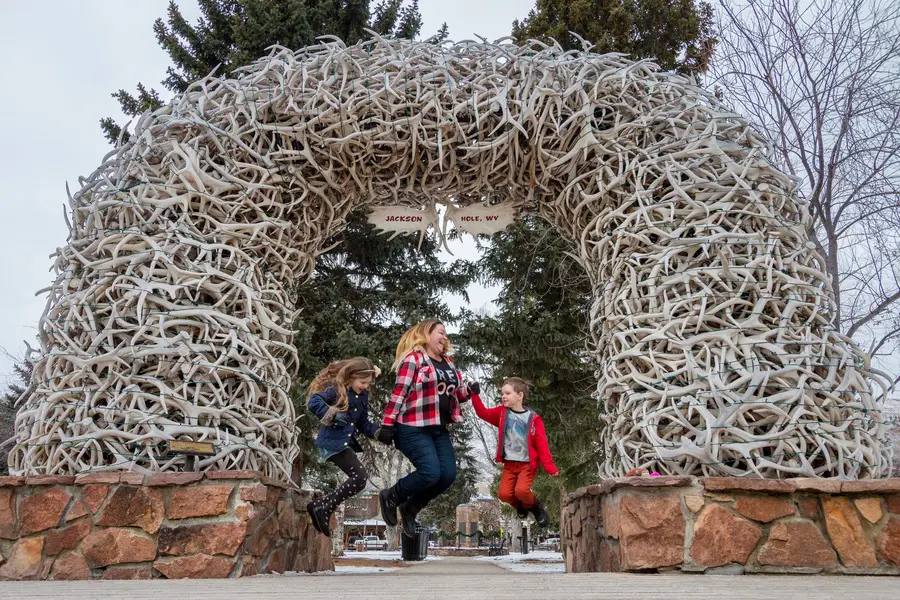 Where is Jackson Hole?
It can be a bit confusing for us newbies to the region, so in partnership with Hotels.com let's get our bearings to plan your favorite family snow vacation.

Jackson Hole – In 1807 John Colter looked down from the surrounding mountains and saw a giant hole. And so he named the entire valley which includes the town of Jackson, other towns, parts of Grand Teton National Park, the Elk Refuge, and multiple ski resorts.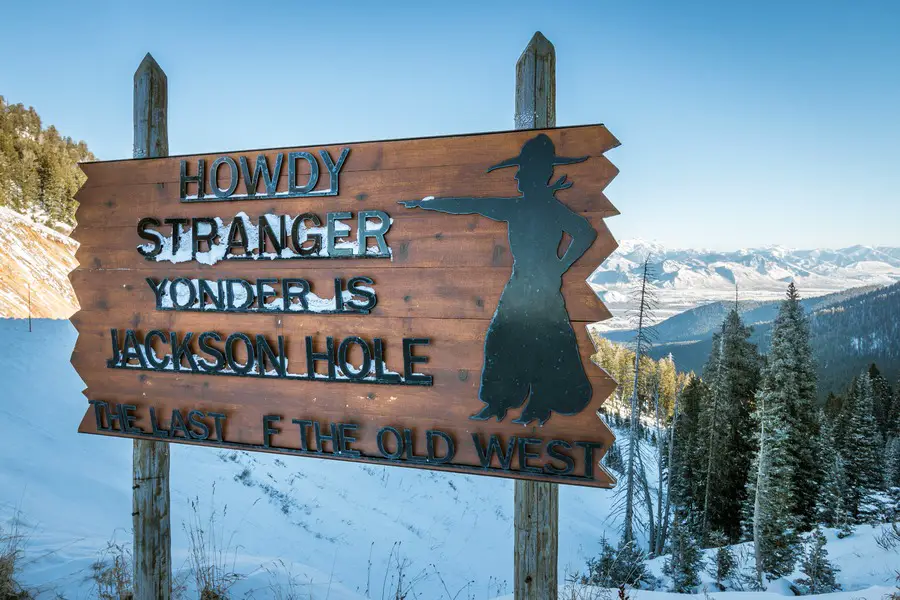 Jackson – The town at the heart of Jackson Hole was originally called "Jackson Hole". The name confused people so it was later renamed. It is the largest in the valley.
Jackson Hole Mountain Resort – Located 12 miles northwest of Jackson, the "JHMR" ski resort was opened 50 years ago and incorporates Teton Village and the numerous surrounding ski slopes. It is here we learned how to ski.
Teton Village – This is part of the lower section of Jackson Hole Mountain Resort, which includes hotels, restaurants, and shops.
Where To Stay
There is a huge range of accommodation options available on Hotels.com. My recommendation would either be in Teton Village, which puts you right at the base of the mountain. Or the center of town, Jackson.
Some of the advantages of choosing to lodge in Jackson include easy access to delicious restaurants, the ability to walk to a number of live music venues, and of course a multitude of shops to browse through. It's also close to the airport, rodeo, museums and art galleries.
Teton Village on the other hand is the "happening" place to be during ski season. You have instant access to Jackson Hole Mountain Resort without the hassle of parking, and the entire Village is pedestrian-friendly so you won't need a car at all.
We chose to spend 3 nights at the luxurious Teton Mountain Lodge & Spa in a 2-bedroom log-cabin-inspired suite with full kitchen, dining and living room, complete with fireplace. It was so inviting that we felt immediately at home.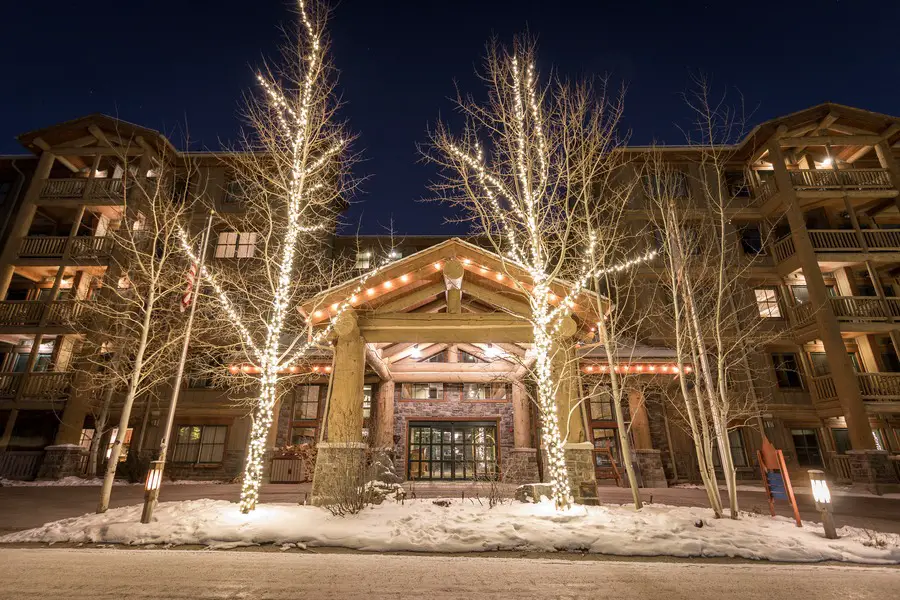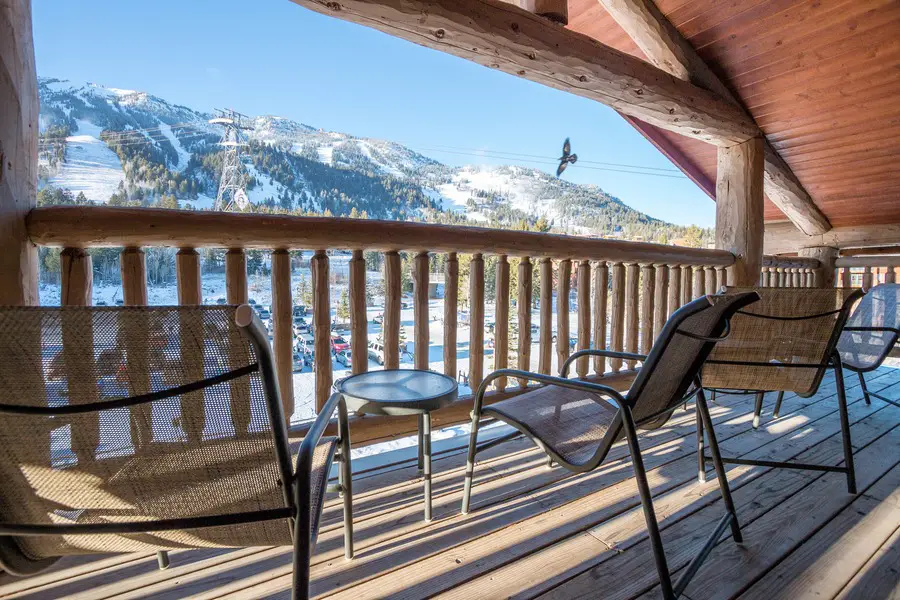 It wasn't hard to see the luxurious finishes all around the suite. And the double showerheads were my favorite feature.
The staff members were friendly and helpful. And the location? Only a 5-minute walk to the ski slopes. The lodge has a convenient on-site restaurant which we thoroughly enjoyed, but there are also several other dining options in Teton Village.
After a long, exhausting day on skis, I could think of no finer way to relax than easing into a heated pool. But if you're kid-free, head to the rooftop hot tub, for adults-only.
Things To Do
Ski
500,00 people visit Jackson Hole every year. Many of them to ski. My tip: head to Jackson Hole Mountain Resort. The team there can help a beginner or you can ski like a champ. Check Mountain pass prices here.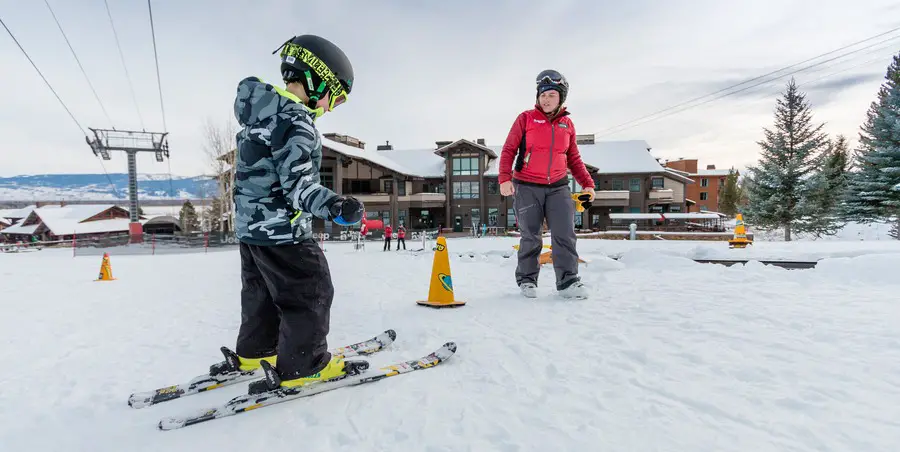 Safari Tour
To mix up your snow vacation check out Wild Things of Wyoming for a safari tour through the Grand Tetons in search of Wyoming's extraordinary wildlife. We met our guide, Kurt, who is the region's leading naturalist and he shared with us a side of Jackson Hole that many tourists overlook.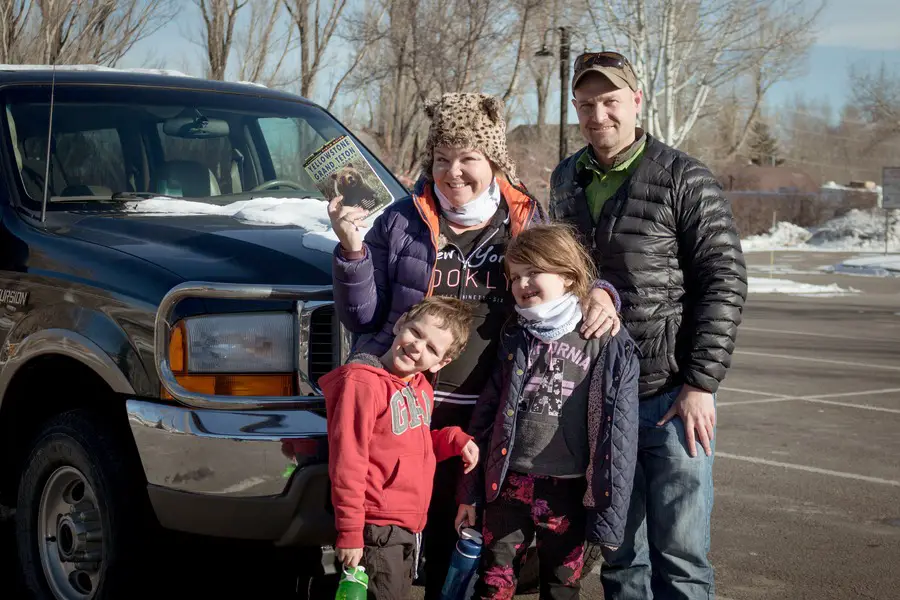 Kurt was beyond knowledgeable. I could ask him anything about Wyoming wildlife and he instantly knew the answer. Throughout our safari, he pointed out bighorn sheep, bald eagles, elk, bison, coyote, badgers, and moose. He also had sheep horns and antlers on hand for the kids to touch.
During a snack break, Kurt set up a highly powerful spotting scope for us to get a closer look at wildlife up to 3 miles away. Plus, there was hot chocolate.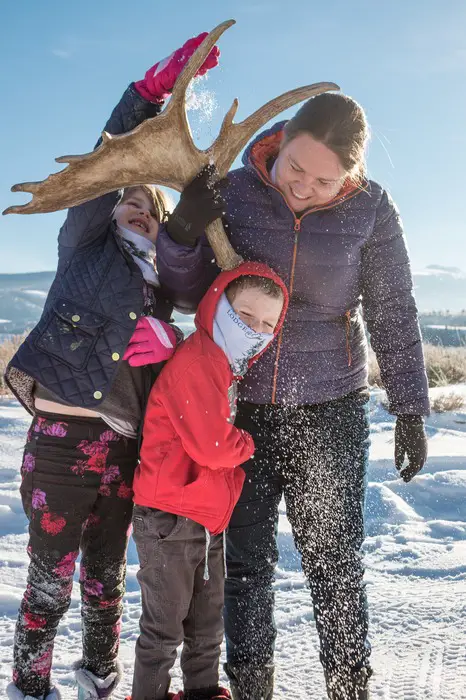 The kids and I found the safari fascinating, educational, and well worth the dollar. If you have a particular location or route in mind, Kurt can tailor tours to suit your needs. Tours are private, and a great way to step away from the crowds and be one with nature.
Wildlife Art
This museum is the largest in the country and houses an amazing array of paintings, photos, and sculptures of animals. So when it gets too cold outside seeing all the real wildlife spend the afternoon after your safari tour over at the National Museum of Wildlife Art. Check ticket prices here.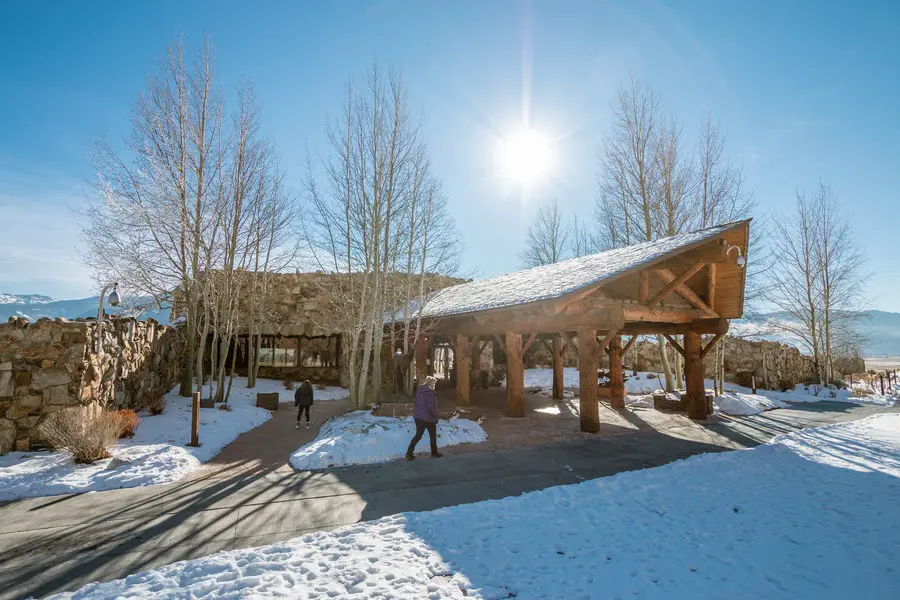 And the kids won't be bored. Mia and Caius kept amused with The Children's Discovery Gallery – a small, decorated segmented room filled with self-directed hands-on activities. Caius really enjoyed the reading room, while Mia kept busy in the drawing-room. Plus, there were endless puppet presentations performed.
Outside the dedicated children's area, you will find other exhibits around the gallery for kids to interact with while you admire the many masterpieces.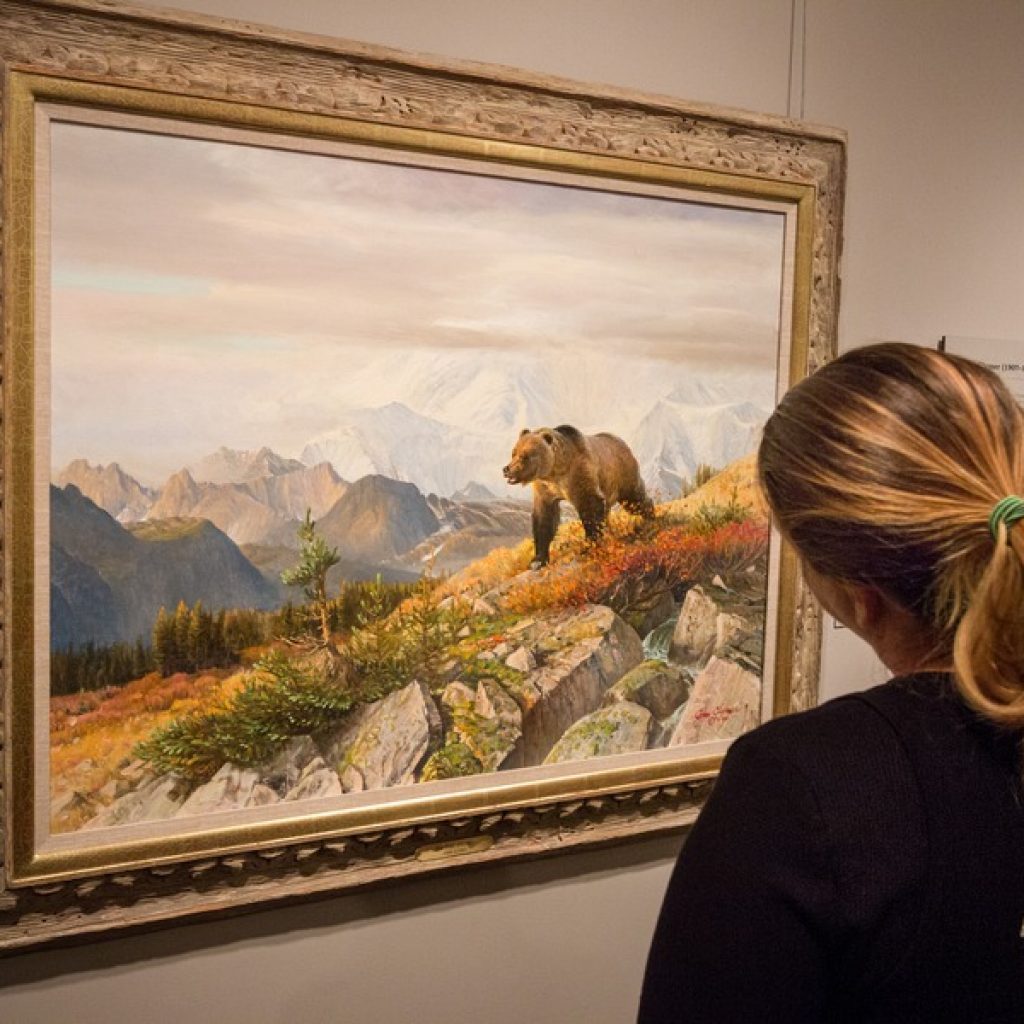 Walk Through Town
Did you ever see such a pretty or unique town square? Every year Scouts seek out fallen antlers from the National Elk Refuge and assemble them to create a beautiful arch around Christmas time. Afterward, these antlers are auctioned off.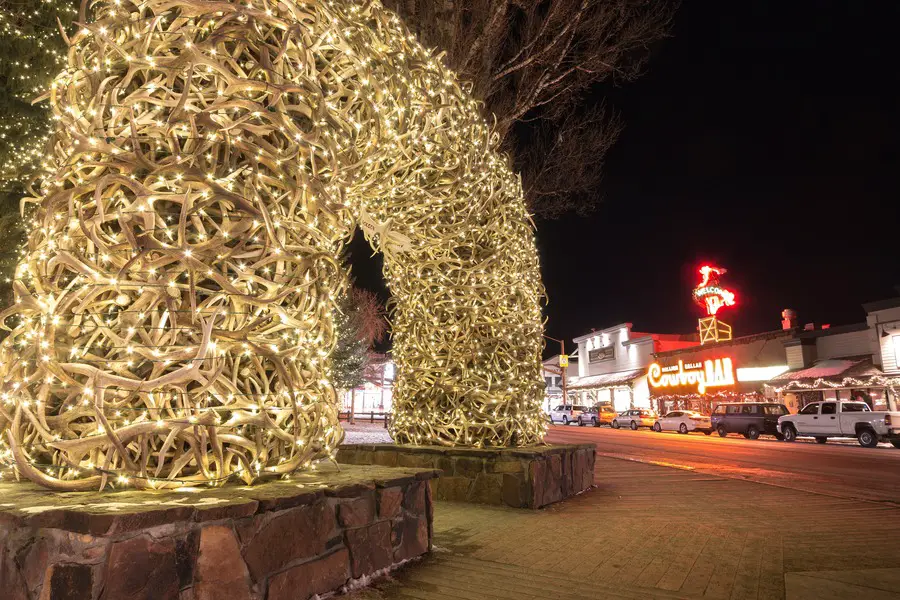 Explore Yellowstone
Known as the southern gateway to Yellowstone National Park, if you visit in Spring-Autumn or after mid-December, you'll have one of the best bases to explore Yellowstone. Just check their website for road closures before you go. Unfortunately, we were there in early December, and park roads were closed and the snow coaches hadn't started yet.
And here's 9 more exciting things to do in Jackson Hole.
Where To Eat
On a budget or fine dining, bison stew or ski slope après, you can't go wrong with the wide variety of cuisines available around Jackson Hole. Here is my handy guide on Where To Eat In Jackson Hole.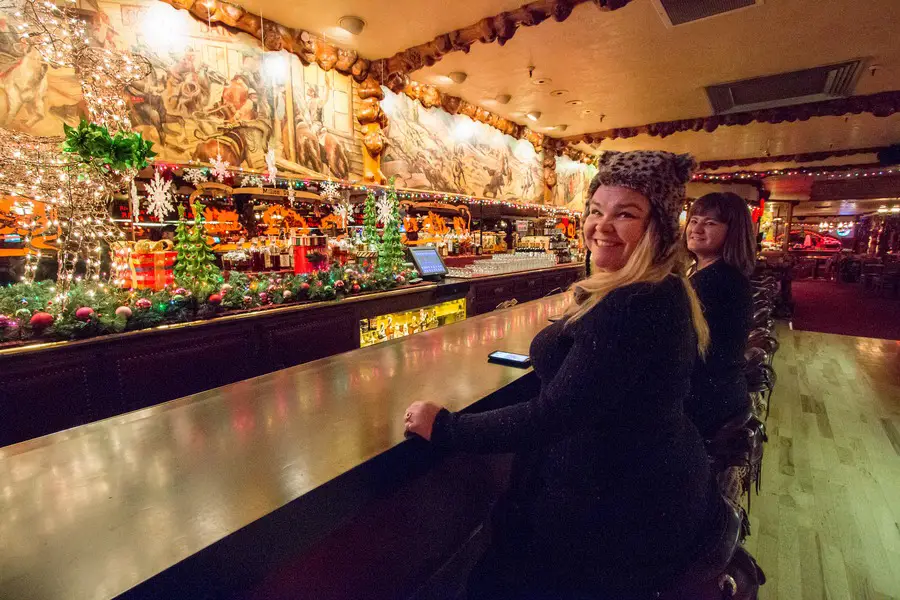 Explore With Erin Wrap Up
More tourists come to Jackson Hole in the summer than the winter, so make it a winter to remember and discover our favorite family snow vacation.
We were fortunate enough to start our skiing careers at one of the best ski resorts in the US. But more than that, we had a fabulous time discovering western Wyoming's unspoiled wildlife, magnificent art, and cowboy saloons.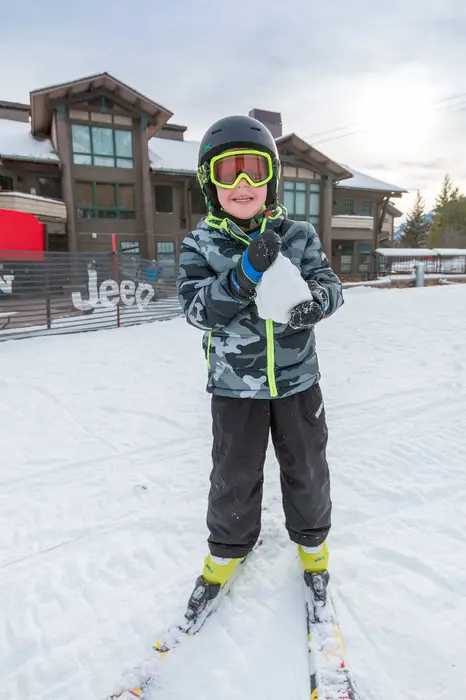 And even if, like us, you don't make it as far as Yellowstone, then that's ok – a family snow vacation in Jackson Hole will make you feel like you didn't miss out on one thing.
2020 Travel Tip
Travel in 2020 is uncertain for any country, so please keep your safety and the safety of others in mind at all times. If you are comfortable with traveling, please travel responsibly and within regulation, remembering that any travel is at your own risk.
If you do decide to travel in 2020, can I recommend:
Wear a face mask in countries that require you to do so. 
Bring hand sanitizer and wash your hands on a regular basis.
Check official websites before your trip for the latest updates on policies, closures, and status of local businesses.
Book a hotel with free cancellation in case you need to change your plans at the last minute.
LOOK HOW EASY IT IS TO PIN THIS!
FOMO - do you have it?  Well there is no need to Fear On Missing Out here at Explore With Erin. Sign up to receive updates directly to your in box. I won't spam you, but I do promise a whole lot of awesomeness. What are you waiting for? Join Me!