I was 35 years old and never even put on a pair of skis. I put the boots on and my big toe, which has been a problem for 10+ years meant I wasn't going anywhere on that slope.
But my kids!
They had a 30-year headstart on me, and they got to learn at America's favorite family snow vacation, Jackson Hole.
"This was the best day ever."
"You like skiing?"
"Yes, can we come again?"
One day of skiing and the kids were hooked. Hooked and pros.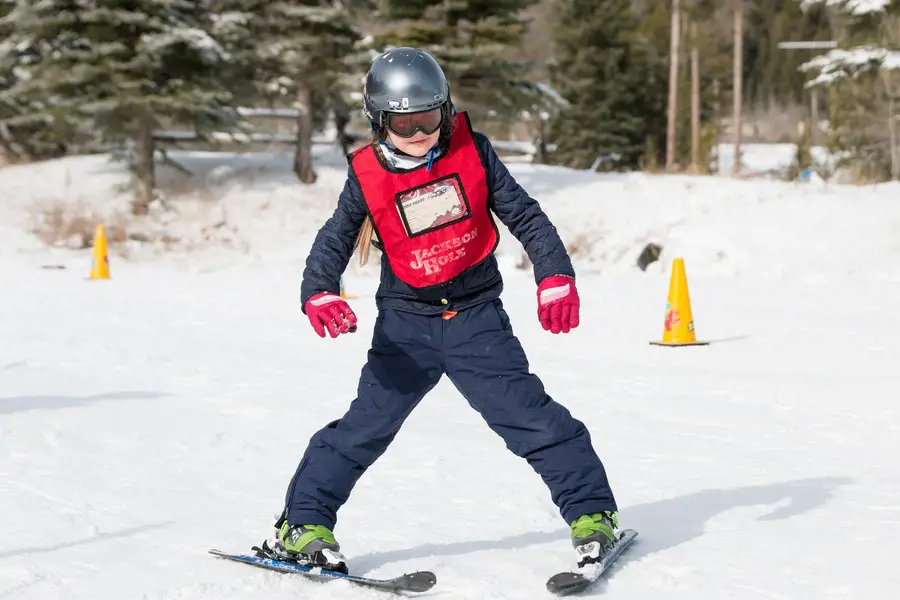 Why Jackson Hole Mountain Resort?
 Jackson Hole Mountain Resort (JHMR), located 12 miles northwest of the town of Jackson, Wyoming, has been regularly rated as the #1 ski resort in North America by media, professionals and ski enthusiasts alike. It boasts one of the longest, steepest, continuous vertical ski slopes in North America. You'll find 133 named ski trails covering over 2,500 acres.
Armed with this knowledge, it seemed like the best place to take my kids for their first-time ski. How have we traveled around the world for over 5 years and never been skiing? But it was time to set things right and give my kids an experience they'd never forget… and nor would I.
What To Wear When Skiing?
I was totally unprepared for skiing. I bought Caius a polyester t-shirt earlier in the year, but all we had to wear were jeans and cotton shirts. Not the best ski gear. Jeans get heavy after multiple falls in wet snow. Thankfully Jackson Hole Mountain Resort was a lot better prepared.
There are several rental stores on location, and we used JH Sports for adults' gear whilst the kids were all decked out at the Kids Ranch. If you plan on hiring your outfit, come early – it can take some time to get ready.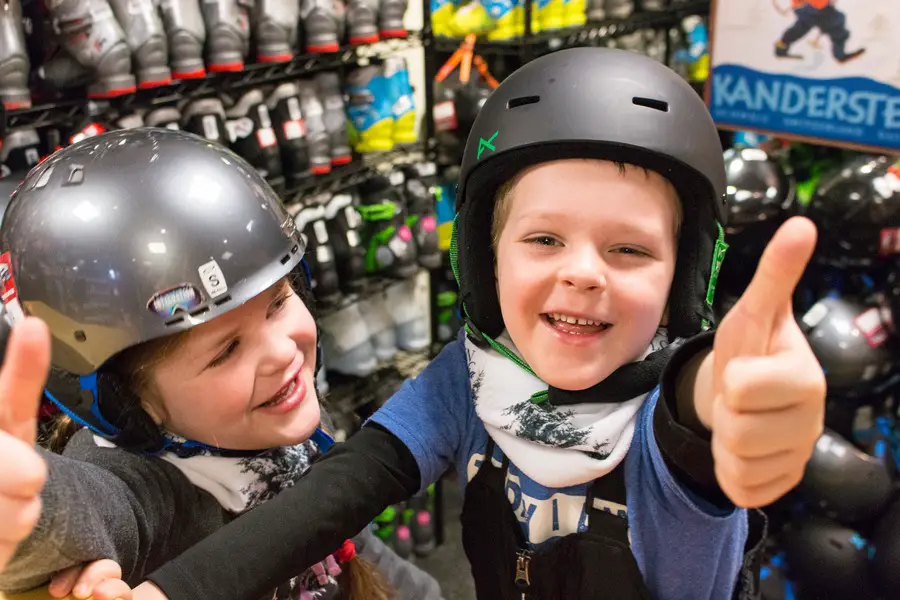 The ski shop staff were really helpful and walked us through the steps for sizing up and putting all the foreign gear on. Make sure the kids go to the toilet before getting dressed because getting the gear off takes just as much effort as putting it all on.
If you're better prepared than we were I imagine you'd be bringing your own snow pants, jacket, waterproof mittens & boots, sunscreen, and a bottle of water. Here's a ski packing list from my favorite dreaded Brit.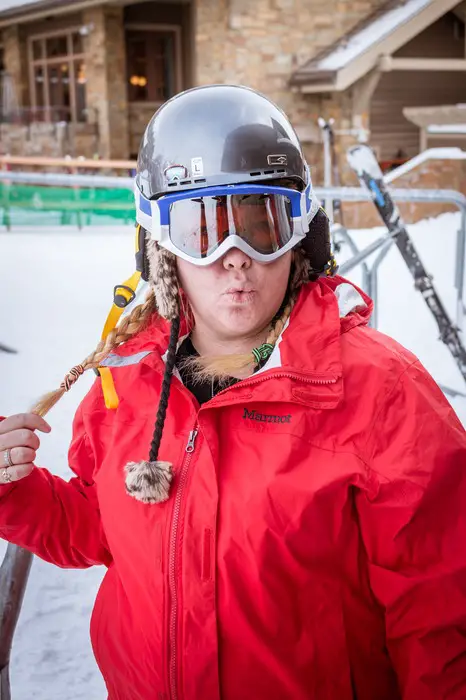 Kids Ski Lessons
The Kids Ranch is Jackson Hole Mountain Resort's dedicated area for kids. Qualified ski instructors gave my kids their first taste of winter exhilaration, sliding down a frosty white slope. You can do a half or full-day package which includes snacks and drinks. The full-day option also includes lunch, which made things super easy for me.
I have high praise for Sarah Wemple who was an absolutely fantastic instructor for my kids. She knew how to encourage and guide them, and make the whole learning process fun. I can't recommend her highly enough if you want your kids to have a ball and pick up this sport in a day.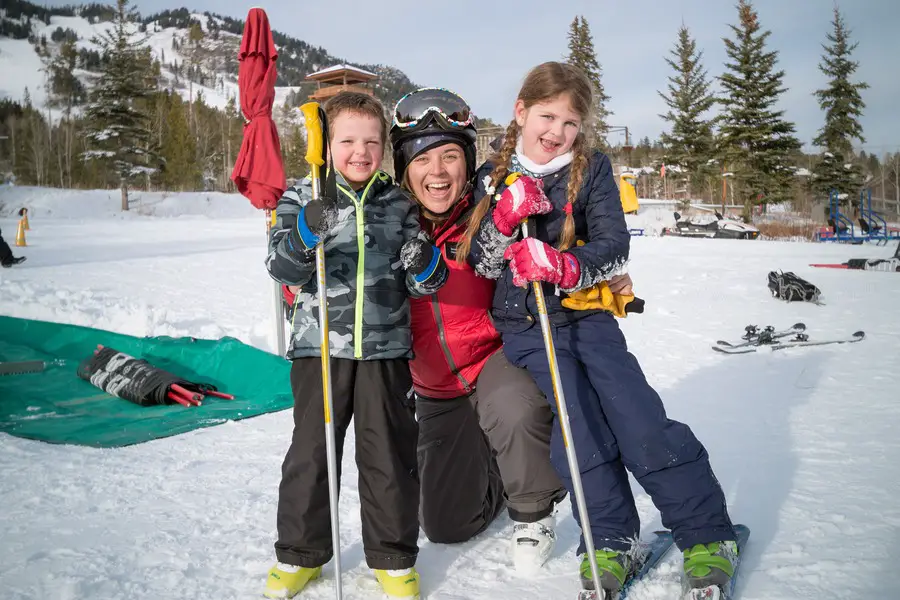 If like me you struggle with co-ordination and skill, don't despair. While the kids are busy learning to ski in just one day, you can kick your feet back at the nearby bar or even head to the hotel hot tub.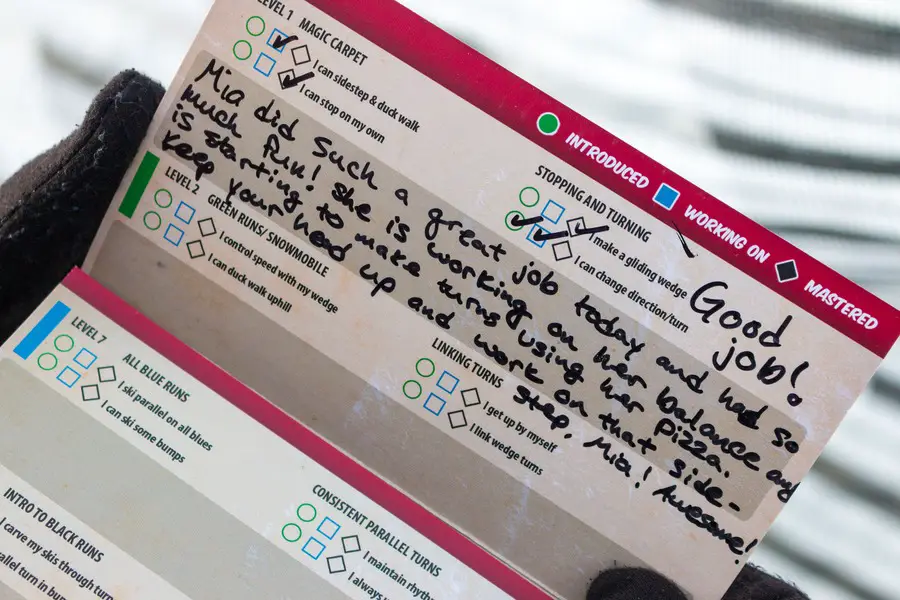 Adult Ski Lessons
I've seen enough home video footage of skiers ending up in all sorts of trouble that I knew grown-ups need lessons just as much, if not more than, kids.
And while I had a perfectly excellent instructor, I tapped out pretty early from my toe-injury and let the kids shine.
You can get one-on-one time with a private instructor like Glenn Ray easily, as there are over 500 instructors at JHMR to choose from during the winter season.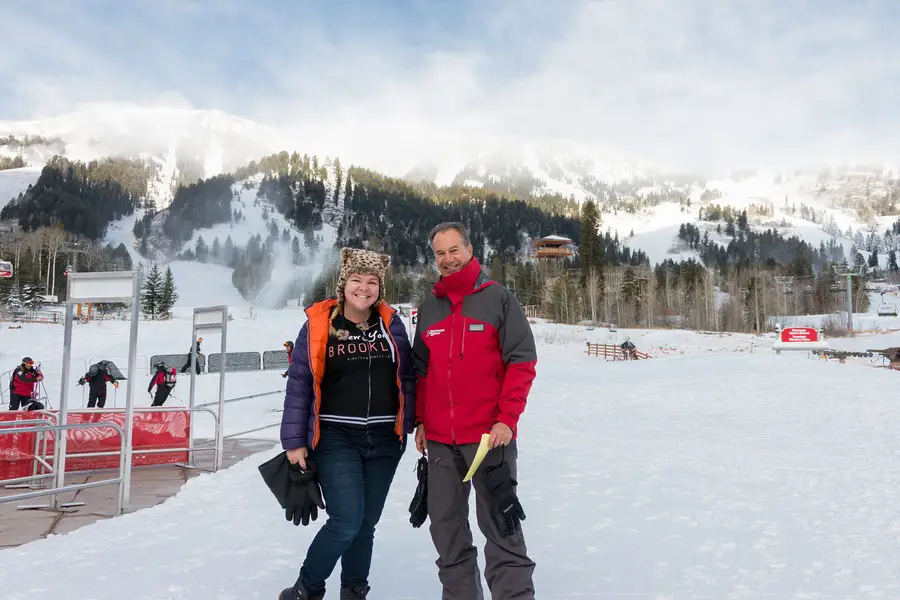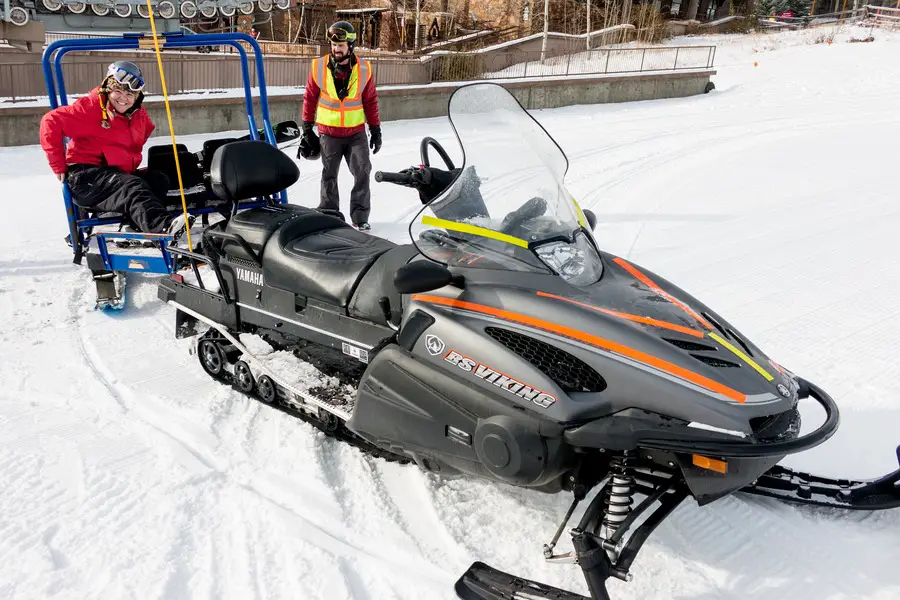 Kids Can Learn To Ski in 1 Day
As an adult with 2 young children, I don't ever consider myself inferior at anything (other than reciting Dora The Explorer episodes). But Jackson Hole Mountain Resort will forever be seared in my mind as the first time my children were better at something than me. And not just any something. But a sport that required strength, stamina, coordination, and balance. They learned to ski in just one day.
I felt elated for their success. Proud of their accomplishment. It's a feeling only a parent would know. And I'm damn sure it won't be the last time.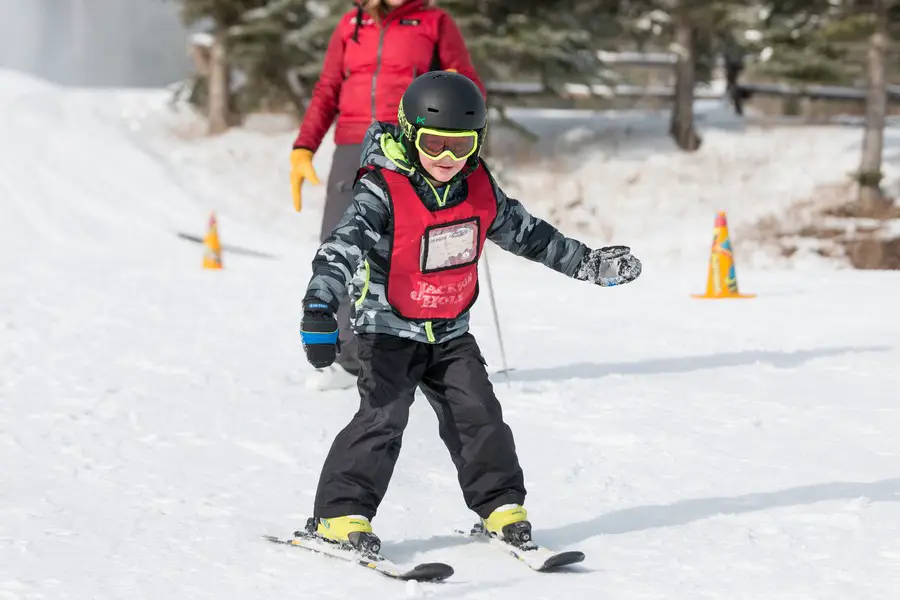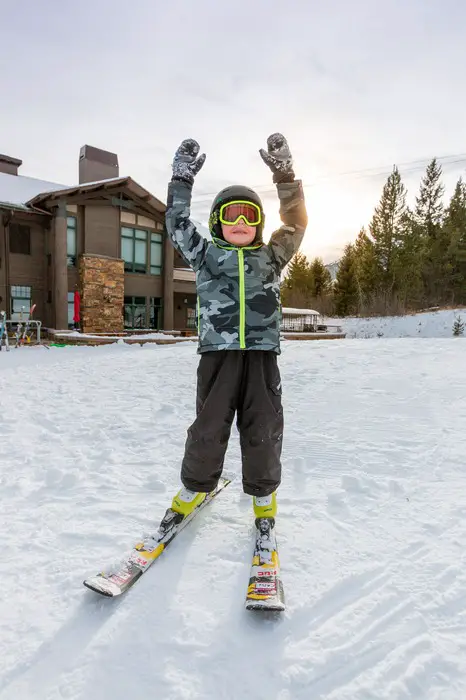 When You're Cold & Hungry
Once you've worked up appetite, you don't have to go far to find delicious food. One afternoon we escaped the cold and headed to Four Seasons for Après. Find more in our article: Where to eat in Jackson Hole.
Explore With Erin Wrap Up
When I told several friends my kids were learning to ski at Jackson Hole, their response (after an initial fit of jealously) was the same, "well, you can't get any better than Jackson Hole" and "the kids will learn in a day".
We literally and figuratively started our skiing careers at the top. As high as you can get. The apex. The best of the best. The peak. And now I've been ruined – nothing else can compare.
I may as well quit while I'm ahead. It's all downhill from here :D.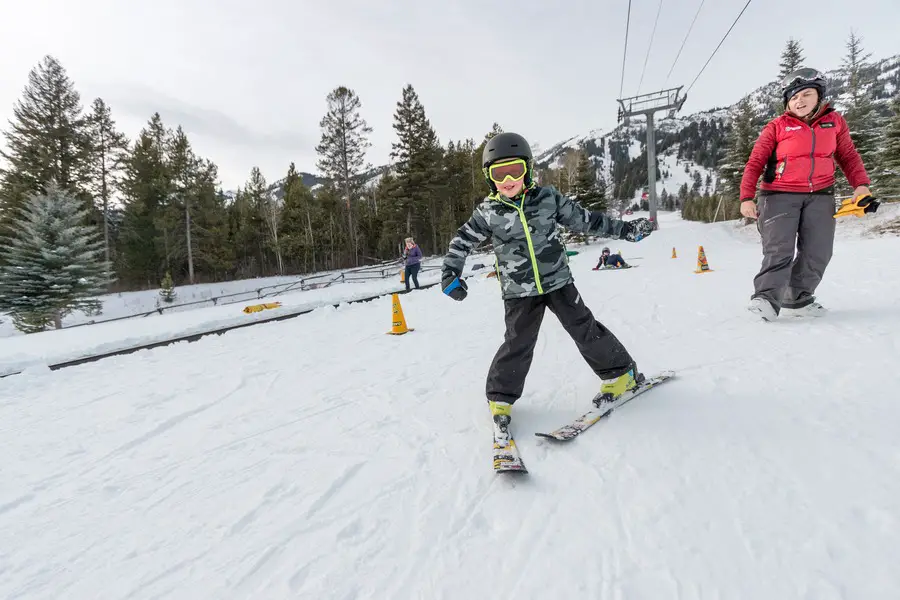 While the jury is still out about when the next time I will be skiing, one thing is for sure – my 2 kids won't hesitate to snap on their skis and carve up a mountain when the opportunity arises. And I have Jackson Hole Mountain Resort to thank for that.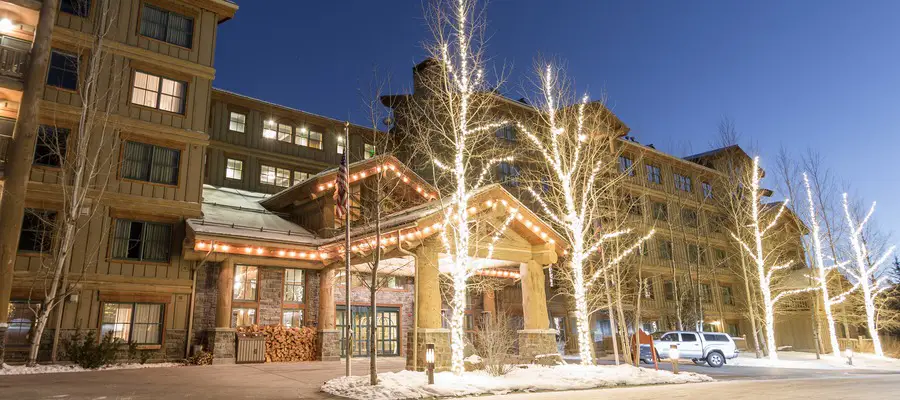 We stayed at Teton Mountain Lodge & Spa in Jackson Hole Mountain Resort. A really beautiful hotel that felt like a home away from home. Highly recommended.
LOOK HOW EASY IT IS TO PIN THIS!
FOMO - do you have it?  Well there is no need to Fear On Missing Out here at Explore With Erin. Sign up to receive updates directly to your in box. I won't spam you, but I do promise a whole lot of awesomeness. What are you waiting for? Join Me!