Scrolling through Facebook I saw someone giving away lemons. I rocked up, grabbed ten, and then my daughter and I commenced a recipe hunt for something lemony to bake. A dessert, of course.
I love most things lemon. Lemon slice, lemon meringue, lemon balsamic, lemon on my salad, lemon on my pancakes. You name it.
As we entered a 3-day lockdown and my daughter had her electronics confiscated she turned to her next favorite thing to do. Bake. After we picked up our free lemons, we did a quick grocery shop for the rest of the ingredients and came home ready to cook.
This recipe is adapted from Life Love and Sugar.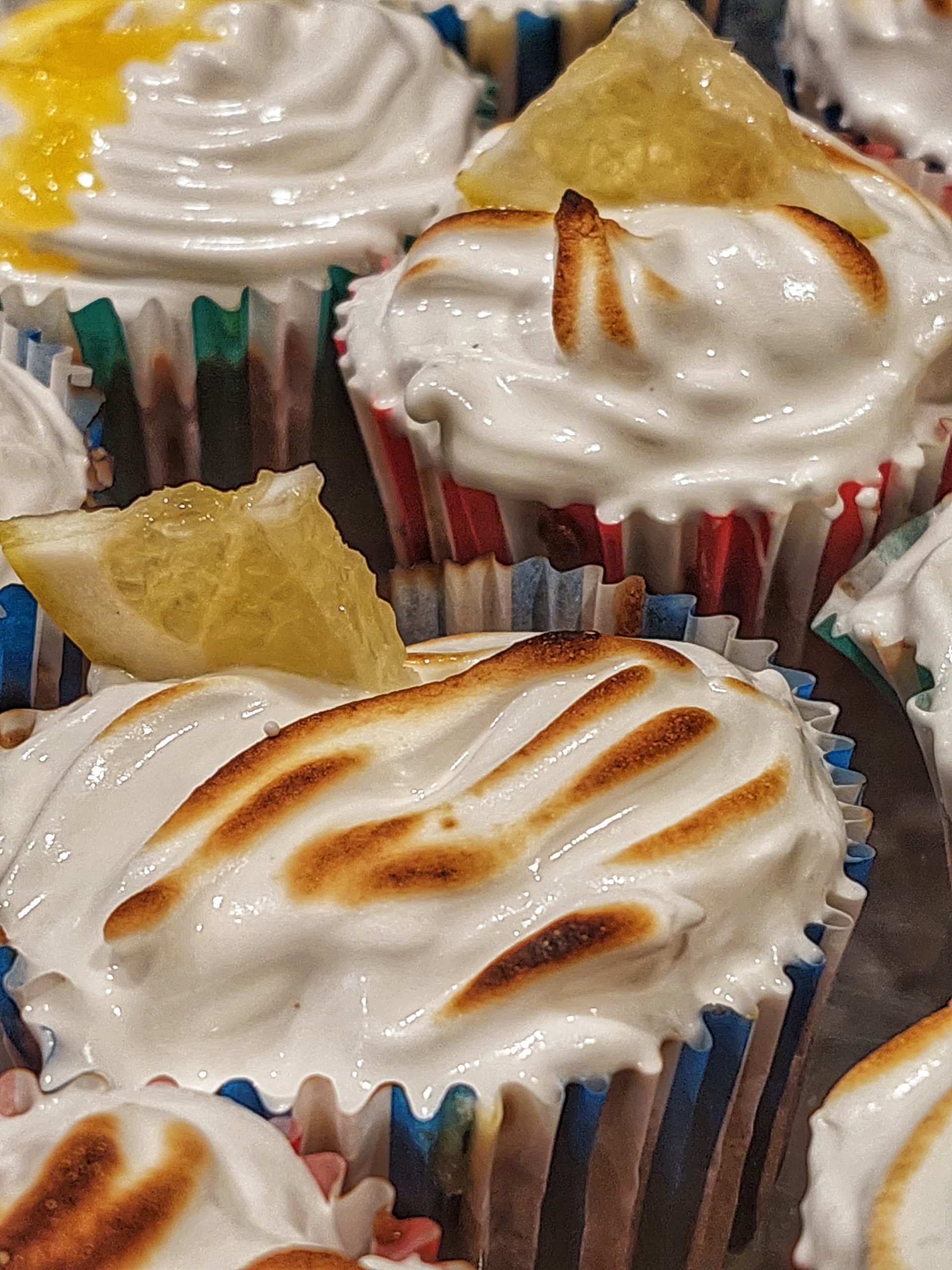 What is Lemon Meringue?
Lemon meringue pie is a type of dessert pie, consisting of a shortened pastry base filled with lemon curd and topped with meringue. The best part in my opinion is the lemon curd, so why not put lemon curd in everything? Like a cupcake!
There are three elements to this dish. The lemon curd, the meringue, and the cupcakes. We start with the lemon curd because it's going to need a fair amount of time to set. Then move on to the cupcakes and meringue frosting. Let's go!
Lemon Curd
Ingredients
6 tbsp (90ml) fresh lemon juice – roughly 2 lemons
1 tbsp finely grated lemon zest – roughly 1/2 a lemon
½ cup (104g) white sugar
6 large egg yolks (save those whites!)
4 tbsp (56g) unsalted butter
Method
Tip: Crack your eggs onto a plate, being careful not to break the yolk. Grab a water bottle, place it over the yolk, and squeeze. Perfect yolks every time.
Combine all ingredients into a metal bowl. Then place that bowl over a pot of simmering water.
Keep the water simmering on the stove and whisk the mixture constantly until it thickens. You can test this by using a thermometer and making sure it reaches 160 degrees, or you dip a wooden spoon in. If you can run a finger down the wooden spoon and the trail holds, without any liquid running, then it is ready. This may take 10 to 30 minutes.
Pour the lemon curd into a smaller bowl and cover with cling wrap, pressing it down so the curd doesn't form a film.
Refrigerate 3 – 4 hours.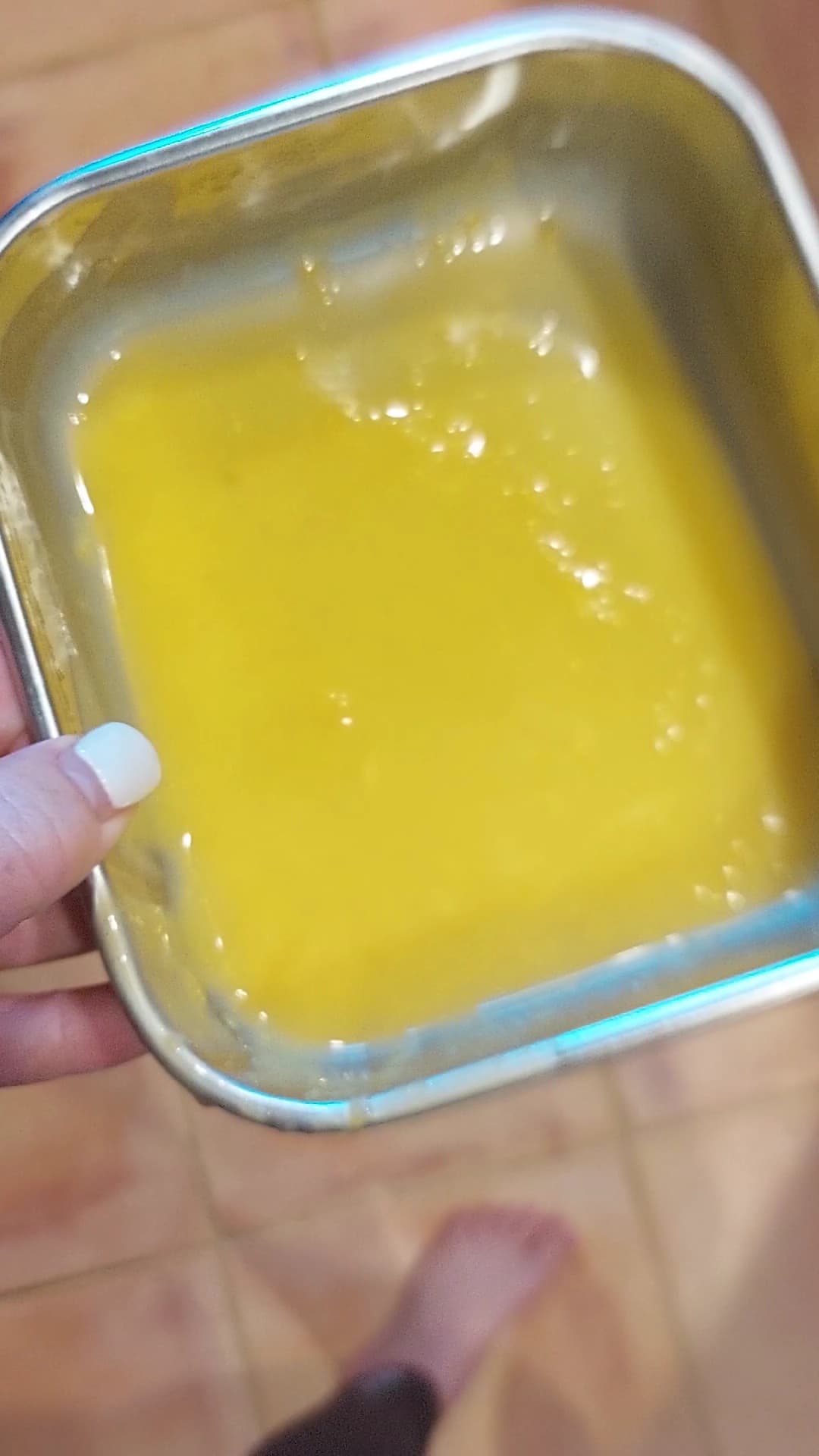 Cupcakes
Ingredients
 1/4 cups (163g) plain flour
1 cup (207g) white sugar
1 1/2 tsp baking powder
1/2 tsp salt
1/2 cup (120ml) milk
1/4 cup (60ml) vegetable oil
1 tsp vanilla extract
2 tsp lemon zest – we used half a lemon (we like it zesty!)
1 large egg
1/2 cup (120ml) water
Method
Preheat the oven to 350°F (176°C) and place your cupcake patties in a cupcake tray.
Add dry ingrediants – flour, sugar, baking powder and salt into a large bowl and mix.
In a seperate bowl mix the wet ingredients – milk, vegetable oil, vanilla extract, lemon zest and egg.
Add the wet ingredients to the dry ingredients and beat until well combined.
Slowly add the water to the batter and mix at low speed until well combined. Make sure you scrape down the sides of the bowl.
Pour batter into the cupcake patties until half full. Bake for 15-17 minutes, or until a toothpick comes out with a few moist crumbs.
Remove the cupcakes from the oven and allow them to cool for 2 minutes before moving to a cooling rack to finish cooling.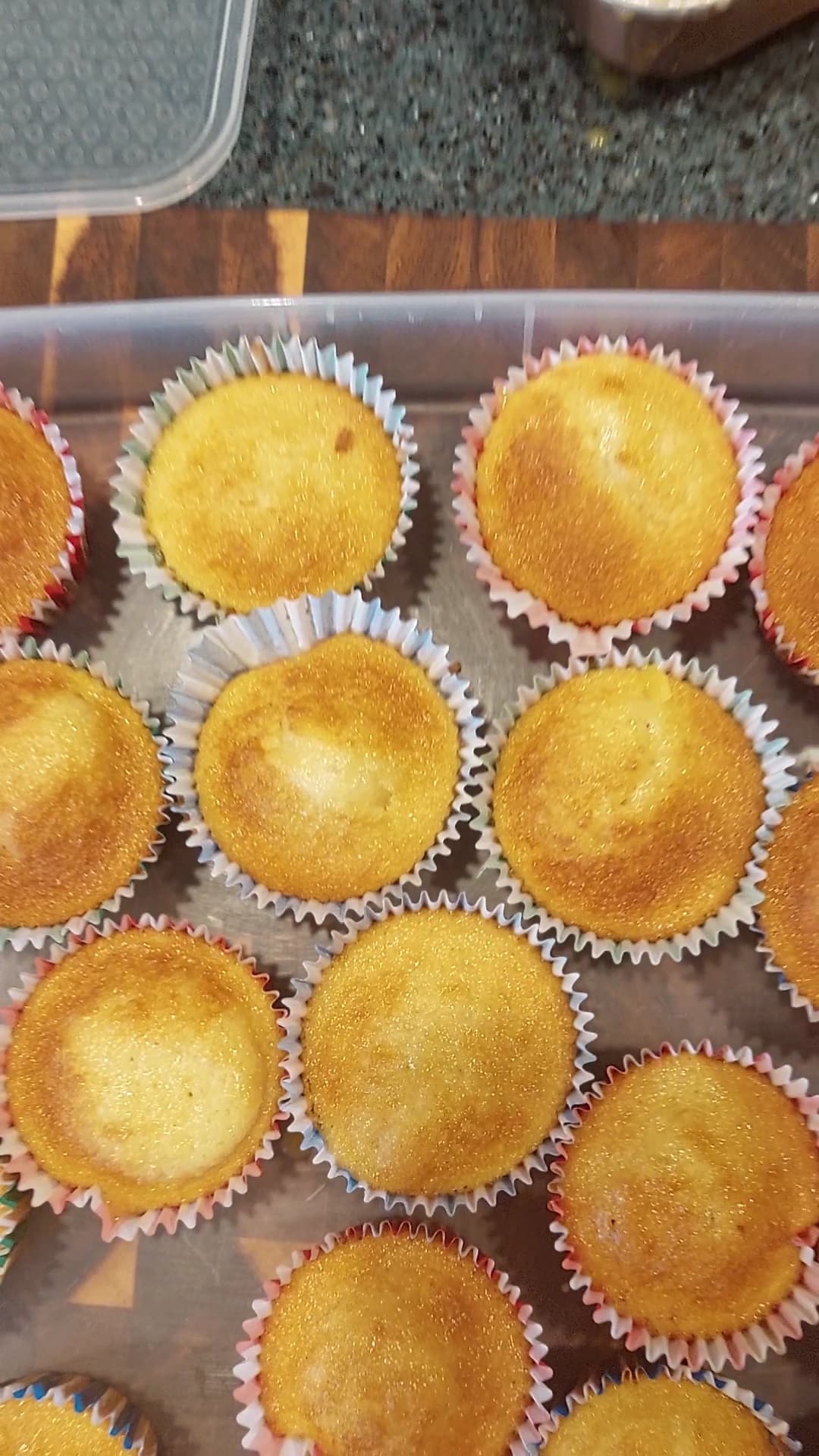 Meringue Frosting
Ingredients
1 cup (207g) white sugar
1/2 tsp cream of tarter
1 tsp vanilla extract
6 large egg whites, room temperature (use the ones leftover from the lemon curd)
Method
Once the curd and cupcakes are cool it's time to make the meringue frosting.
Combine all ingredients into a metal bowl – sugar, cream of tartar, vanilla extract and egg whites.
Like the lemon curd place the bowl over a pot of simmering water.
Whisk constantly until sugar is dissolved and egg whites are warm, check with a thermometer at 160 degrees, roughly 4-6 minutes.
Remove from heat.
Grab a whisk (electric is faster) and beat the egg white mixture on low speed, gradually increasing speed until stiff, glossy peaks form. This may take 5 to 7 minutes.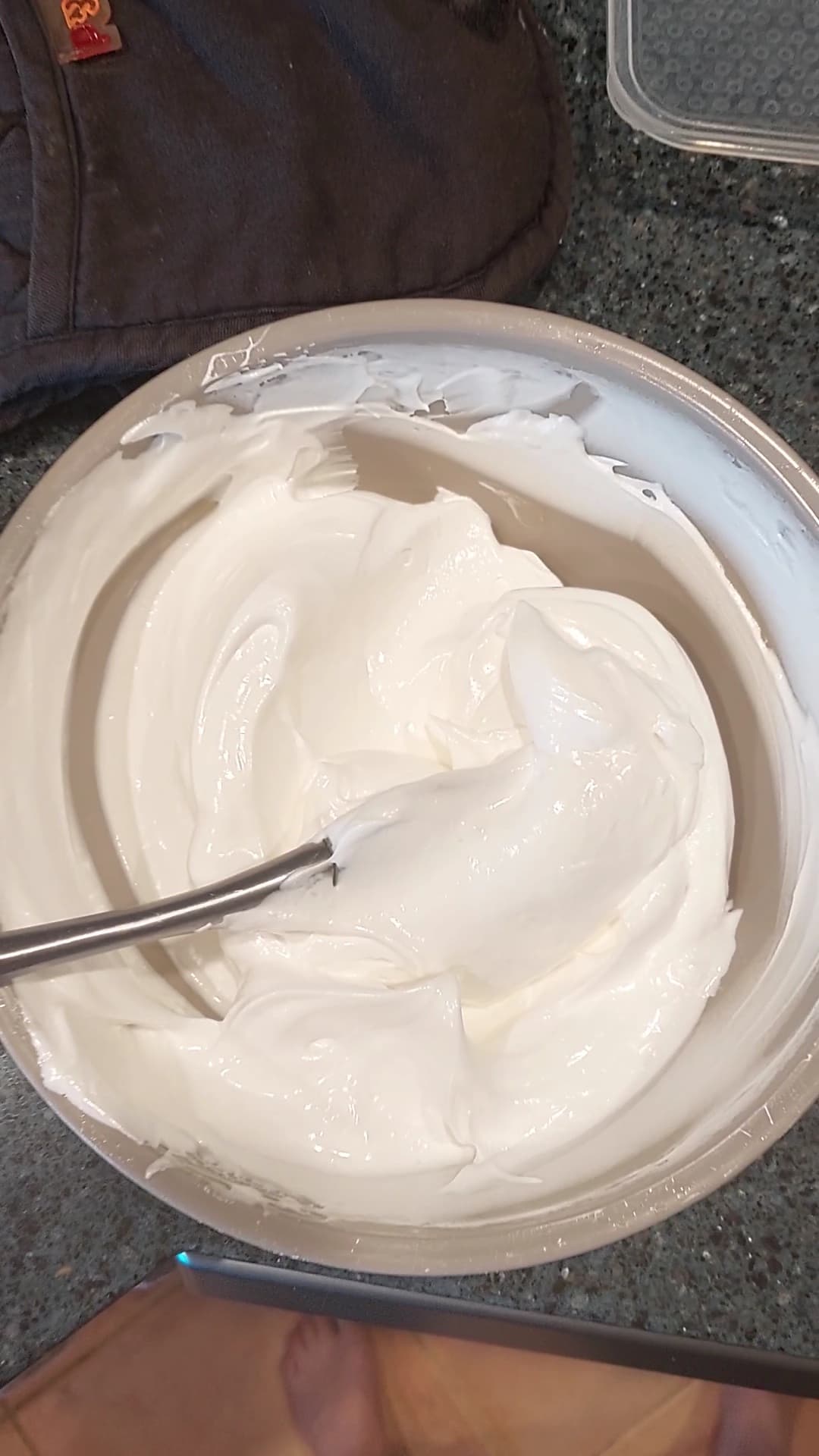 Assemble
Time to put everything together.
We used a piping nozzle to place a hole in the center of our cupcakes. You can used a cupcake corer or a knife, as well. Even a can holder arm!
Fill the holes with lemon curd. They will spread into the cake so feel free to top up for complete lemony goodness.
Frost the cupcakes with your meringue frosting. We used the piping nozzle and a sandwich bag.
If you like you can colour the meringue with a kitchen torch. I didn't have one so I simply rotated it on a gas stove.
Finish with a slice of lemon.
Refrigerate if you don't eat all straight away.
Makes roughly 14.
There you go. Easy peasy lemon squeezy. Lemon Meringue Cupcakes you can't stop licking.
LOOK HOW EASY IT IS TO PIN THIS!
FOMO - do you have it?  Well there is no need to Fear On Missing Out here at Explore With Erin. Sign up to receive updates directly to your in box. I won't spam you, but I do promise a whole lot of awesomeness. What are you waiting for? Join Me!