If you live North of the River in Western Australia, like me, you have probably heard of Mindarie Marina.
Located just 30 km from Perth city it is a beautiful water-side destination not only lodging plenty of boats and location to many multi-million-dollar houses but a small selection of fine wine and dining venues. It's the perfect location.
Not as large as Hillarys (but dog-friendly unlike Hillarys) Mindarie is a laid-back dining spot for any age. And even makes a great vacation spot with its accommodation options at the Marina Hotel, one of the largest man-made marina resorts in the state.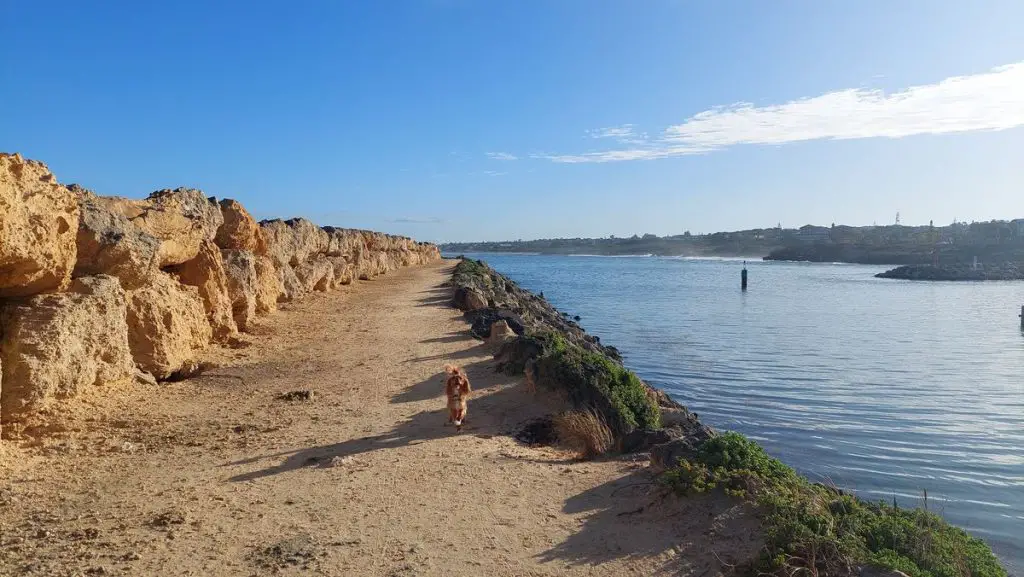 Crystal clear waters, stunning sunsets, and houses sitting on the waterfront make you feel like you're on the Mediterranean Coast.
When did open?
Mindarie Marina opened in 1988.
Is Mindarie a suburb?
Yes Mindarie WA is on the ocean side of Marmion, opposite Clarkson.
Is Mindarie a good suburb?
You'll find Mindarie, Western Australia is quite an upmarket beachside suburb. Retirees flock to Mindarie. There are an estimated 7,969 residents Population for Mindarie.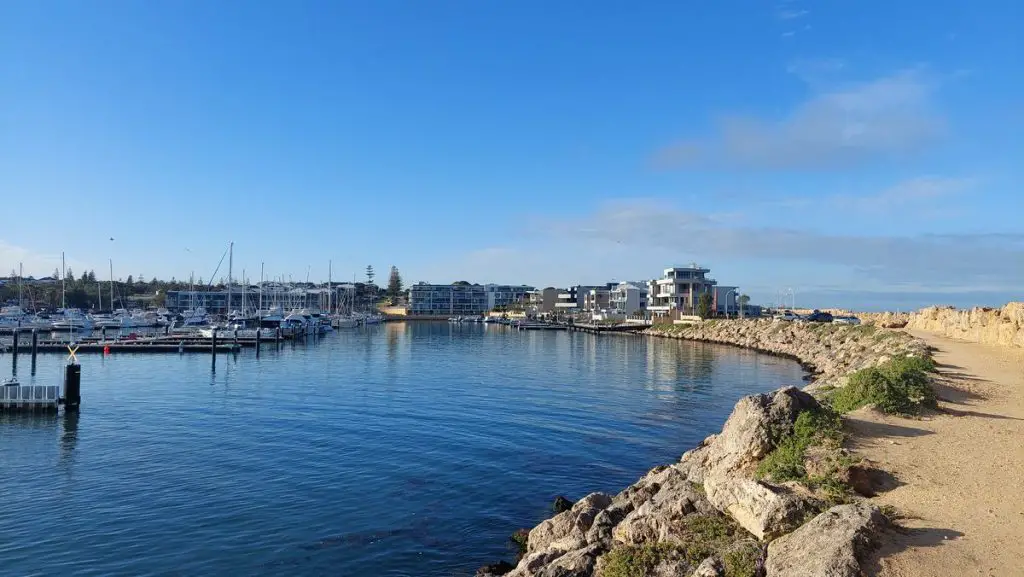 How do I get to ?
I would recommend hiring a car while in Western Australia. You can check prices here.
You'll find public transport can be quite tricky.
From the city center head straight up the Mitchell Freeway and take the Neerabup exit.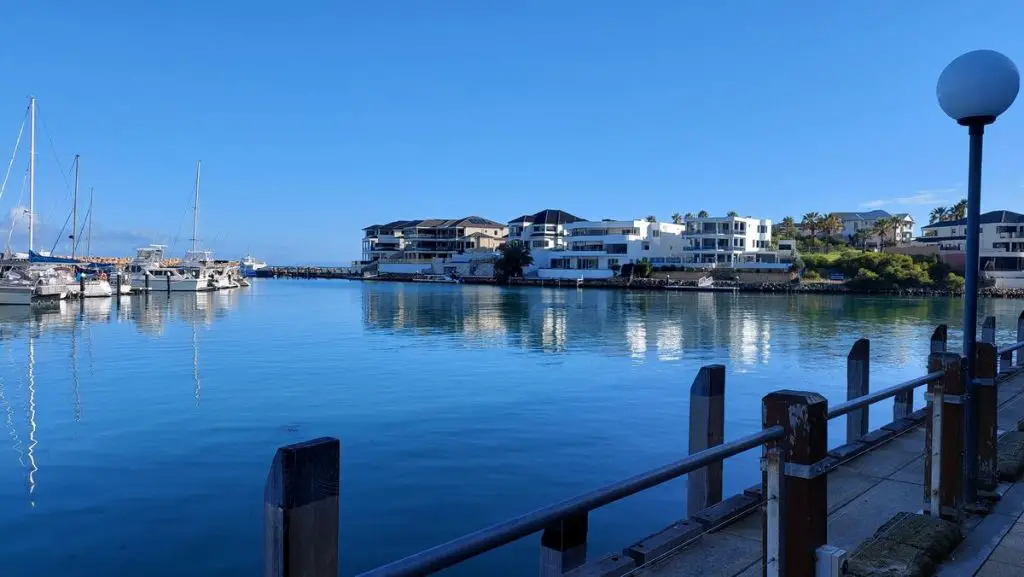 What Can I Do At ?
The marina has plenty of recreational activities for you, the kids, and the dog.
Bring the kids, eat ice cream, walk along the rocky outcrop, or head to Rosslare Park for a swim. This small beach is in an enclave in the Marina. The water is shallow and very calm – great for floating on your blow-up device or stand-up paddle boarding.
Dog walkers will love the beachside walk and dog-friendly cafes. Whether you head south to Burns Beach or north to Quinns.
While surfers can hit the wave at nearby Clayton Beach before devouring breakfast at 2 of the best brunch places north of Joondalup.
You can hire a bike or a boat from Marina Mindarie for exploring land and sea.
And fishing. There are plenty of people fishing out on those rocks so bring your gear.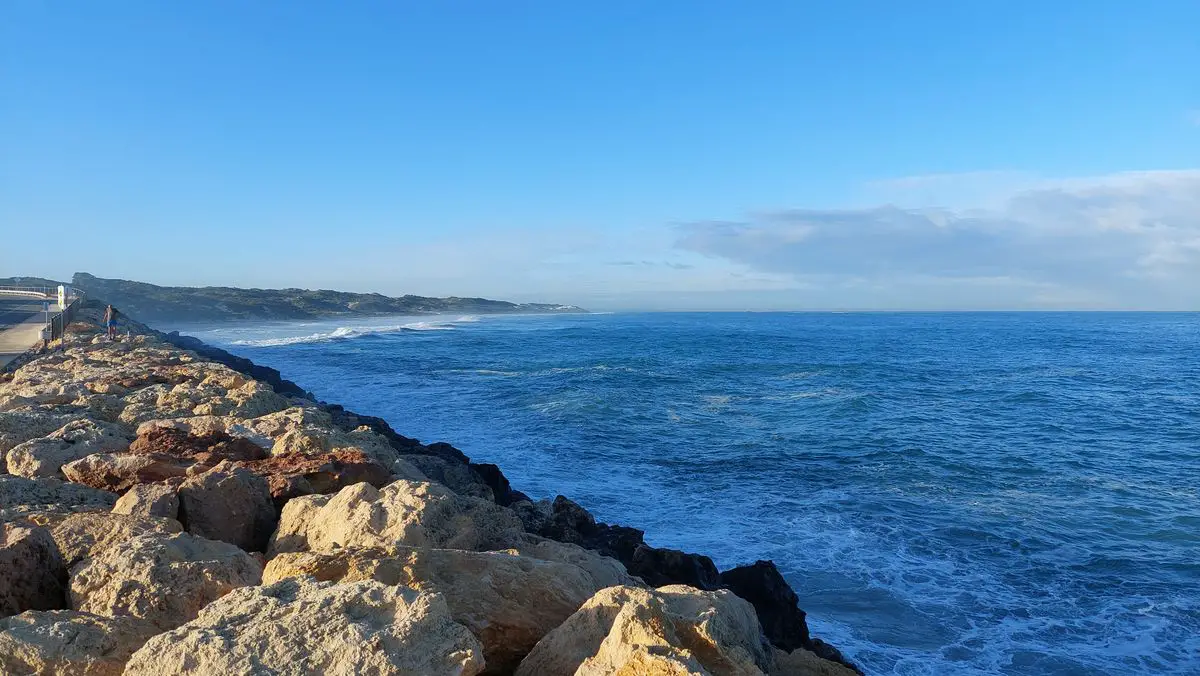 Does have events?
The boardwalk along Marina Mindarie is often filled with events. From night markets to live music to themed evenings. You won't get bored.
We celebrated New Years Eve at the Indian Ocean Brewing Company, it's a fun venue with plenty of loud music and good craft beer.
Can I hold events at ?
The Marina Hotel is available for functions for you and your guests and the Indian Ocean Brewing Co also holds plenty of space for birthday gatherings.
Perhaps weddings are on your mind? Look no further than the Sky Chapel, the perfect venue above the Marina.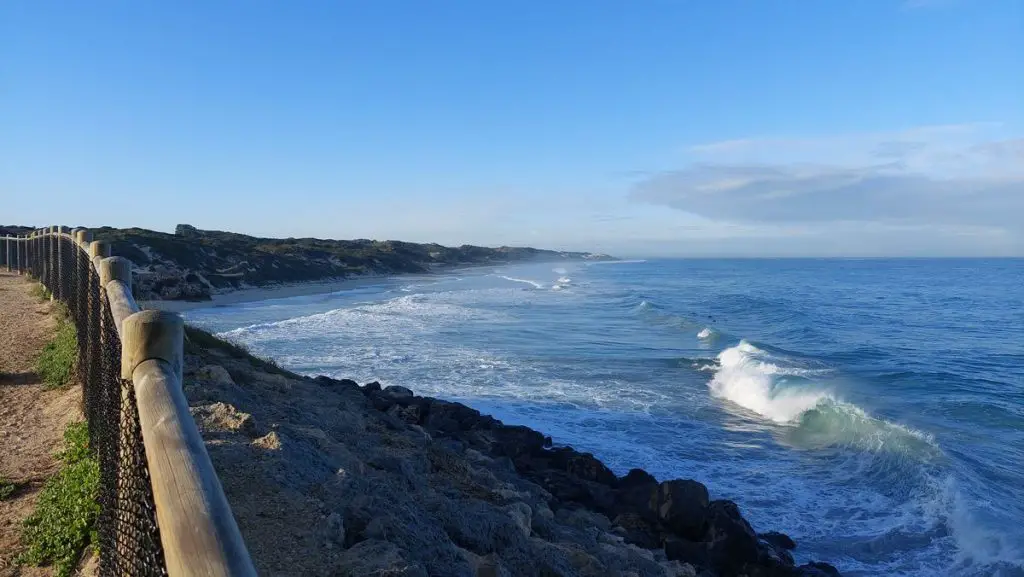 Can I stay at ?
Yes, the Marina Hotel is stylish accommodation in a great location. I'd recommend a weekend getaway in the decadent Keys Suite and a sunset cocktail beside the Cabana outdoor pool. There are also 2 and 3-bedroom villas for a family stay.
Check the prices for your dates here – Marina Hotel, Mindarie.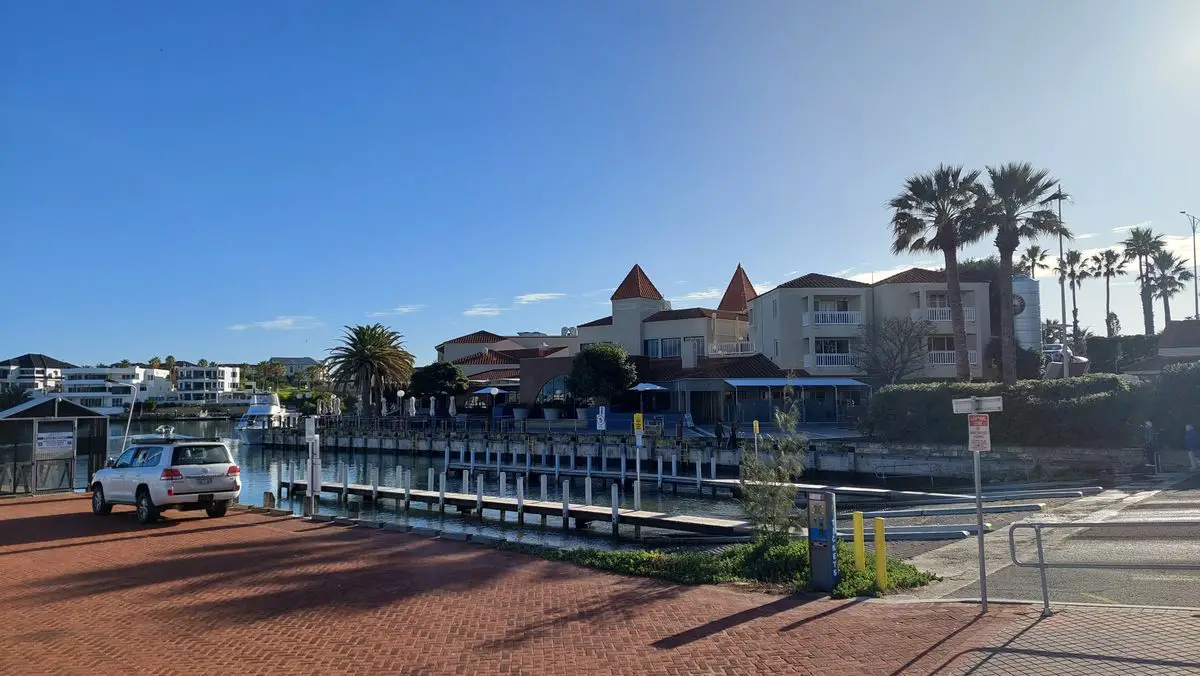 Don't want to stay at Marina Hotel Mindarie? Then check out the Rendezvous Hotel Perth Scarborough, Crown Perth, or any of the hotels in Elizabeth Quay. There's also nearby Joondalup. 
Joondalup City Hotel, Joondalup
Can you take dogs to ?
Yes, Marina Mindarie is dog friendly, as are many of the restaurants. Including Union Kitchen, which has its very own doggy menu.
Can you swim at ?
You sure can. The kids will love the Mindarie beach known as Rosslare Park. It's a calm enclave perfect for floating or sunbaking.
Where can I eat at ?
Some of the best North of the River places to eat are in Mindarie Keys. Whether you are looking for a quick ice cream fix from Six or fish and chips at the Boat restaurant.
The Indian Ocean Brewing Co was one of the first craft breweries in WA and has a great selection of pub lunch and dinner foods. Try a pizza and a locally brewed boutique beer.
Sistas Mindarie is brand new and the sister store to the Burns Beach venue. Some of the best coffee in the area and the Turkish Eggs for breakfast are a must-try.
Union Kitchen serves big food with big taste and I love their smashed avo with plenty of avocados. Great location overlooking the water and the mansions.
Can I shop at ?
Mindarie Marina has a few stalls you can browse as you walk the boardwalk. My favorite is his adorable homewares store right next to the ice cream shop.
There is also a beauty salon if you feel like some pampering.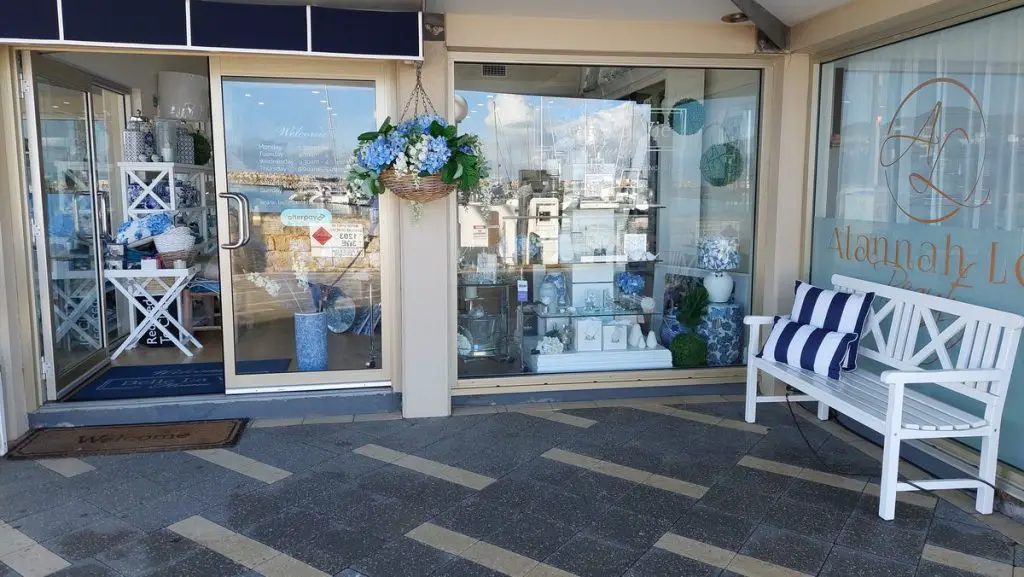 What else can I do while

in

?
Mindarie WA is not the only spot you should be visiting after you fly into Perth airport in Western Australia.
Check out my list of 10 things to do in Perth with kids here.
And the free things to do with kids in Perth here.
Or these 7 awesome things to do in Western Australia.
You're also going to want to try all these Australian foods and no you can not eat these cute Australian animals, but you can eat some of these dangerous animals.
Also now that you've checked out north of the river why not head down south to our favorite WA spot in Dunsborough.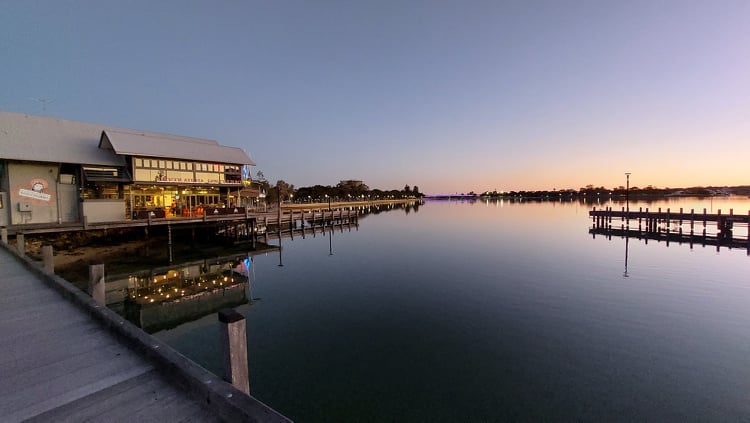 Explore With Erin Wrap Up
I love living North of the River in Western Australia and Mindarie Marina is one of those places that makes it so enjoyable. Even if you live South of the River consider a visit to Mindarie Marina. Shall we meet for brunch and a beach walk soon?
LOOK HOW EASY IT IS TO PIN THIS!
FOMO - do you have it?  Well there is no need to Fear On Missing Out here at Explore With Erin. Sign up to receive updates directly to your in box. I won't spam you, but I do promise a whole lot of awesomeness. What are you waiting for? Join Me!