Most Australians visit Bali for its budget-friendly expenses. Cheaper accommodation, delicious low-cost food, and the ability to live like a king.
But then there are the honeymooners, the retirees, and those of us who have 3 nights in a shack on Gili Trawangan (Gili T) and would love to experience a little luxury. And thankfully Bali offers even luxury at a friendly price.
After paying $300 per night for an average Hilton hotel room in my home city of Perth, the opportunity to live like a celebrity or royalty in a luxury hotel in Bali seems like a much better option.
So after those 3 nights in Gili T, I almost cried for joy entering the beautiful Balinese countryside of Gdas Bali Health & Wellness Resort. Not only ready for a soft bed and healthy delicious food, but a good dose of pampering. And Gdas Bali is the best place in Ubud Bali to do that.

What is Gdas Bali Health and Wellness Resort?
Gdas is an incredible health and wellness resort nestled in the heart of Ubud Bali.
Imagine being able to truly let go and find peace in a sanctuary dedicated to your well-being. Here, you can tap into the potent healing energies of this spiritual hub and raise your vibrations for the betterment of your mind, body, and spirit.
The resort boasts a team of accredited and highly experienced instructors who are dedicated to helping you on your journey. They offer a wide range of wellness programs, and you'll be treated to carefully curated vegan meals that nurture your body and soul.
Their holistic approach doesn't just scratch the surface; they help you dive deep into identifying the root causes of any issues you may have, guiding you towards complete mind-body rejuvenation.
Where is Gdas Bali Health and Wellness Resort?
It is a beautiful part of Ubud, right near Pelangi School and the fun Titi Batu Ubud Club. it is about 1 hour and 15 minutes (depending on traffic) away from Ngurah Rai International Airport.
You can read more about Mas, the area it's located in, here.
Jl. Cempaka Mas, Ubud, Gianyar, Bali 80571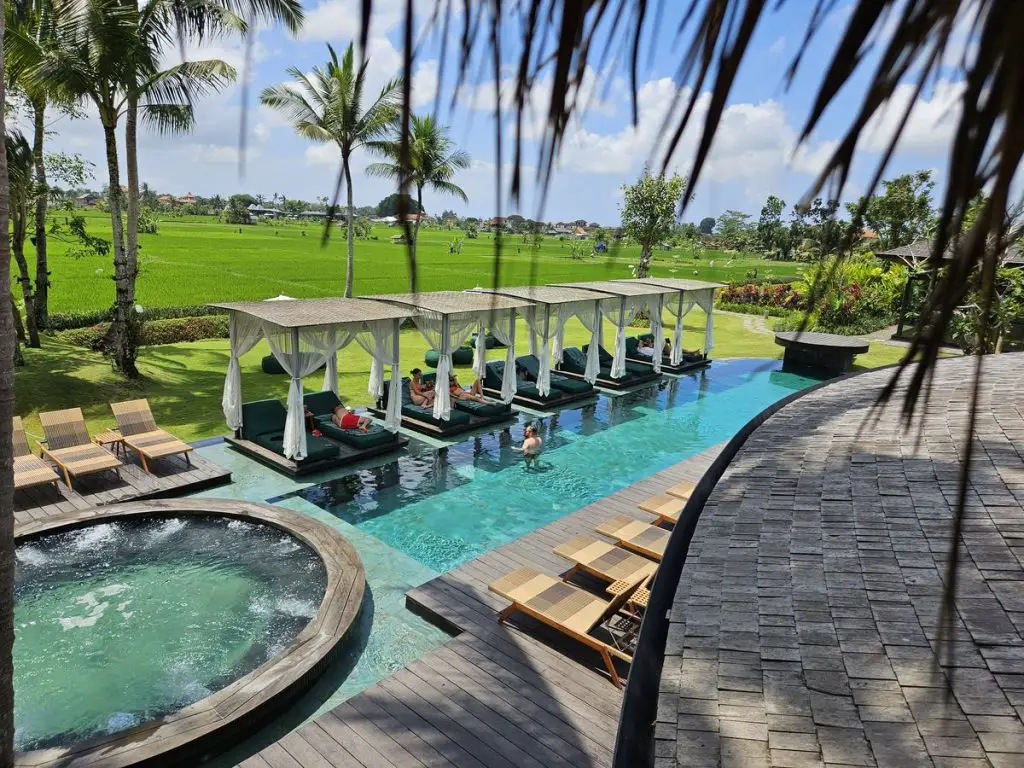 Organize your day activities through our favorite platform below.
Who is Gdas Bali Health and Wellness Resort best for?
While my teenagers enjoyed the slow pace of Gdas Bali I would say this is an ideal luxury Ubud hotel for adult guests, especially couples looking to reconnect or solo's looking for some self-care. I imagine a lot of honeymooners will find the Resort a haven from the madness of life and Bali.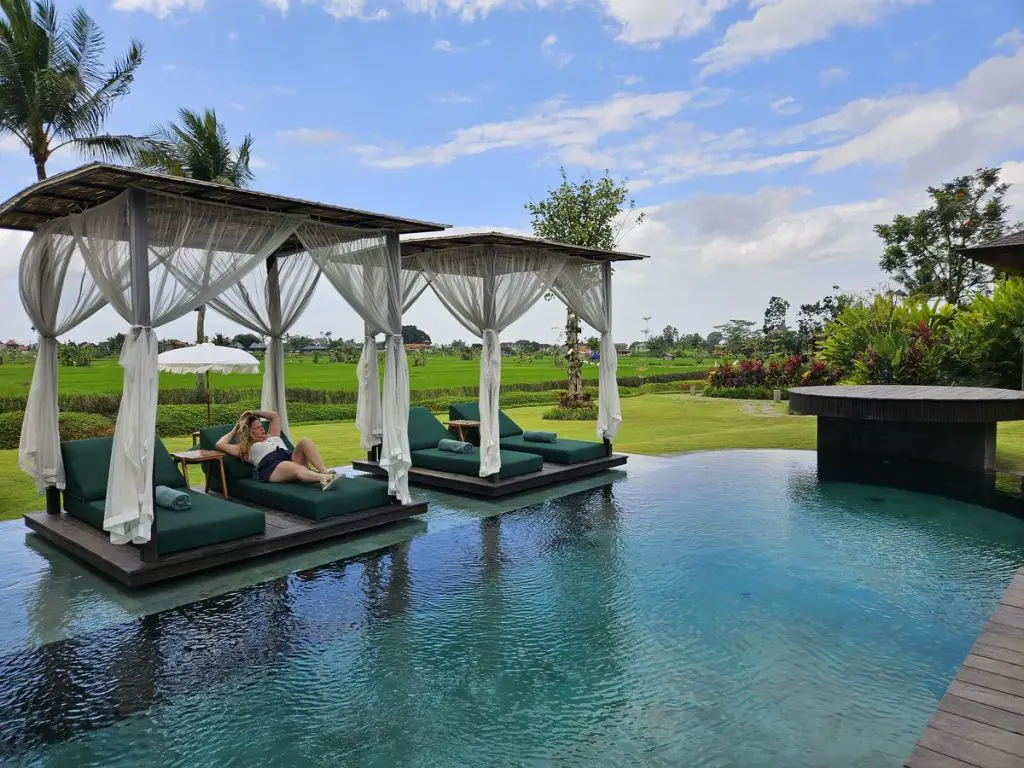 Are Children Welcome at Gdas Bali Health and Wellness Resort?
Children are welcome at Gdas Bali and my teenagers enjoyed the slow pace of our two nights after days on Gili cycling and snorkeling.
I also love how Gdas Bali introduced them to wellness through spa treatments, mindfulness activities, and plant-based nutrition. Something they can go on to educate their fellow peers and grasp as they push into adulthood. You are never too young to learn self-care and this is the perfect place to start.
What Is Gdas Bali Health and Wellness Resort guest room like?
Picture the simplicity of Balinese wood and color infused with an unpretentious luxury. The one thing I noticed was the rooms are scented every evening and it's delicious. Not just the rooms, but the entryways have a constant incense burning, which just immediately relaxes you and fills you with well-being.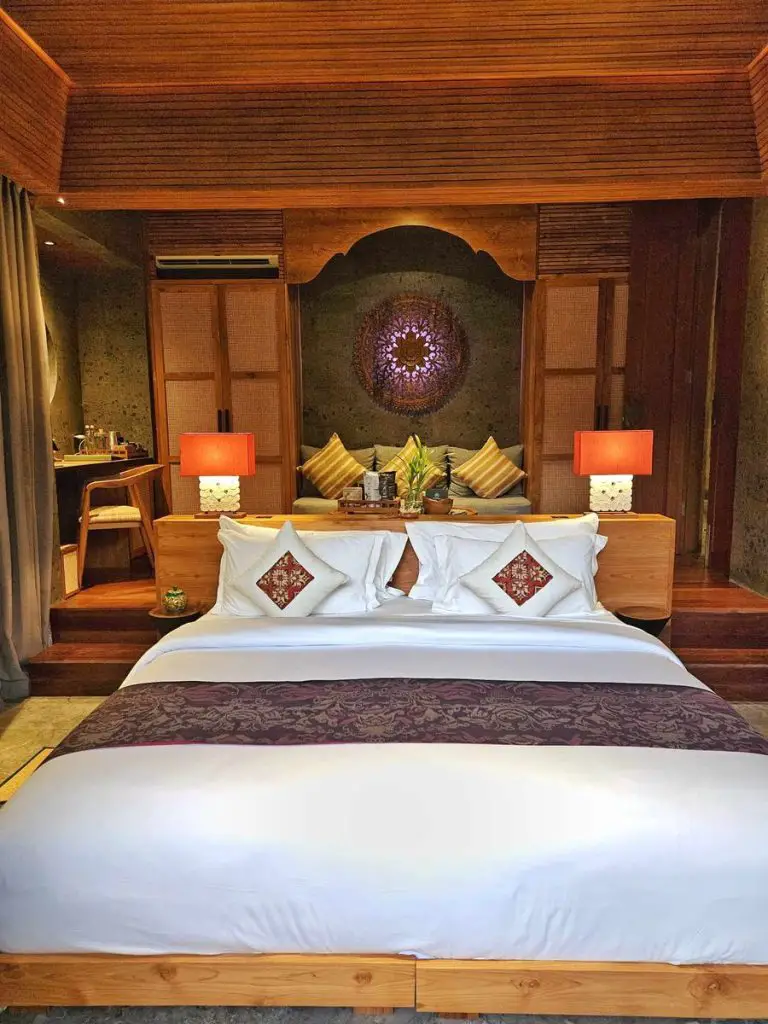 The guest rooms sleep 2 people so my teens had one room, and I had my own. We were downstairs and it felt like complete privacy that we often kept the doors open while walking between the two.
There is a comfortable sitting area with a minibar. Two wardrobes complete with kimonos. A massive bedroom, and one of those beds you just sink into and stay in.
Our garden view backed onto a small creek and plenty of foliage. 2 walls of the room are devoted to floor-to-ceiling windows that fill the place with light and serenity.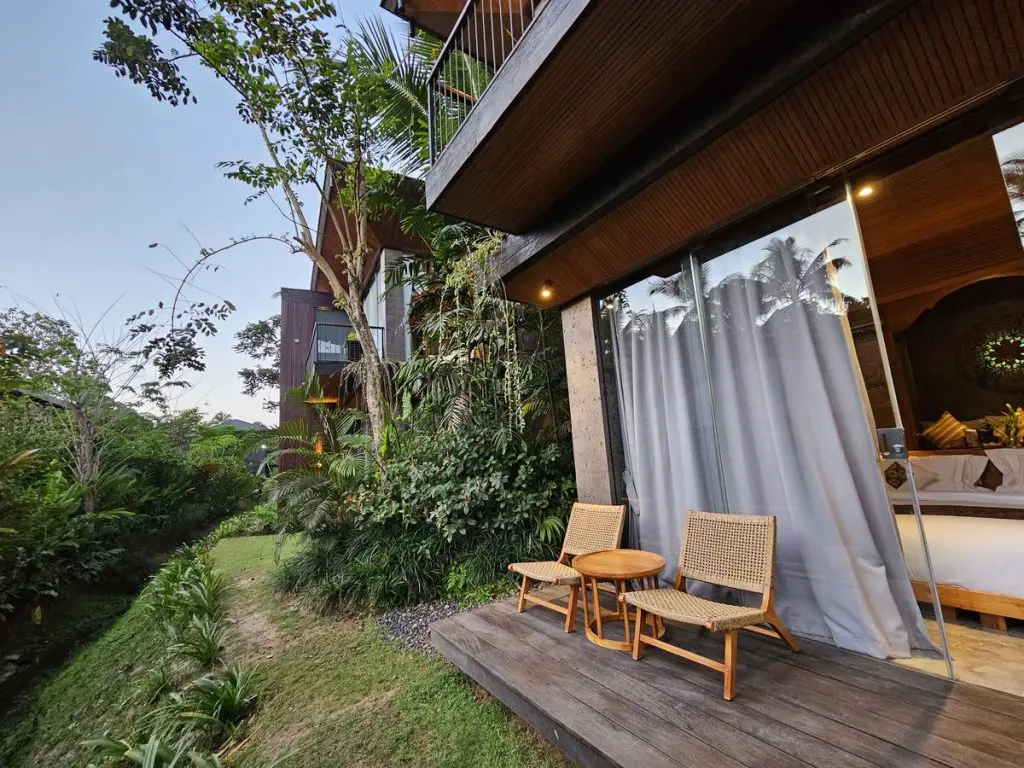 Special shout-outs to the adorable ottoman in the bathroom, and the large TV with Netflix and Prime. The only time I watched TV in Bali because it was too enticing not to jump into that luxury bed linen and relax the day away in the icy cold air conditioning.
What Can You Do At Gdas Bali Health and Wellness Resort?
Pool
The infinity pool is visually stunning with its flowing white-curtained cabanas and rice field views.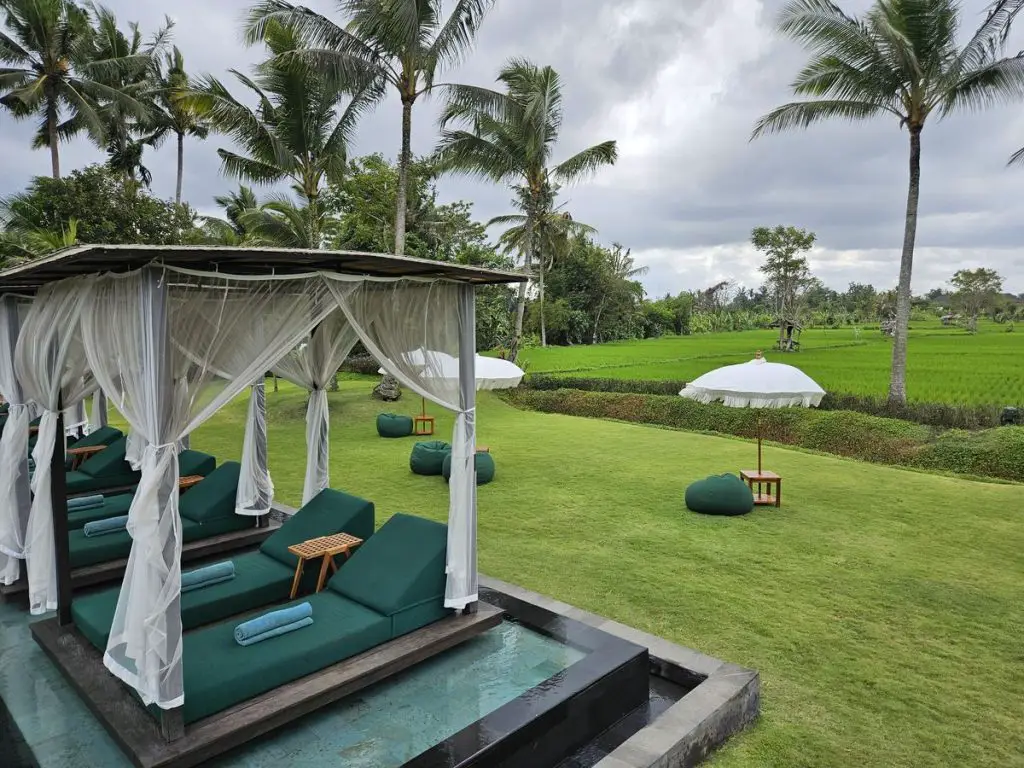 Best of all one end is a hot tub with a warm place to sit, while the outdoor swimming pool is refreshingly cool.
The pool staff are attentive providing copper cups of cool water and a wood caddy of mosquito repellent, sunscreen, tanning oil, and hand sanitizer.
Of course, food and drinks can be purchased to have poolside.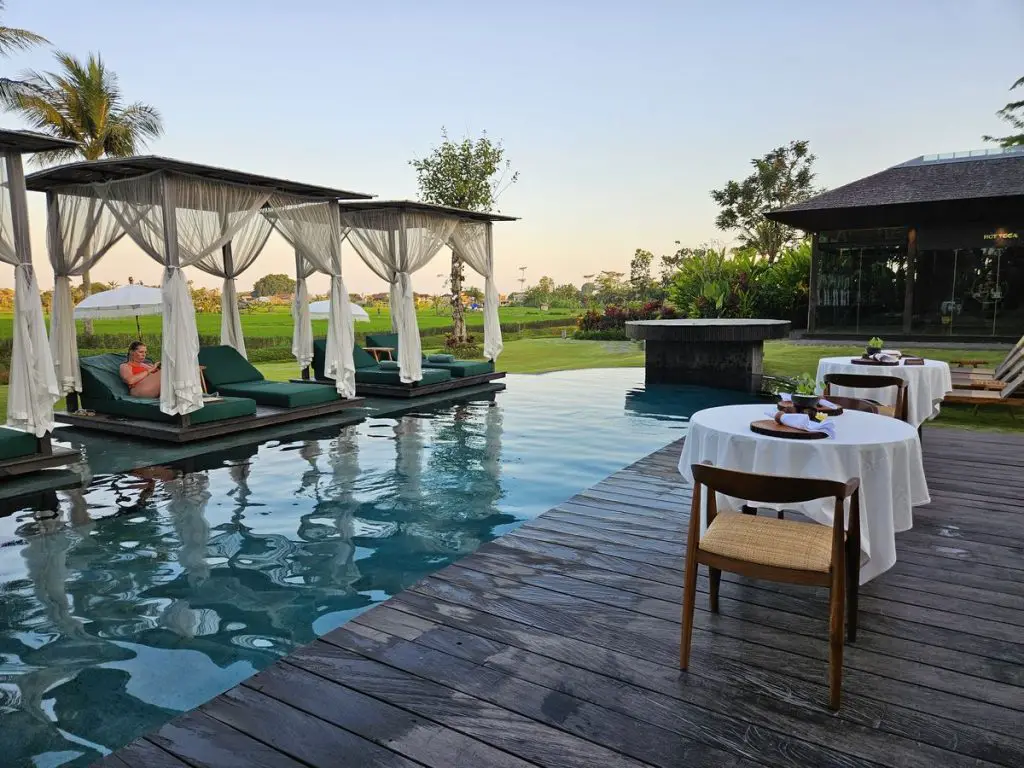 Yoga Class
Hot yoga and rooftop yoga are available for those early risers and those dedicated to body balance and holistic healing. It's a beautiful serene experience with the sounds of Bali and beautiful grounds.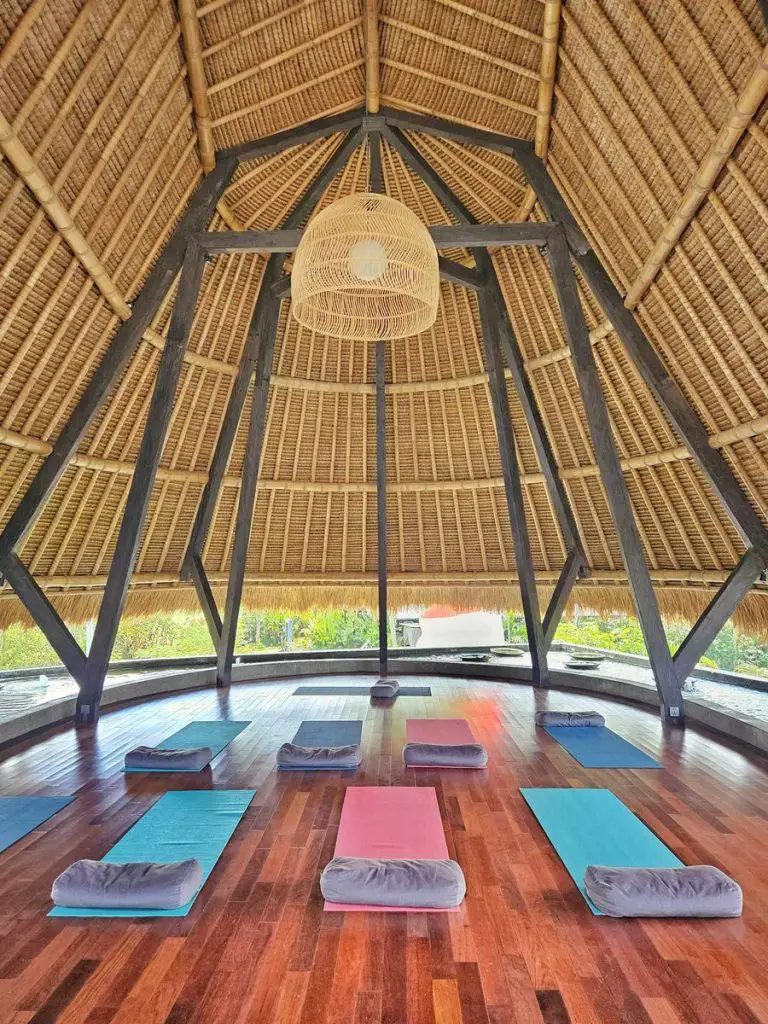 Mindfulness Activities
As part of their holistic wellness approach Gdas Bali runs mindfulness activities every day for you to take part in. From making their Loloh specialty drink to crafts. Make sure you check the day's activities on the personalized iPad in your room.
I loved their focus on "New Moon Gratitude" as a time for new beginnings and setting intentions, cultivating a mindset of appreciation.
The parting bracelet gift was also a nice touch with an explanation of the stone and its meaning.
Spa
While the property is being finished you can enjoy the spa at the sister villas easy walking distance next door.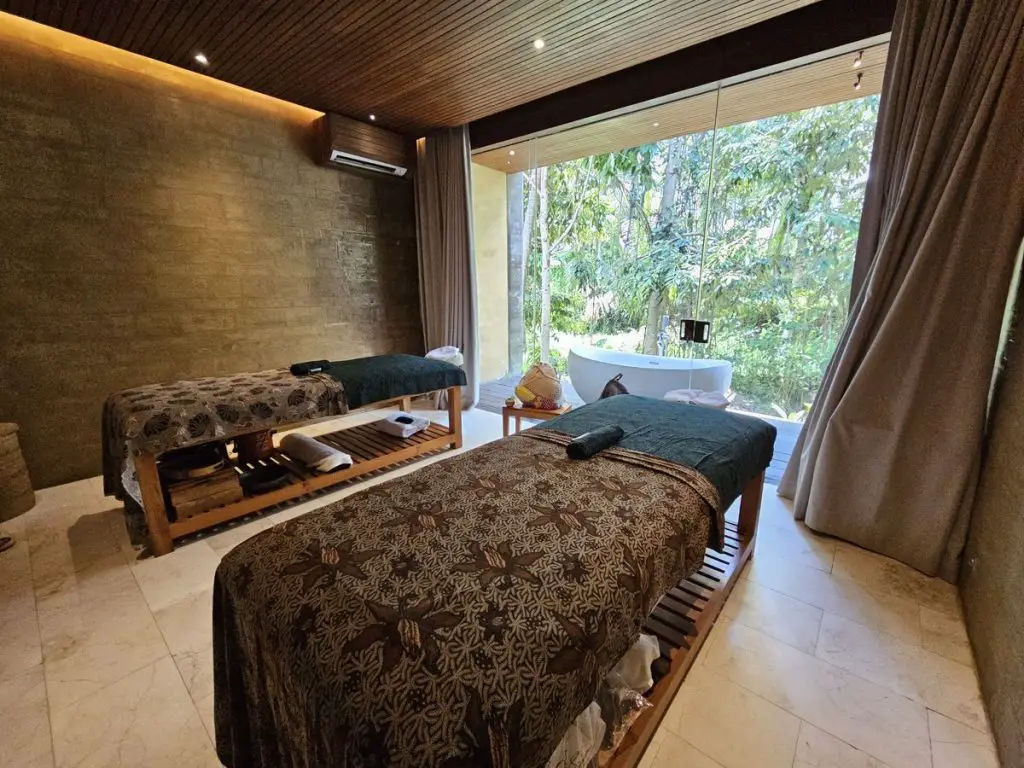 The room was airconditioned and had big windows overlooking water and trees. The teens and I indulged in a Buluh Cendani signature massage, good for cellulite and destressing of muscles.
I've never had a massage like this. You are first massaged with your choice of oil, then a hot bamboo stick is rolled over you. You feel like a soft pillowy pizza dough being smoothed out by a rolling pin. When the circle ends are pressed on your feet or hand, a warm ecstasy fills you. Highly recommend you take the time to try the signature massage.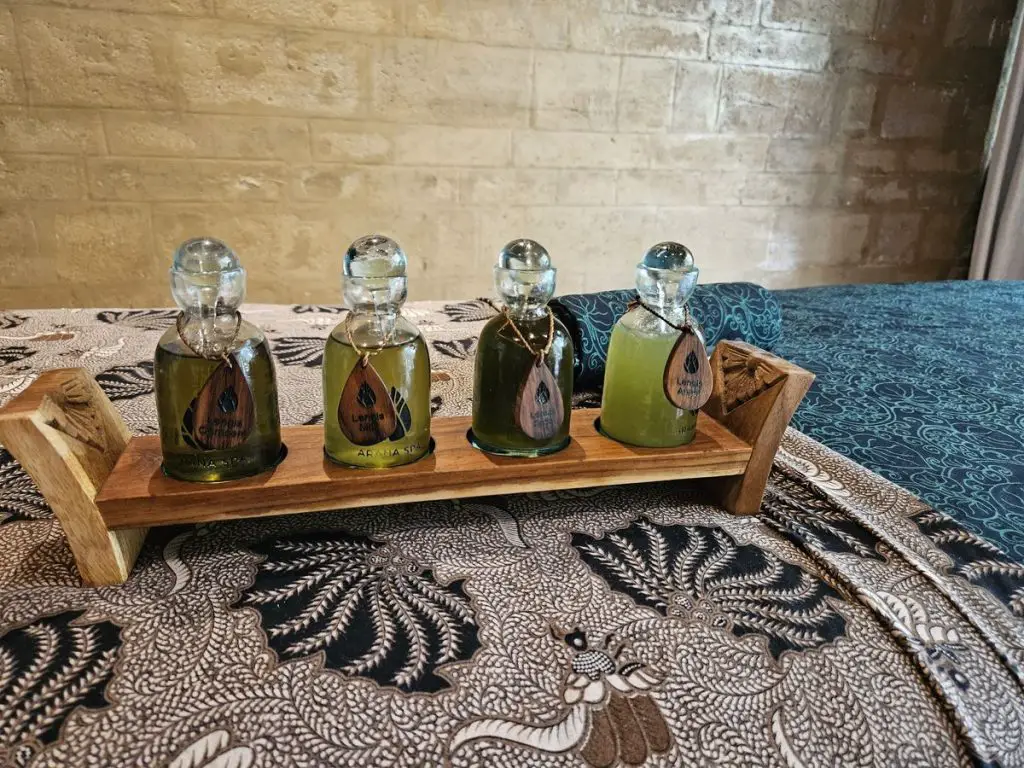 Library
There is a library/work shared lounge on-site if you have some work to do or need a book to borrow.
Shuttle
Every 3 hours Gda's runs a shuttle into central Ubud by Coco Supermarket and the Ubud Monkey Forest or Ubud Palace and the Ubud market, approximately 10 minutes away.
We headed into Ubud Center one evening at about 6 p.m. to grab some dinner from our favorite Ubud restaurant, enjoy another massage, do some shopping at our favorite bracelet store, drop off laundry, and grab some snacks. The shuttle collected us at 9:30 p.m.
Eat
Gda's is a complete vegan gastronomy experience that you need to experience. So make sure to set some time aside to eat in their Tangi restaurant while at the resort.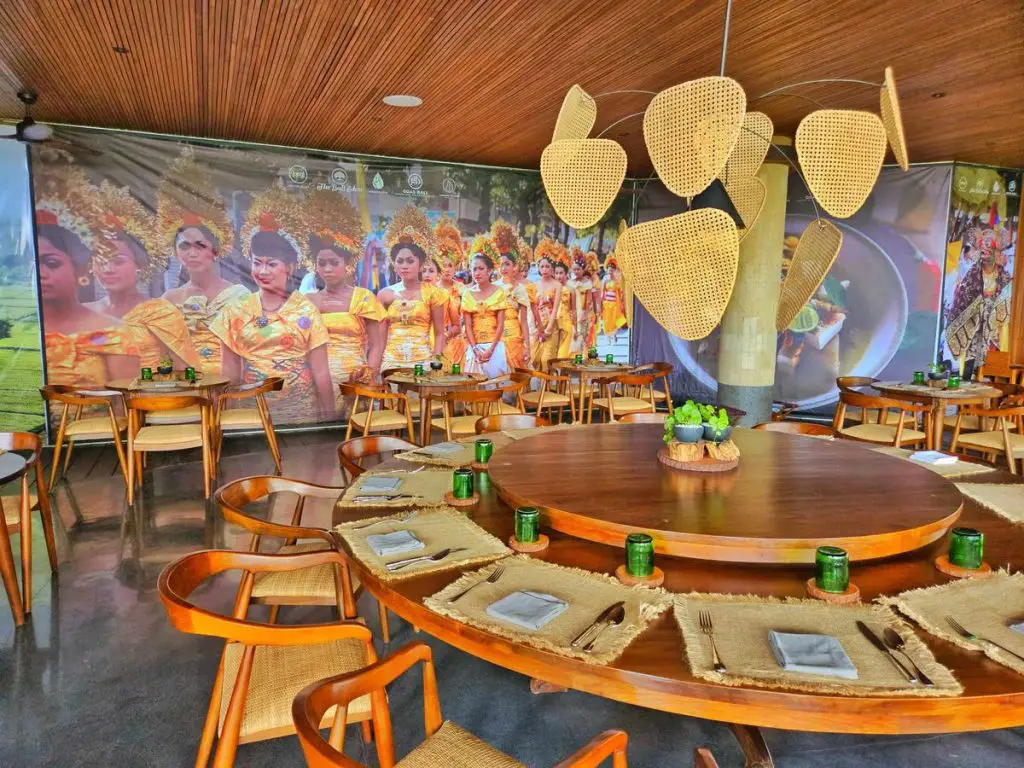 Plus every evening there is a turn-down cake. I don't think I'll ever be able to visit another hotel ever again without the expectation of closed curtains, folded-down bed quilts, and a delicious, good night sweet.
Nothing But Relax
We love to do nothing when staying at a luxury resort to completely indulge in the quality of fineness.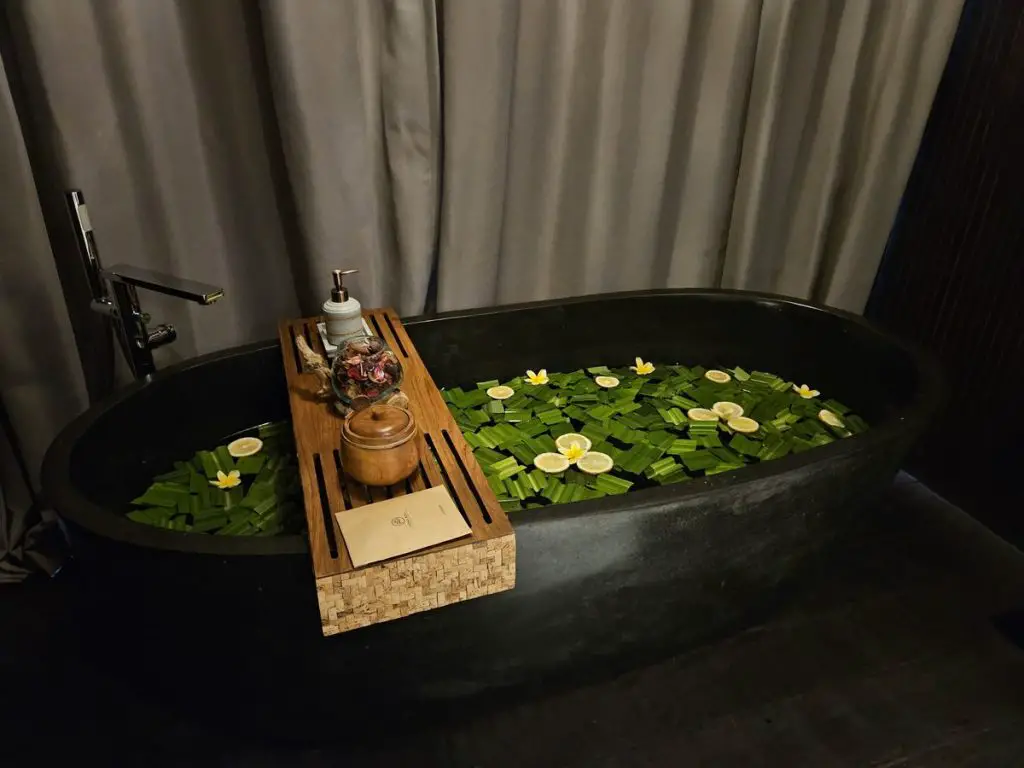 From long showers under the giant rain shower heads to day naps in the soft comfy beds.
From room service and movie nights with high quality to large televisions with options to login to your streaming services.
And let's not forget the arrival bath! When we arrived the bathtub was filled with lime, pandan leaves, and frangipani. After a long day trekking back from Gili T, I sunk my tired body into that tub and felt all my travel wariness melt away.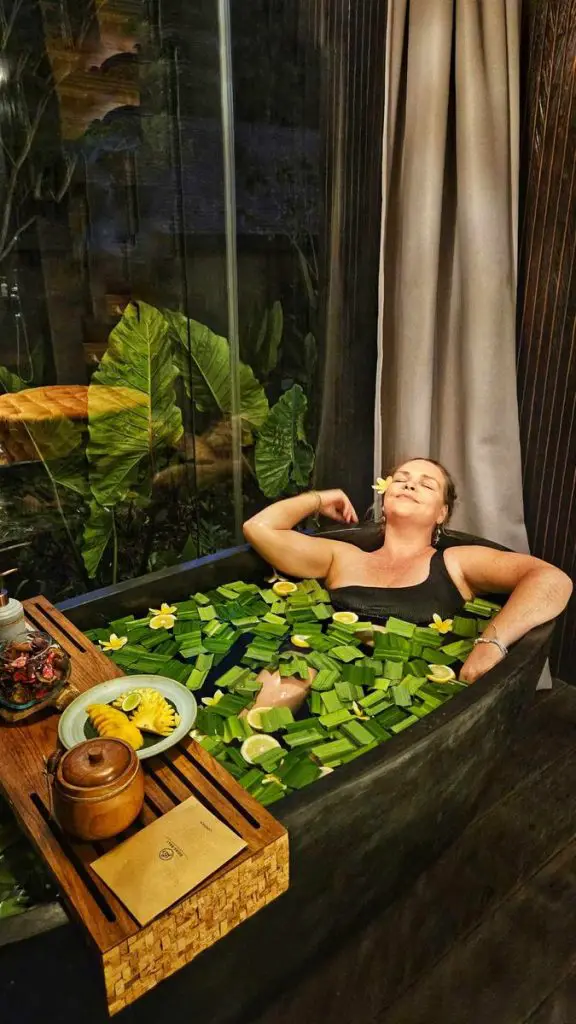 On top of this during my survey I completed before arrival, they also had a plate of my favorite fruit waiting, which I ate in my tub.
What Can You Eat At Gdas Bali Health and Wellness Resort?
So, I didn't get converted, but I certainly did find a new appreciation for vegan food from their vegan restaurant. Check out our photos from this vegan paradise.
Vegan Breakfast
Vegan Lunch 
Vegan Dinner
What Is My Opinion On Gdas Bali Health and Wellness Resort?
Even though they are still constructing the "best" bit I couldn't fault this resort. The staff were friendly, and attentive without being intrusive. The facilities and rooms were luxurious without being ridiculously opulent.
Honestly, the only thing I'd ever need here is a good steak instead of jackfruit! But I'd stay again, even without the beef.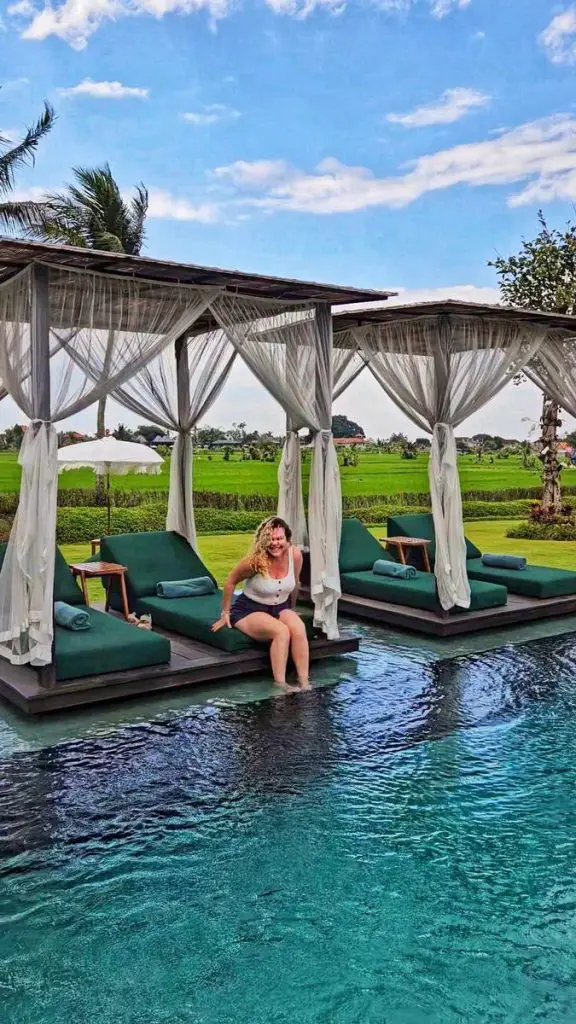 In the embrace of Gdas Bali, the holistic wellness resort, relaxation transcends mere tranquillity; it becomes a profound journey into the depths of serenity.
Nestled in the heart of Bali's enchanting landscapes, Gdas Bali provides a sanctuary where the mind finds stillness, the body discovers rejuvenation, and the spirit reconnects with its essence. Where you can gain emotional balance and a healthy lifestyle.
As you bid farewell to this oasis of tranquillity, may the echoes of your serene moments linger, reminding you that true relaxation is not just a momentary escape, but a gift to cherish and integrate into the rhythm of your life.
Until we meet again on our path to renewed well-being, I know the peaceful spirit of Gdas Bali will accompany me home.
LOOK HOW EASY IT IS TO PIN THIS!
FOMO - do you have it?  Well there is no need to Fear On Missing Out here at Explore With Erin. Sign up to receive updates directly to your in box. I won't spam you, but I do promise a whole lot of awesomeness. What are you waiting for? Join Me!