Did you know there are overwater bungalows in Malaysia?
I didn't.
The Maldives has been on my list for decades and when I received an invite to check out Lexis Hibiscus I was beyond curious. An overwater villa resort in Malaysia? I had no idea!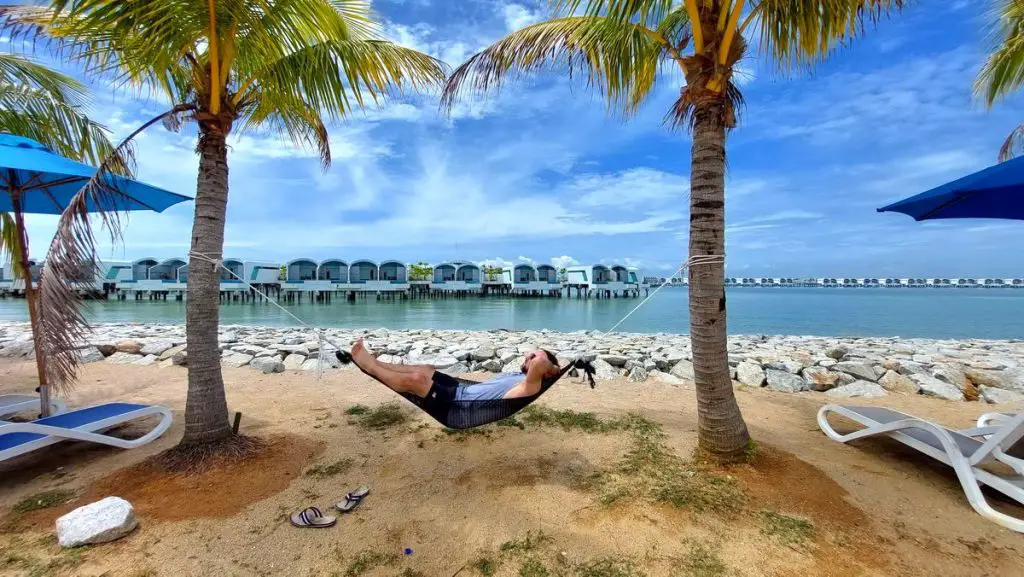 What is interesting about Lexis hibiscus?
I mean other than it being an overwater villa resort in Southeast Asia? Lexis Hibiscus Port Dickson is also the proud record holder of two Guinness World Records. "The most swimming pools in a resort" and "The most overwater villas in a single resort". Now that's interesting!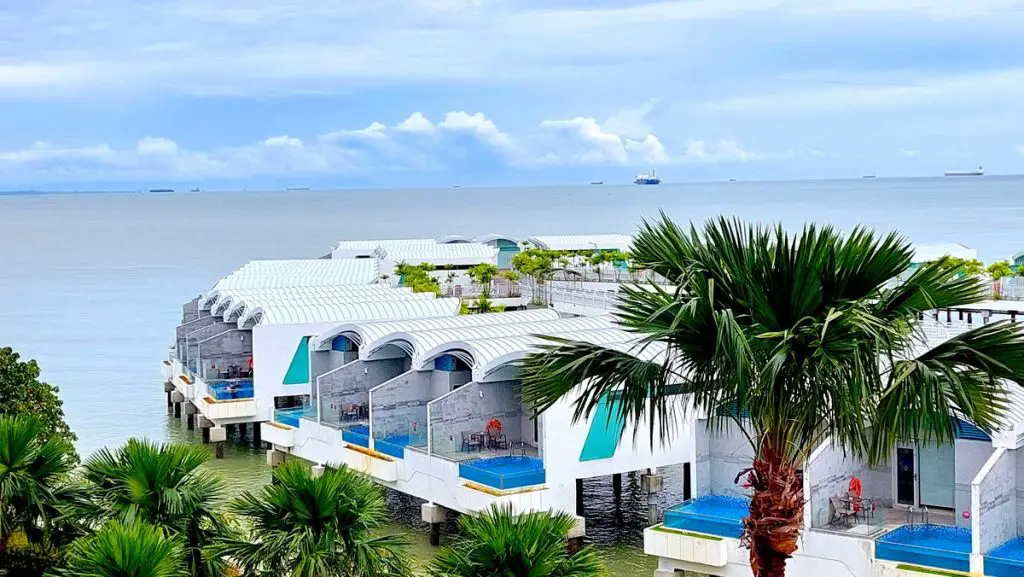 Why is it called Hibiscus?
Take a look at the aerial image. It looks like a hibiscus flower!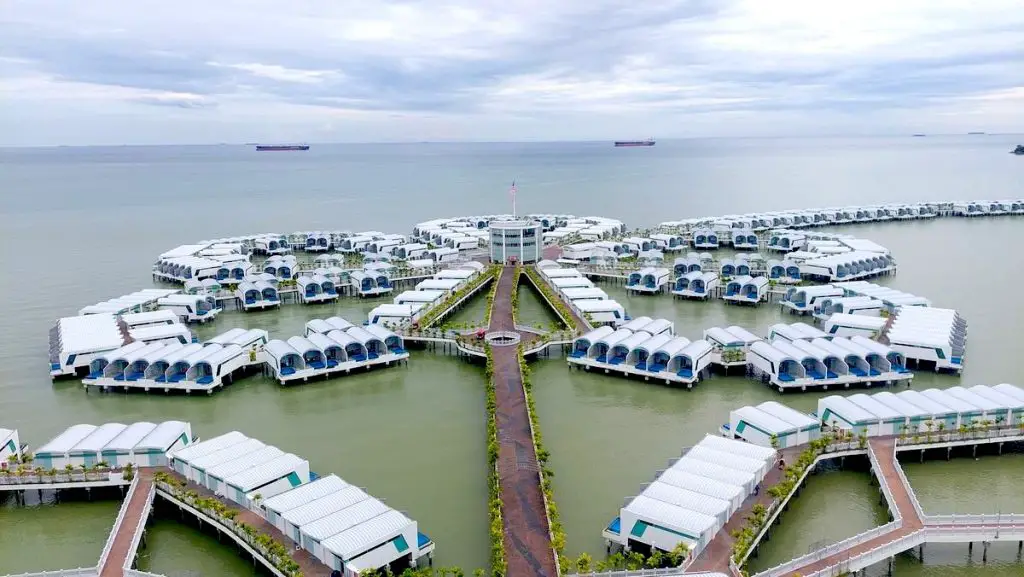 Where is ?
On the south coast of Malaysia, approximately 100km or 2 hours from Kuala Lumpur.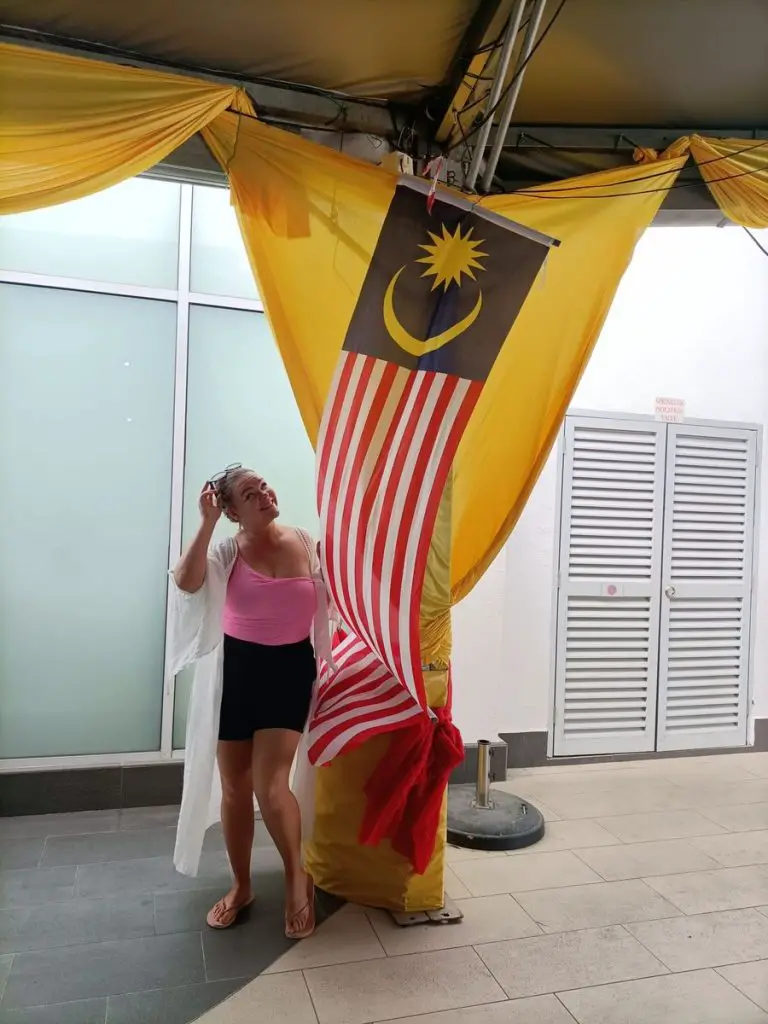 How do I get from Singapore to ?
To get from Singapore to Pork Dickson by car is pretty straightforward, and will take around 5 hours.
Who is the owner of Lexis hibiscus?
Not going to lie, loving that Lexis Hibiscus is owned by a woman. Mandy Chew Siok Cheng is an accomplished hotelier with more than 30 years of professional experience in the hospitality industry.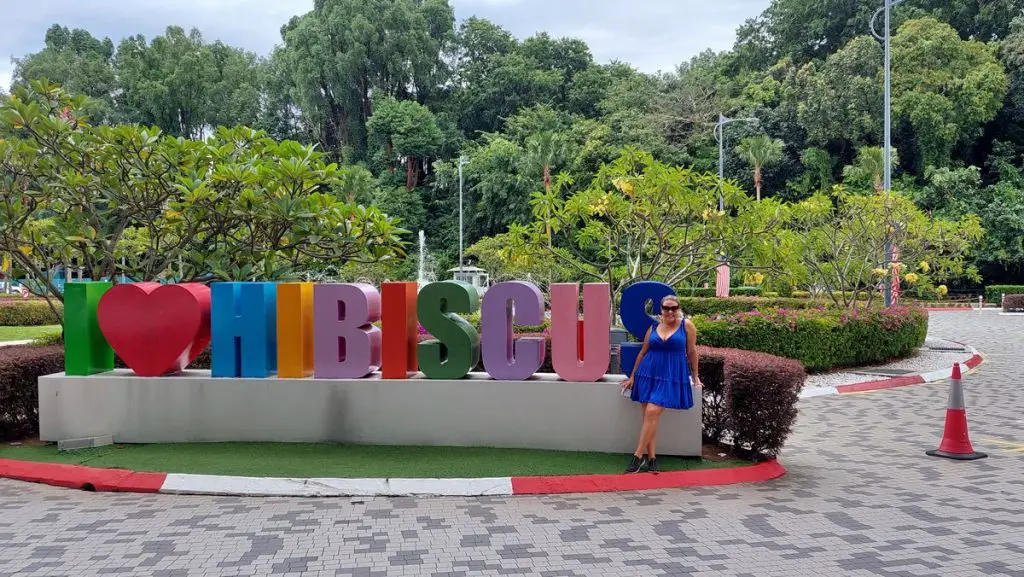 How deep is the pool at Lexis hibiscus?
Every overwater bungalow at the Lexis Hibiscus Port Dickson has a 1.2m deep pool overlooking the Indian Ocean in the Malacca Strait. that's 634 pools!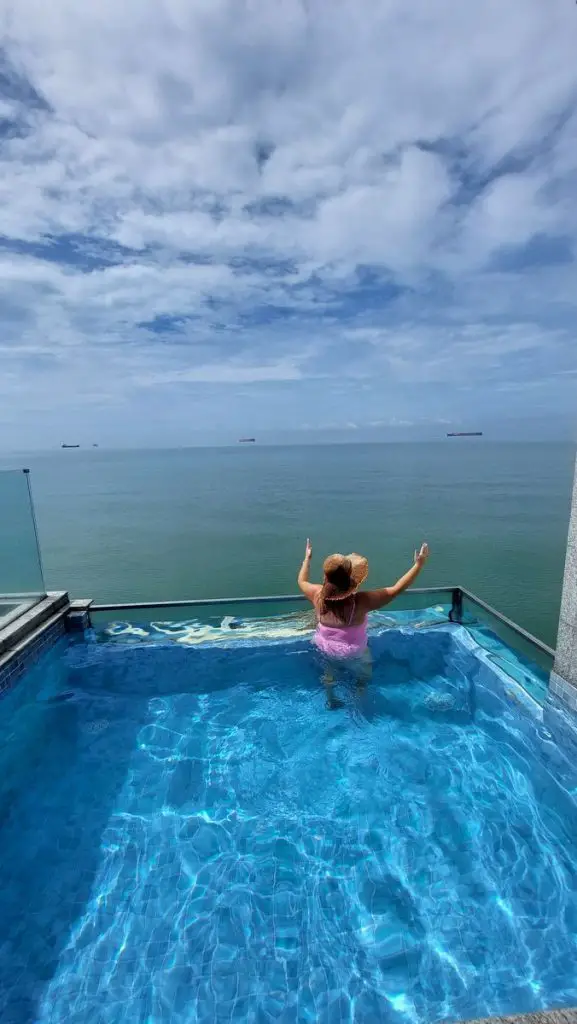 What is the difference between Lexis and Grand Lexis?
The Grand Lexis® Port Dickson Hotel is a 5-star oceanfront paradise of 317 Balinese-inspired water villas with a private pool, surrounded by tropical bliss.
Lexis Hibiscus is a 5-star resort with 117 tower rooms and 522 overwater villas, each water bungalow has a private pool.
Does Lexis Hibiscus have a beach?
It sure does. A simple walk from the hotel and you have a small beach with plenty of lounge chairs, and hammocks to relax in. The water is not as clear as our beautiful Australian beaches, but it sure is warm. Very warm. Like a lukewarm bath.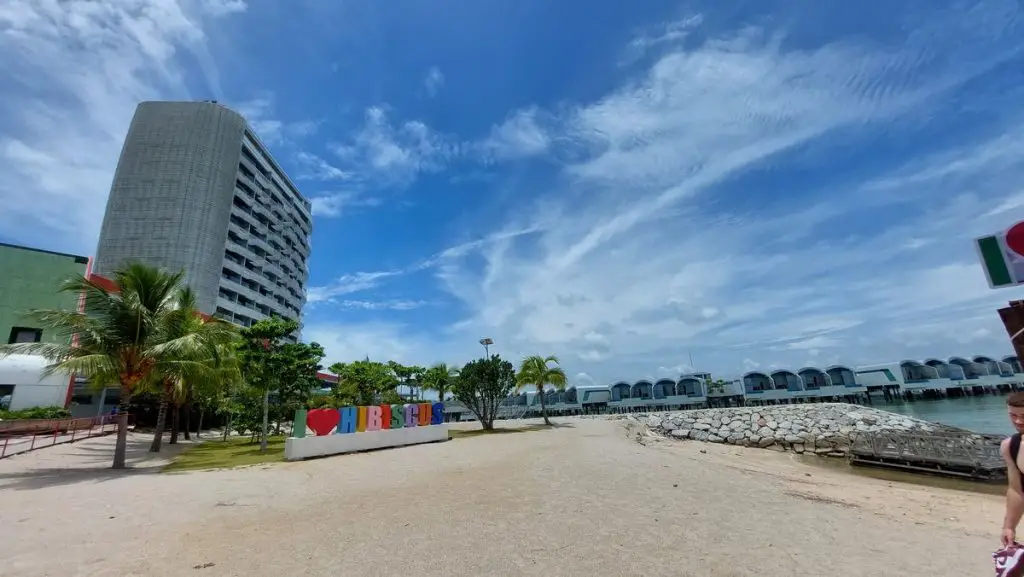 Is worth visiting?
Port Dickson is a good place to get away from the bustling city of Kuala Lumpur and have a beach vacation. The "golden beaches" stretch for more than ten kilometers, with soft sand, blue water, and beautiful scenery.
We didn't leave the hotel during our stay, but there are plenty of activities around Port Dickson to keep you busy. The towering Cape Rachado Lighthouse serves as a great lookout point to the expansive coastline. You can also explore the history of Port Dickson at Kota Lukut, which contains 19th-century fort ruins. Pantai Saujana is a must-visit beach!
What else can I do in Malaysia?
You should visit LEGOLAND with kids or LEGOLAND with teens.
If you have a layover in Kuala Lumpur consider this list.
Here's what to eat while in Penang, Malaysia.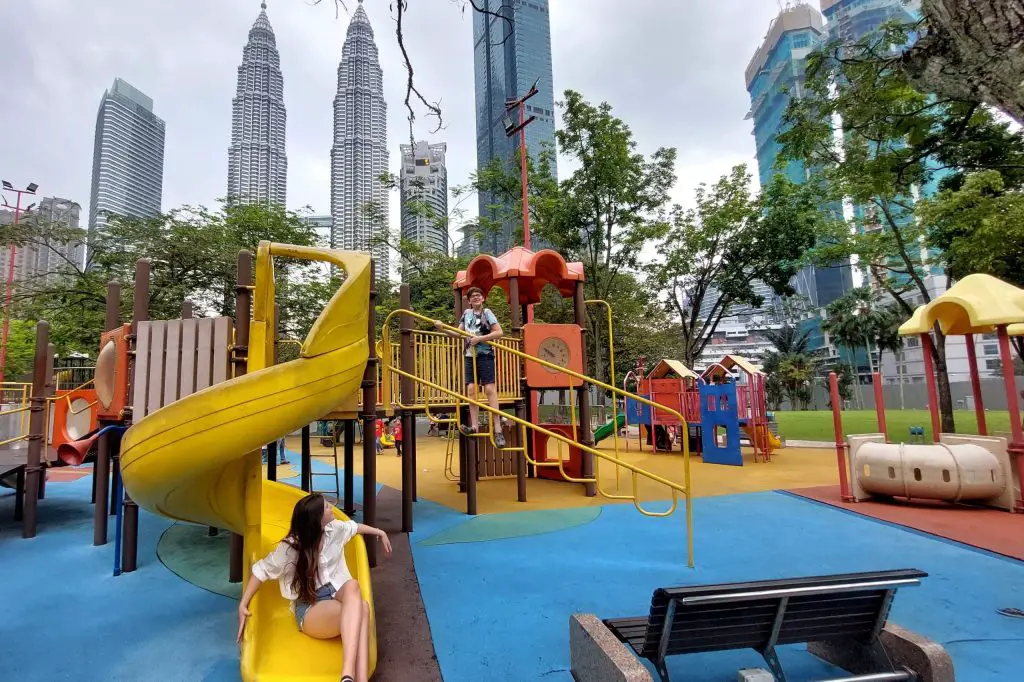 When did Lexis Hibiscus open?
Lexis Hibiscus Port Dickson opened in April 2015.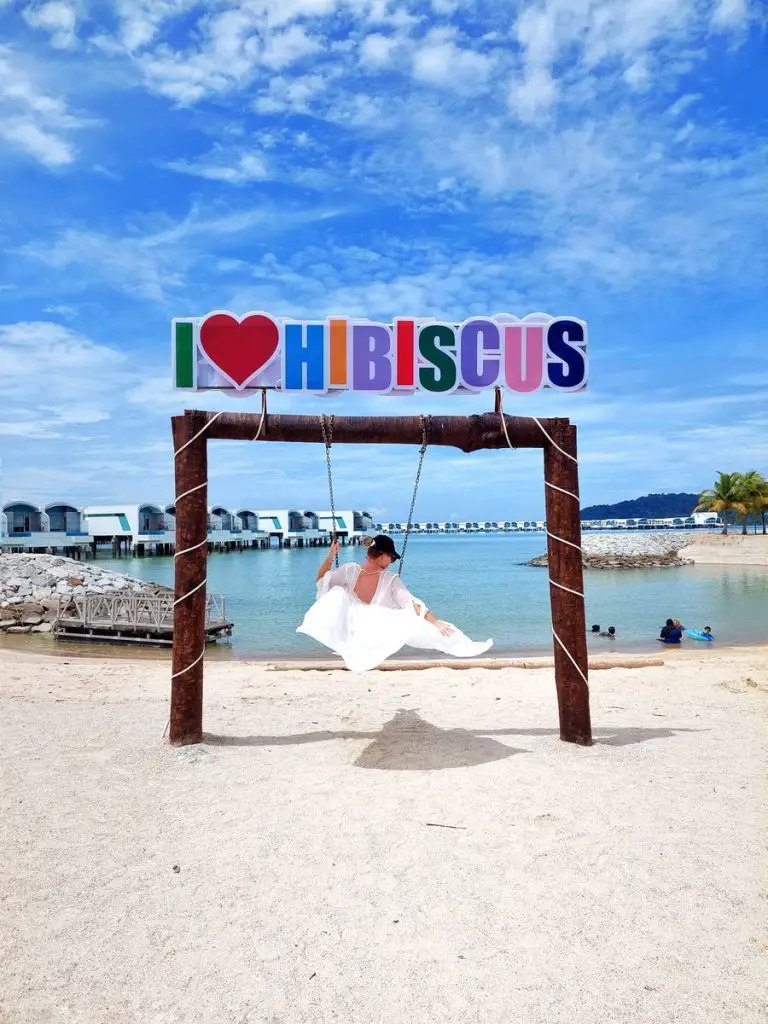 The Goldcoast of Malaysia has several overwater hotels you can stay at, like the Avani Sepang Goldcoast Resort, the Pangkor Laut Resort, Avillion Port Dickson, Mabul Water Bungalow, but we think the best overwater bungalows are at Lexis Hibiscus.
Just take a look at our YouTube walk-through of the Panorama Pool Villa.
7
1.     Affordable luxury
Malaysia is one of my favorite Southeast Asian countries. The people are lovely, the food is delicious, it's warm, and it's got a great big city, but the rest of the country is not hard or long to drive around.
Kuala Lumpur also happens to be a pretty big hub city for major airlines, which makes getting to it quite simple.
On top of all of this Malaysia has a great exchange rate for Australians. For every $1 you spend you receive 3 Malaysian Ringgit making luxury an affordable option. Forget the Maldives, the South Pacific, or French Polynesia, the best overwater bungalows are now an affordable luxury in Malaysia.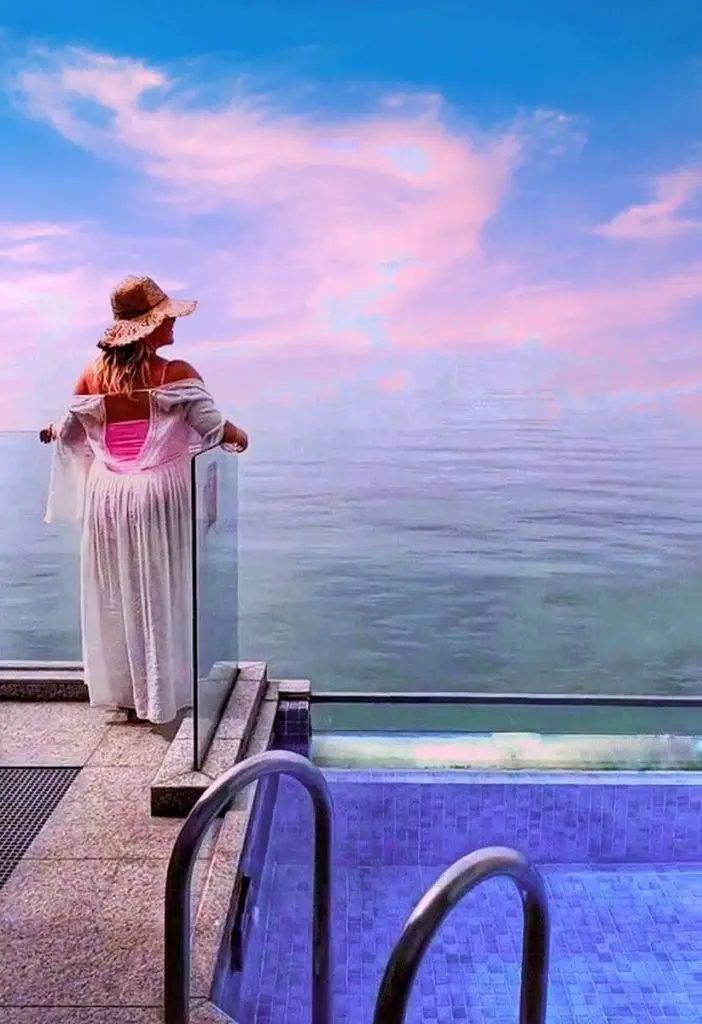 2.     Your own private pool
Every single room at Lexis Hibiscus has a private pool. Now I don't want to give you ideas on what you can do with a private pool, but honeymooners rejoice!
On top of this, there is also a steam room.
Late-night dips, sunset watching from the water, breakfast in your pool, you got it.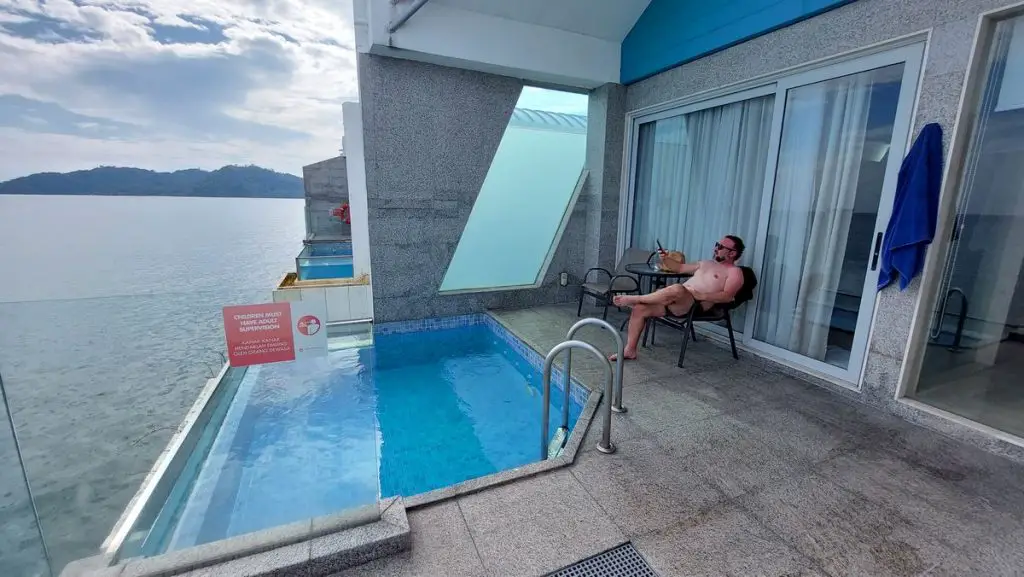 3.     Space for the family
All rooms at the Lexis hibiscus come with 2 king-size beds. They are built for families or luxury if you're visiting as a couple. We had three kids with us this time so we opted for 2 rooms, but any 2 adults, 2 kid family will find plenty of space in this hotel.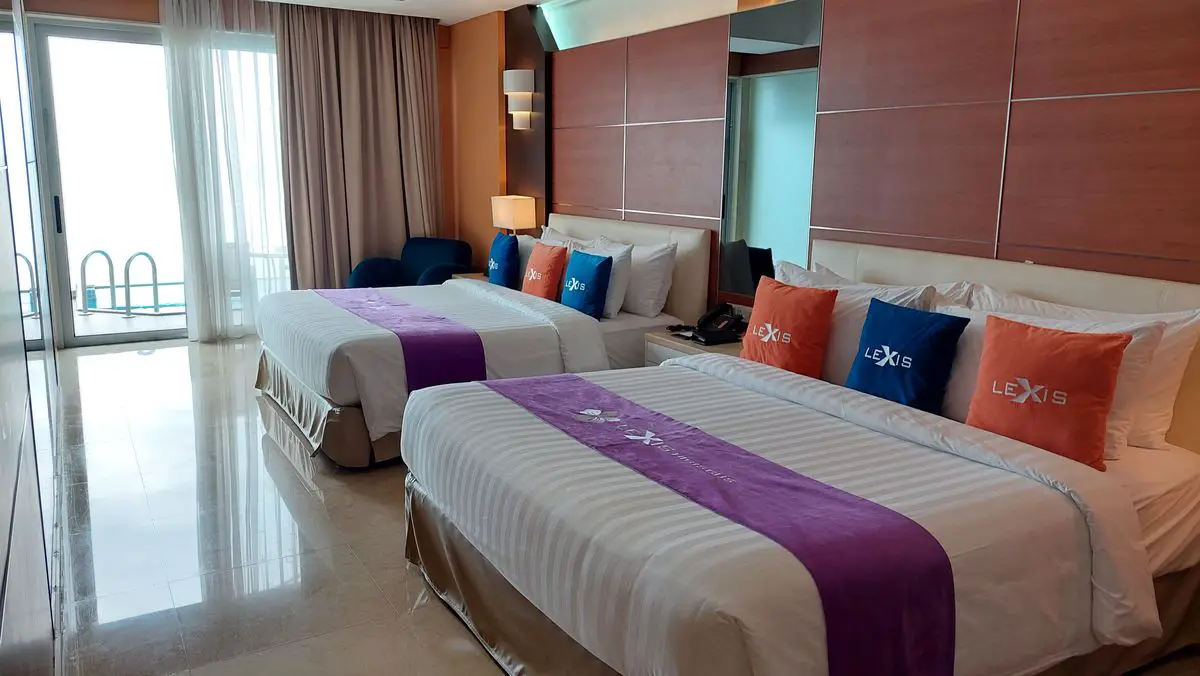 There is also a separate toilet to the bathroom, and a separate shower and bath-tub room for washing hands part of the bathroom. This works so well for families where mums need to put on makeup while kids are in the bath and dads using the facilities. There are also two sinks to make quick work of teeth brushing.
Did I also mention there's a glass floor in the water villa to watch the marine life?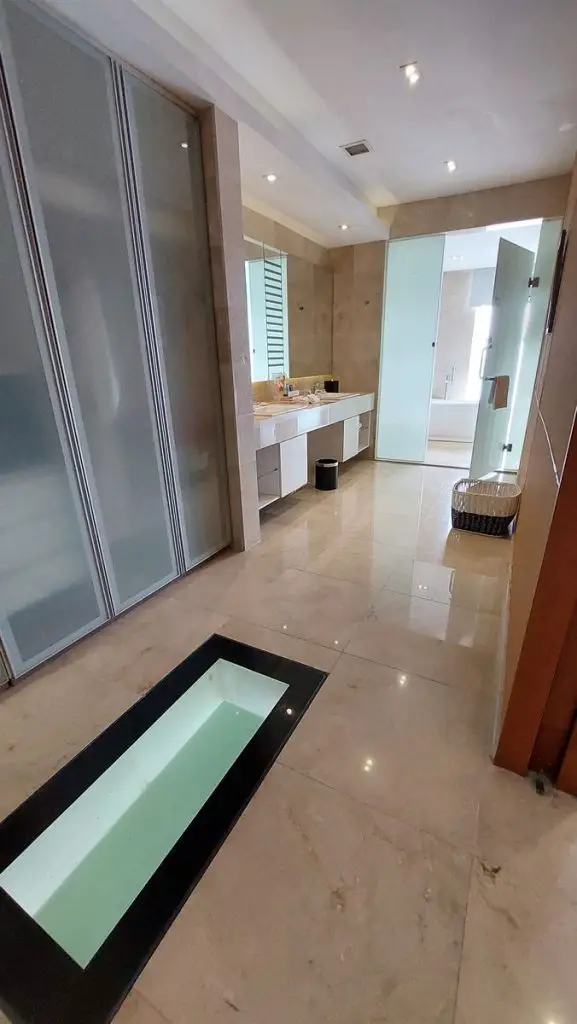 4.     Delicious food variety
We loved the variety of restaurants found at Lexis Hibiscus. We opted for an all-inclusive package and ate our way around the then entire resort.
For breakfast, we visited the Horizon Deck located on the second floor of the main building. It held an extensive buffet of Western and Asian foods each morning and the majority of guests attend.
On the morning of our departure, we opted for a quieter breakfast at the Captain Lounge in the Lighthouse. This area is reserved for Lighthouse Club members. It has a small buffet selection, and you can order a menu cooked breakfast. They also do a cocktail hour in the evenings with small snacks from delicious cakes, sandwiches, fruit, and cheese. Our cocktails were delicious!
During the day if the kids were ever hungry we headed to Coralz Bistro. It's a sleek café servicing coffee, tea, ice cream, cakes, and chocolates. A great place for a quick snack.
For lunch, we often headed to Roselle Coffee House. It's an all-day dining restaurant with a menu covering anything from steak to satay.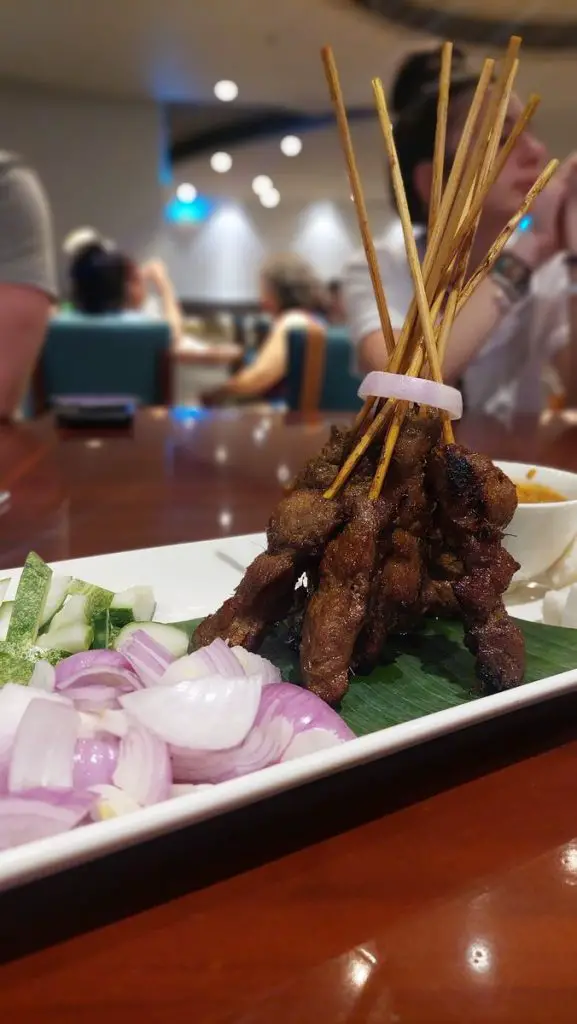 In the evening a visit to UMI Japanese Restaurant is a must with a delicious menu of Japanese delicacies from Teriyaki chicken to tempura prawns. Consider taking a pair of learner chopsticks with you! 
Late in the evening my partner and I headed 13 stories high to the Satellite Restaurant & Bar for some relaxing drinks overlooking the entire resort and staring at the stunning ocean views.
5.     Plenty of activities at Lexis Hibiscus
You won't be bored at Lexis Hibiscus. We stayed for 2 nights and didn't find time to see any of Port Dickson, let alone do everything we wanted to at the resort. We missed out on some fun singing at the karaoke, we never managed to relax at the spa, and of course, my kids are a little too old now, but the jungle gym kids club looked fantastic!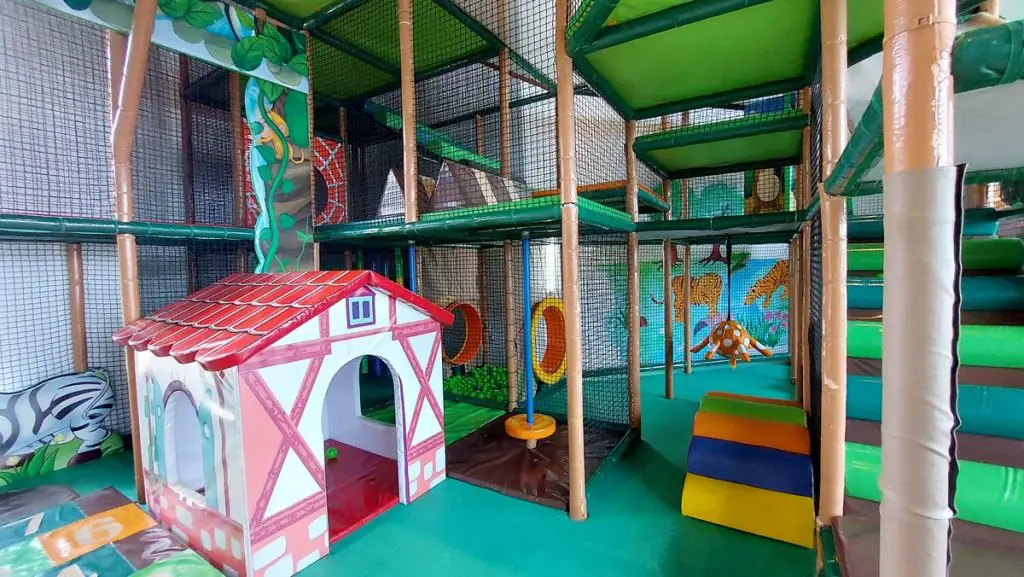 What we did get time to do was take a bike ride. You can choose a tandem bike, a big-wheeled bike, or a normal bike. It was some great family fun riding around the entire resort, up and down the rows of villas stretched out over the water.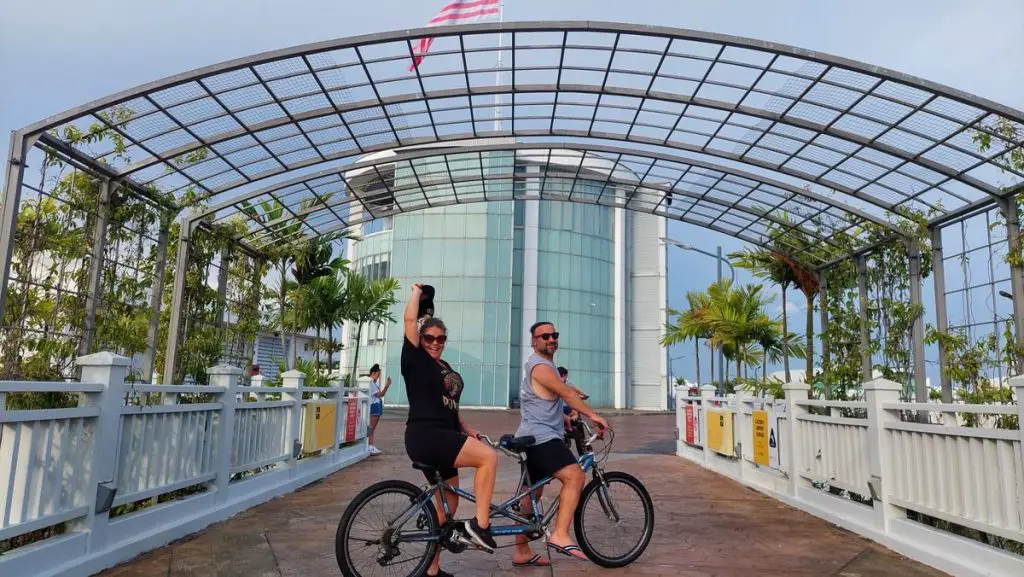 We also made some time to visit the private beach by the hotel. There you can do all kinds of water sports, but please be aware they only take cash and there are no ATM facilities at the resort.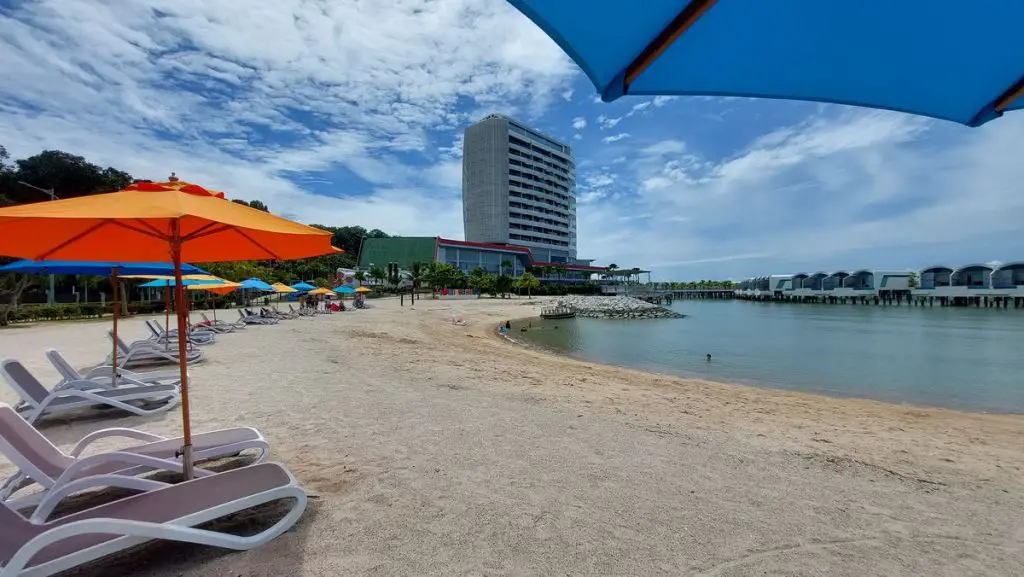 The beach water was so warm, and we especially loved lying in the hammocks.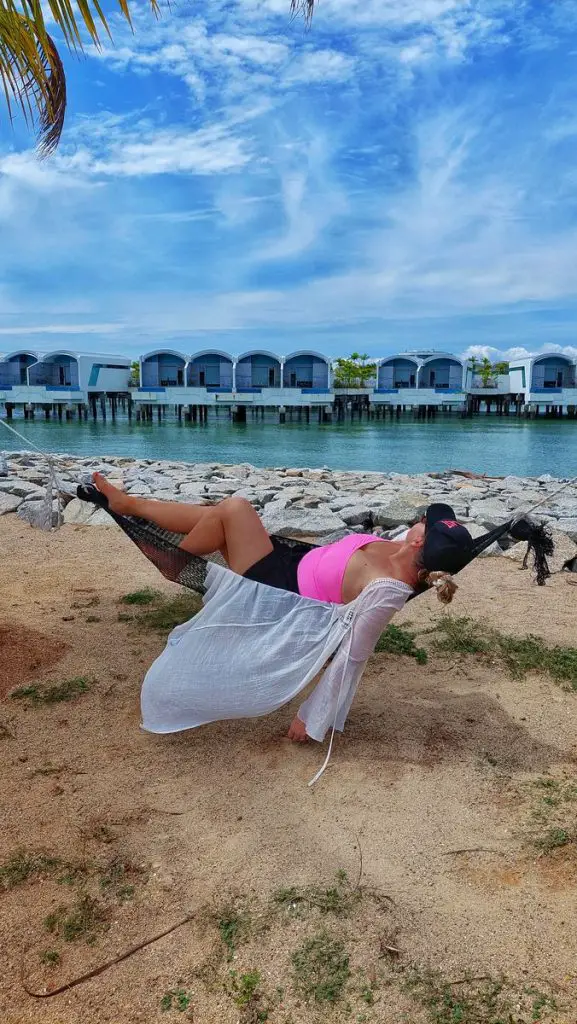 There are gold buggy shuttles that can transport you to and from your room with the touch of a button. The kids found this to be a great activity and enjoyed riding around in the doorless vehicles across the water.
6. Stunning views from anywhere
It goes without saying, but staying at Lexis Hibiscus you are guaranteed views from any room. We loved the Panorama Pool Villa views and I couldn't help staring early in the morning, and as the sun disappeared from the horizon.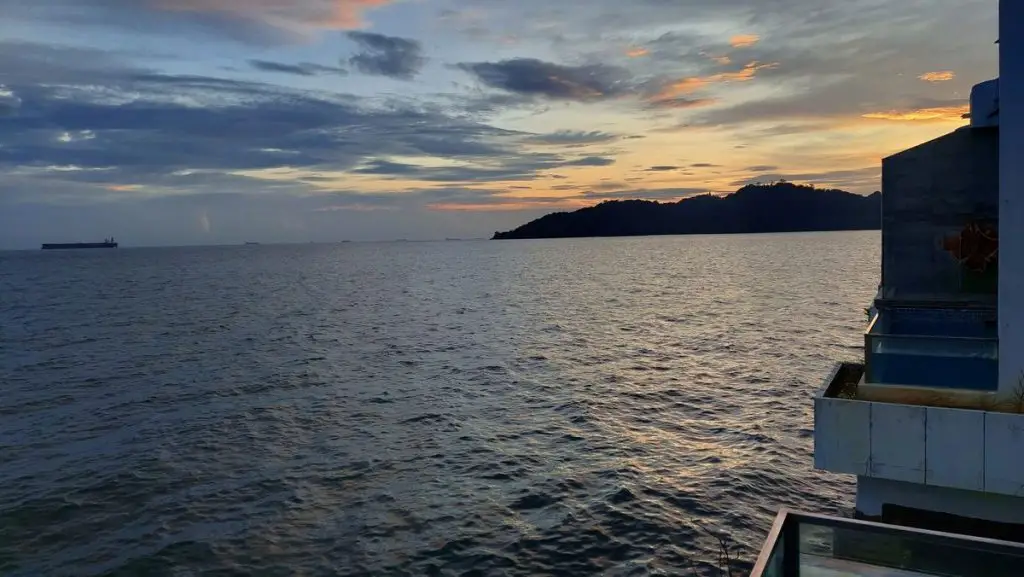 7. Staff
Hands down one of the best parts about staying at Lexis Hibiscus has to be the staff. Every staff member addressed me by name. We had fruit welcoming us in our room, doors held open, and buggies always ready to ride. When you are treated like royalty there is no doubt a luxury resort goes to the next level.
Have you ever stayed in a water villa? Where did you? Would you consider staying in Malaysia now or is Cocoa Island and Seasons Resort Bora Bora still on your bucket list? Let me know below.
LOOK HOW EASY IT IS TO PIN THIS!
Accommodation
Booking.com has hundreds of properties in Port Dickson including hotels, apartments, and hostels. You get free cancellation on most rooms and the best price guaranteed. Check Lexis Hibiscus prices here.
Tour
Want to take an organised tour in Port Dickson? Then I recommend these ones through Headout.
Rental Car
We love RentalCars.com because they have the best car rental prices – Guaranteed.
Travel Insurance
Never travel without travel insurance. We recommend Safetywing, it's who we use.
FOMO - do you have it?  Well there is no need to Fear On Missing Out here at Explore With Erin. Sign up to receive updates directly to your in box. I won't spam you, but I do promise a whole lot of awesomeness. What are you waiting for? Join Me!