As I stepped on the scales I was afraid to look.
The numbers kept going up and up.
I closed my eyes and breathed. Behind my closed eyelids the last five years of nomadic travel taunted me. Flashes of delicious desserts, chocolatey cocktails and a fast paced life that consisted of fast food options more often than not.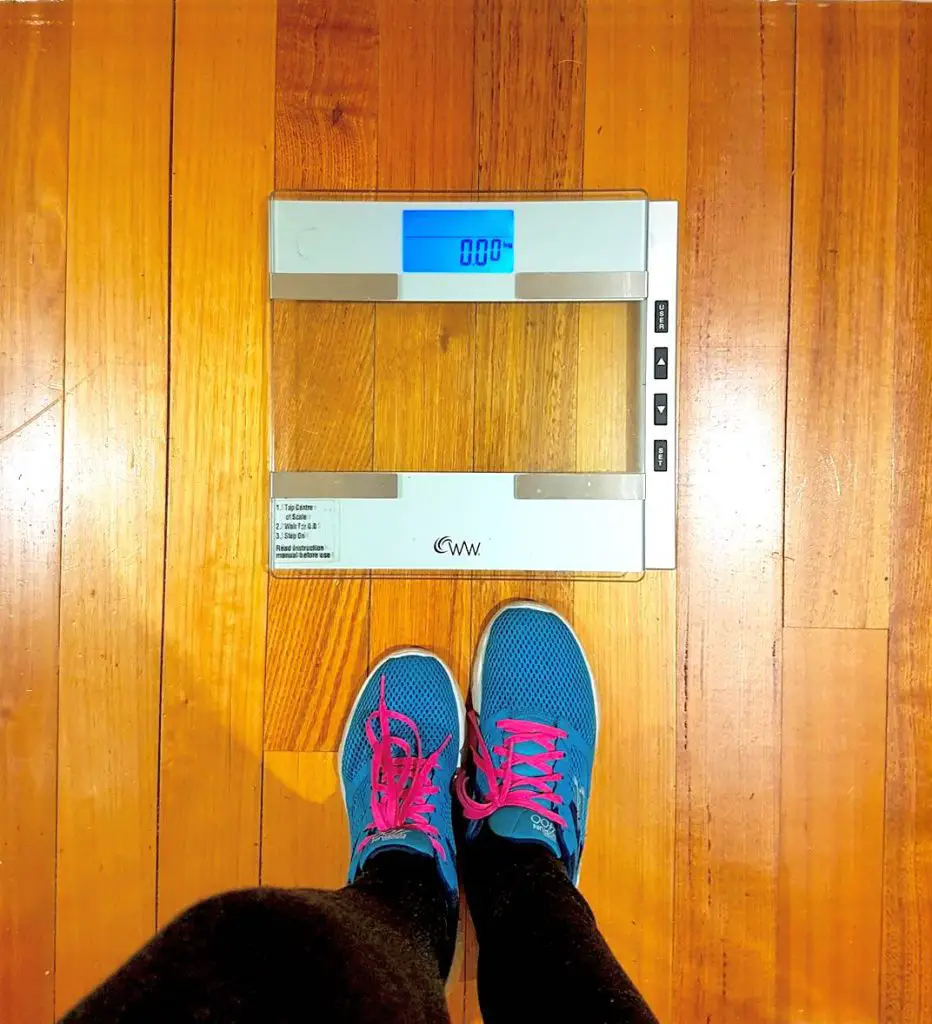 The scale stopped ticking. I opened my eyes.
January 2017 I arrived in Australia the heaviest I have ever been in my life. It's shameful to even contemplate putting this out in public but in an effort to be as transparent with you as I am to myself… And in an attempt NEVER to go there again, here it is.
98.8 kg. 218 pounds.
Holy cow! How did that happen? Surely all the walking while travelling the world would stop that?
No. As a matter of fact, I spent most of my days on planes and in cars, with the occasional day clocking up 20k steps at Disney World or in New York.
Between travel days I sat at my computer, barely shifting in an effort to write down everything I had done to catch up before the next adventure.
I knew my clothes were tight. I knew I could only shop at plus size stores. I knew I no longer wanted to be photographed. I knew I couldn't run with my kids. I knew it was enough.
You may recall I attempted in February 2016 the Personal Trainer Food program. I loved it and it worked fabulously, but with only one month up my sleeve to commit to a change in diet my old habits attacked with a vengeance.
The Divorce Diet
Then this.
70 percent of people going through a divorce or breakup find themselves with one tiny bonus. The problem with this type of diet is that it really is nothing more than stress, anger, sadness, and (for some) a need to control any part of their lives (like diet and exercise) that hasn't fallen into complete chaos.
So yeah, in December I fell into this category of weight loss. My appetite dissipated. And with a strong desire to not let the pain inside get the best of me, I joined a gym to feel other pain, to let out frustration and to feel in control.
At first, I was surprised by my lack of appetite. I have never been the type of person that couldn't eat. But the more research I did the more I realised that this was quite common. According to some research, divorce is the second most stressful life event one can experience (second only to the death of a spouse). And as such divorce typically results in weight loss.
I lost 30 pounds in 3 months. 
For some, the prospect of being "back on the market" spurs weight loss. But for many, including myself, it is simply a reaction to extraordinary stress.
This reaction went on for nearly 3 months. After a 20 year relationship, most people seemed genuinely surprised it was not longer. To me, it felt like an eternity.
I'm an extremely positive person and this quite possible were the darkest days of my life. But, if you know anything about me. I never let negative emotions win.
The Erin Diet
Fortunately, as time passed, my appetite returned. While during those first three months food was something I had to choke down to live, I soon found pleasure in food again. Importantly with the return of that desire for food was a reminder. A reminder that there is always a next meal, a next chapter of life, a progression.
So I picked myself up and dusted myself off.
Seeing how the divorce diet was working so well, I decided to accelerate it and in January I started eating much like my Personal Trainer Food diet was the previous year.
Protein and vegetables. Goodbye carbs and sugar. It's as simple as that.
The more nitty-gritty details are unlimited meat, eggs, and vegetables. I have no fruit, except for one apple a day. I eat a small amount of cheese. Any sauce, as long as it has under 3 grams of sugar. I pretty much followed the guidelines Personal Trainer Food set out for me.
Give Us An Example
Can't imagine how that would be enjoyable? Well, here's an example of what I eat.
Breakfast
Fried Egg, bacon, mushrooms, spinach, asparagus.
Omelet with blue cheese, asparagus, spinach, and bacon.
Lunch
Gluten-free chicken schnitzel. With raw carrot, capsicum, broccoli with a chipotle ranch dipping sauce or mayonnaise.
Salad with chicken or tuna.
Leftover from dinner.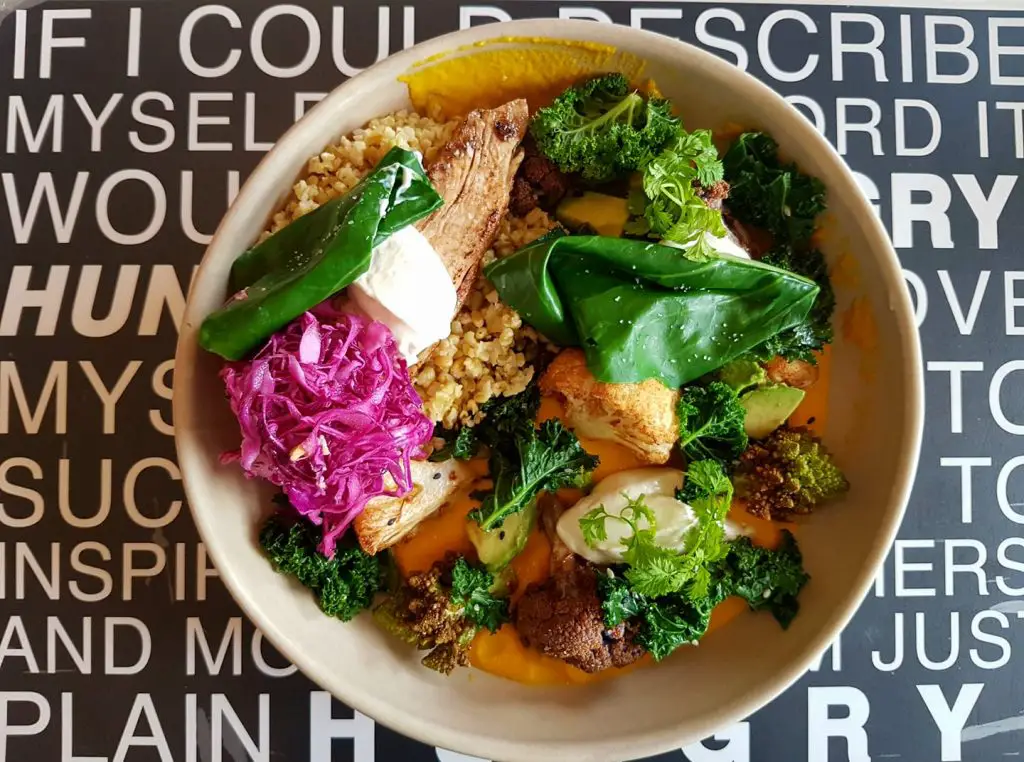 Dinner
Ribeye steak. Cauliflower with bacon and sprinkled with cheese. Green beans, broccoli.
Lamb cutlets with a side salad or steamed veggies.
Beef burger with cheese, pickles, mushroom, capsicum on a lettuce bun.
Spaghetti bolognese over zucchini spaghetti or just meat and sauce.
Snacks
Pepperoni slices, a cube of cheese, almonds, pickle, apple.
Dessert
Some evenings I may be still hungry and craving something sweet. So I stew some apple with cinnamon and a sprinkle of nuts. Like apple pie filling without the pastry.
The food is meant to replicate our diet from 40 years ago, focusing on protein and vegetables – natural foods with no heavily processed ingredients.
Tips & Tricks
In the States, it was easy to buy packets of individual cheeses. It's harder here in Australia so I buy a block of cheese and once a week, cut it into bite-size cubes and keep in an airtight container in the fridge for snacking on.
Similarly, the States sold giant packets of pepperoni I use to snack on. Here in Australia, I can only find small packets that I store in a container in the fridge for snacking on.
If the kids are eating sausages and mash potatoes, I can eat the same just skip the potatoes and do more vegetables.
Steam Fresh bags of frozen vegetables are a quick alternative when I need a 2-minute meal.
Some days I may be tempted to eat carbs so I try to eat them purposefully. I avoid bread and reach for a rice cracker or a Cruskit.
I try to avoid sugar spreads so I might put a slice of ham or liverwurst or vegemite if I have to. But I admit there are days I've had a spoonful of peanut butter.
It's a high-fat diet so I cook with butter.
I have never been a tea or coffee drinker so that was easy to skip. Water is my day drink and some evenings I may take a glass of Coke Zero (yes, I know it's bad for me!)
At the beginning of the week, I usually cut up carrot sticks and capsicum to keep in the fridge for easy access. The easier food is to grab, the less I will stray.
If I ever feel like I need chocolate (usually at "that time" of the month) I attempt to buy very dark chocolate.
When socialising at the bar I am attempting to avoid my previous love of colourful, fruity cocktails and grab a gin and tonic or wine.
Thinking of a more vegan based approach? Read here.
Working Out
In January I joined my local gym. The gym had a great Face2Face program that they ran with me for the first 6 weeks, giving me personal training on certain equipment and helping me set goals.
I never thought I would be a gym junkie, but now after a weekend of indulgence, I look forward to Monday at the gym. In fact just last week my gym asked me to feature in a video on their Facebook page to highlight my personal achievement.
I highly recommend grabbing a Fitbit for inspiration and accountability. I attempt to do 10,000 steps a day which I easily do just by walking my kids to and from school each day.
On top of that, I am currently attending the gym 2-3 days per week for 1.5 hours each time.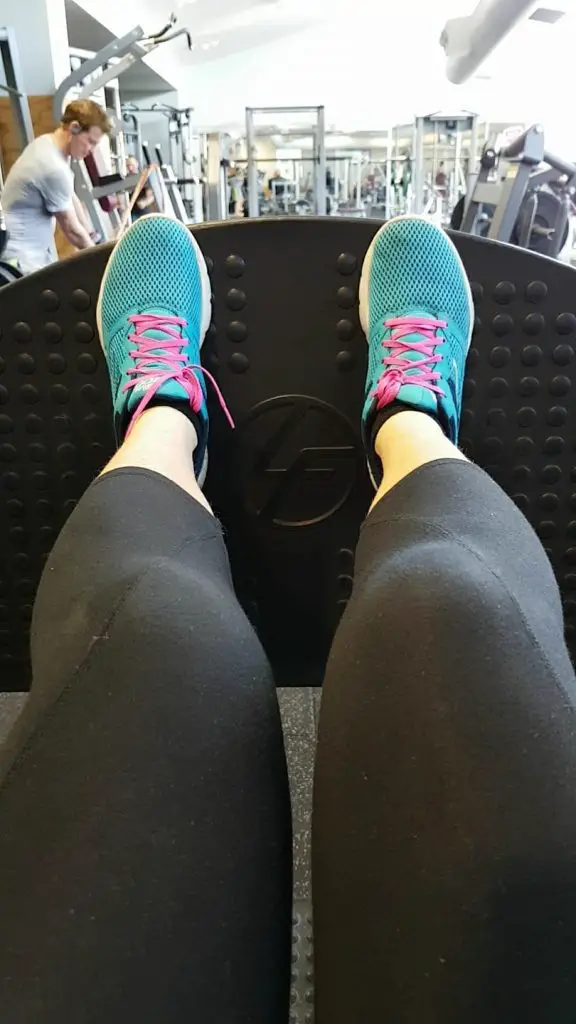 My current routine involves:
10-minute cycle
Leg press
Weight lifting
Upright row
Weighted squats
Medicine ball crunches
Pushups
20 minutes on the treadmill with a 20-second run and 40-second walk each minute.
It's here at the gym I weigh myself each week. It's handy having the same scale and routine for that kind of scary ritual.
Tips and tricks
Ask the gym about off-peak prices. I got a discount because I go before 3 pm.
Remember to suspend your gym membership when on vacation.
Download My Fitness Pal to keep track of your food and your exercise. I also keep track of my progress on here with photos and weigh-ins. You can sync it with your Fitbit so you don't have to manually add your steps.
Progress
Does it work?
I am not a fitness guru, nor do I claim to be a medical professional. My article is not steeped in any scientific research whatsoever and I make no claims that you should do what I do.
My article is my journey and what has clearly worked for me.
As the title suggests: I lost 30 pounds in 3 months.
Or 40 pounds in 4 months as the months keep going.
After 4 months my heart was healing and I was less stressed, so I attempted going out for meals again. These days I am less strict on weekends. When at a restaurant I will still attempt to have a meat and vegetable dish. While I use to dream about pasta, I find I can no longer eat a whole bowl of carbs. I'm better off indulging in a dessert, so I'm also easily convinced to share a Freak Shake with my kids once in a while or share popcorn at the movies.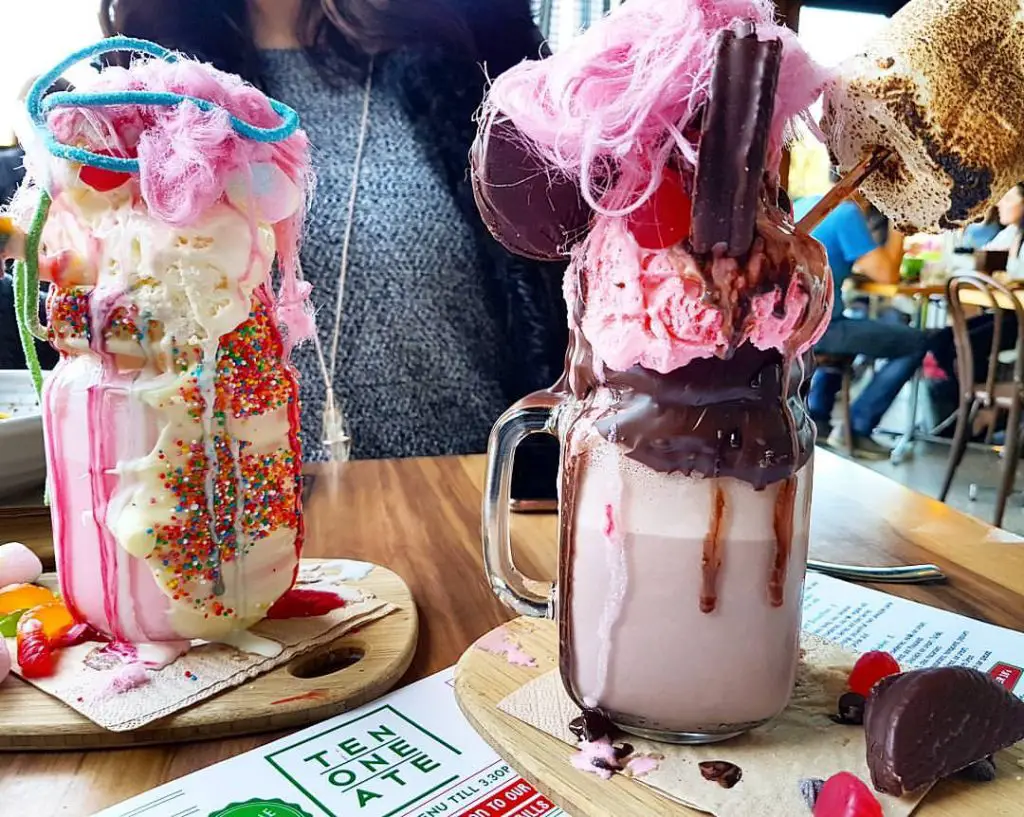 I started my new lifestyle third of January 2017. 6 months later I have now lost over 20 kilos. That's over 45 pounds.
I have set my personal goal to 10 more kilos. A total eventual loss of 66 pounds. While I enjoyed rapid weight loss due to the divorce and stress, my more healthy goal is to achieve those last 10 kilos in the next 3 months. A much slower pace than before, but at least I can enjoy the delectable Melbourne food scene.
The Benefits
BodyNutrition recently did a study and found that a large number of people don't like to 'diet,' or at least think that they're dieting. They watch what they eat and try to live healthily, but ultimately they want it to be a lifestyle change, not simply a diet.
This kind of eating has moved away from a diet for me, to a way of living. I no longer think about when am I going to stop living like this. Sure, I think about when I might be able to have a dessert or eat a chocolate bar, but it's more of a "what occasion" now instead of everyday thought.
I never want to be how I was. I enjoy life so much more now.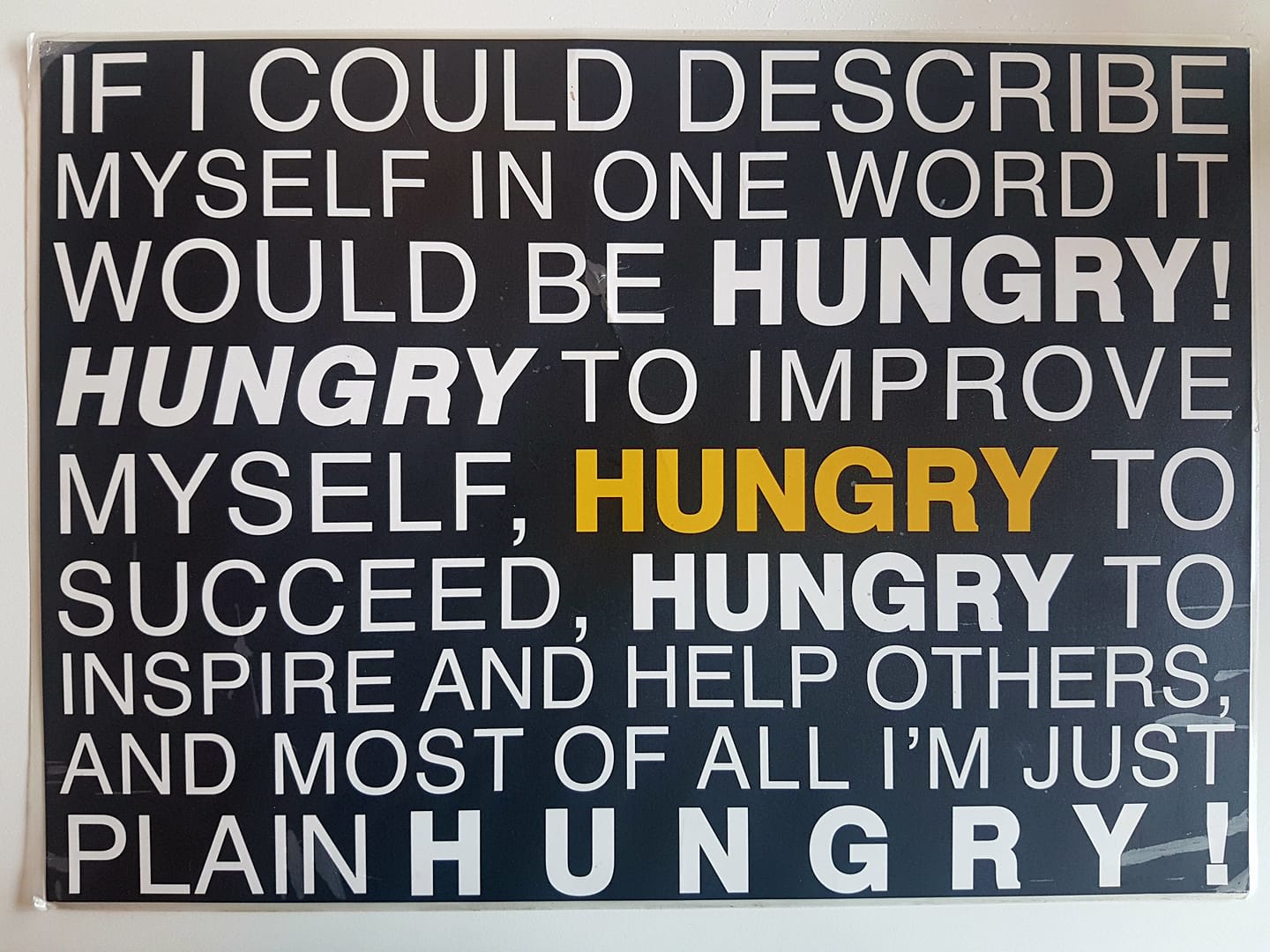 I have more energy. I can keep up with my kids and run with them. My son was at his karate grading recently attempting to do squats and burpees. To encourage him I got down and did them right beside him. I could do it and I could keep up.
I am stronger. I can feel it. My thighs are strong. I can lift my suitcases better. Sorry boys, won't need help with the grocery bags ever again.
I have more confidence. In February I walked into City Chic, (plus size women's wear) asking to swap over a size small shirt I bought in January and no longer fit. The extra small would not fit. I said goodbye to Plus Size stores that day with the biggest grin.
I can find clothes. Clothes were always so hard to buy and not a joy for me. My saying was stick to shoes, they never change size. Now it's so different. I'll never forget in April walking into Jeans West and grabbing a size 16 pair of leather pants. The sales lady laughed at me and told me I was dreaming and to grab a size 12. I tried them on anyway. They were huge. I asked her to please bring a 14. She brought the 14 and the 12. I told her she was dreaming. The 14 were too big. When I slid those tight size 12 pants on I glowed. Wow. I no longer struggle with just choosing what is in my size, I have a choice!
I need new jewelry. My rings no longer fit. I moved one to my middle finger, but that's slowly becoming loose as well. It's a small thing, but a massive indicator. It makes getting rid of all the old stuff I use to wear much easier.
I am well. I have struggled with hyperthyroid for a few years now. A visit to a wellness centre in Colorado removed my medication and stirred me up a witches brew of natural medicine. And while I certainly attribute that to my current health, the weight has also certainly improved my well-being and the difference is profound. All results for hyperthyroid have come back normal since March.
I am proud. I feel so accomplished and proud of myself. The smallest success in my personal fitness has let me see that I can take on the world. I can accomplish anything I put my mind to. After all shifting weight is one of the hardest things in the world. If I can do that, surely I can do anything. Start a new blog, single parent my kids, run a successful business. Yes!
What's Next
As of the end of June, I am weighing in at 77 kilos. 21 kilos less than I did in January. I haven't been this weight since pre-kids, possibly over a decade ago. My goal is 67 kilograms. That would be high school weight and pre-wedding weight. I'll update you when I reach it.
Travel certainly didn't make weight control easy, but like most things was an excuse that moving forward I will no longer use.
If you are interested in how travel made me gain weight, you can check out that article here. Or what about how travel makes others gain weight, click here.
Perhaps you are one of the lucky ones who lost weight on travel, well there are a few other crazy people like you here in this article.
I'd love to hear your secrets and wins in the comments below. Has 2017 been a great year in your personal fitness levels or have you been floundering? What works for you?
Look how easy it is to pin this!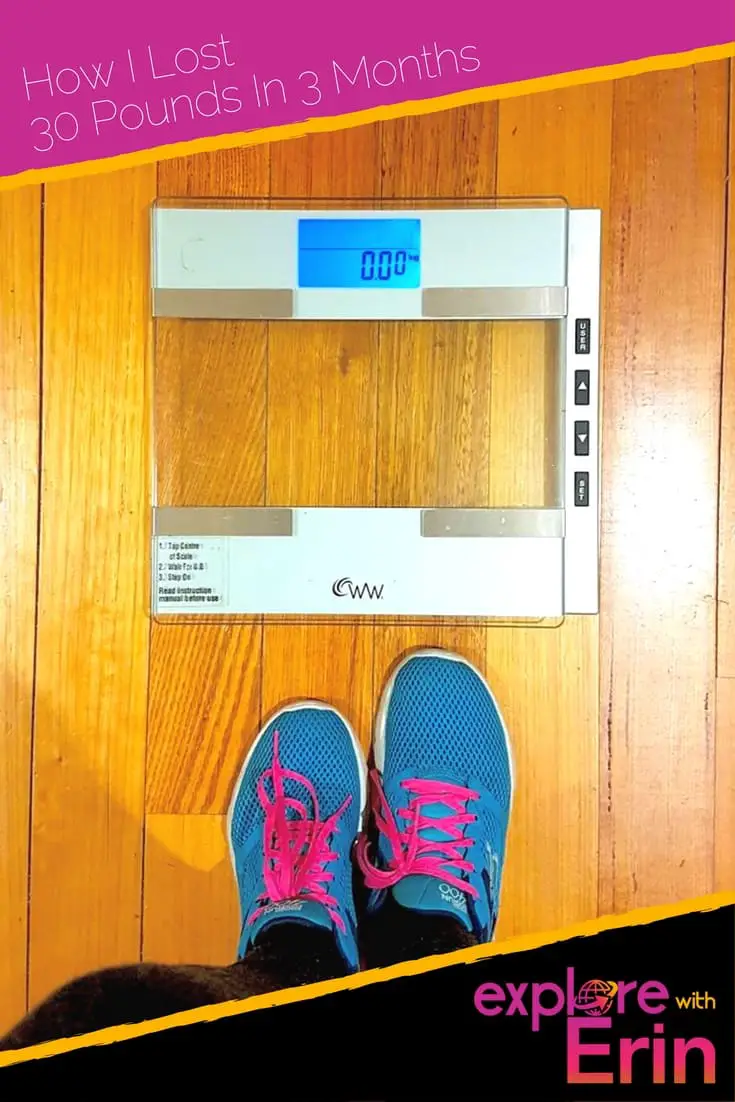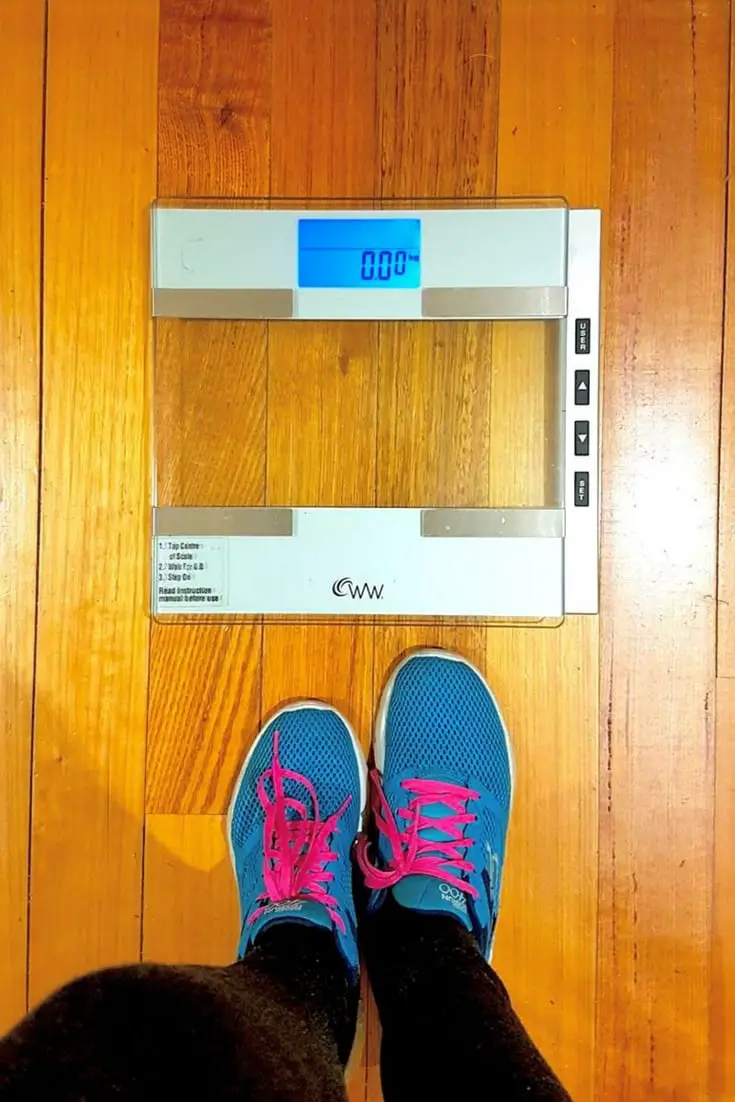 FOMO - do you have it?  Well there is no need to Fear On Missing Out here at Explore With Erin. Sign up to receive updates directly to your in box. I won't spam you, but I do promise a whole lot of awesomeness. What are you waiting for? Join Me!