Tourists from all over the US flock to Dallas. It's got cultural attractions, theme parks, big sports teams (think of the famous Cowboys), and rodeos. And as fond, as I was of Irving and Frisco, Grapevine stole my kid's hearts.
Known for its restored 19th- and 20th-century buildings. My favourite part had to be the 1888 Cotton Belt Railroad Depot, which forms the starting point of the Grapevine Vintage Railroad. My kids may say it's Great Wolf Lodge.
Grapevine has everything a parent could ask for.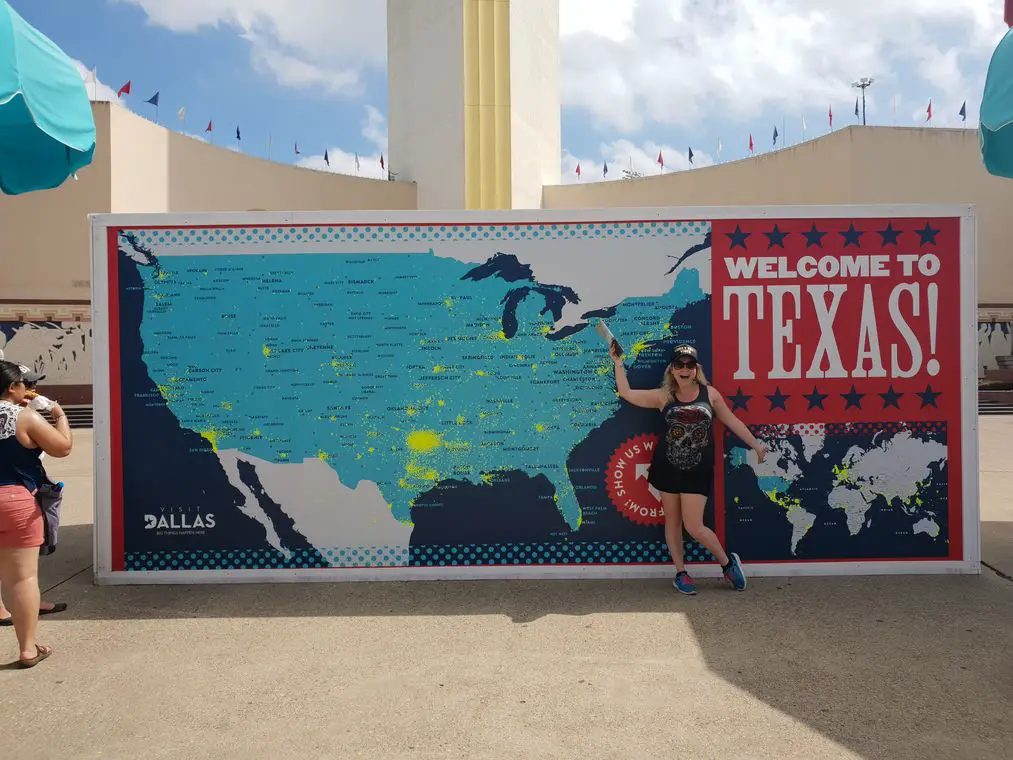 Stay
Gaylord Texan Resort
This place is ginormous! It's big enough to spend your whole vacation in. Generous-sized rooms, multiple on-site restaurants, several pools. When I was making my way around I got lost several times. And the most rewarding part of all? Service. The staff really treat you like royalty. During my visit, one of my friends convinced the staff that I was a rock star and one evening I received a knock on my suite door. I opened the door suspiciously to see a gentleman holding out a bowl of blue M&Ms. The below card attached to it. How celebrity did I feel?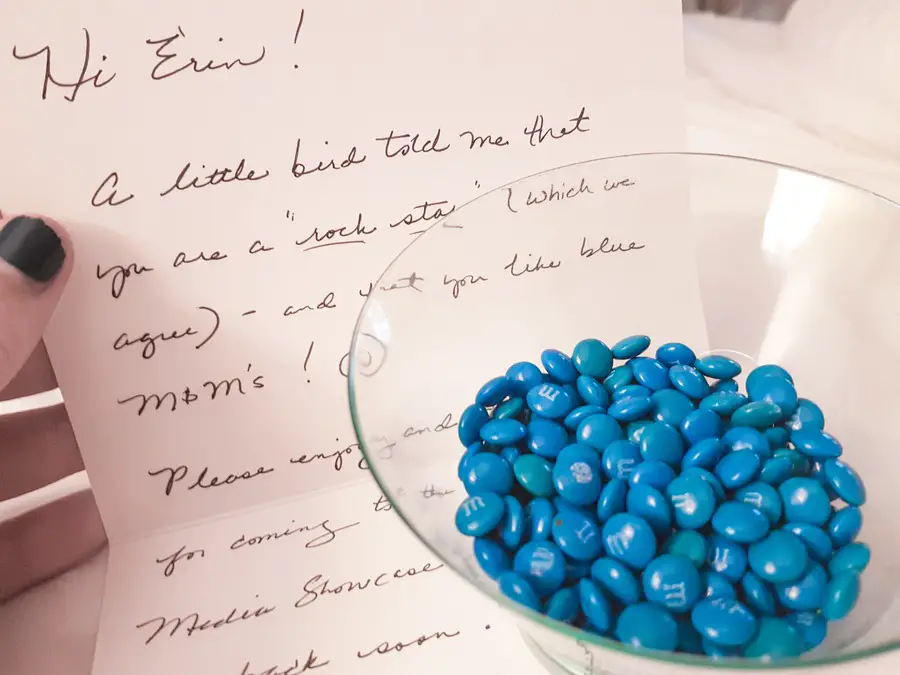 Great Wolf Lodge
My kids never wanted to leave this place ever. Why aren't there more of them? If you have young kids who want to spend their days fighting dragons and splashing in a waterpark, this is the place to go. Be prepared for an oversized ration of crazed kids and non-stop entertainment.
I expected the Great Wolf Lodge to be like the Disney World of hotels – epic but requiring a big time and energy commitment. And I was right. It's a holiday in itself.
My kid's favourites were MagiQuest & the waterpark. But not even the waterpark with giant tipping bucket and awesome slides could lure my children away from their wands and their determined quest to defeat the red dragon.
At the MagiQuest store, my kids picked an interactive wand, headpiece and mini-quest book. A staff member gave instructions on what to do and the scavenger hunt throughout the hotel commenced.
It does take a while to understand what is happening, but once you get the hang of it it's hard to stop. Each quest comprises of finding items and stations spread over the 7 floors of the Great Wolf Lodge. When you finish one quest you unlock the next.
Check out Eden's Expeditions Great Wolf Lodge post (she loaned us these pictures!)
It's a fabulous idea and makes the hotel feel like home. The quest enables you to roam the halls looking for clues and pieces of the puzzle. The clues are located strategically around the stairs and lifts, away from guest rooms so that the squeals of ecstatic children don't invade the privacy of your room.
I love that the book encourages you to take the "hidden" stairwell every time, so the kid really engaged in quite a bit of exercise.
You can play right up to the 11 pm curfew. But be careful, the game is insanely addictive and my 5 & 7-year-old absolutely loved it.
Eat
Meat U Anywhere
919 W. Northwest Hwy
Amy meat you can think of, they have it – brisket, sausage, turkey, pulled pork. You'll find every form of classic Texas BBQ here – which makes it a "must visit" on your list of places to eat in Grapevine. Years later I still add their special seasoning to my dishes.
Winewood
1265 S. Main St.
This elegant restaurant serves up some mouthwatering food. My favourite dishes were prepared on a wood fire grill. Try the tenderloin bruschetta, smoked gouda mac n' cheese, seared ahi tuna and spinach dip.
Great Wolf Lodge
100 Great Wolf Dr, Grapevine
Surprisingly the Great Wolf Lodge puts on a delicious buffet serving anything from Mexican to freshly prepared pasta and kid's favourites.
Compared to other typical hotel buffets, the Great Wolf Lodge restaurant firmly sits in the upper tier in terms of quality and variety.
Breakfast also serves up freshly prepared eggs, any number of cereals, fruits, pastries, etc.
Mi Dia From Scratch
1295 S. Main St.
How can anyone say no to tableside guacamole? Nothing has ever been close to the one I had in Bali, but they certainly won me over. With a range of flavours inspired by Tex Mex and Santa Fe, make sure you pair any dish with one of their margaritas.
Dr. Sue's Chocolate
417 S. Main St
Of course, there is chocolate. And really good chocolate. With plenty of free samples, so don't stop at one. You can enjoy Dr. Sue's dark chocolate in blueberry, chili or any number of nuts.
Rainforest Café
3000 Grapevine Mills Pkwy, Grapevine
One of our kids' favourite American themed restaurants. This restaurant will complete your family vacation – from the wild jungle decor to the animatronic animals that can start moving, squawking and grunting at any given moment. The food is typical American – large servings with lots of calories. But you're on vacation, so don't forget to order the brownie sundae for dessert!
Napoli's Italian Café & Confectionary
311 South Main St, Grapevine
In the historic downtown district is this little nook-in-the-wall which will satisfy every family member. Enjoy the café for dinner, or adults can head to the bar at the back, or watch your kids drool over 18 flavours of gelato in the ice-creamery at the front.
Do
Grapevine Vintage Railroad 
705 S. Main Street, Grapevine
The Vintage Railroad is a fun day out for the kids, but adults may find a little more excitement in an evening of live jazz and fine wine.
These 1920s Victorian-style coaches sit in the centre of Grapevine taking guests on an Old West journey through Texas. Keep your eyes peeled for a ride on "Puffy", the oldest continuously operating steam engine in the South since 1896.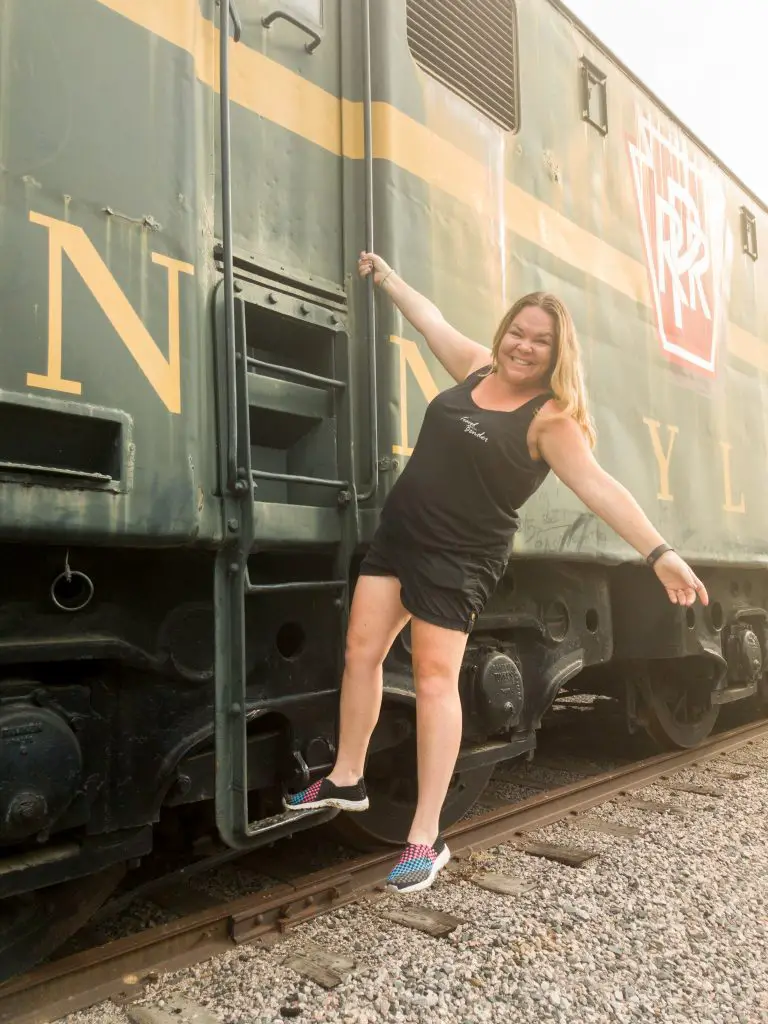 Grapevine Glockenspiel Clock Tower 
636 Main St, Grapevine
Watch two train robbers describe the perfect heist on a 127-foot-high clock tower in the centre of town.
You can't miss it. The Glockenspiel characters are 9 feet tall. Near the train station, you can read the story of these 2 would-be train robbers, Nat Barrett, and Willy Majors, on the storyboards.
The clock goes off every day at noon, 3 pm, 6 pm, and 9 pm when Nat and Willy emerge to attempt the perfect heist. The general gist is Nat was looking to rob a train just one time so he could move out West and build a ranch. He meets Willy who is a regular train robber, however, is looking to end his career with one final fabulous train robbery. They get in an argument and while they are arguing, the train pulls away and they both miss their chance.
LEGOLAND Discovery Center
3000 Grapevine Mills Pkwy, Grapevine
My kids adore Discovery Centres. Don't get them confused with a LEGO store (such as in the Mall of America) or a theme park (such as in Orlando). Just imagine the two had a baby and LEGOLAND Discovery Center was born.
Grapevine's LEGOLAND Discover Center covers 35,000 square feet and includes the famous MINILAND, rides, 4D cinema and play areas.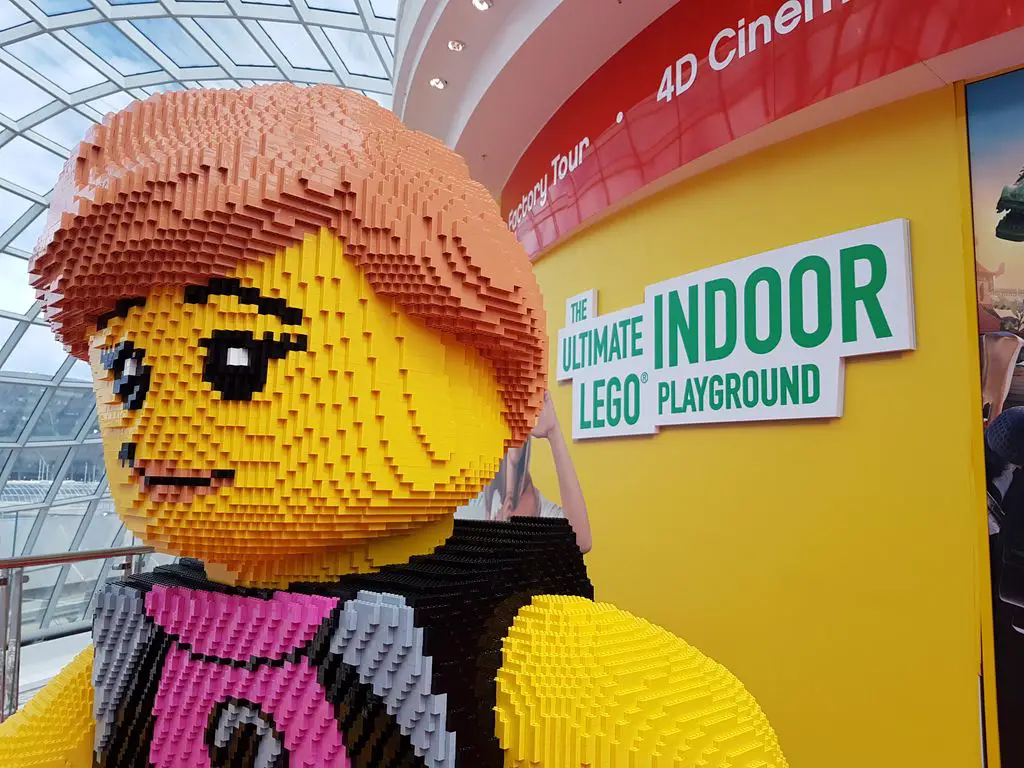 The MINILAND is unique to each Discovery Centre so while in Melbourne you'll find typical Australian objects, here in Grapevine you will see popular Texas sites.
Watch several different 4D movies on offer or take a ride on the mini rides. A great big playground is in the middle of the complex, surrounded by boxes of LEGO for kids and adults to build and play with to their heart's content.
Set aside at least 3-4 hours.
Here are a couple tips to make the most of this LEGOLAND Discovery Center:
– Beware of the height restrictions on some rides – kids over 4 feet tall should be able to do most rides.
– The outdoor splash pad is open when the temperature reaches 75°F (usually mid-April to October). We do not have this in Melbourne, in fact, this is the only LEGOLAND Discovery Center with an outdoor splash pad.
– Once you are out, there is no re-entry.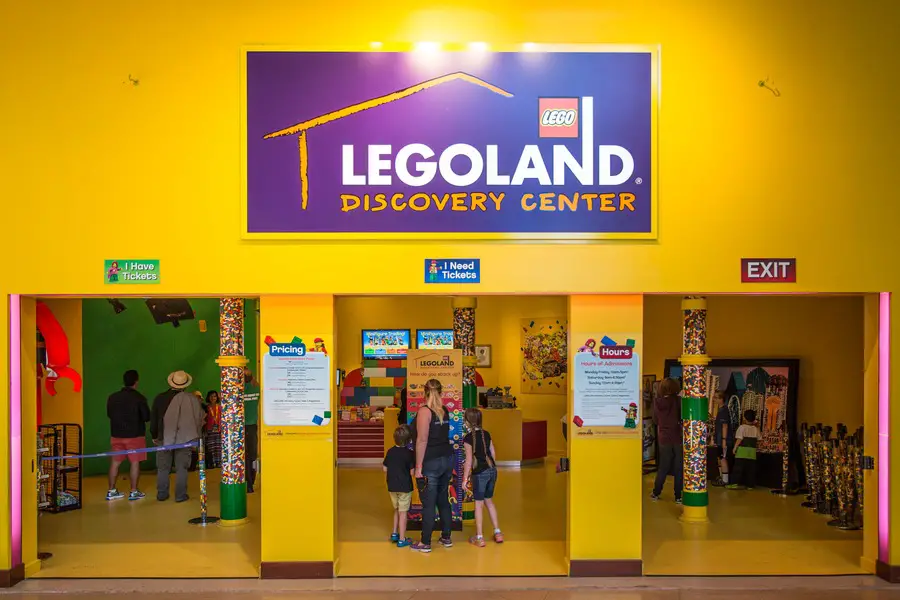 SEA LIFE Grapevine Aquarium
3000 Grapevine Mills Pkwy, Grapevine
We visited a lot of aquariums around the world, but SEA LIFE has built a solid and well-deserved reputation. This SEA LIFE is located opposite the LEGOLAND Discovery Centre and spread over 45,000 square feet. They boast more than 30 amazing displays of diverse marine life from penguins to jellyfish to massive sharks. Of course, my kids' favourite exhibit was the ocean tunnel. Like always, SEA LIFE has a strong focus on education and preservation.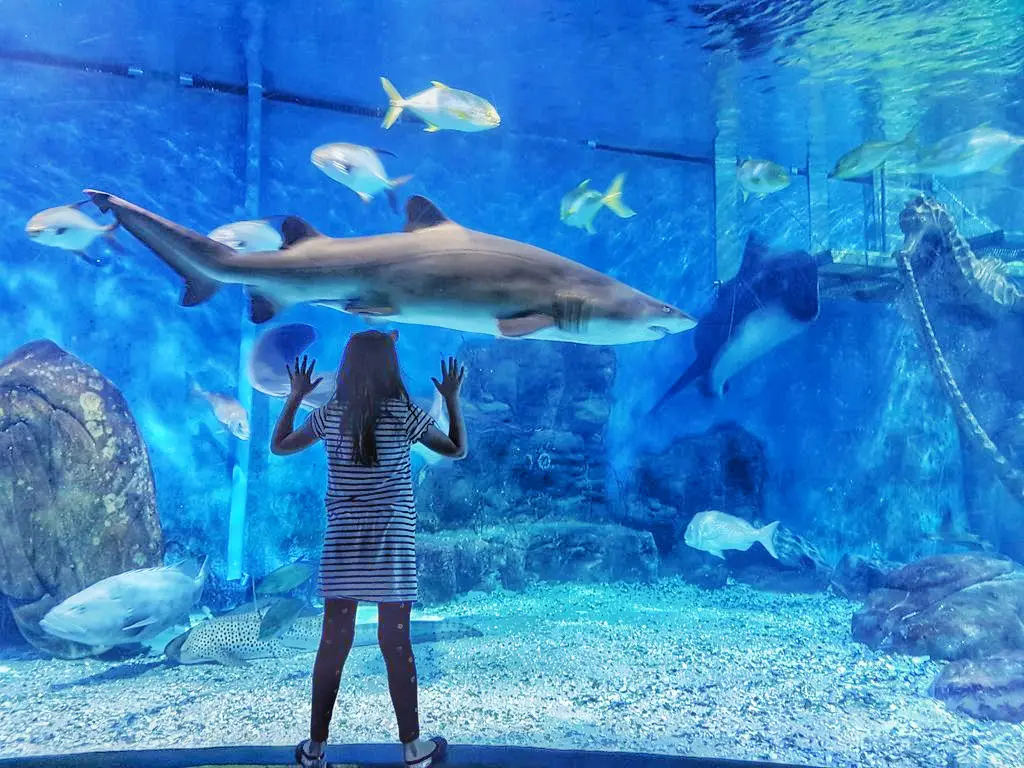 Grapevine, Texas has a wonderful small town vibe with big town attractions. There are so many other things to see like the Grapevine Mills mall, dinner theatre, botanical gardens, boat tours, farms, museums, and more.
Enjoy your weekend getaway from Dallas. It's so easy to get out of a big city and still have big fun. But if you do want to go South? Visit San Antonio!
Have you been to Grapevine? What am I missing? Comment below.
LOOK HOW EASY IT IS TO PIN THIS!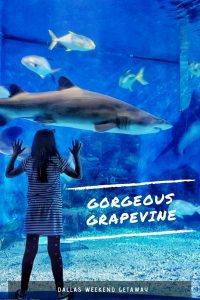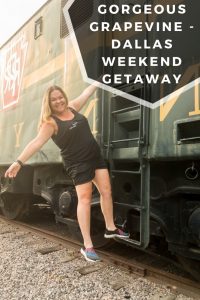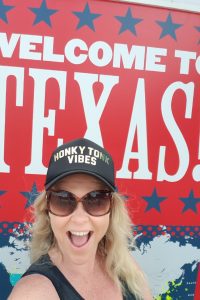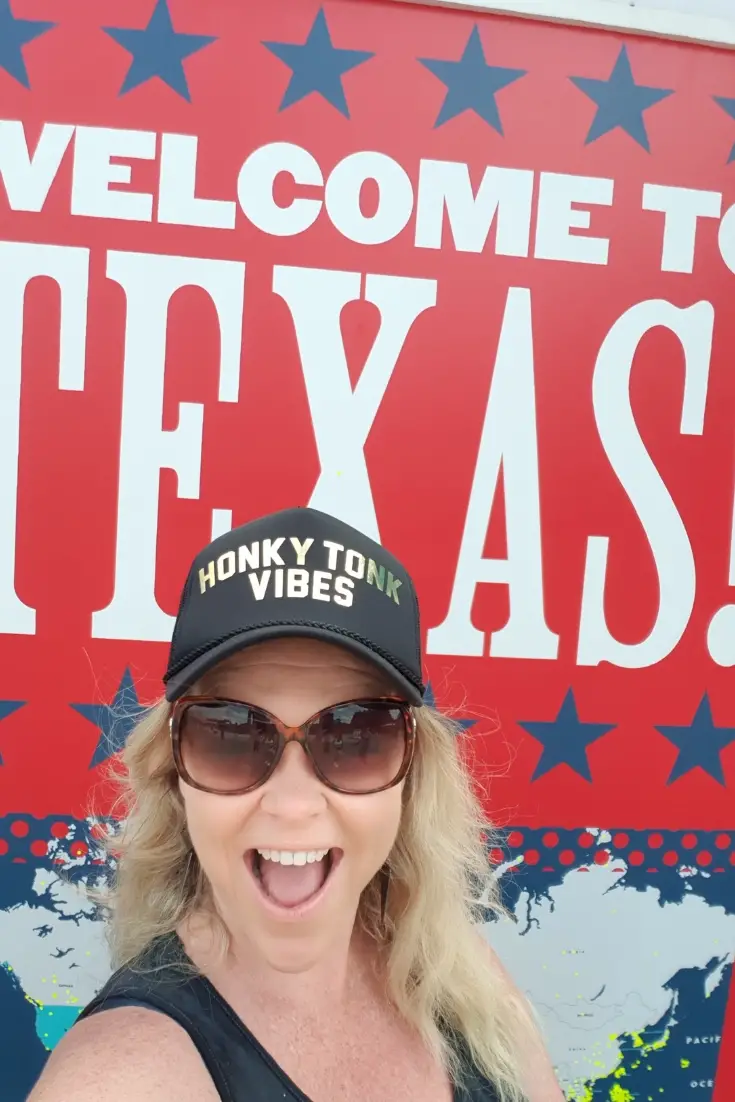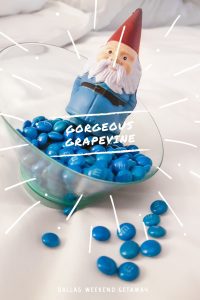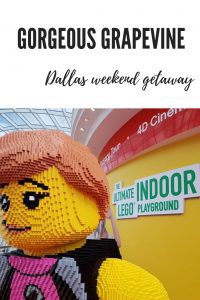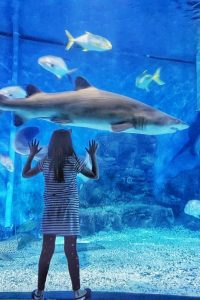 Accommodation
Travelocity has nearly 100 properties in Grapevine including hotels, apartments, and hostels. You get free cancellation on most rooms and the best price guaranteed. Click here to start your vacation! 
Tour
Want to take an organised tour in Dallas? Then I recommend these ones through Viator.
Rental Car
We love RentalCars.com because they have the best car rental prices – Guaranteed. Try it. 
Flights
Skyscanner is a comparison website that searches millions of flights. The best part of Skyscanner is it is simply a flight aggregator so in the end, you book directly through the airline.
FOMO - do you have it?  Well there is no need to Fear On Missing Out here at Explore With Erin. Sign up to receive updates directly to your in box. I won't spam you, but I do promise a whole lot of awesomeness. What are you waiting for? Join Me!