During our epic road trip to the Pacific Northwest, we spent 24 hours in Lake Tahoe. Thankfully, I had a local family showing me around, so I really made the most of those 24 hours with kids in Lake Tahoe.
Lake Tahoe straddles California and Nevada and is the largest alpine lake in North America and the second deepest after my favorite lake, Crater Lake in Oregon.
What makes this Lake really special is the panorama of the surrounding mountains on all sides. Making the area in general perfect for winter sports and summer recreation.
For your evening in Lake Tahoe, I'd recommend a stay in South Lake Tahoe where you will have a multitude of choices that are fun for families.
Thanks to Hotels.com here are the three spots I visited during my 24 hours with kids in Lake Tahoe.
Taylor Creek Visitor Center and Stream Profile Chamber
The Taylor Creek Visitor Center is the hub for the start of four self-guided trails that meander through forests, streams, beaches and marsh.
We visited the Stream Profile Chamber, which is an underground viewing chamber where aquatic life can be viewed through a window. It's all below the surface of Taylor Creek. The floor-to-ceiling glass bay windows allowed the kids to stand fascinated watching trout, crayfish, frogs, and insects swimming below the Creeks surface.
Their fascination was matched with education, as informative interpretive signs comparing the Taylor Creek ecosystem with other streams in the Tahoe Basin.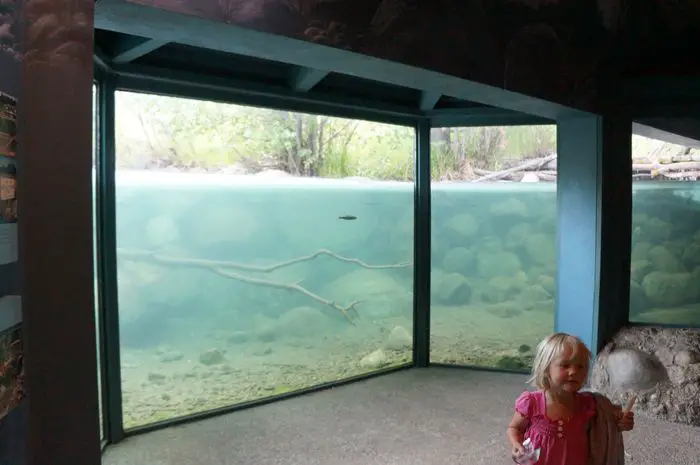 Fallen Leaf Lake
Located one mile southwest of Lake Tahoe, tucked away in Eldorado National Forest, is Fallen Leaf Lake, a 2.9 mile (4.6km) mountain lake created by two glaciers. While smaller than Lake Tahoe, the crystal-clear water and picturesque mountain views make it the perfect place to escape crowds and swim, hike, or picnic.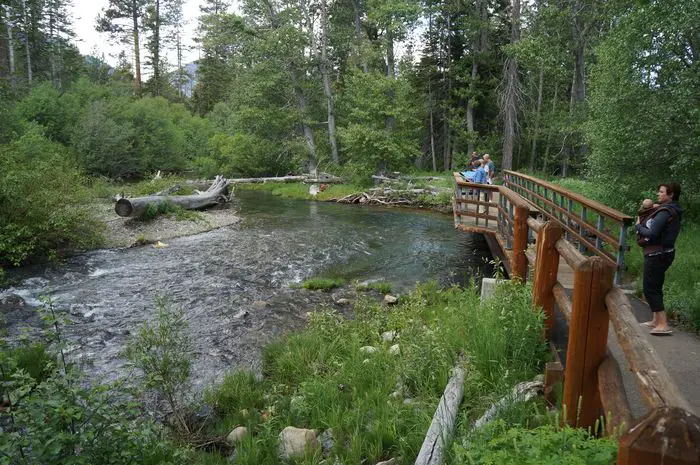 Things to do at Fallen Leaf Lake
1. Hike – If you have older kids you might like to take your turn on the Floating Island/Mount Tallac 6.5 mile trial. My kids were smaller during our visit so we hit up the next activity.
2. Water fun – The kids loved swimming in the lake, but there is plenty of other things you can do from kayaks, paddle boarding, rowing, sailing, water-skiing, and more.
3. Fishing – available all year round you'll be taking home all types of trout or salmon.
4. Waterfalls – Wouldn't be a visit to Fallen Leaf Lake without a visit to the Lower Glen Alpine Falls. It's great for kids because you can drive straight to it.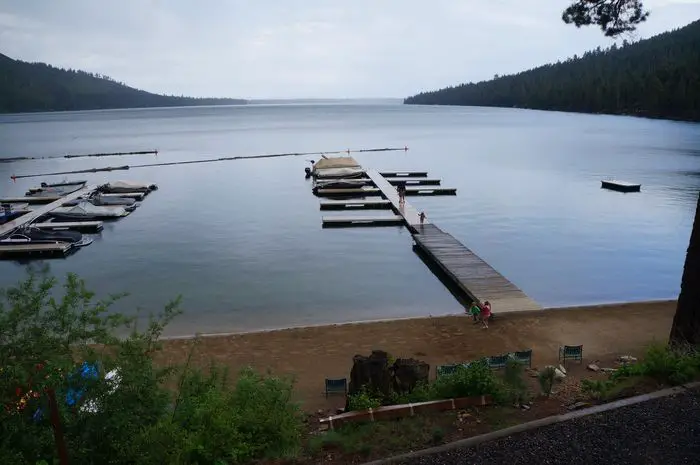 Emerald Bay Lookout
This lookout is perfect for your 24 hours with kids in Lake Tahoe, because you can drive straight to it. No hiking necessary. However, it does get busy so go early morning or during off-season.
The views are so beautiful you may want to stay for a while, so perhaps bring a picnic. This really is the best spot to gawk at Lake Tahoe's shimmering greens, turquoise, and blues against the dramatically striking mountain backdrop.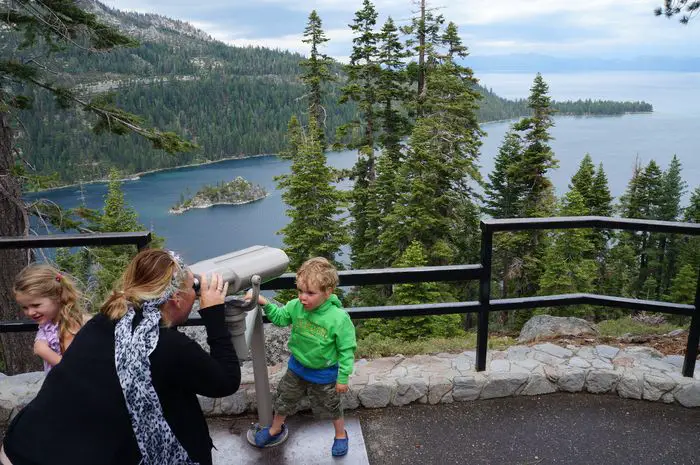 If you can't get enough of the view, then head down and take out a kayak or SUP, which can be hired on Emerald Bay Beach. There are even scenic boat cruises to take on an authentic paddle wheeler with a glass bottom.
On top of these three gorgeous locations, while in Lake Tahoe the kids also went biking, cooked S'mores for the first time, and generally spent the majority of the day outside soaking in the crisp clean air.
There are so many other things you can do in Lake Tahoe from Summer Camps to rope courses, however, we just enjoyed being out in nature and gaining every ounce of that California/Nevada landscape as we could.
COVID TRAVEL TIP
2021 hasn't been the easiest year to travel in and safety is at the top of everyone's list. If you are comfortable with traveling, please travel responsibly and within the rules of each destination you visit, being aware that those rules change frequently and may be different from your home country.
If you are traveling in 2021, can I recommend:
Wear a face mask in countries that require you to do so. 
Bring hand sanitizer and wash your hands on a regular basis.
Check official websites before your trip for the latest updates on policies, closures, and status of local businesses.
Book a hotel with free cancellation in case you need to change your plans at the last minute.
Choose travel insurance that covers you for COVID.
LOOK HOW EASY IT IS TO PIN THIS!
FOMO - do you have it?  Well there is no need to Fear On Missing Out here at Explore With Erin. Sign up to receive updates directly to your in box. I won't spam you, but I do promise a whole lot of awesomeness. What are you waiting for? Join Me!