I can't rave enough about Cairns. Why had I waited 40 years to visit the far Tropical North Queensland? It had everything you could want in a vacation, climate, resorts, water, fun, and yes, a price tag. But a price tag is so worth it. If we have to holiday here this year. Here is a good place.
With so many things to do in Cairns, it's hard to whittle it down to just 10. But I did. 10 of the best things to do in Cairns on your first visit.
How many days should I spend in Cairns? If you have a week you'll get through these 10 things to do in Cairns city easily. What to do in Cairns in 3 days? If you only have a few days, pick my top 3 at the end.
So, let's get into it. The top ten things to do in Cairns Australia (and possibly every time after).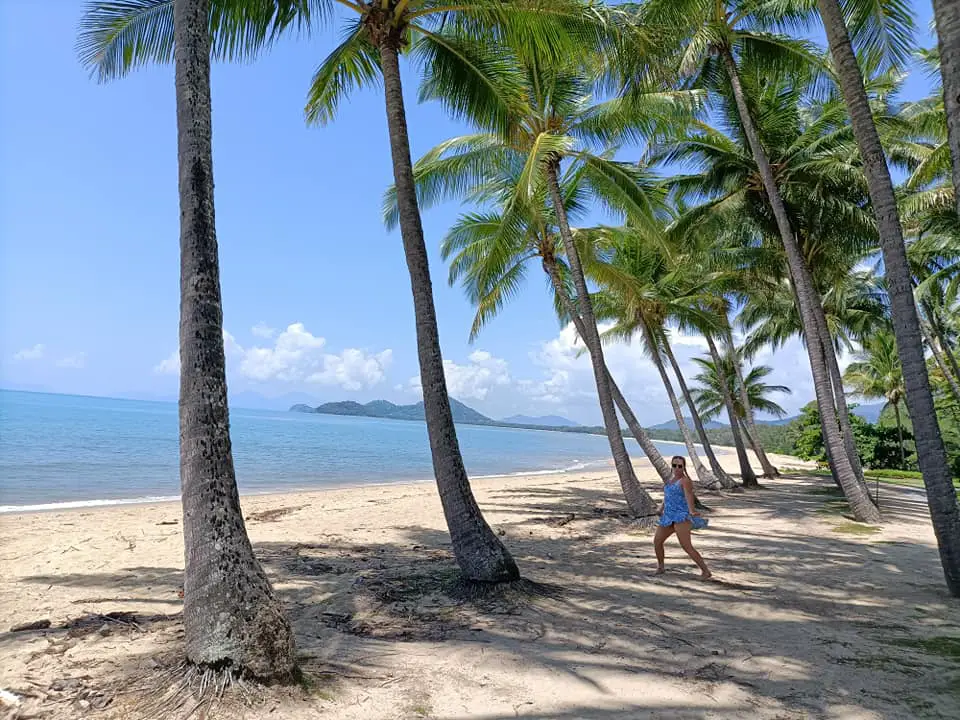 10. Go Chasing Waterfalls
What can you do in Cairns for free?
Cairns and its surroundings are crowded with waterfalls. And of course, waterfalls are one of the free things to do in Cairns.
The closest waterfall is only 20 minutes from Cairns city center. Crystal Cascades is a popular freshwater swimming hole surrounded by a tropical rainforest, and it's croc-free.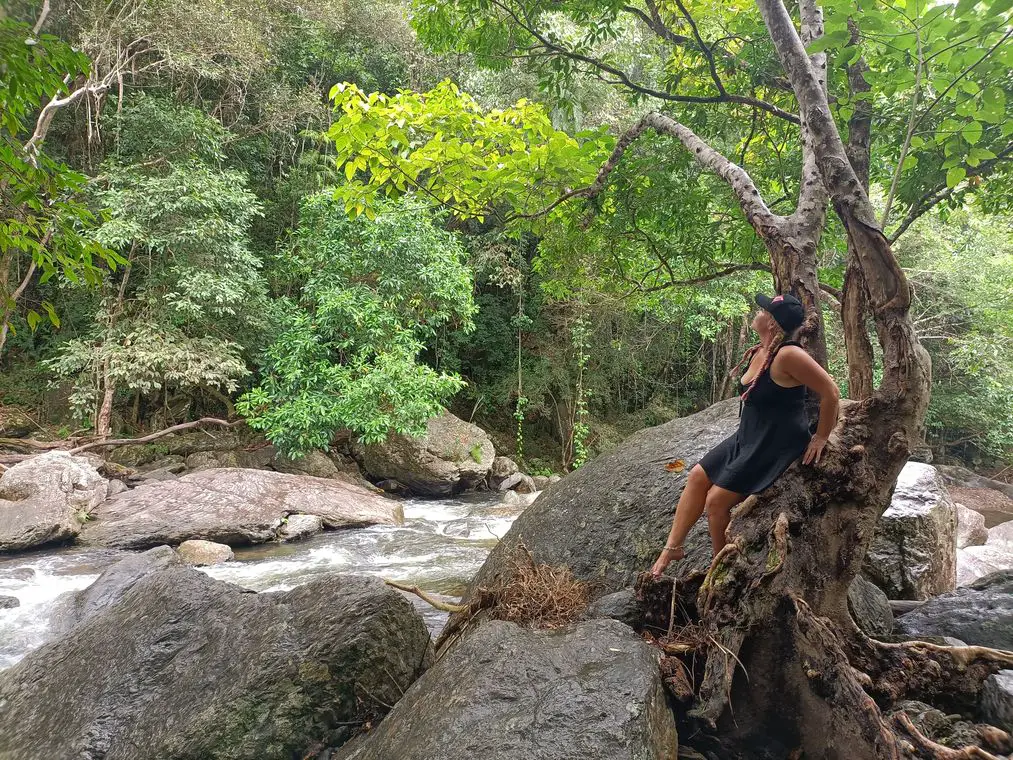 It's an easy walk to the final waterfall, a mere 20 minutes, but along the way, you'll pass many swimming holes begging you to jump in. You won't need hiking boots, but you may want to bring your swimmers and a towel.
If you are looking for something a little more secluded, there is another secret waterfall located at the Crystal Cascades. To reach it, go to the left of the car park (facing the Crystal Cascades trail) down the small unmarked trail.
This trail winds through some thick rainforest vegetation before opening on the Fairy Falls, a spectacular little waterfall with a deep swimming hole.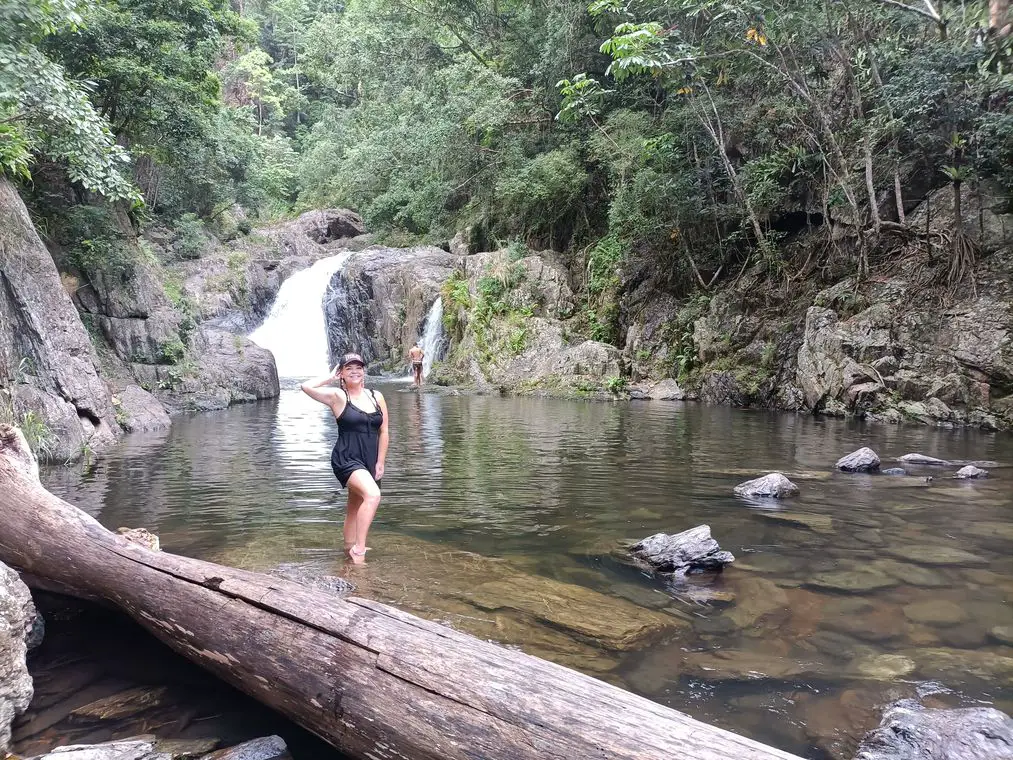 9. Stay in a Pullman
We stayed in two Pullman's during our time in Cairns. One located conveniently in the city center, walking distance to food, beach, and shops. Pullman Cairns International, while a city hotel, has great views from the 16th floor! The bats fly right past each evening at dusk.

The highlight of our stay, however, was the Pullman Port Douglas Sea Temple Resort & Spa. A luxurious resort that will have you feeling like you're in Bali. We stayed in a luxurious 2 bedroom apartment with a full kitchen, lounge, 2 bathrooms, and a large backyard complete with BBQ and a private plunge pool.
The resort hotel pool wraps around the property and is lined with palm trees, plus a pool bar for those tropical cocktails while cooling off with a waist-deep wade.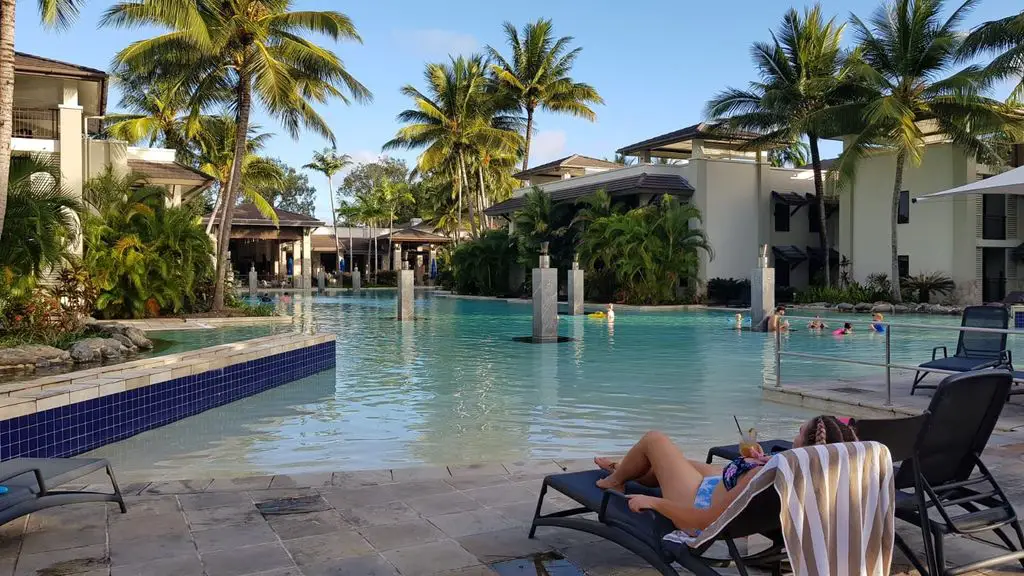 Breakfast buffets were still not in action during our stay, but there was the promise of its return soon.
Check discounted hotel prices here.
8. Just Wander Around
Cairns is a beautiful city, easily walkable. The Esplanade is loaded with shops and restaurants. For things to do in Cairns when it's raining relax at a massage parlor, go see a movie at the shopping center, or if you're in the mood for things to do in Cairns at night go visit the casino.
Included in things to do in Cairns for free would be the public swimming pool on the Esplanade overlooking the ocean. A highlight since the ocean is not to be trusted. Crocs.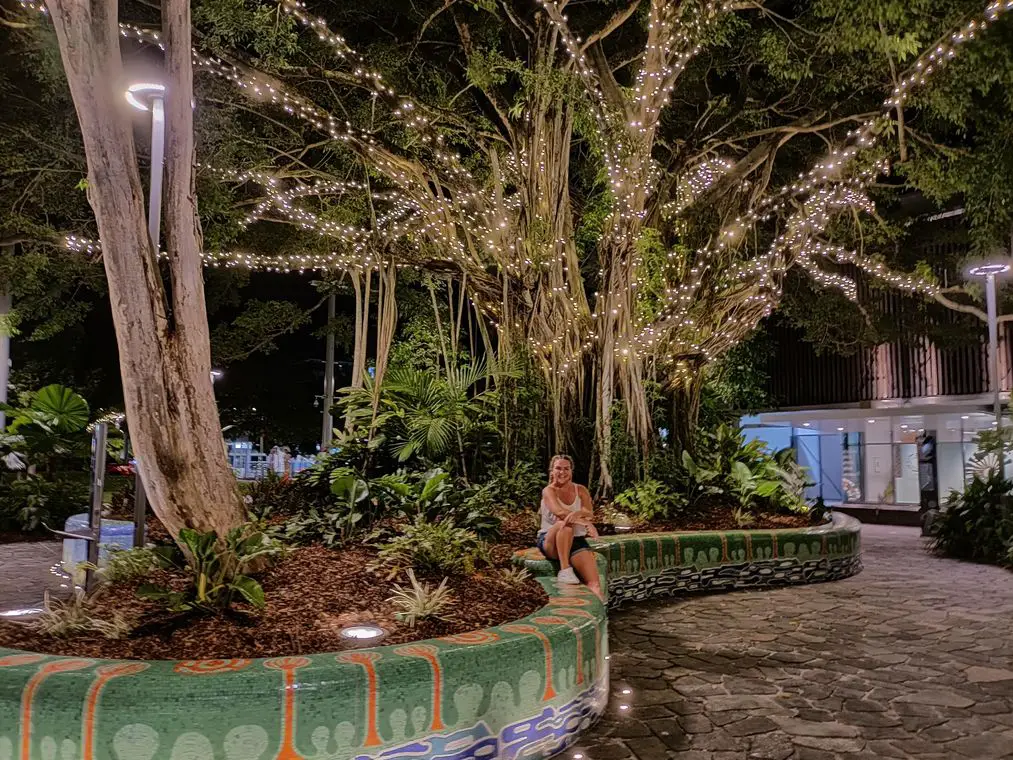 7. Eat All The Food
Eating is not one of the most unusual things to do in Cairns, but it certainly is one of my favorites. We had plenty of time to eat our way around Cairns and here are just three of the highlights:
Howlin' Jays
Best fried chicken I've had out of Nashville. And some fun, cheap cocktails. So good I visited twice!
Salthouse
At The Marina in Cairns, this place can be fine dining or casual. We went casual with pizza and pasta, but it was the cocktails that stood out.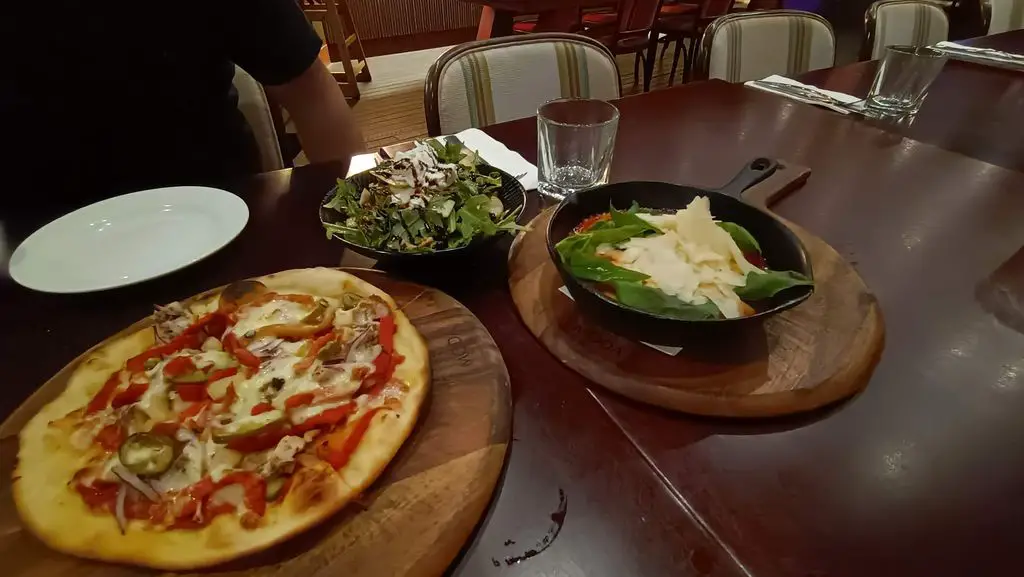 Cock & Bull
For cheap things to do in Cairns, you can't go past eats at the Cock & Bull for their lunch special. Cheap food, huge portions.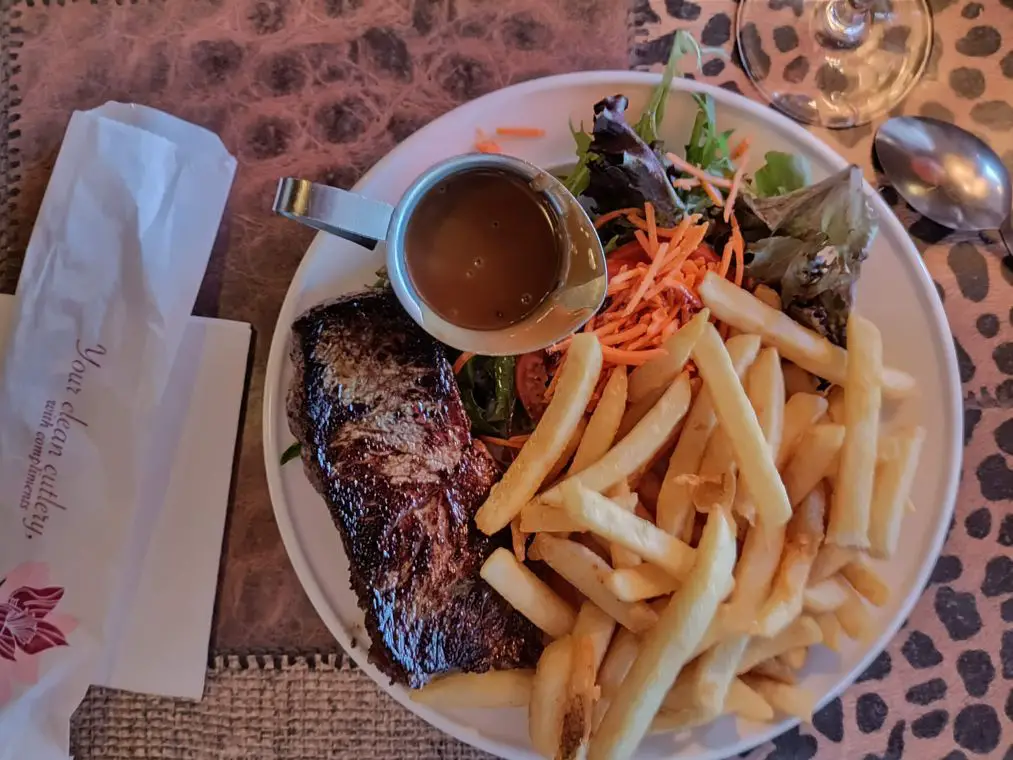 6. Visit With The Wildlife
Not too far in Kuranda, you'll find Birdworld Kuranda, a replication of the natural rainforest habitat where almost 60 native and exotic birds live. It's beautifully landscaped with waterfalls and ponds, and most birds fly around freely. This means if you're wearing buttons, you may lose a few.
Close by also located in The Heritage Marketplace of Kuranda is the Kuranda Wildlife Experience. Home to most Australian animals, you can hug a koala or feed a kangaroo. But stay away from the Crocs at feeding time!
5. See The Great Barrier Reef From Above
During our stay, a friend of mine mentioned she had got a bargain flight over the Great Barrier Reef. Since my partner had spent the majority of our sail sleeping off seasickness we decided to see it from the air so he could enjoy it as well.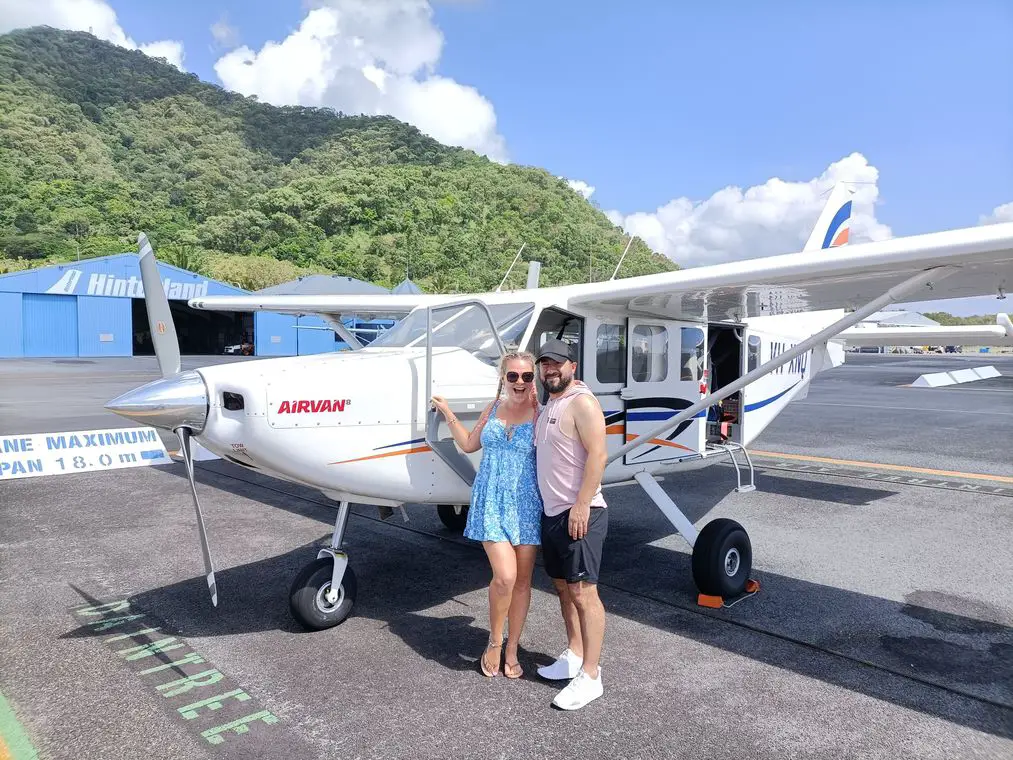 The 45-minute scenic flight was made for only 8 people and every person got a window. And you want a video. The flight out to the Great Barrier Reef was much faster than the sail out and the view from the top was incredible. We even saw turtles! Whitsundays was beautiful, but this, this was incredible. I couldn't stop taking photos and highly recommend it.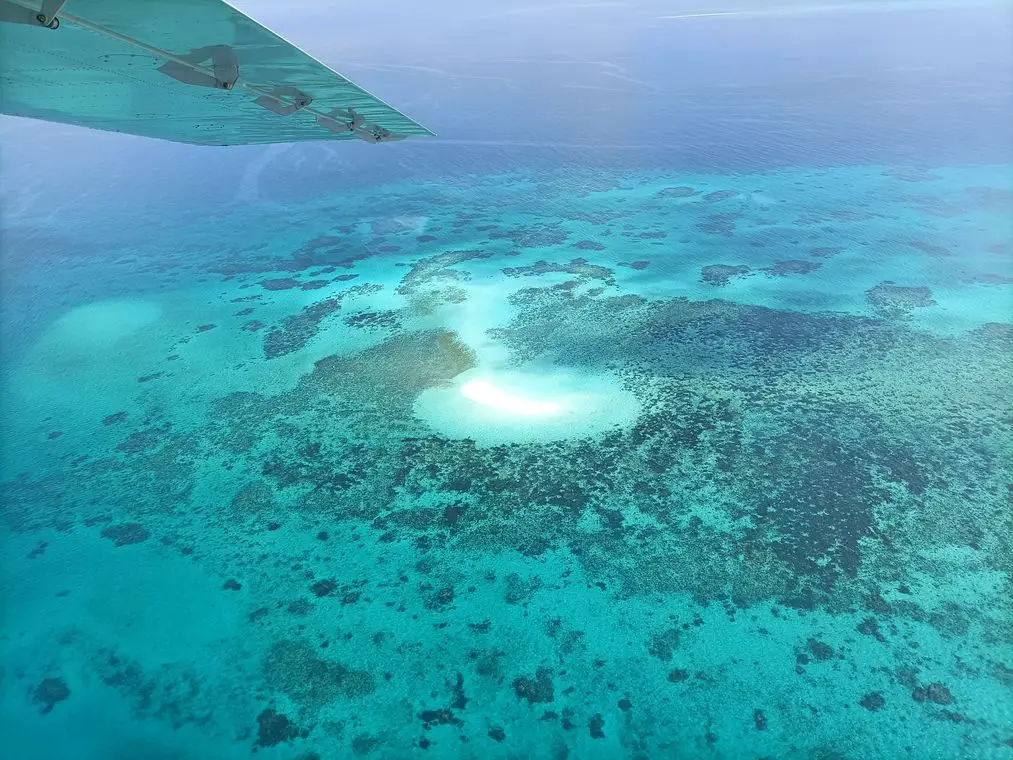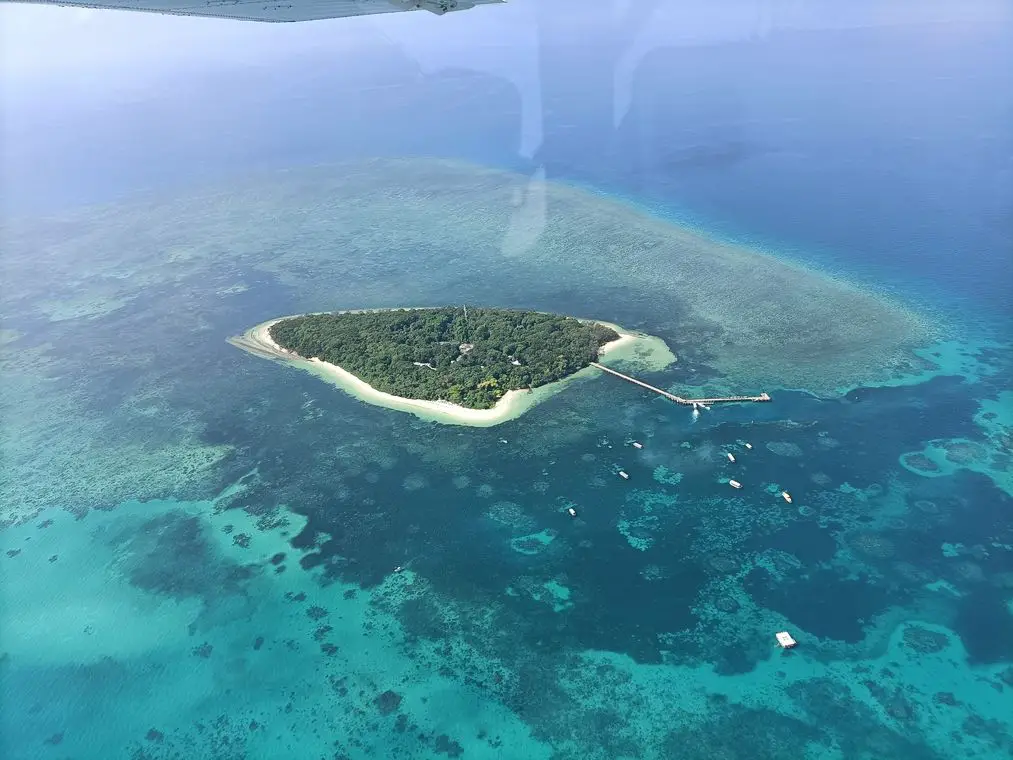 4. Visit The Pristine Palm Cove
Hiring a car for a day or two is a must because our day trip to Palm Cove was simply stunning. About 30 minutes north of Cairns, Palm Cove is a tiny beachside village centered around an esplanade lined with 500-year-old melaleuca trees. You could spend hours walking barefoot through the village, admiring and photographing the trees, and the beach.
We had plans to kayak to the nearby Double Island, however, were turned off by the multiple crocodile signs located along the beach. We opted for fish and chips at a local instead.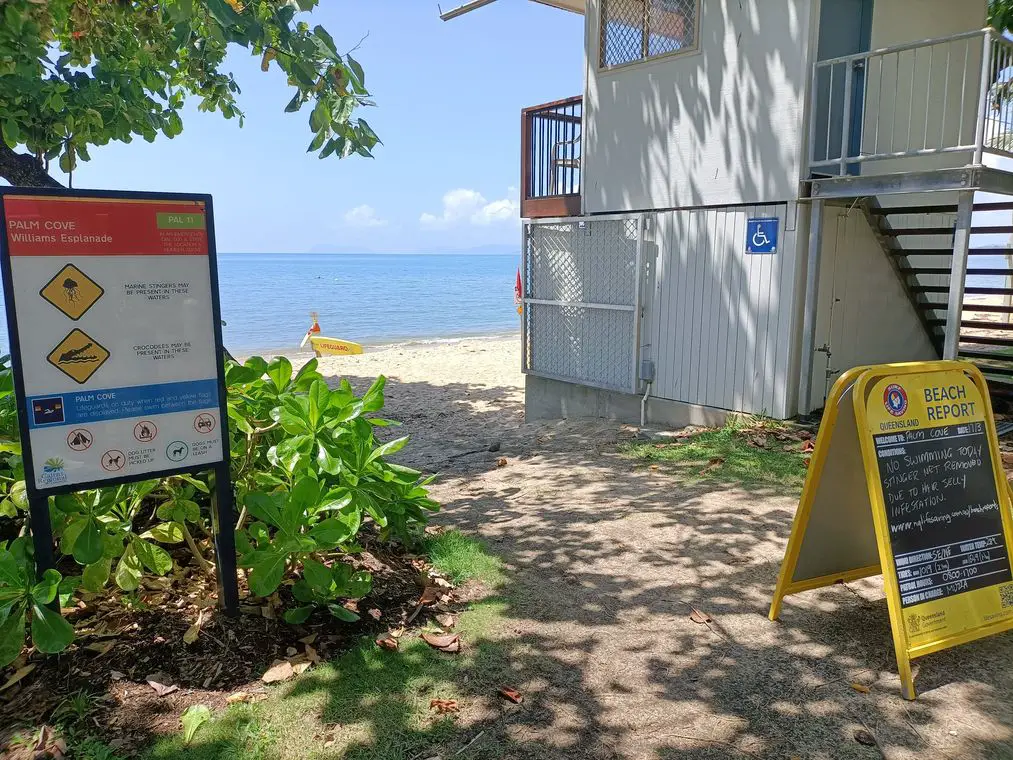 3. Take The Skyrail to Kuranda
You made it to the top three. And this is a special one. The Skyrail is one of the best things to do in Cairns today. Highly recommend you do it exactly as we did and embark on a full-day journey through the world's oldest continually surviving tropical rainforest.
We started by parking at the large car park in Smithfield Terminal. It's a 15-minute drive from Cairns. From here we took a Diamond View gondola over the mountains and up to Kuranda. The Diamond View is a glass-bottom gondola so take the normal one if heights freak you out. Gondolas head out continuously throughout the day and bookings are made in 15-minute intervals.
The journey is approximately 1 and a half hours, including 2 stops. The first is Red Peak. A divine boardwalk wanders through lush fern gardens, giant trees, and lookouts across the entire landscape.
The next stop is Barron Falls where you can discover the panoramic views from The Edge Lookout. What is the best month to go to Cairns? Well, the best time to visit Barron Falls is December to March, when the waterfall comes to life.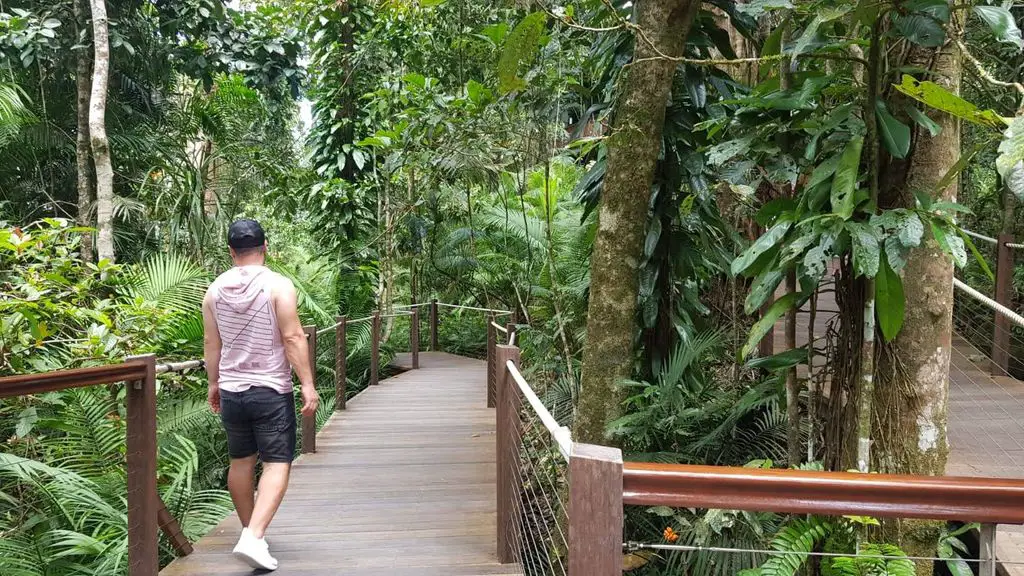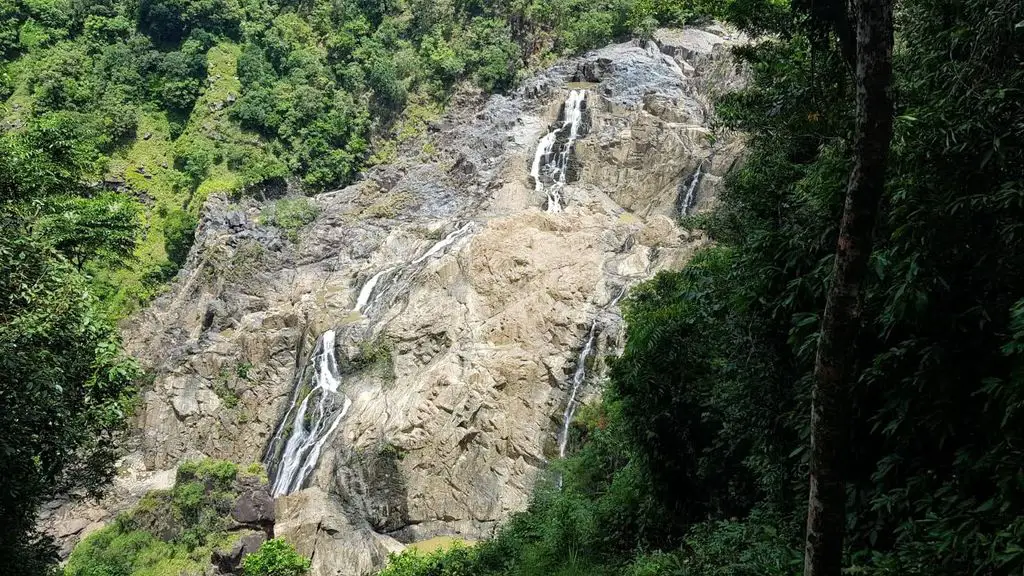 Your last stop is Kuranda Terminal, where we spent 4 or 5 hours wandering through the markets, eating lunch, and chasing wildlife.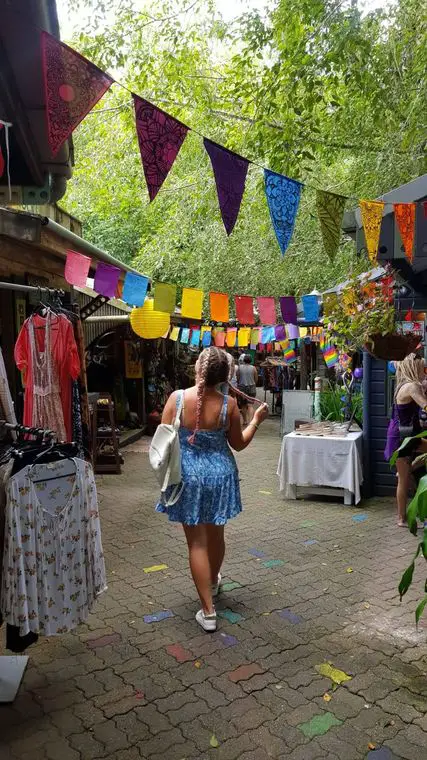 Around 3:30 pm we took the only afternoon departure on the Kuranda Scenic Railway. A one-way trip of approximately 1 and a half hours through pioneering history, old tropical rainforests, and crushing waterfalls, and all on a train and track that is nearly 90 years old.
For added class take the Gold Class. You receive a souvenir, snacks, and unlimited alcoholic beverages for the duration of the trip.
I'm not sure which journey I enjoyed most, so I recommend taking both!
Please note that the end of the railway is at Freshwater Railway Station and without booking a bus transfer ride shares were not readily available to take us to where we left the car in Smithsfield. It was a fair wait, so I recommend you book the bus transfer in between.
Check self-guided, like we did here.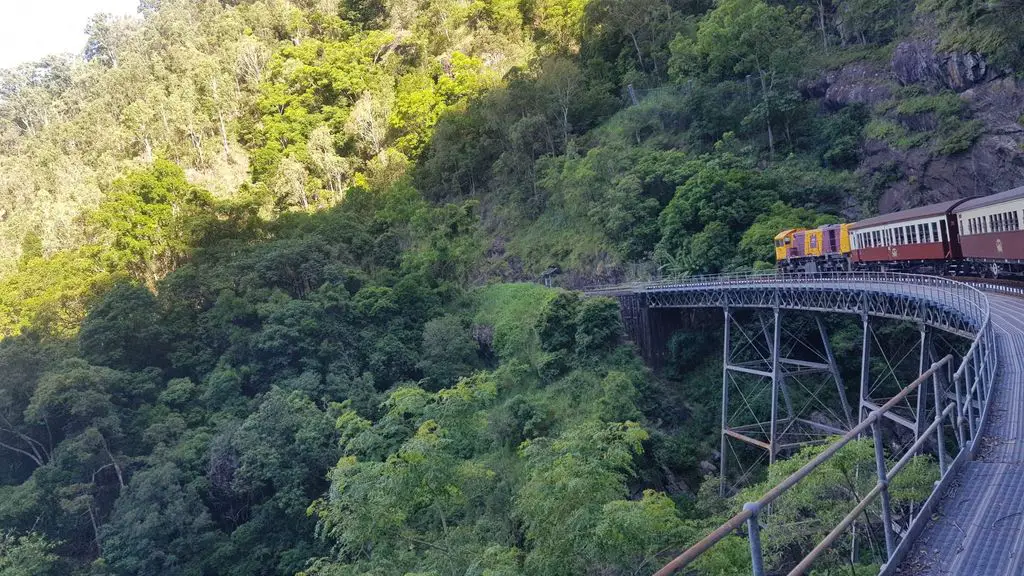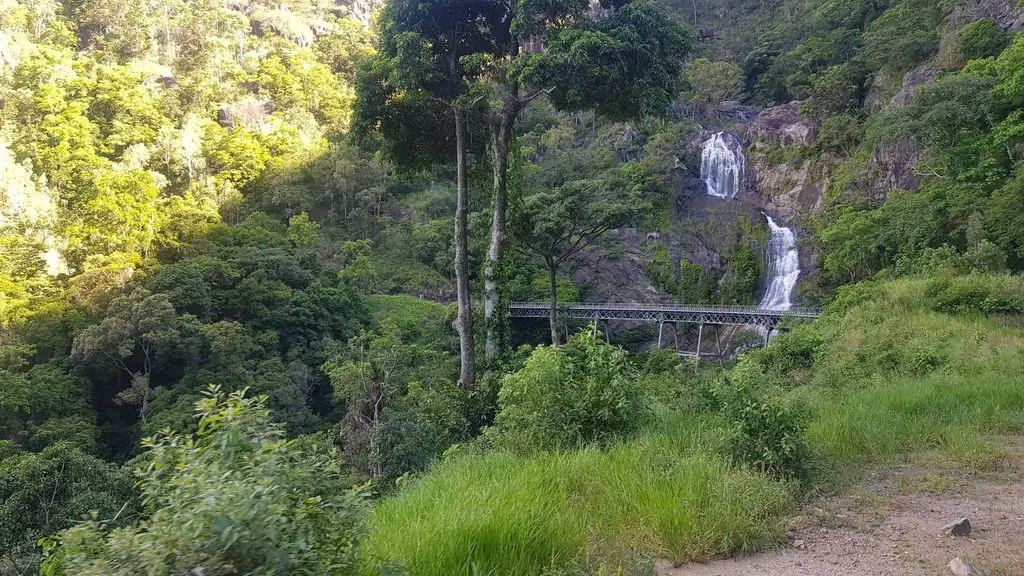 2. Risk Your Life On A Giant Swing
Perhaps you love a bit of adrenalin like me but aren't ready to commit to a full-on Bungy jump. But if you are, you can do that here too. Not me. I thought perhaps the Giant Swing might be a tamer. Well, depending on who you ask, it might be worse.
Especially when your partner doesn't tell you he's about to pull the cord.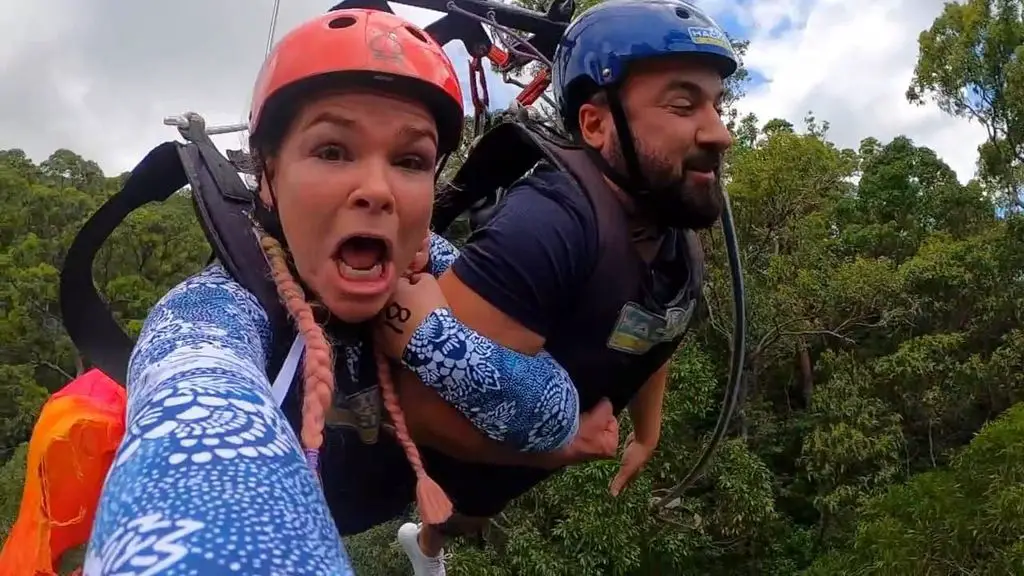 One of the best things to do in Cairns and just 15 minutes north is the Minjin Jungle Swing, situated right in the heart of the lush tropical rainforest. This swing will drop you from 45 meters high in 3.5 seconds, reaching speeds up to 120km.
I can't describe it any better. Just watch. Listen to that scream.
Check discounted tickets here.
1. Sail the Great Barrier Reef
It's not a visit to Cairns without swimming or sailing the Great Barrier Reef. It's on my list as one of the top things to do in Cairns. And I'd trust no one better than Sailaway Port Douglas. Steve is one of the last original locals still running an honest, fabulous sail experience.
And whether you are after a romantic sunset sail, with wine and cheese, the wind in your hand, and a possible proposal on the way. I hear the percentage rate is high, but I struck out. 😛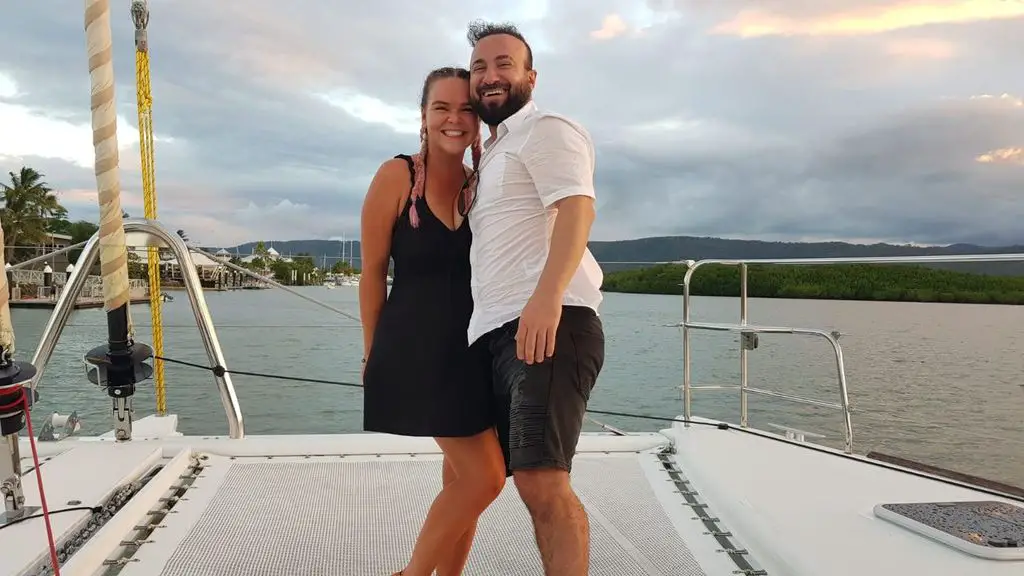 Or if you are looking for a day cruise with a buffet lunch, snorkeling with turtles, and tanning on deck.
You'll find the staff at Sailaway taking good care of you, your partner, and your kids. And stuffing your brain full of knowledge.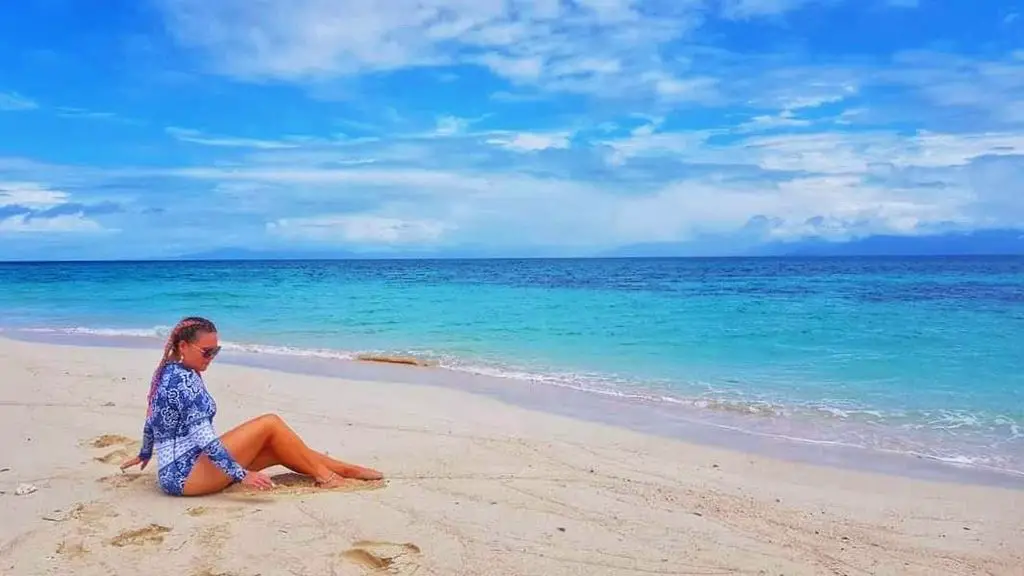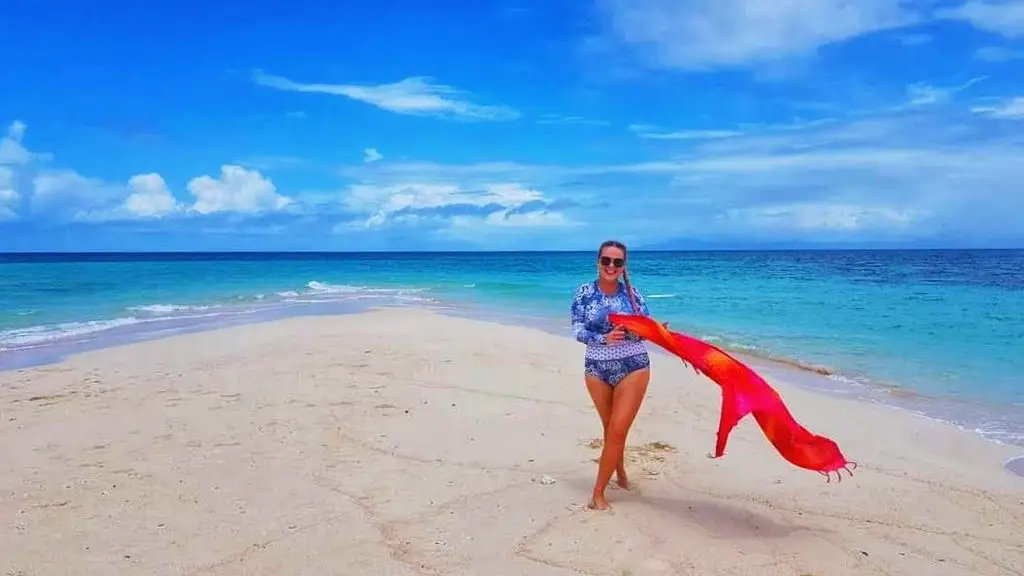 Make these things to do in Cairns this weekend because most operations are running a weekend schedule until tourists can return. 
There you have it, our 10 things to do in Cairns. 
LOOK HOW EASY IT IS TO PIN THIS!
FOMO - do you have it?  Well there is no need to Fear On Missing Out here at Explore With Erin. Sign up to receive updates directly to your in box. I won't spam you, but I do promise a whole lot of awesomeness. What are you waiting for? Join Me!