I tiptoed closer to the edge. I desperately wanted to look over, but the icy wind rushed past me wildly and a sliver of fear made me hesitate. My mind's eye pictures the long drop as it appears in The Princess Bride as Fezzik climbs with Buttercup up the Cliffs of Insanity.
Far below the waves crashed like orchestral cymbals against the jagged cliffs with a deep, reverberating sound that could almost be felt under my feet. The waves seemed to call to me like the silky voice of a Mermaid's siren.
It's cold and I shiver as I inch even closer to the perilous edge. I remember the moment back in 2012 swinging my legs over the rim of the Grand Canyon. My guide closes her eyes and turns away mumbling, that she was not going to stand and watch. Inch by inch I tiptoe until finally the red earth disappears and my eyes can finally see the sheer drop of the majestic Cliffs of Moher. The wind whips at my clothes tempting me to fly, but survival instinct takes over and I slowly retreat backward, one foot at a time.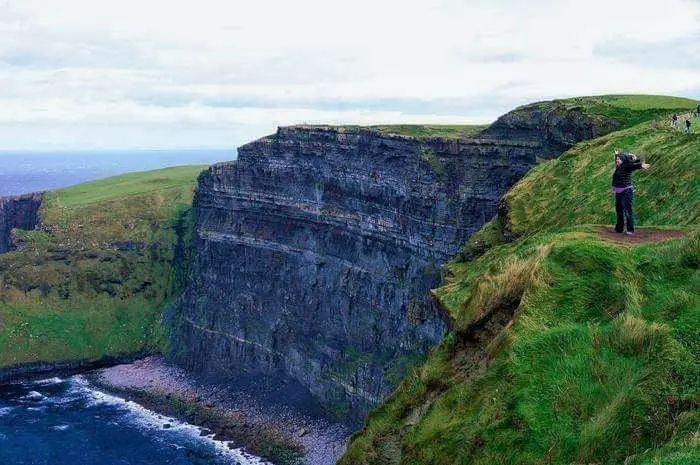 Do the Cliffs of Insanity exist?
Yes, they do. And they exist in Ireland, although their real name is Cliffs of Moher.
The kids and I set out from Limerick for the far west of Ireland. We were in search of the legendary Cliffs of Moher. Or if you are a huge movie lover you may recognize them as The Princess Bride Cliffs of Insanity or the Horcrux Cave from Harry Potter and The Half-Blood Prince.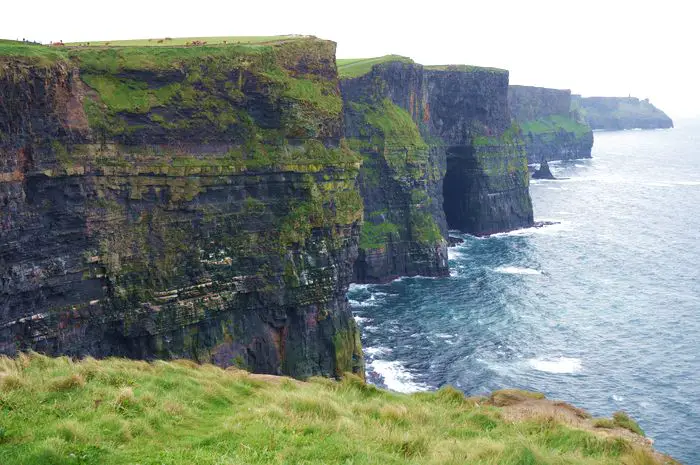 Was the Princess Bride filmed at the

Cliffs of Moher

? 
It sure was! 
If you've ever seen the Princess Bride you'll recognize one of the most popular scenes takes place when the princess is being carried up the side of a massive cliff front on the back of Andre the Giant, along with Inigo Montoya and Vizzini.
It's where we hear Vizzini's famous Cliffs of Insanity quote, "inconceivable." And at the top where Inigo Montoya confronts the Dread Pirate Roberts. What is the quote from Princess Bride? "Hello. My name is Inigo Montoya. You killed my father. Prepare to die."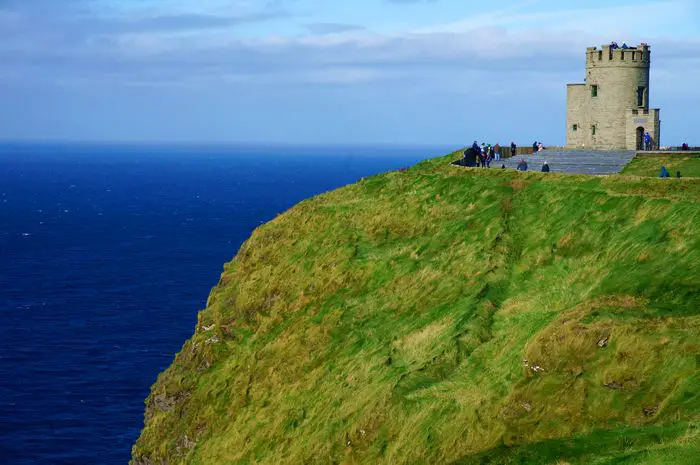 Was Harry Potter filmed at Cliffs of Moher

?
Yes indeed. While our 1987 film the Princess Bride is a classic, the later generation might recognize this cave dwelling as the Horcrux Cave from the 2009 film, Harry Potter and The Half-Blood Prince. In the film, Harry and Dumbledore go in search of one of Voldemort's Horcruxes in an unnamed cave by the sea. The location used is Ireland's Cliffs of Moher.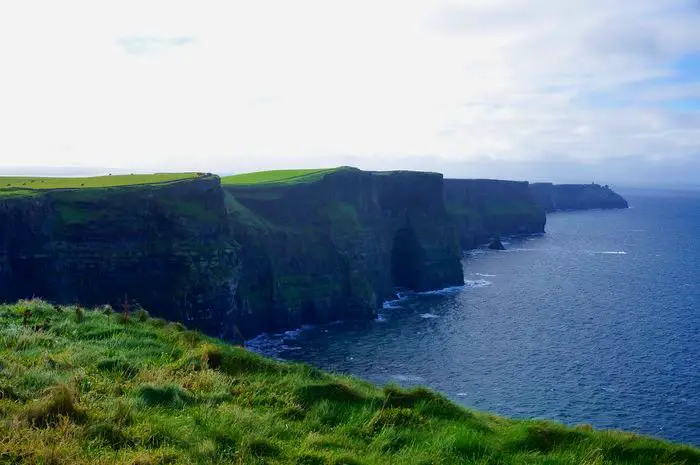 Where are the Cliffs of Insanity from Princess Bride

?
The Cliffs of Insanity location is in County Clare. Known as the Cliffs of Moher they rise to 214 meters (702 ft) above the Wild Atlantic Ocean and are over 300 million years in the making.
I have seen so many amazing natural wonders during my travels from the Grand  Canyon, and Crater Lake in the USA to the Dead Sea in Israel, Cappadocia in Turkey, and the Great Barrier Reef in Australia. The Cliffs of Moher is one of these and happens to be the 2nd most popular tourist attraction in Ireland.
Upon arrival, the signage is pretty easy to follow and we ended up in a carpark with a short walk to the visitor's center beside, or rather, built into the cliffs.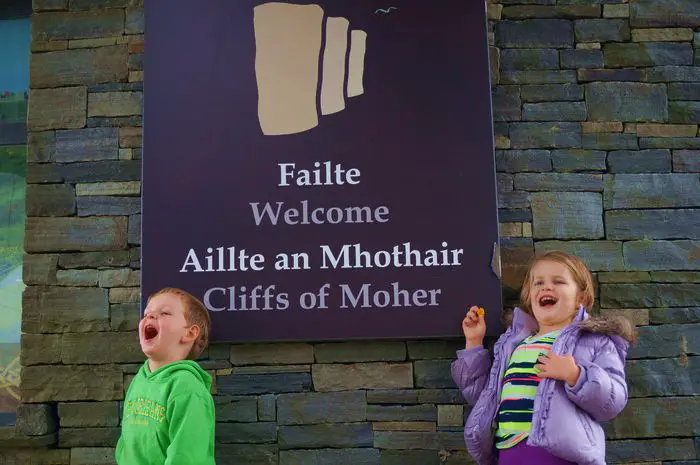 Are the

Cliffs of Moher

open year-round?
The Cliffs of Moher Visitor Experience is open all year round except Christmas Eve, Christmas Day, and St. Stephen's Day. Opening times vary between 9.00 am and 9.00 pm.
How much is it to see the

Cliffs of Insanity Princess Bride

?
Adults are €6 (USD 7), while kids under 16 are free.
If you are traveling from Dublin and looking for a day tour, check this epic Galway and Cliffs of Moher tour.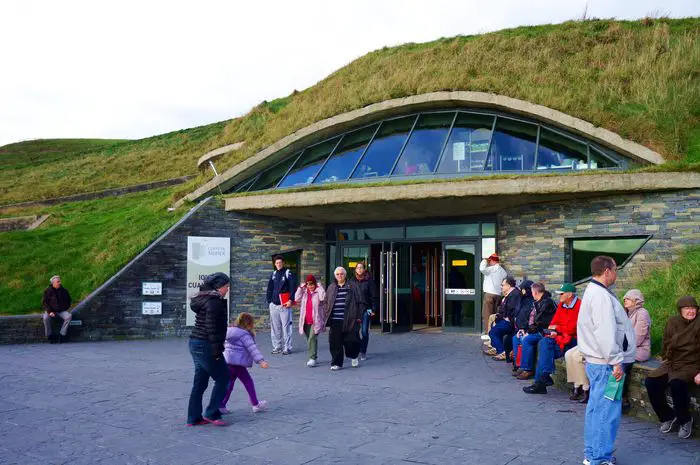 What can you do at the

Cliffs of Moher

?
The kids loved the interactive media displays and their favorite feature was the animated movie which explores the cliffs from a bird's (and fish's) eye view. We watched it 3 times.
The adorable Director, Katherine, offered us a personal Cliffs of Moher tour. It did take some time to convince the children to abandon the media displays, pull on their coats scarves, and brave the great outdoors. You could also do a Cliffs of Moher cruise.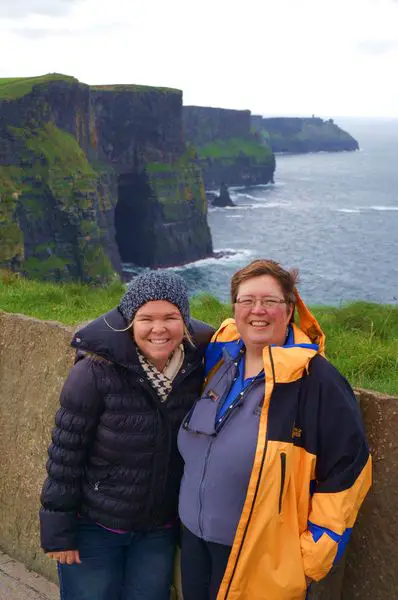 How many have fallen off the

Cliffs of Moher

?
The cliffs are staggering, dare I say, insane. It's easy to see where Cliffs of Insanity Princess Bride came up with the name.
Overall, 66 deaths occurred on or at the base of the Cliffs of Moher between 1993 and 2017. Over 46 years, the average number of fatalities per year was 8.4 (±5.26). 282 were classified as accidental, 80 were classified as natural deaths, 13 were suicides and 5 were classified as homicides.
In 1997 a 13-year-old boy fell 48 feet to the bottom of the Cliffs of Moher and survived despite breaking everything on the left-hand side of his body.
Did you know that people use to have tea on its edges? Inconceivable! I may be slightly insane too. I love a good cliffhanger in the movies and in real life. I am disappointed I never managed to get close enough to peer right over the edge, however, I did get close enough for beads of sweat to appear on my concerned guide's brow.
The beauty is mesmerizing, the wind biting, the views phenomenal.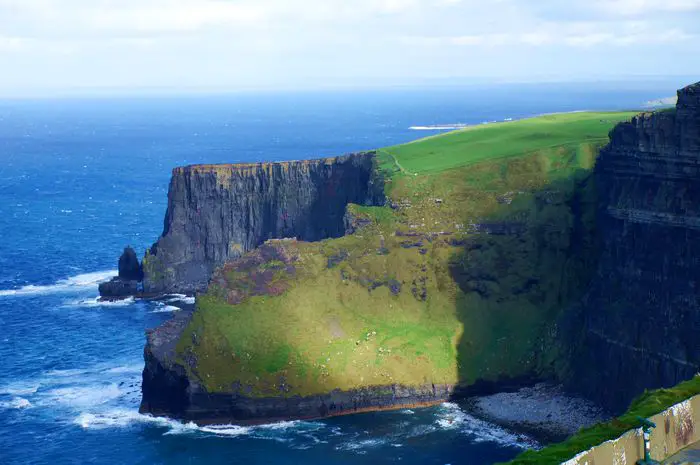 What else can one do at

the Princess Bride Cliffs of Insanity

?
Nearby is O'Briens, a lonely, circular, stone tower that was built in 1835. It was built to impress the original owner's female guests. Once the kids and I scaled the tight staircase, narrowly dodging the tourists coming down, we reached the best rooftop views ever. Green mossy cliffs with dark stormy waves crashing against them as far as the eye could see.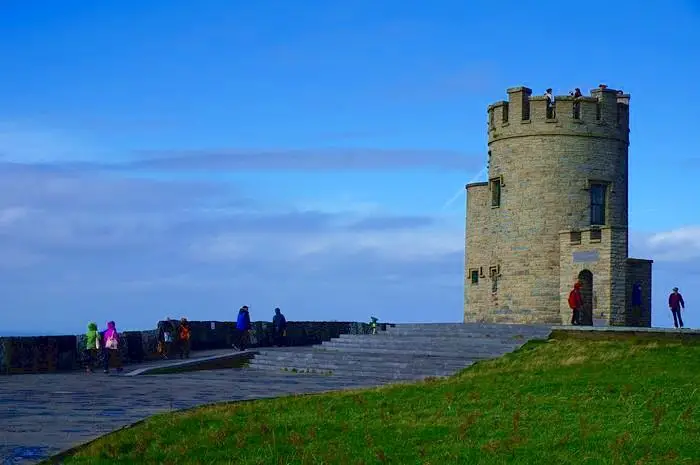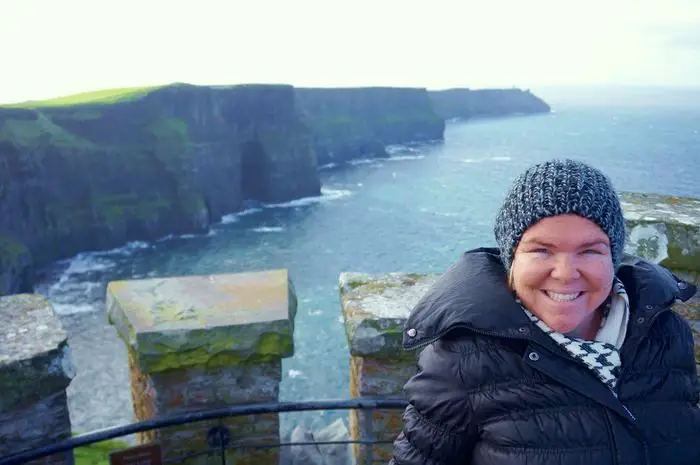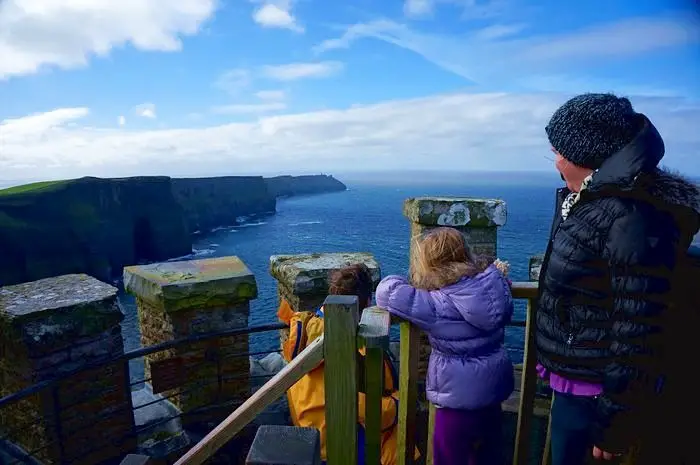 After getting our fill of the mesmerizing views of the insane Cliffs of Moher we retreated to the visitor center to grab a bite to eat at Cliffs View Café. The Irish food here was surprisingly delicious compared to the typical fare found at most tourist attractions.
Where can I stay near the Cliffs of Mohor?
If you are looking for budget accomodation than a hostel in Connemara is your best bet.
If you're thinking of staying in a hotel, I'd suggest staying in my favourite Ireland city, Galway. You can check hotel prices here.
Where else can I eat near the Cliffs of Mohor?
While I believe you will enjoy a great meal at Cliffs View Cafe if you are seeking to eat away from the cliffs head to Lahinch for Barrtra Seafood Restaurant which has a great reputation.
If you're looking for Irish cuisine I have a great list here. In this article, you'll find one of my favorite restaurants in Galway, which is also perfect for group dining. It's definitely worth the drive.
Closer to the cliffs you will find two more great restaurants. Stonecutter's Kitchen is seasonal so check opening hours before you go. Vaughan's Anchor Inn is a hotel with mostly 5-star reviews. It's located nearby in Liscannor.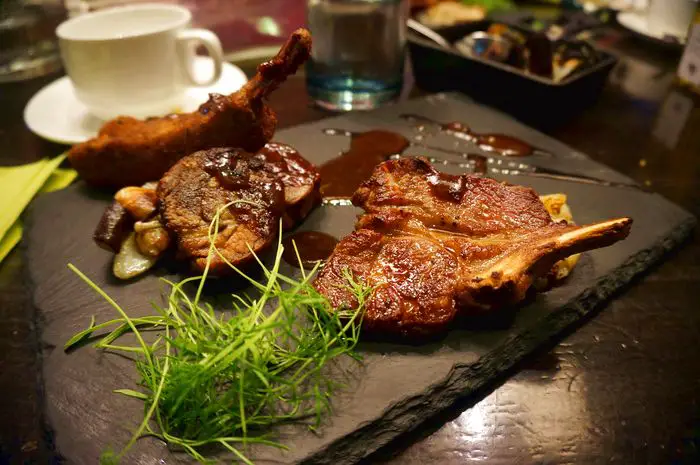 Explore With Erin Wrap Up
Movie lover or nature lover, on your trip to Ireland you will not want to miss the majestic views and the magical vista of the Cliffs of Moher. You may not be able to climb it like Buttercup in the Princess Bride, but you'll be able to say, "I've been there" when you next watch the movie. Which is most likely to be at least once a year. 
I'll never cease to be amazed at the alluring natural beauties of the world around us, and how wonderfully they were created. Especially those that I can risk life and limb on in return for a spectacular photo. Inconceivable! 
*Please note that Cliffs of Moher IS often misspelled as Cliffs of Mohor. Cliffs of Mohor cruise. Cliffs of Mohor tour. Train to Cliffs of Mohor is all addressed above under the correct spelling. Post was written back in Travel With Bender days. 
LOOK HOW EASY IT IS TO PIN THIS!
Accommodation near The Princess Bride Cliffs of Insanity
Travelocity has over 70 properties around the Cliffs of Mohor including hotels, apartments, and hostels. You get free cancellation on most rooms and the best price guaranteed. Click here to start your vacation! 
Take a tour of the Cliffs of Insanity
Want to take an organized tour of the Cliffs? Then I recommend these through Viator.
Rent a Car in Ireland and drive to the Cliffs of Insanity
We love RentalCars.com because they have the best car rental prices – Guaranteed. Try it. 
Fly to Ireland to see the Cliffs of Insanity
Skyscanner is a comparison website that searches millions of flights. The best part of Skyscanner is it is simply a flight aggregator so in the end, you book directly through the airline.
FOMO - do you have it?  Well there is no need to Fear On Missing Out here at Explore With Erin. Sign up to receive updates directly to your in box. I won't spam you, but I do promise a whole lot of awesomeness. What are you waiting for? Join Me!