The wind pulled at my hair as I stood on the precipice of the grandest canyon of them all. As I looked down thousands of feet I couldn't help wonder how it got here, what were the origins of this grand, natural wonder? Like did God pick up the Earth in His giant hands and take a bite out of the nothingness of the Arizona desert?
The wind is pushing me back from the edge and I find a small measure of comfort in that since it's not pushing me forward into the great ravine. My heart starts racing and I take another step closer, hunching down to sit at the edge, slowly dangling my legs over.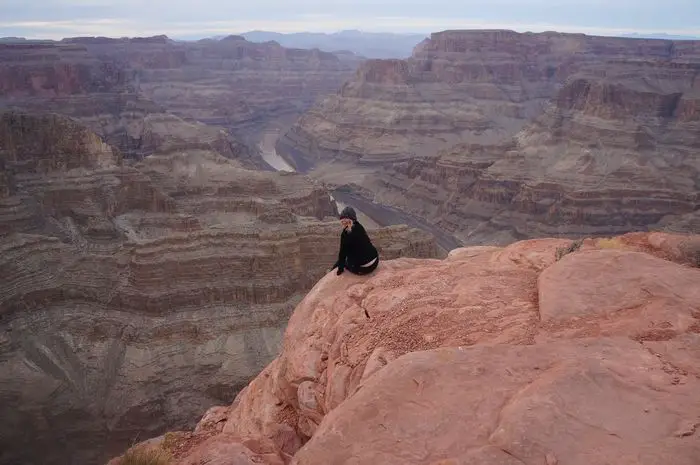 I look over my shoulder and beg, "take the picture, quickly!" After the snap of the camera and confirmation from the photographer, I scramble back away from the edge with a little laugh in the back of my throat. Anything for the gram. With adrenalin still pumping through my veins, I consider a belly crawl to peer over the edge, my photographer reads my mind and growls, "don't even think about it."
It was my second visit to the Grand Canyon. The first was before I had children and I had peered over the cliff without a second thought. Somewhere in the few years that had passed, something had changed in me. Now that someone depended on me, needed me, it felt so much riskier placing my life at risk for a gram and a view.
The following story is to help your epic Grand Canyon day trip from Las Vegas in partnership with Hotels.com.
Hoover Dam
Before my trip to the Grand Canyon, I researched how to get there. I was going to be collecting my friends from their hotel in Vegas early in the morning and head straight there. Google Maps informed me it was over a 6-hour drive so I decided to pack an overnight bag to stay the night and return the following day.
I got to my friend's hotel at 7:30 am and we were all in the car by 8 am. Our first stop? Hoover Dam. You can take the highway bypass, but we actually wanted to cross it and photograph it so we headed straight towards it.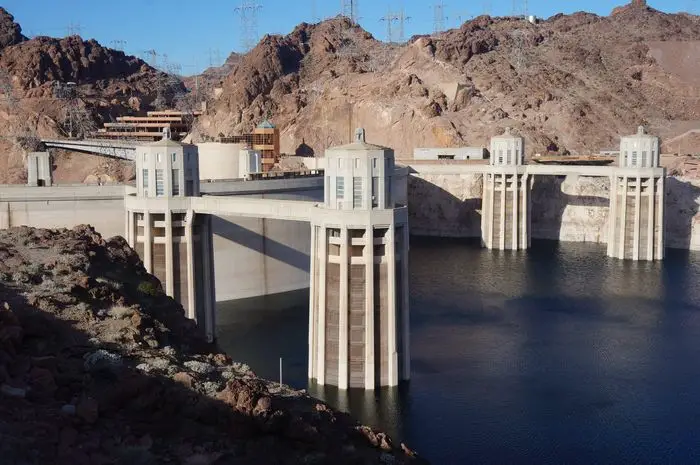 Despite the cold day, the view was fantastic and we spent a while taking photos and enjoying the scenery. Since my last visit, there had been a few changes and the view of the Dam is on a no-through road, so we had to do a U-turn and head back to cross via the bypass.
It's Not 6 Hours From Vegas
Everyone settled back into their seats for the long journey to the Grand Canyon. During the journey, I pulled into a gas station to fill up the fuel tank. It was a strange gas station with hideous UFO decorations and crazy paraphernalia that left you laughing and concerned at the same time. But it turned out to be the best stop we made on our journey once the cashier asked if we were heading to the Grand Canyon.
The cashier informed us our Google Maps was leading us to the South Rim. In fact, we could head to the West Rim, which was only 2.5 hours. Hallelujah!
The West Rim
Everyone rejoiced back in the car that the canyon would be on us much faster than anticipated. And the Grand Canyon day trip car karaoke resumed with vigor.
It wasn't long before our road turned into a dirt road and we were bouncing along, finally reaching the West Rim.
The West Rim is owned and maintained by an Indian tribe There are several different activities you can do, and pricing based on any budget. We knew we definitely wanted to walk the glass Skywalk and so chose the option which included lunch and the famous skywalk. See the prices here.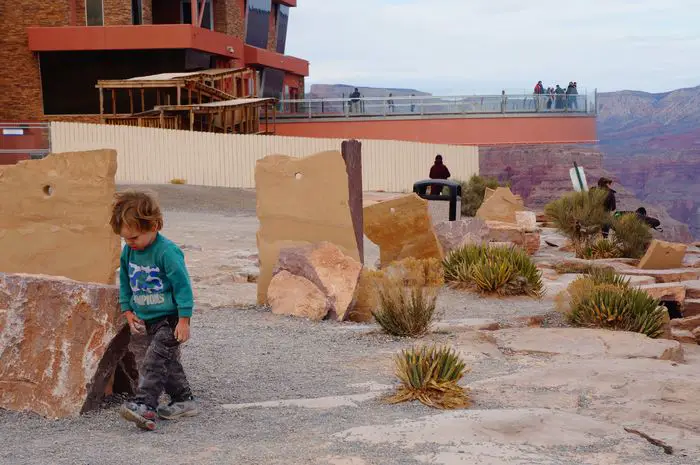 If You Do Want To Stay Overnight
While we ended up making a Grand Canyon day trip, we did love how many accommodation options were available at Grand Canyon West. One of those is the Cabins at Grand Canyon West which offer rustic cabins and a perfect location, making it easier to get out and explore the Skywalk, float in the river, or relax under the stars.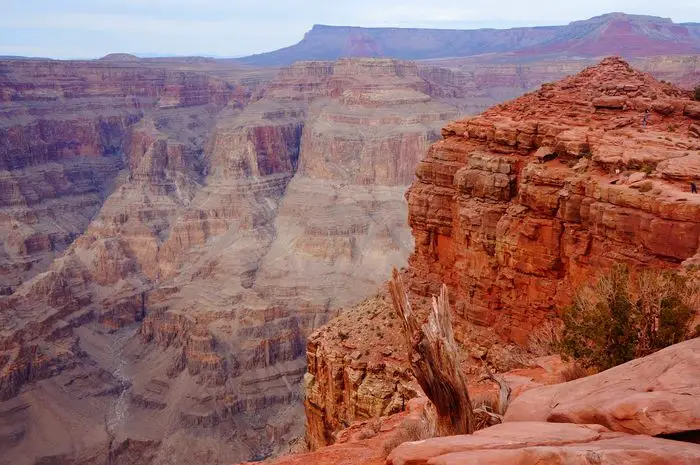 The Skywalk at Eagle Point
The shuttle bus transports you to three different stops. Our first stop was the Skywalk at Eagle Point. You won't find this experience anywhere, but here on the West Rim.
The Skywalk is a glass bridge jutting out over the 4000 feet vertical drop into the Grand Canyon. You are required to wear special socks to prevent scratches on the glass flooring, and unfortunately, no cameras are allowed.
Now I consider myself a bit of a thrill-seeker, but that walk is still one of the scariest things I have ever done. There are gaps in the glass where you can lie down and look through, but I couldn't manage that. My 2 and 4-year-old didn't even seem to notice.
Outside the scary skywalk, we also found a giant crack in the earth. My beautiful friend from Australia, Vanessa, found this quite disconcerting and I literally had to carry her to the edge for a photo. It was deeply fascinating.
Guano Point
Our next stop through Grand Canyon West was Guano Point, plus lunch. The wind was biting hard now so I took the kids inside out of the bad weather. It was warm, but it also allowed me to breathe easier, as the kids were giving me a heart attack at every turn. I had to have both hands on them and several eyes to prevent any bolting or escapism and it was causing me serious anxiety. I found it much easier to wait inside the restaurant looking out the windows with them and then swap with my friends to go take my own look.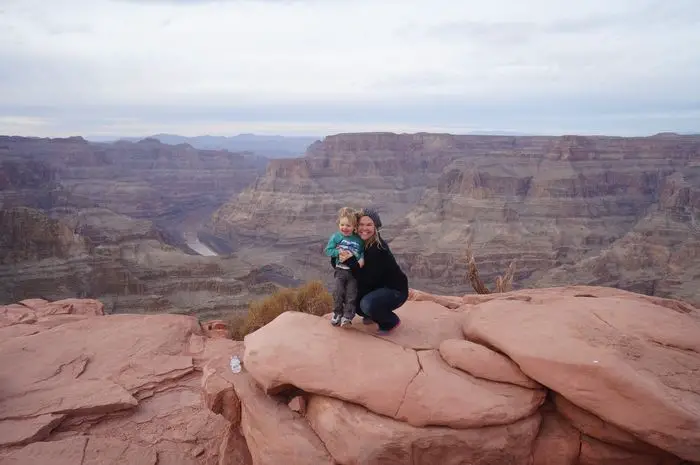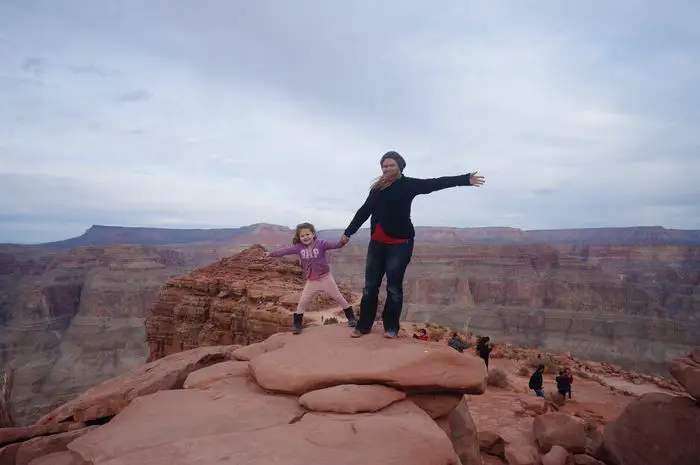 Vanessa was uneasy with the height, so her husband Dave and I took a walk around the Canyon.
While Dave and I were sitting on the edge taking photos I noticed this guy in a wheelchair also moving about. The terrain was rough and bumpy with rocks, the edges unstable, but here he was taking in the scenery and moving about. I felt great pride in his determination even though I did not know him. I also felt immense gratitude for my own legs.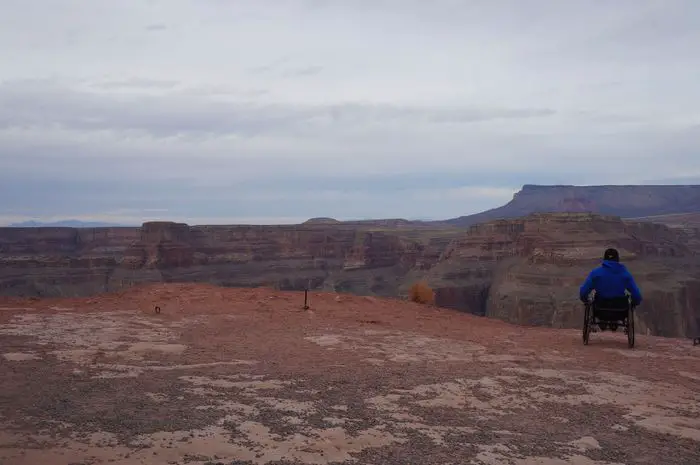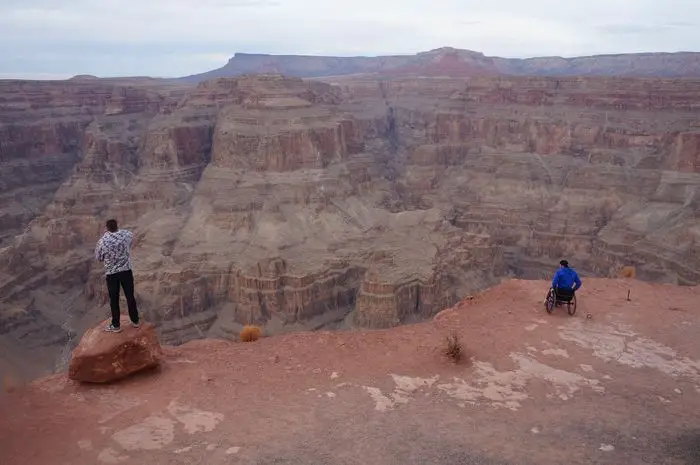 The Grand Canyon is amazing and I can't begin to try and describe it to you. It seems to just go on forever. Forever down and forever wide. Then there are the colors, and textures, shadows, and shapes. It really is a must-see.
When I look at the Grand Canyon I am filled with awe. I have never come across anything man has made that can beat nature. I felt gratitude, awe, and an overwhelming sense of smallness.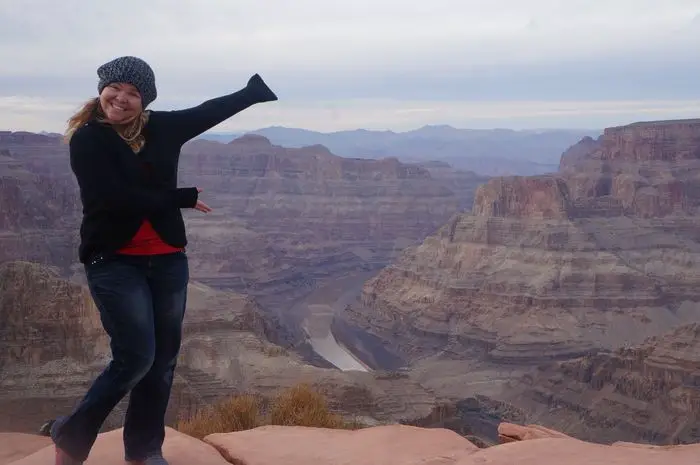 Hualapai Ranch
Our last stop on the bus was a little cowboy/Indian town, Hualapai Ranch. We were nearing the end of our day and it was great to get out of the cold and the bitter wind. Included in our tickets was a hot chicken dinner served in the restaurant on site. My kids loved playing with one of the waitresses who was dressed as a cowboy and had a pretend gun. My 4-year-old was especially fond of the way she crashed to the ground every time she shot her. She was also amused by the man performing magic tricks at each table.
As we came out of the restaurant the last bus was leaving for the day. We jumped on board and hitched a ride back to our car. It was such a relief to be out of the wind and cold and sit in the relative warmth of the car
As the sun made its descent below the horizon we made our way back out of the Canyon, happy, warm, and still filled with astonishment.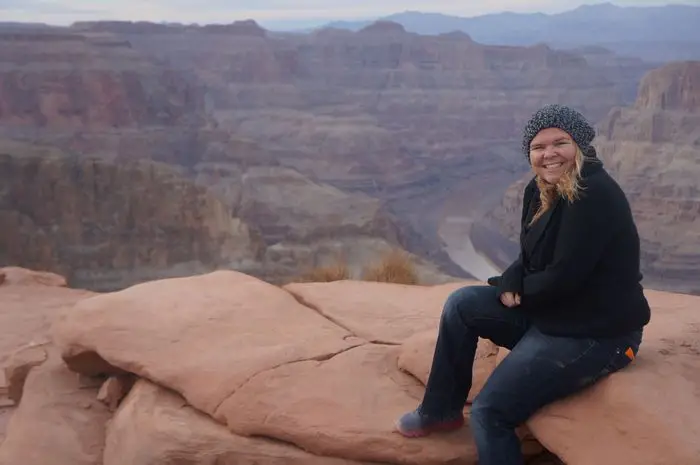 Where To Stay In Vegas
The journey home seemed quick with such excellent company and it wasn't long before the blinding lights of Las Vegas greeted us in all its shining glory. Originally I had planned on staying at the Grand Canyon, but since we made it back the same day, I booked a room at the same hotel as our friends.
The Monte Carlo turned out to be a great choice that I ended up staying my entire Vegas trip. The location was excellent and my room had great views overlooking the strip, but still blissfully quiet in the bustling city that never sleeps.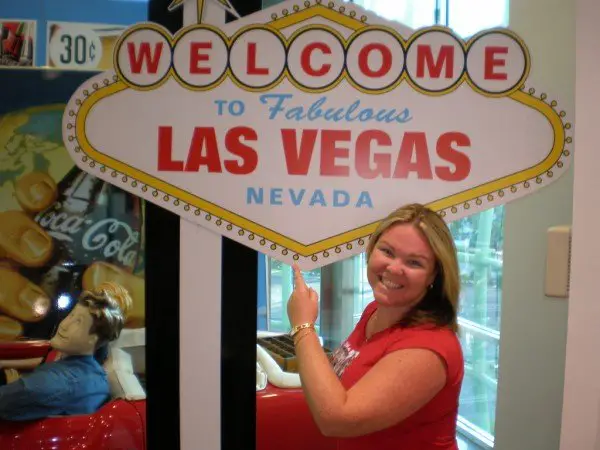 2020 TRAVEL TIP
2020 hasn't been the easiest year to travel in and safety is at the top of everyone's list. If you are comfortable with traveling, please travel responsibly and within the rules of each destination you visit, being aware that those rules change frequently and may be different from your home country.
If you are traveling in 2020, can I recommend:
Wear a face mask in countries that require you to do so. 
Bring hand sanitizer and wash your hands on a regular basis.
Check official websites before your trip for the latest updates on policies, closures, and status of local businesses.
Book a hotel with free cancellation in case you need to change your plans at the last minute.
Choose travel insurance that covers you for COVID.
LOOK HOW EASY IT IS TO PIN THIS!
FOMO - do you have it?  Well there is no need to Fear On Missing Out here at Explore With Erin. Sign up to receive updates directly to your in box. I won't spam you, but I do promise a whole lot of awesomeness. What are you waiting for? Join Me!