Let me tell you a tale about my very first media visit. Back to November 2012.
The kids and I had been traveling the world for 6 months through Southeast Asia and the blog I started had grown a good size following.
That's when we got invited to visit Legoland's brand-new theme park. It was one of my very first press visits and it was the perfect place to do it!
2022 LEGOLAND Malaysia Resort is now 10 years old and as we are a keen LEGO friend we went back to help them celebrate! We are so excited to return to where it all began and recreate some of these epic pictures that y'all first got excited about 10 years ago.
But before I share LEGOLAND Malaysia Theme Park with teens let's do LEGOLAND Malaysia Resort with kids. Let's go back to 2012.
If there was ever a land to be visited it wouldn't have been LEGOLAND. We don't own LEGO, I don't build LEGO, and I never even dreamed of what a town made of LEGO would look like. But to visit Johor and its brand-new theme park had me intrigued.
On top of that, I had a 2-year-old boy who stated it had to be done, especially if there were LEGO star wars involved.
Welcome to LEGOLAND
The park was a little less than half an hour from the Pulai Springs Resort where we were staying. The shuttle dropped us off at the front of an undercover tunnel with restaurants, shops, and dozens of people.
We followed our way through the tunnel to exit the other end into the hot Malaysian sun where we spotted the LEGOLAND entry sign.
We had visited Hello Kitty the day before and they were already outdone. Big, bright, flashy, and thousands of people milling around waiting for the 10 am opening.
Thankfully we avoided the queues as LEGOLAND Malaysia had invited us to visit the park as media. I drifted to the left side of the crowd, asking one of the staff for my contact. She was it and our day started.
While the staff member shared a little about the theme park with us we lathered on the sunscreen being properly warned about the hot grounds that make up the LEGO kingdom.
I was handed a media theme park pass (of which my 3-year-old daughter politely requested one as well), a goodie bag with great information, LEGO shirts, and USB bangles, and were led through the turn styles into the miraculous world of LEGO.
LEGOLAND Malaysia Facts
The 76-acre LEGOLAND theme park opened in September 2012 and aims for family audience children between 2 and 12 years old.
It is strategically located a mere 45 minutes from Singapore (where you can visit Universal Studios Singapore) and about 3 hours from Kuala Lumpur.
The theme park has over 40 interactive rides but has plans for a waterpark and hotel with expected completion in 2013/2014. The pictures of the upcoming LEGOLAND hotel Malaysia showed 200+ rooms all themed with pirates, princesses, etc. Plus a Sea Life Aquarium.
Presently the theme park only has a 1-day ticket, but once the water park and Legoland Malaysia hotel open we look forward to staying for more than 1 day. As it was, we did not go on every ride or see everything in the park. There was so much to do.
Entry is 140MYR per adult ($45AUD), 110MYR ($35AUD) for children 3 – 11, and kids under 3 are free. If you are going to go more than twice a year, the annual pass would be worth purchasing.
LEGOLAND Malaysia is the 6th LEGOLAND in the world and the very first in Asia. It has 40 rides, 3 restaurants, 4 food stands, and 11 food carts. Not to mention Asia's largest LEGO shop and 15,000 LEGO models throughout the park.
The park has 6 themed areas containing more than 50 million LEGO pieces. You can read about each separate themed area in this article.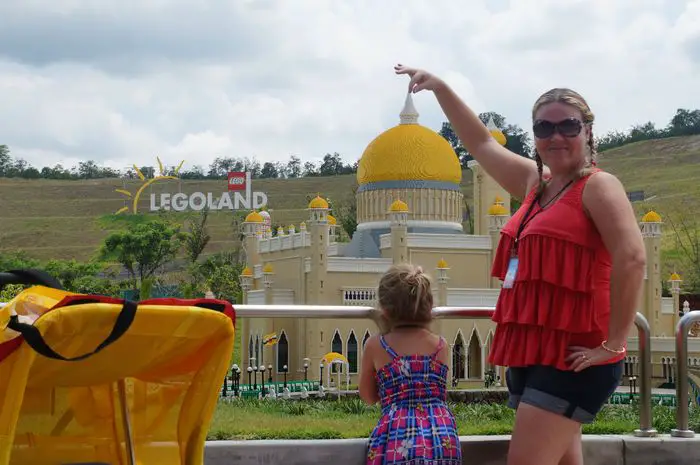 What is the perfect age for ?
The recommended age for this LEGO-themed location is 2 – 12 years old. My kids were 2 and 3 and loved it. Especially LEGO Ninjago World and the Great LEGO Race. I only wish the LEGOLAND waterpark had been open and we could have stayed in the themed rooms at the LEGOLAND hotel.
We did eventually do all that in 2022!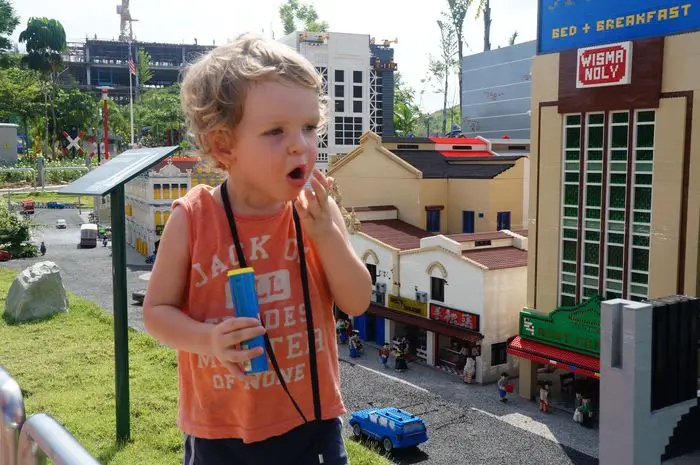 Do you need a Stroller at LEGOLAND Malaysia?
Once through the entrance, my first visit is to the right of the entrance where you can hire a double stroller for 30MYR ($10AUD). The staff also kindly offered to store our stroller while we used theirs.
We love double strollers, especially at a theme park. They are easy to push, tired kids can go further with a seat to be wheeled around in, and you can carry bags and drinks more easily. Simply add your name to it so it doesn't get confused with everyone else's and off you go.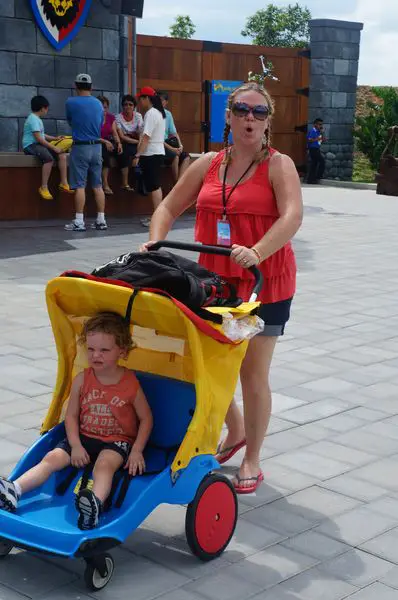 Best Tips for LEGOLAND Malaysia
Leave Miniland for last. We started at Miniland, however, I recommend leaving till closing time, because while all the attractions close down there is some leeway in leaving the park.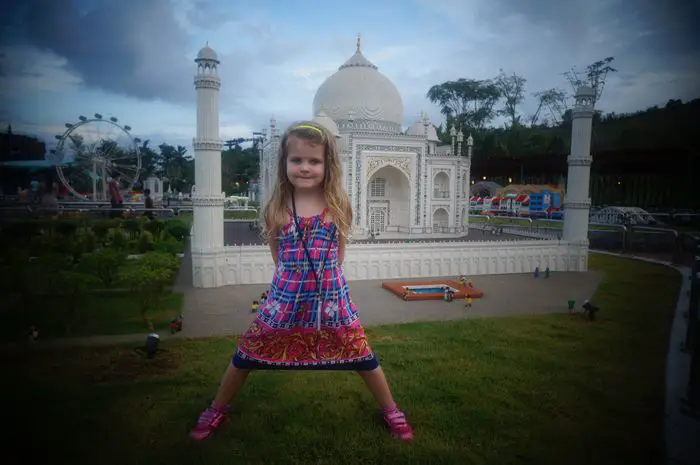 Find shaded areas. the theme park is new none of the trees are fully grown and therefore there is not a lot of shade. It's a hot concrete jungle with the best relief found in ice cream form at the many food carts scattered around the place. The other relief can be found in a few of the different lands: LEGO building opportunities.
Make use of the LEGO Centres. Make a start on the rides in the area and then escape to the relief of the air-conditioned comfort of the LEGO Centres. Here the kids can make LEGO cars and race them, build a LEGO city and shake them or try their hand at designer LEGO brick. And best of all parents can sit down and cool off within LEGO Technic.
Do bring a hat and wear lots of sunscreen.
Check the website for up-to-date ride information and any temporary closure announcements.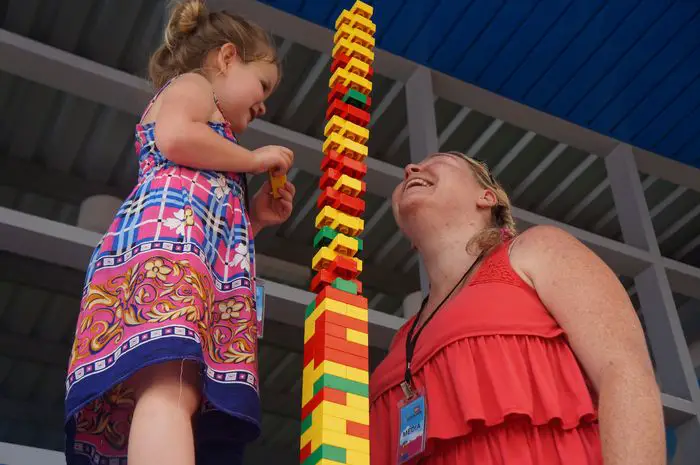 Use the LEGO tables to make wait times less tedious. Queuing for rides is not that bad at LEGOLAND Malaysia theme park, as many of the rides have LEGO tables in the queue. The kids stay distracted waiting as they play with the LEGO until their turn.
Save the 4D movie for the afternoon downpour. Granted we attended in monsoon season, but that doesn't have to stop you. Most days it will rain some ½ hour to an hour or a little bit more in the afternoon.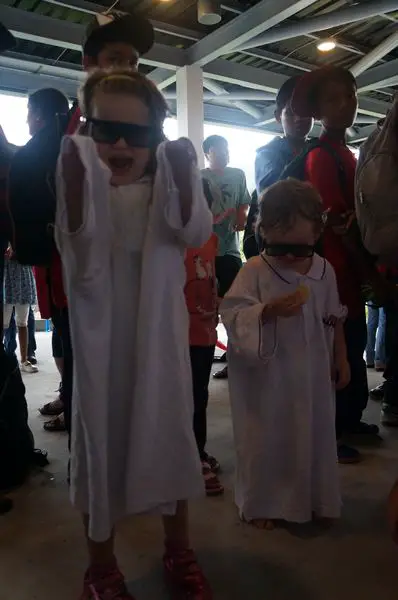 With most of the rollercoasters shutting down and the LEGO centers packed to the brim we headed for the 4D movie. When it finished the rain had stopped and we were ready to get back on the thrill rides. An umbrella would also be a bonus for both heat and rain.
Eat early or late. The Market Restaurant at midday was manic but worth a visit. The food was good and the price was more affordable compared to Singapore's Universal Studio.
Where To Eat at
There are 3 restaurants around the theme park, but plenty of food carts stand for the hungry teenager who refuses to wait between meals.
The food stands around the park serve anything from curry puffs to burgers & hot dogs to waffles and ice cream.
The Café serves up sandwiches, light meals, pastries, coffee, and drinks.
Pizza Mania is, of course, for all the pizza & pasta lovers. The pizza is made fresh in front of you.
We ate at the Bricks Family Restaurant. This is the largest eatery serving Western & Asian cuisines in a market-style concept where you browse the various stalls and choose what you want to eat.
Our eyes were bigger than our heads, because of all the variety on offer. The kids got nuggets & chips and a fish & chips. I choose chicken and vegetables, plus a salad.
I thought I'd receive a quarter roast chicken, but half a chicken came out. Granted I did not finish it. However, I knew the kids would be hungry later so grabbed a few paper cups with lids to store the leftovers.
Goodbye LEGOLAND Malaysia
It was getting dark when we finally left the theme park. We returned our stroller, returned our media passes, and walked back through the gates and out of the LEGOLAND park.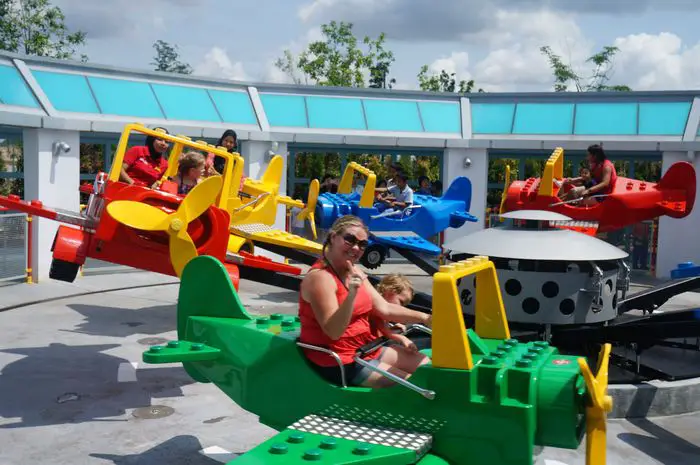 Guests were still milling around for last-minute photo ops of the attraction and the sun was making its grand departure over the hills.
My 2-year-old son had fallen asleep as soon as I placed him in his stroller. So my 3-year-old and I happily wandered back through the restaurant tunnel to the shuttle bus.
Mia was hungry so I stopped to get her a cheeseburger. She barely had one bite in the car before her eyes closed and she hugged it to her chest in sleepy abandon. I pried it from her fingers, without her uttering a murmur.
I was exhausted too. I couldn't wait to get back to the resort and sleep just like my two babies. What a wonderful, fun-filled day. Even for someone who doesn't own LEGO.
READ OUR 2022 EXPERIENCE HERE- Legoland Malaysia Theme Park with Teens. Including the LEGOLAND water park, LEGOLAND hotel, and Sea Life.
LOOK HOW
EASY
IT IS TO
PIN
THIS!
FOMO - do you have it?  Well there is no need to Fear On Missing Out here at Explore With Erin. Sign up to receive updates directly to your in box. I won't spam you, but I do promise a whole lot of awesomeness. What are you waiting for? Join Me!