The only thing to do in Las Vegas is gamble. And yet we had eight days in Las Vegas with kids, sin city where adult entertainment is number one and 21+ is written above every door. Well, not every door.
You've been asking what I did in Las Vegas with kids, well let me tell you, there is PLENTY to do with your little ones. And I've uncovered quite a list for you right here.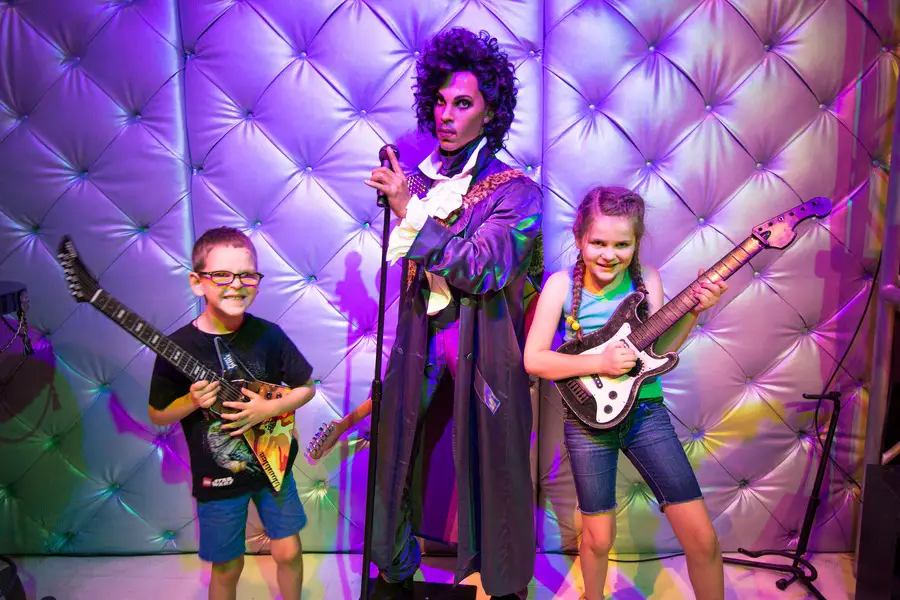 But First, The Unsavoury
Las Vegas lives up to its name true enough and you may need to wade through some muck to get to the fun. But while the streets are lined with men and women flicking naked women cards at passers-by, the kids and I were never approached.
You'll also find plenty of casinos filled with smoking and drinking. Kids are not allowed in these places, except to walk through. My warning, however, don't stop! My 2-year-old saw flashing lights and lots of loud noise and it called to him like a mermaid siren. Within seconds security flanked us telling us to move on as "it's against the law."
Then there are the seedy shows, with equally vulgar language, But for every show marketed to an older crowd, there is an equal amount of kid-friendly shows that the whole family can enjoy.
The three shows that we enjoyed during our stay in Las Vegas with kids the most are:
Las Vegas With Kids: Shows
Illusion @ Riviera
Magic Show
Some of the magic shows in Vegas have age limits of 5 and David Copperfield was on vacation so the kids and I chose a magic show with up-and-coming young German magician, Jan Rouven.
I'm big on buying cheap tickets on the strip, so my seat was pretty average with both kids free on lap. However, once the show started the kind Usher moved us to some available seats directly in the middle where the kids also got their own seats. Look, the theatre is quite small and you can see the show from anywhere, but the center seats do offer better viewing.
I love magic shows, but watching my 4-year-old daughter's face was better than the show. Every trick astonished her and she would cover her mouth with her hand in shock. At one stage she exclaimed, "What the?!" It was so entertaining watching her. Her favorite segment was when the magician was in the box and seconds later switched positions leaving his pretty assistant in there. Her least favorite was stabbing the woman in the box with swords.
A great show for adults and kids alike. Jan Rouven was a real gentleman too. Check ticket prices here.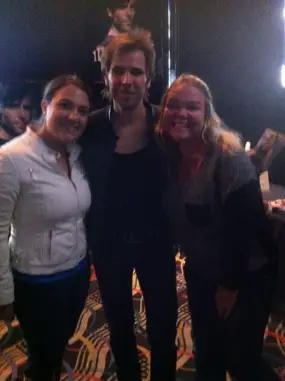 Tournament of the Kings @ Excalibur
Medieval Dinner & Show
I have done this a few times and would do it again. Such a great night out. Las Vegas with kid's ultimate entertainment. Overly touristy and superbly entertaining.
Kids under 3 are free but required to sit on laps and do not receive food. As you can imagine this is the US and Vegas is gluttony on legs, so I had no trouble sharing my meal with the kids. Plus, I did score a spare seat.
Once you are seated the audience is divided into teams to cheer on your favored knight and mugs are dished out to bang on the long wooden tables to help you cheer.

The arena is circular with a ring in the middle filled with sand. The performers rode real horses and did some pretty impressive fighting without any dangerous consequences. They performed jousting, sword fighting, and lots more.
During the show, we were served a three-course meal. Since it's a medieval dinner there is zero cutlery, which makes the whole thing so much more realistic. The kids and I loved drinking our tomato soup from the bowl or dunking giant chunks of bread. The main course was a whole chicken each – you heard me! It may have been a smaller chicken, but it was still enough for the 3 of us, let alone one. It was served with broccoli, roast potatoes, and more. The serving was enormous. Finally, the meal was finished with a mouth-watering, chunky apple pie. My server kindly gave me extra for the kids, but I hardly finished my meal, let alone all that dessert.
The kids, and even I, loved ripping our chicken apart and eating all the food with our hands, in between cheering, and yelling for our knight in shining armor.
Tip: Skip the illuminated toy swords, which I bought for a preposterous $12 because while Mia loved waving it around during our meal, it broke before we even got home!
At the end of the night, we had a quick photo with one of the knights and then walked home. My 4-year-old loved the show, My 2-year-old son got bored halfway through and fell asleep on my lap. But a fun night overall. Check ticket prices here.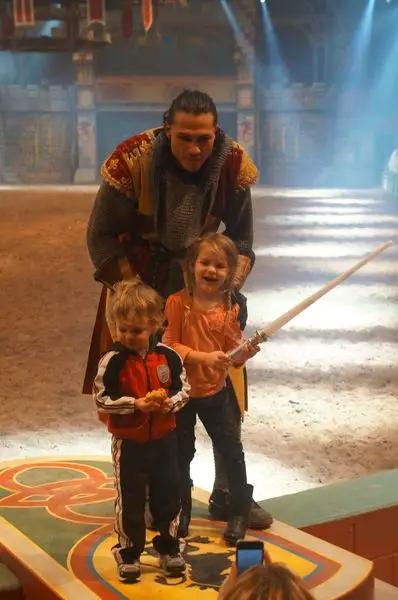 The V Show @ Planet Hollywood
Variety Show – a bit of everything
This show was recommended to us by friends. The seating is first-come, first-seated so we arrived early and waited in line for an hour. An hour well spent since we received excellent seats in the middle. Of course, as before it is a small theatre and you should be able to see from anywhere.
The show is led by a comedian who could juggle, play piano with his nose or with ping-pong balls, and more. He had more talent in his pinky than my whole body. He then introduced different acts, which involved dancers, jugglers, magicians, singers, and comedy. It was an entertaining show filled with lots of variety and fun that both kids loved.
My favorite was two brothers from Argentina who completely worked the crowd and were an absolute laugh. Recommend this show. Check ticket prices here.
Las Vegas With Kids: Hotels
The shows don't offer the only entertainment in Las Vegas with kids. And despite being unable to visit a casino, each hotel has an attraction that kids will love. Here are just some of the ones we visited:
Luxor's Egypt themed museum & super laser – the Luxor Sky Beam is the strongest 42.3 billion candela tunnel of light in the world. And the Egyptian theme really is like being beside the pyramids. We also loved the monorail from here, it's high up and a great view.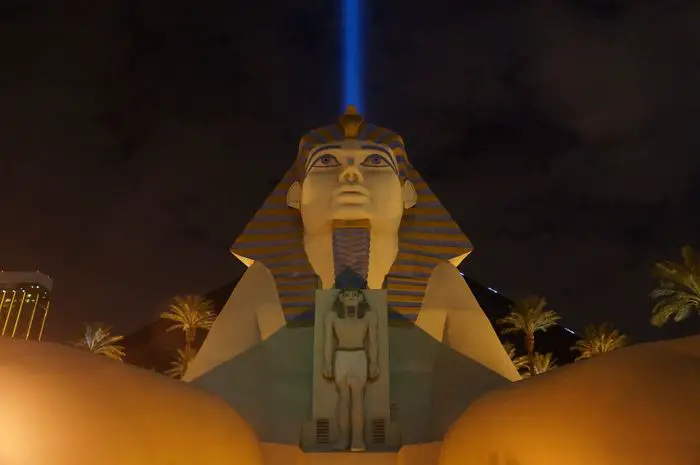 MGM Grand's lions – Once upon a time you could be photographed in the giant lion statue's mouth, but apparently that is bad luck in Asia so it's not possible anymore. The actual lion exhibit was closed in 2012 permanently.
Flamingo's flamingo garden – Beautiful garden with lots of different birds, as well as bright, pretty pink flamingos.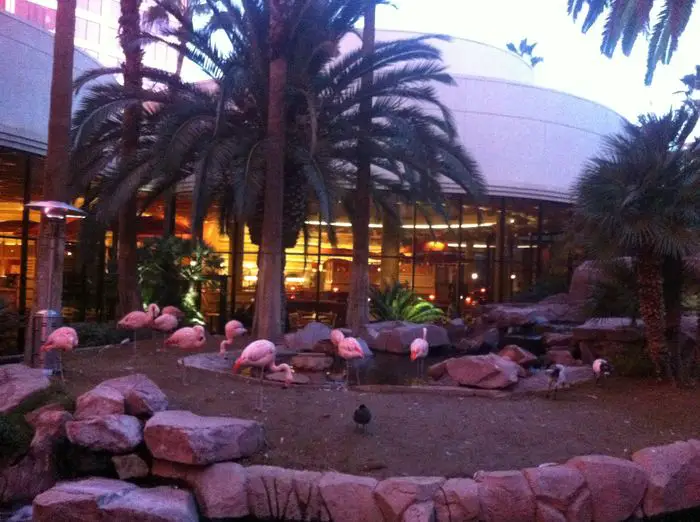 Treasure Island's pirate show – Sirens of the Sea is a mermaid show with explosions and water stunts. The show performs often so there's not much chance of missing it.
New York New York's roller coasters – Height restrictions meant no go for the kids, but we still enjoyed watching it and getting photos outside the fake New York skyline. There is also a fun ship & water fountain out the front.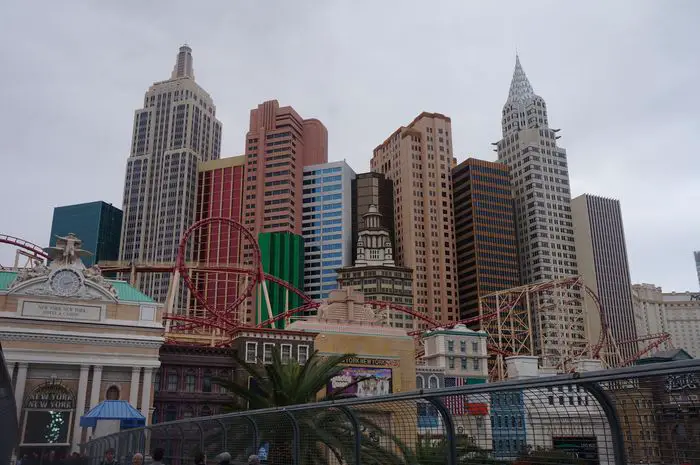 Circus Circus real circus acts and Adventure Dome – We went to the Adventure Dome for a look, but having come from Disneyland theme parks we found it overpriced and not worth doing. We didn't stay long.
The Venetian's gondola ride – Pretend your in Venice with a romantic gondola ride through the Venetian's hotel with its fake blue sky and multiple brand name shops.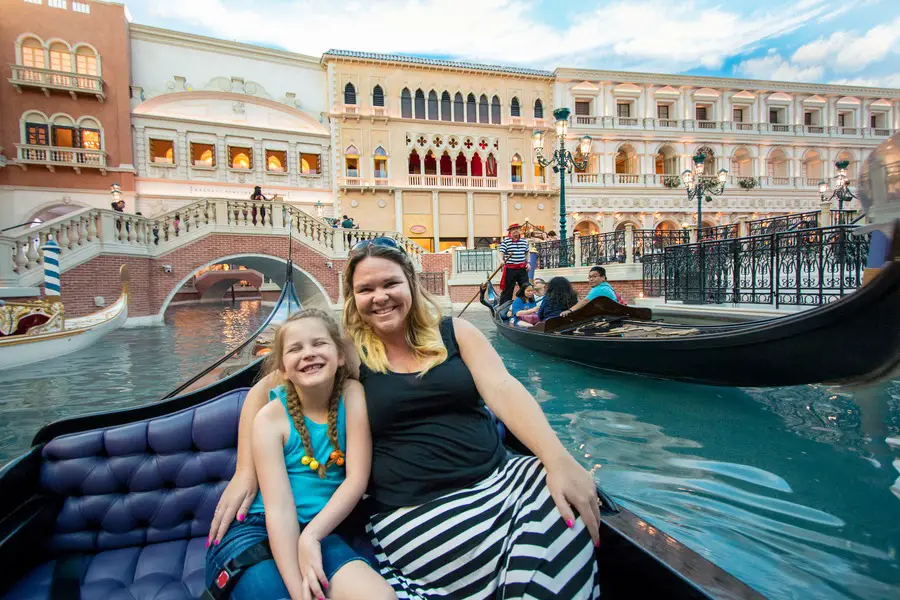 Planet Hollywood – Just a walk through their many shops and enjoy the unreal blue-sky ceiling.
Bellagio fountains & display – If you haven't heard of the fountain show then you must have been living under a rock. In winter the water, light, and music show plays every hour on the hour. I was there with the kids in December so there were plenty of Christmas carols and inside was the most amazing displays with trains and bears and huge Christmas trees. Epic window shopping.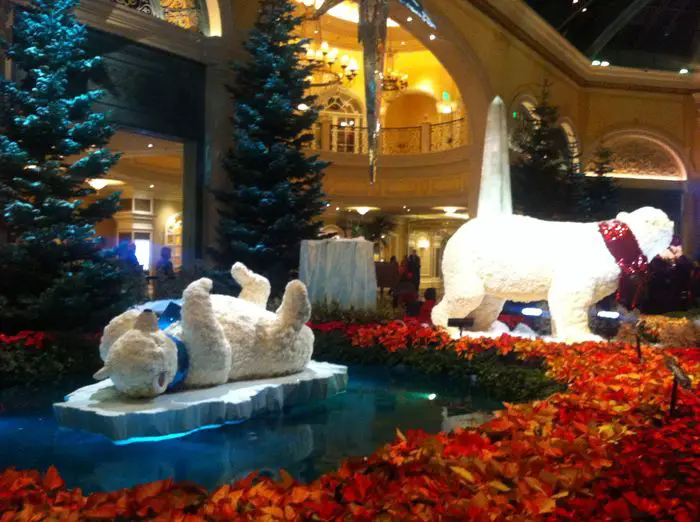 Plus, so many more!
Las Vegas With Kids: Not Casinos
Freemont Street 
The kids were fascinated by the world's largest TV screen, which plays nightly on the ceiling along the whole street. There is also a great new zip line installed for some adult thrills, plus plenty of street performances. I wasn't too impressed with the inappropriately dressed people for my little ones, however, most were kind enough to cover up when we passed by, like the lady with fake breasts the size of who-knows-what who modestly covered them with a large fan when she spotted my kids. Thank you, ma'am.
However characters like Elmo, Sponge Bob, and Woody also line the Vegas Strip, causing my kids all sorts of giggles and handclaps. Beware they do demand money for a photo, but their costumes are so terrible, that we avoided that at all costs.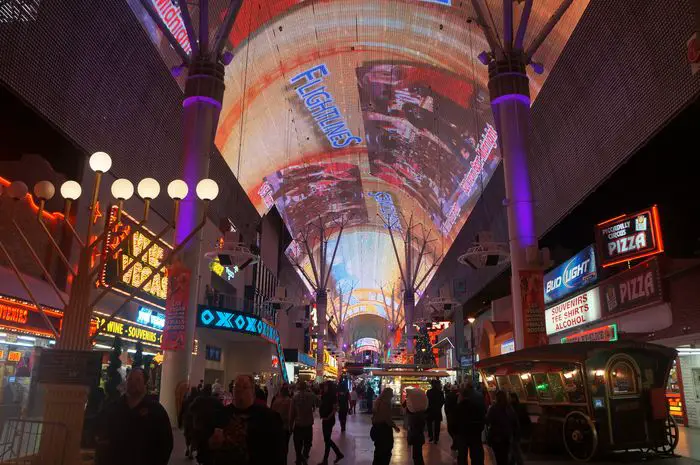 Downtown Container Park
This park is located downtown and a fairly modern piece for Vegas, made from shipping containers and manned by a giant flame-throwing grasshopper at the front. Flames can reach 6 stories high!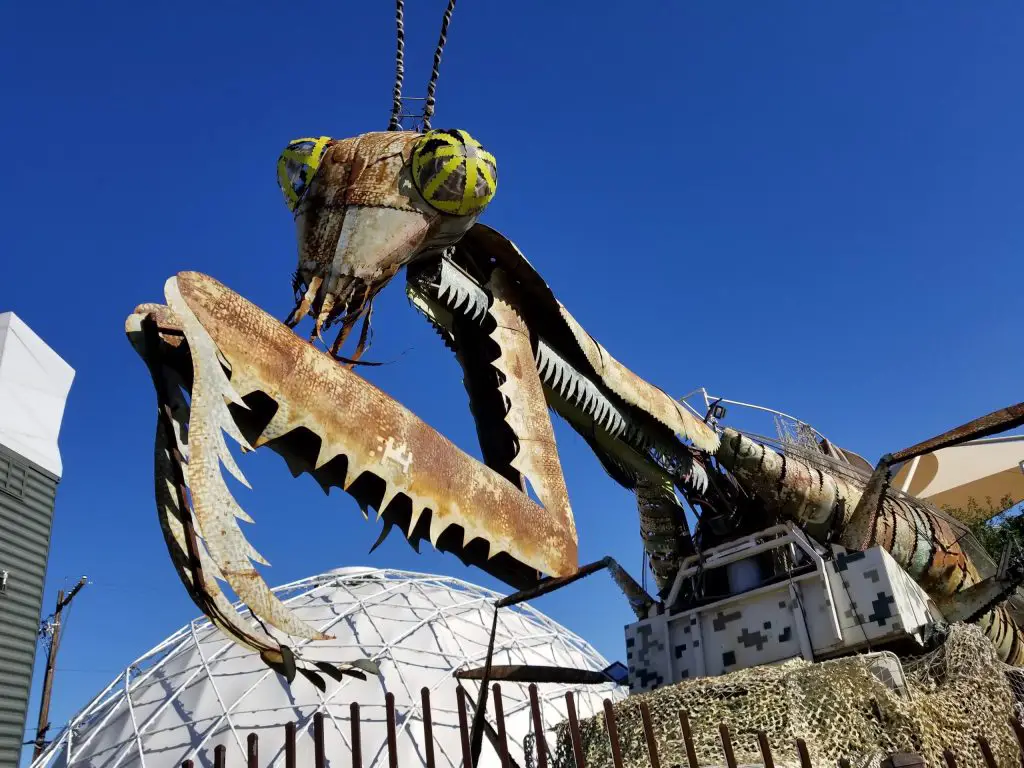 Madame Tussauds
Part of the Venetian, situated across the Bridge of Sighs, is the world-famous Madame Tussauds wax museum. It's not overly large, compared to others around the world, so you could be in and out in less than 2 hours. In addition to an endless reel of selfies with celebrities, sports stars, music stars, and even superheroes, the kids really enjoyed the interactive exhibits and dress-ups!
M&M World
Technically on the strip, M&M World houses a number of floors of every color of M&M, gifts, and memorabilia. My kid's favorite was a 3D movie starring "Red" and "Yellow" (the M&M characters).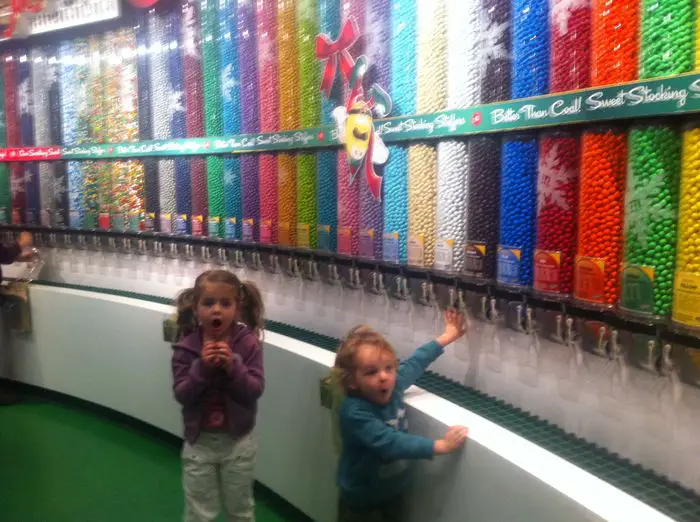 Coke World
Next door is Coke World, several floors of Coca-Cola themed gifts, old memorabilia, and a café. At the café, we ordered a tasting tray of different sodas from around the world. Some were crazy disgusting and few were lip-smacking delicious. The serving size is huge and after a sip of all 16, the kids and I couldn't take one more sip and left several on the plate.
Ross Dress for Less
Maybe for my US audience, it's no surprise, but I love this place. And while it's not a Las Vegas with kids place, it is a great place to get the kids something. You'll find several along the strip. Ross Dress for Less is a discount outlet filled with designer labels at basement prices. I managed to dress the kids nice and warm for the upcoming American winter and I also found my new favorite jacket, a puffy Guess jacket with faux fur for $50.
I have since been 3 times to Vegas and the kids and I have done so many other attractions as they got older from Human Nature concerts to Grand Canyon day trips, but this should get you going for now.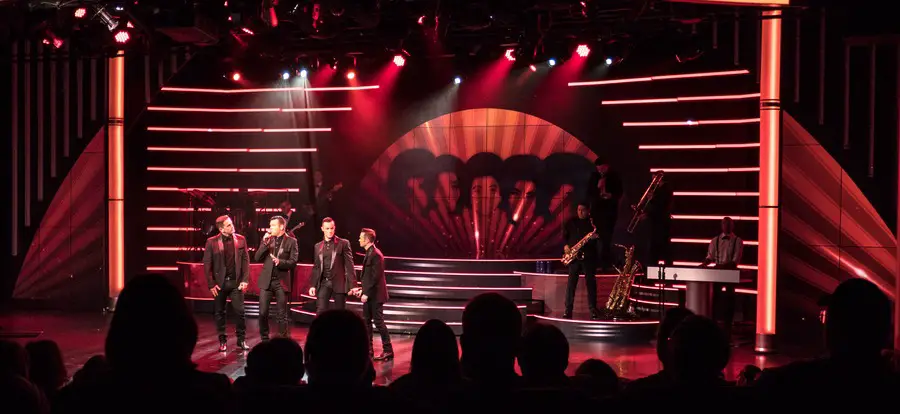 Have you taken a Las Vegas with kids trip? What attractions did you enjoy?
LOOK HOW EASY IT IS TO PIN THIS!
FOMO - do you have it?  Well there is no need to Fear On Missing Out here at Explore With Erin. Sign up to receive updates directly to your in box. I won't spam you, but I do promise a whole lot of awesomeness. What are you waiting for? Join Me!