Many of you may have loved Erin's posts on her weight loss. And why Erin is pretty strict with her diet, I know, like me, that she can't resist Greek Food. I was particularly tested during a recent trip to the Adorno Suites hotel in Mykonos because Greek food is really one of my absolute faves! I did use Erin's discipline to get my fill without going overboard, but I was still able to enjoy all of those wonderful Greek dishes which I love. If you haven't gone in with both feet yet when it comes to Greek cuisine, here are some of the dishes which I implore you to try.
Tzatziki
Tzatziki is super simple and absolutely delicious and when you try it in Greece it is completely different from the dip which you may have previously bought in a grocery store. The dish, like many Greek options, is very simple consisting of fresh natural yogurt with garlic, cucumber, and mint. When served up in a bowl with warm pitta on the side, it makes for a delicious and surprisingly filling plate.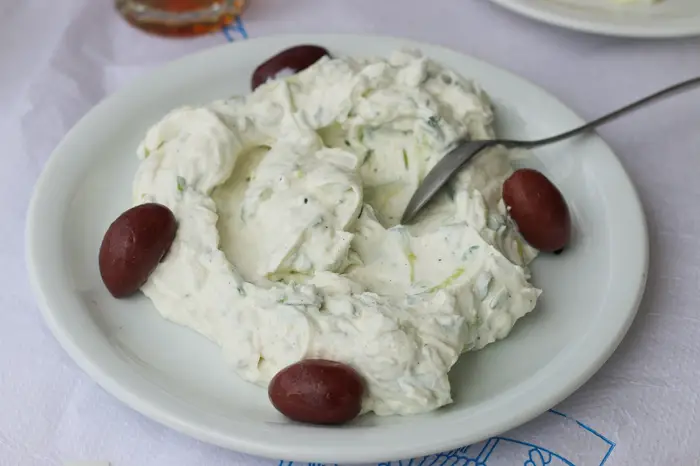 Moussaka
The best way to describe moussaka is that it is akin to lasagne, only without the pasta and the beef if that makes any sense. Simply put this delicious dish is made by layering sautéed aubergine, minced lamb, tomato puree, onions, garlic and some spices like cinnamon and allspice thrown in to give it that real Greek flavor. The dish is bathed in cheese and béchamel sauce for the perfect flourish, delicious.
Saganaki
Potentially one of the least healthy options on this list, although also potentially one of the most delicious is saganaki, which is a glorious and oozing block of sheep's cheese deep-fried. Thankfully they only serve this as an appetizer which does mean that you will only be tempted to eat a small amount, but it is absolutely one of my favorite dishes and one which you must try.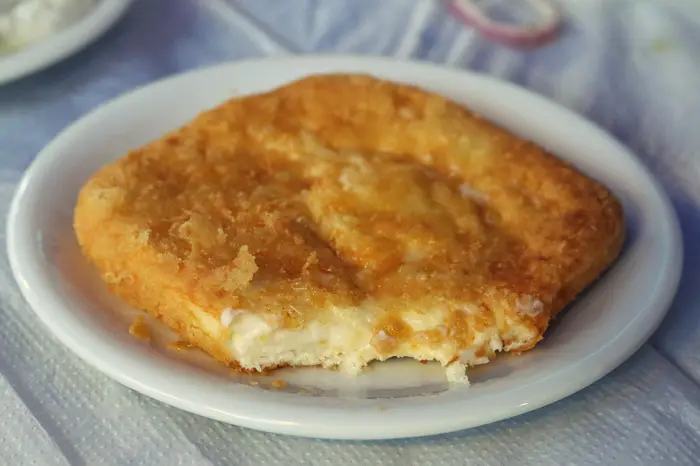 Souvlaki
Something which the Greeks do incredibly well is spit-roasting meat and the best example of that is Souvlaki, which is cubes of soft pork that have either been charcoal-grilled or spit-roasted. This is fast-food at its very best, the pork is served in a warm pitta, topped with red pepper, fresh tomatoes, and chopped onions, served with lashings of creamy tzatziki. If you are hitting the ouzo during your time in Greece then finishing the night with some souvlaki is a must.
Greek Salad
Something which everyone can get behind, regardless of their lifestyle choices or diet, is a tasty and well prepared Greek salad. Fresh greens, tomato, tangy red onion, fresh olives (the best in the world), feta cheese and generous amounts of olive oil, easily one of the nicest salads that you can find.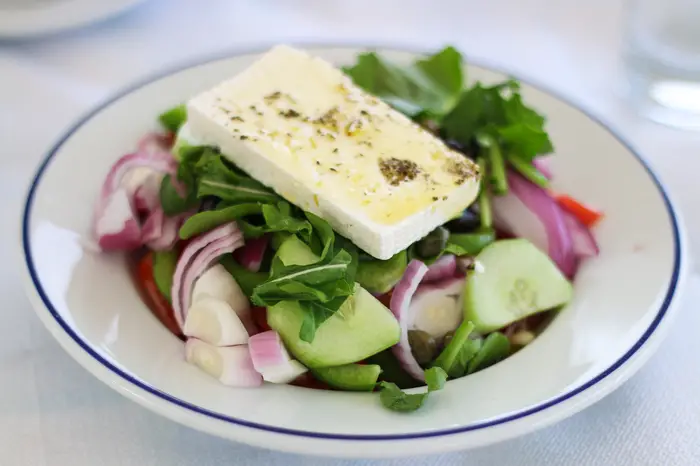 Which of these would you like to try most? Let me know in the comments below, I'd love to hear from you.
FOMO - do you have it?  Well there is no need to Fear On Missing Out here at Explore With Erin. Sign up to receive updates directly to your in box. I won't spam you, but I do promise a whole lot of awesomeness. What are you waiting for? Join Me!