There are so many reasons to visit Vietnam, that I was sold as soon as the research started. But what I am willing to do is list 5 reasons to visit Vietnam so that you don't get too overwhelmed. Even now I can guarantee you'll be scrolling to the bottom to look up flights on my Skyscanner widget and book in hotels with my favourite aggregator.
So, let's get to it. What are the five reasons to visit Vietnam?
A Halong Bay cruise
I had read about it and it was just as beautiful as I imagined. A Halong Bay cruise is the best way to see all the beauty and enjoy the sunsets and sunrises. The best time to visit Halong Bay is from October to December, but that's when the crowds are there. We went in April and missed the rain by a day, thank goodness.
Be prepared for lots of sports activity like kayaking, cycling, walking and if you choose the right cruise you'll also need to prepare for some great food!
Book your ticket to Halong Bay here.
Watch our room tour and SUBSCRIBE too! 🙂
All the delicious food
Speaking of food, I was not prepared for the deliciousness that is Vietnamese food. I fell hard and quickly. So much so that I decided to do two food tours during my time in Vietnam.
What could be more Vietnam then a Street food tour on the back of a scooter? What a fun night out! And don't worry you don't have to be an expert rider, just a good passenger.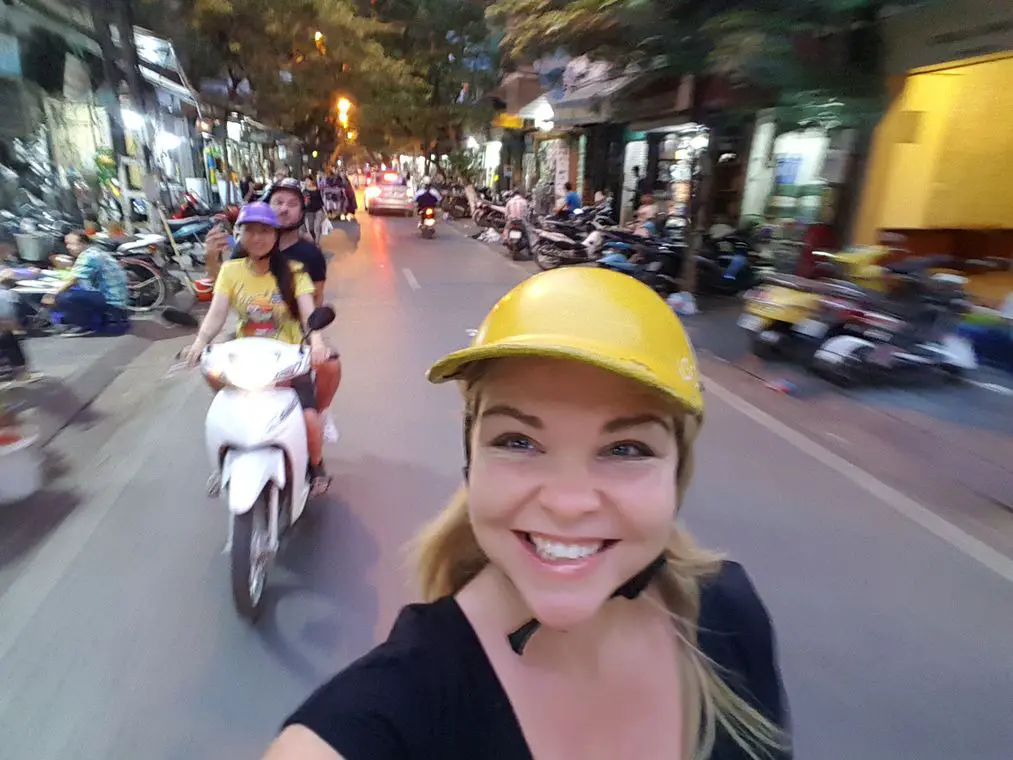 The experienced drivers took us from venue to venue to try Bahn Mi, Egg Coffee, and more. You can read our full food post here.
Hoi An was such a gorgeous city, we could have stayed a lot longer. Part of our enjoyment was a walking tour that shares Hoi An's best-kept food secrets. Ice cream, fruit, fried banana, and mung bean cookies were just some of the goodies we trialed. It was so different to Hanoi and we came away from this tour actually buying some of the more delicious snacks we fell for.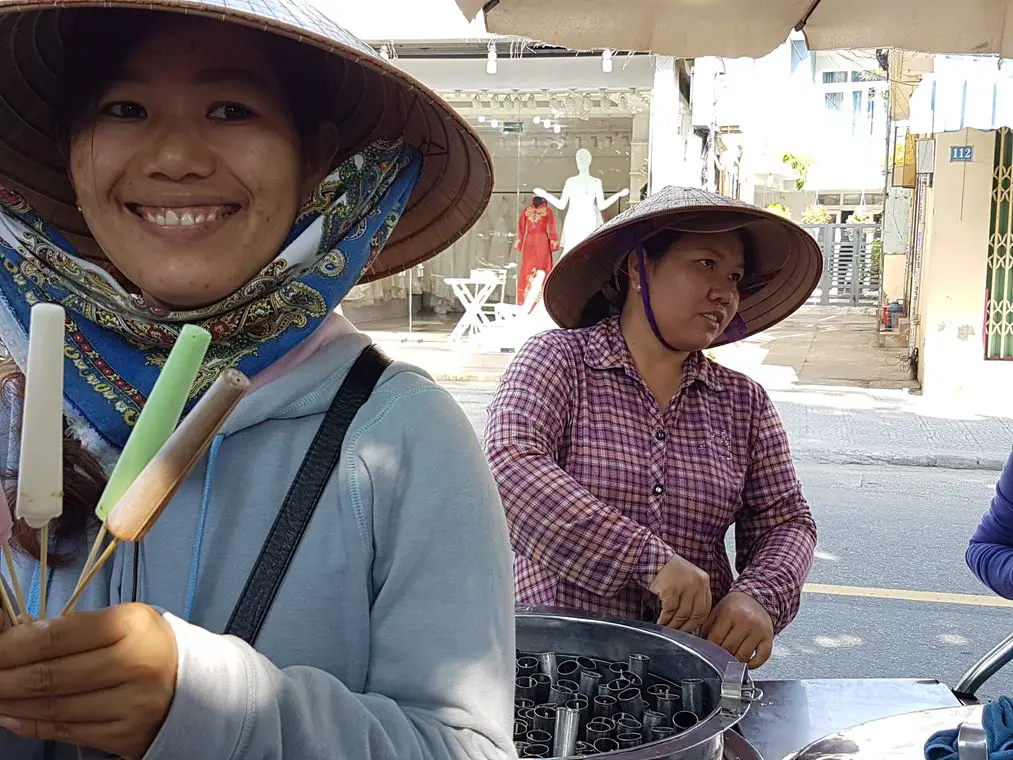 Accommodation is so cheap
If the food isn't enough of a reason to visit Vietnam then consider cheap accommodation. In Hanoi, we chose to stay in the middle of the Old City. Before and after our Halong Bay Cruise we tried two different places.
Hanoi Boutique Hotel & Spa
US $32 per night – Check prices here
Perfect location and super friendly staff. Unfortunately, our bathroom was not functioning. IT couldn't be fixed so they upgraded us to a much nicer room. For $45 I thought this place was quite lovely and it included buffet breakfast!
Book your ticket to or from Hanoi here.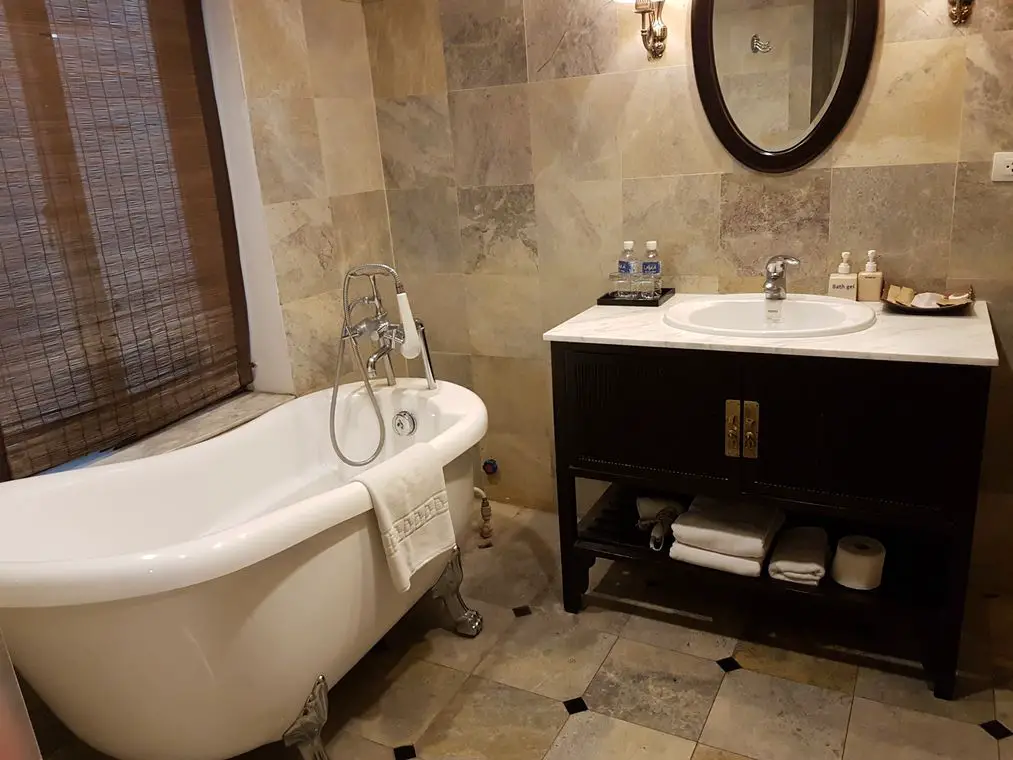 Quoc Hoa Premier Hotel and Spa
US $40 per night – Check prices here
Again, breakfast was included and this was in a great location. The extra $10 really improved the hotel amenities. The staff helped us book our overnight train to Hoi An.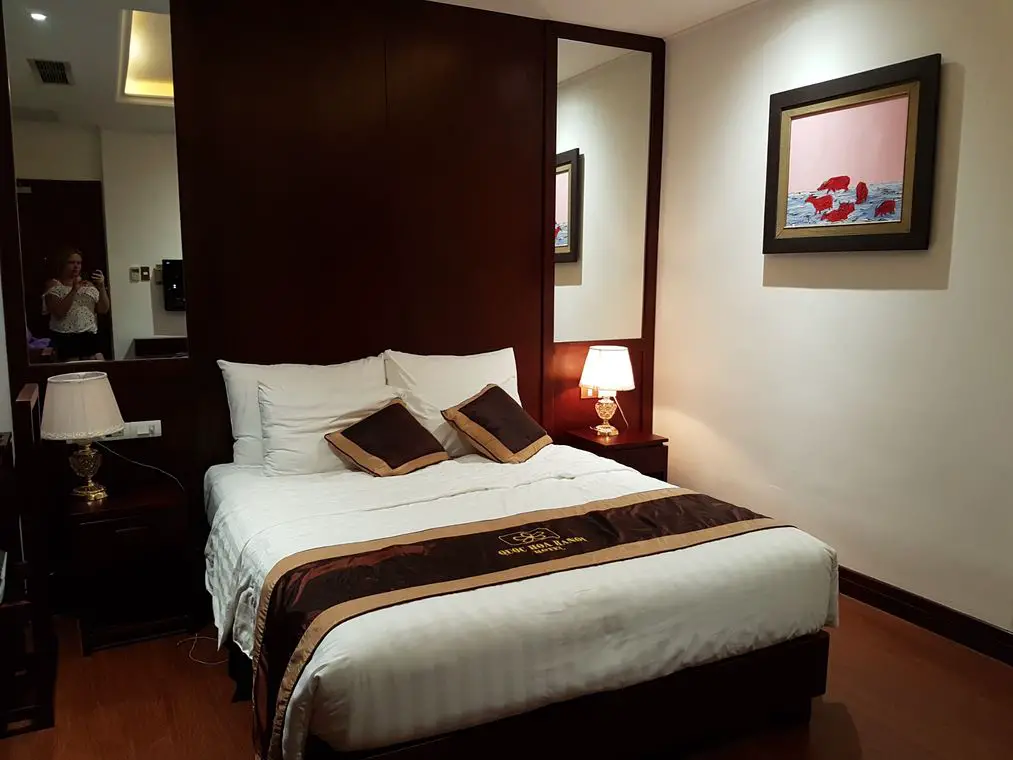 Muong Thanh Holiday Hoi An Hotel
US $46 per night – Check prices here
In Hoi An we chose to be out of town and by the beach for a more holiday feel. We also decided to splurge on our last nights in Vietnam and purchased an Executive Suite at Muong Thanh Holiday Hoi An Hotel. It was a very large suite overlooking the ocean. A huge bedroom with a massive king size bed, living room, and a huge bathroom complete with jacuzzi.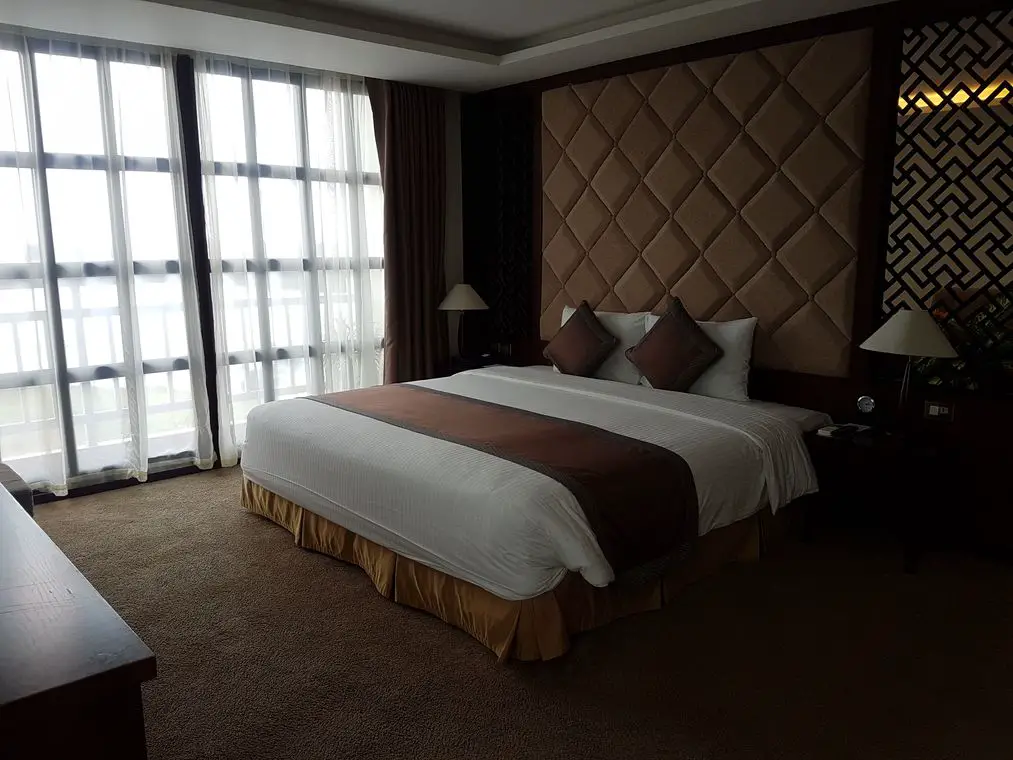 US $150 per night – Approx
The perfect way to see Halong Bay. Get the room with the balcony. You will want to be witnessing these views 24 hours a day.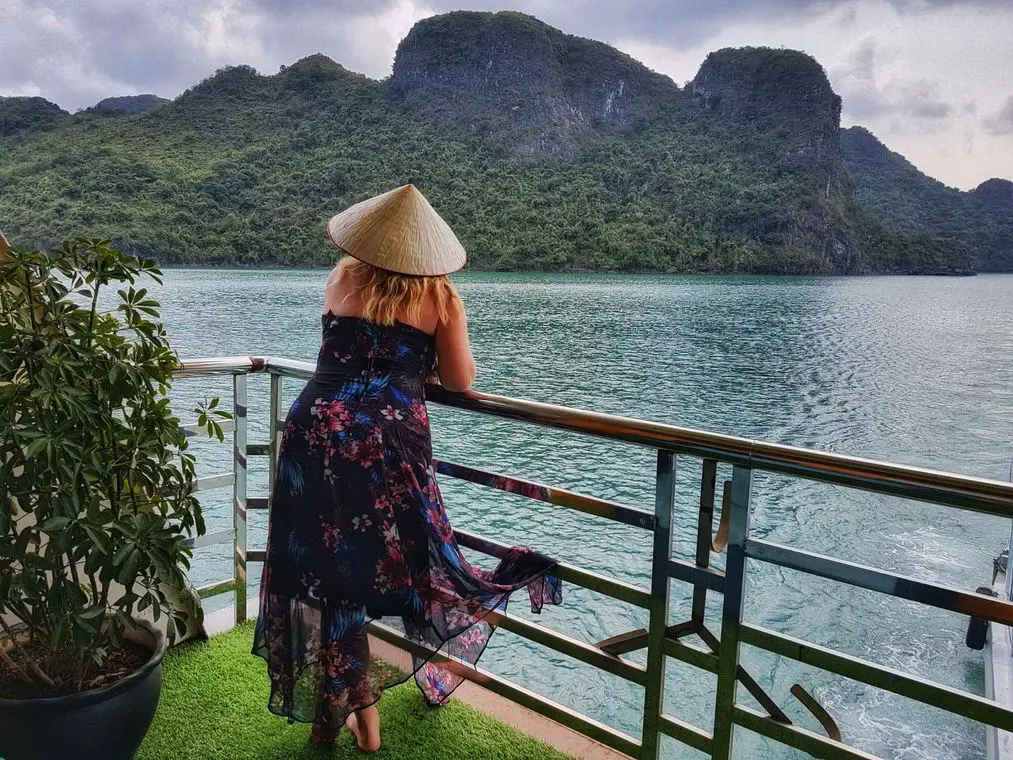 Overnight Train
US $100/200 per night – $100 for 2 people share, $200 if you want your own
The overnight train from Hanoi to Da Nang is an experience and a half. Read about my Vietnam overnight train experience here and then make a decision if you want a night on the train.
They have an incredible history
For such a small country Vietnam sure has an interesting and packed history. Number 4 on our reasons to visit Vietnam. From the war to the French occupation to China's rule. The history is a melting pot of religion, culture, and circumstance.
In Da Nang, you can find The Marble Mountains, which are a cluster of five hills made from limestone and marble. A well-known pilgrimage site you'll be able to explore caves, tunnels, and temples.
The Marble Mountains breath history from the caves within the mountains that are pocketed with bullet holes from when troops used to spy on the US soldiers relaxing on My Khe Beach below. There are also Buddhist sanctuaries and places of worship dotted across the mountains and a summit, with spectacular panoramic views.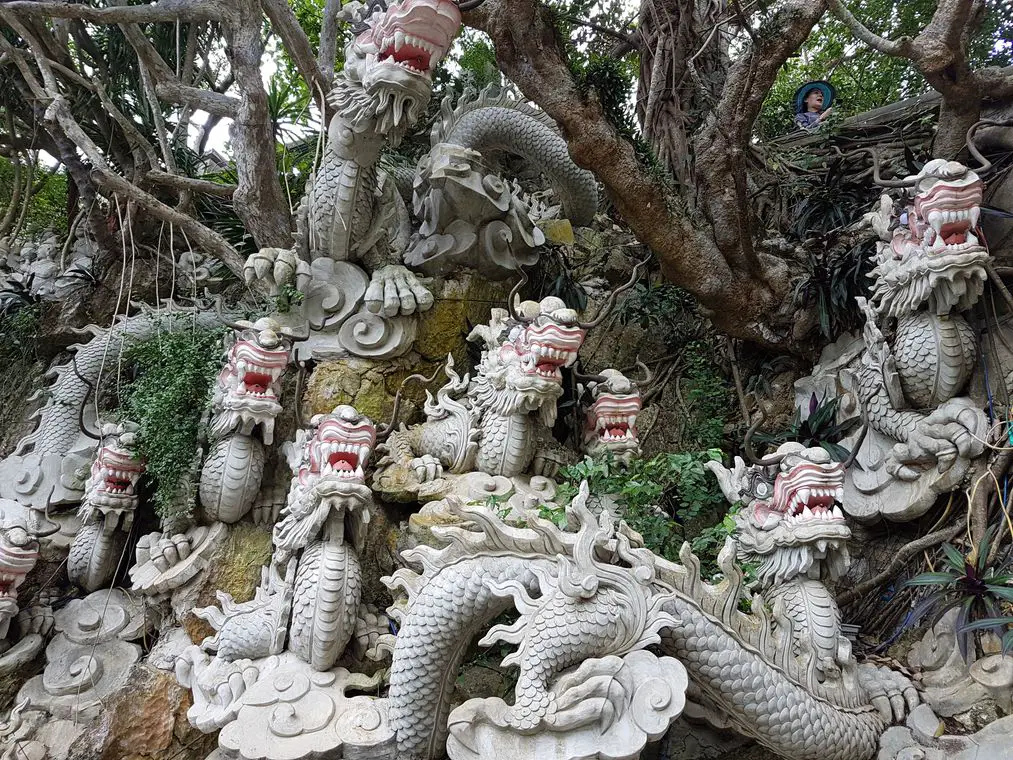 Looking for French history then take the cable car to Ba Na Hills. A hill resort inherited from the French was established in 1919 and still looks like you are in the French Alps. Complete with cobblestone streets and a medieval castle.
Want to hear about Agent Orange? Stop to speak to a local, not surprisingly they are quite vocal about the herbicide mixture used by the U.S. military during the Vietnam War. And you might hear a completely different story than the one you are used to.
A beautiful and unique culture
From water puppets to beautiful bridges Vietnam screams culture in a way nowhere else does.
During our stay in Hoi An, we took an evening to go see the Lune Production. Their whole philosophy revolves around research, creation, development, and promotion of quality Vietnamese cultural and entertaining productions.
Hoi An is one of the few ancient towns in South East Asia with architecture, lifestyle and culture well preserved with heritage from many centuries ago and remain till today, so Lune Productions built their Dome at 'the tip of the ancient town'. The central square bears patterns of the bronze drum, a symbol of Vietnam's culture and heritage, and its open space welcomes communal activities, artistic and cultural exchanges.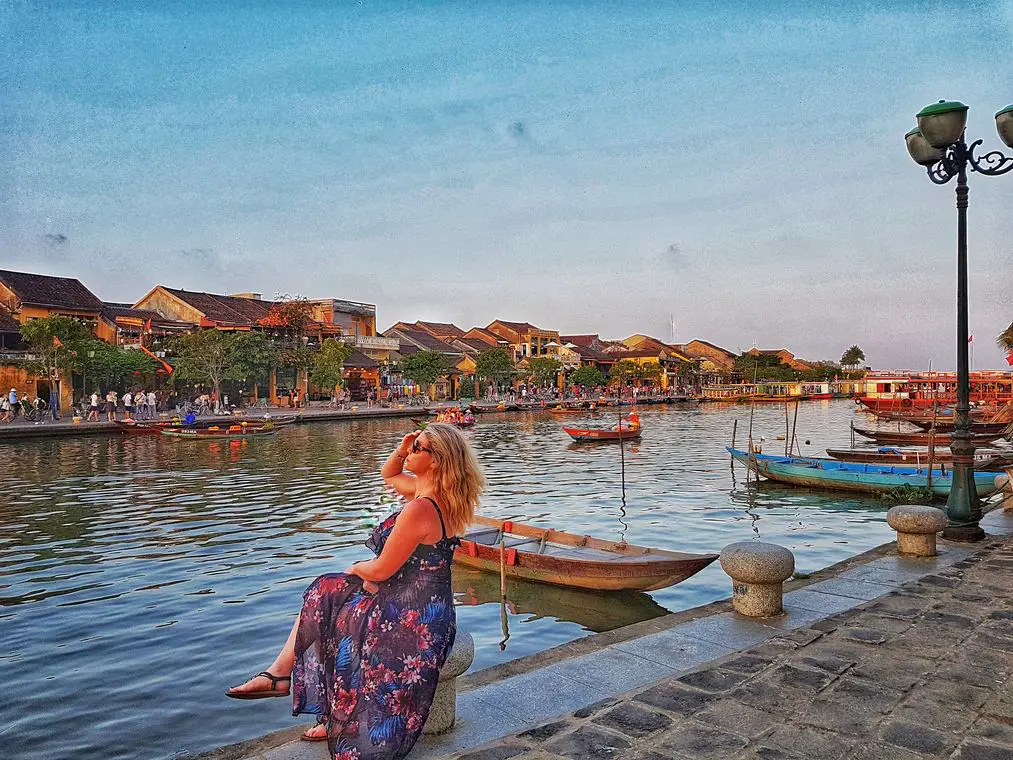 Shows are every day at 6 pm, except Monday and Thursday.
We saw Teh Dar. The story of tribal life on the South West Highland of Vietnam included cultural music, theatre, and some pretty special acrobatics and stunts.
It was a visual feast, but more importantly, I felt I came away with a better understanding of Vietnam's stunning culture.
LOOK HOW EASY IT IS TO PIN THIS!
Book Your Flight To Vietnam
Skyscanner is a comparison website that searches millions of flights. The best part of Skyscanner is it is simply a flight aggregator so in the end, you book directly through the airline.
FOMO - do you have it?  Well there is no need to Fear On Missing Out here at Explore With Erin. Sign up to receive updates directly to your in box. I won't spam you, but I do promise a whole lot of awesomeness. What are you waiting for? Join Me!