I've always been drawn to the citrus flavors of the world. Lemon Meringue was my all-time favorite dessert for years until a visit to Florida's Key West changed my life.
A little bit of sweet. A little bit of tart. And a whole lotta heaven. Could there be anything better than Key Lime Pie?
I don't recall the first time I tried it. You would think something as delectable and delicious as that first bite of sweet tarty goodness would be more memorable, but I just can't. But what I can tell you about that first bite of Florida's official national pie is that it would never be my last. And one day I would find the perfect Key Lime Pie straight from the source. The Florida Keys.
It was a beautiful hot fall when the kids and I completed our 2-year road trip through the US, ending in the Florida Keys. Why? For the love of pie, of course. And the best desserts always come last.
Where To Stay In The Florida Keys
To continue with your Key Lime pie food train you're going to need a place to stay. While in the Florida Keys we stayed at Hawks Cay Resort in Marathon and Doubletree by Hilton Grand Key Resort in Key West. You'll love either!
What Is Key Lime Pie?
Key Lime Pie is an iconic American dessert and the official pie of Florida. Its piecrust is crammed with a tart filling made from egg yolks, sweetened condensed milk, and Key limes. Some variations are topped with a perky meringue dollop, but the more traditional versions are garnished with whipped cream.
The name is derived from the popular small Key limes that grow throughout the Florida Keys. What makes these limes different? They are tarter and more aromatic than the everyday Persian lime you usually see in the supermarkets.
Interestingly Key lime juice is yellow, so an authentic Key Lime Pie will be yellow, not green.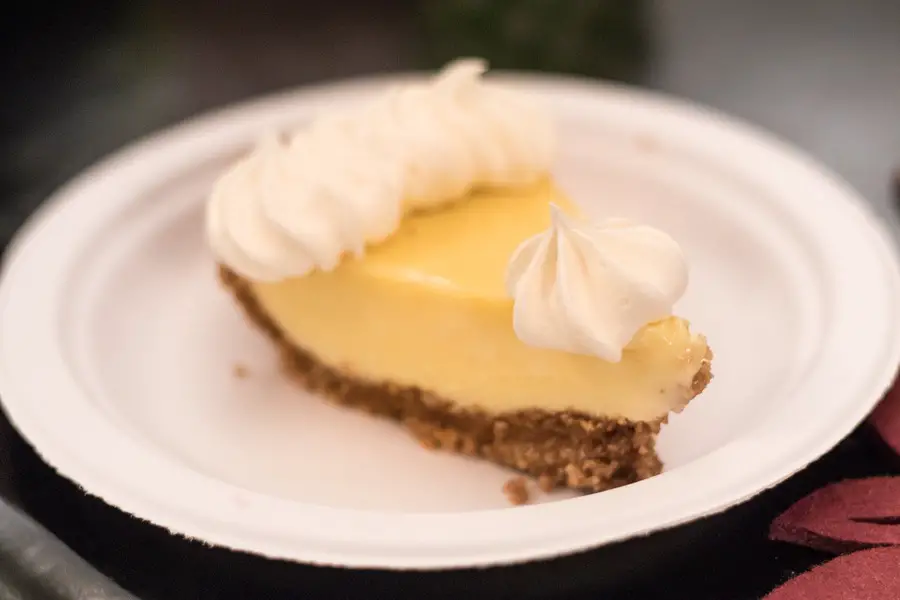 Where to find the best key lime pie?
As tried and tested by yours truly, and with the help of Hotels.com, you can visit any 5 of these best key lime pie stores to stuff your face.
99336 Overseas Hwy, Key Largo
As I was driving towards Miami airport, I spotted a billboard for Mrs. Mac's. Leaving the Florida Keys was already filled with many tears so I knew I had to stop one last time for, hopefully, another best key lime pie in the Florida Keys.
And I'm so glad I did. This was my favorite out of all the places we visited. The filling consistency was impeccable, just the right amount of tartness to outweigh the sweet, and the crust was the perfect accompaniment to hold it all together.
If you only have time for one pie, mark this one down as a non-negotiable stop on your Florida Keys road trip, for sure.
8919 Overseas Hwy, Marathon
This beautiful bakery offers a whimsical aesthetic, capturing the eccentricity of my favorite meal of the day, dessert. It's so cute and colourful, you may be conned into a long stay, trying everything on the menu. Which would be fun, because you won't find just pie at this place, There is a lot of Key lime to try. We picked out a Key lime cupcake, a Key lime ice cream and, of course, a Key lime pie.
The kids loved the ice cream and the cupcake was a delicious surprise. Upon reaching the center of the spongy cake, a burst of key lime filling sent my taste buds into ecstatic overdrive.
And when you're not eating there is so much to see, cute kids toys on sale, adorable tables and chairs, and elaborate chandelier lighting.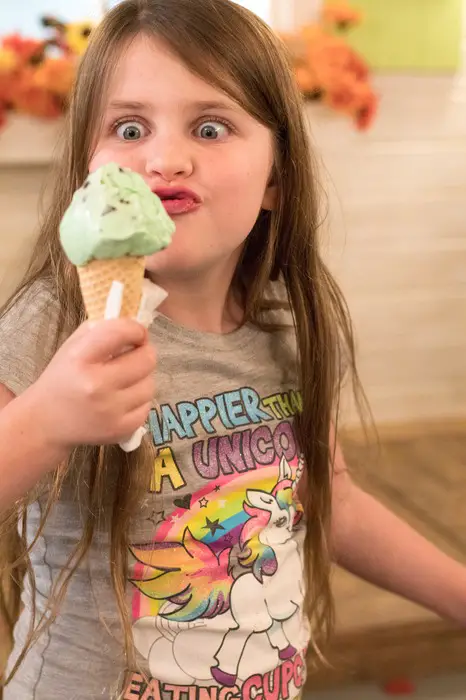 511 Greene Street, Key West
During a visit to Jacksonville, we loved visiting Sweet Pete's incredible candy store, so it was much to my delight to find he had his hand in making this Florida fixture.
All Pete's pies are handmade and use natural ingredients. My only picky thought was the pie is served on a paper plate, which detracted from the elegance of the pie. But then we devoured the pie so quickly, I guess the plate really didn't make a difference.
Pete's pies were different to other Key Lime's we tried, as it was frozen. That didn't exactly rock my socks off, but is certainly a refreshing dessert on a warm Florida day.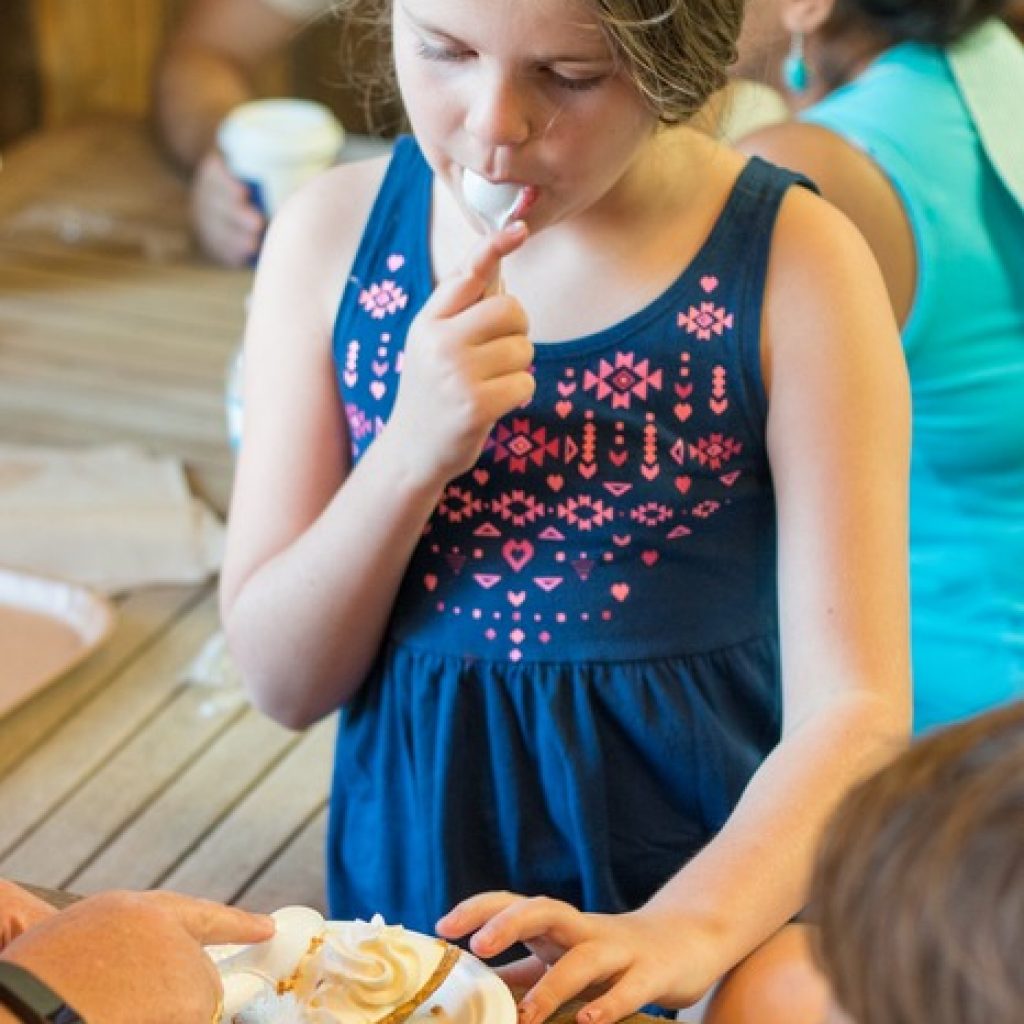 200 Elizabeth Street, Key West
Kermit's is in a nifty location and featurs an adorable shaded café out back so you can really enjoy your pie in comfort. Kermit's took my Key West foodie experience to a whole other level. Inside I discovered a wide variety of sweet treats and Key lime inspired goodies –cookies, chocolates, candy, chilli sauce, you name it – and the free taste tests made the kids happy as they samplde key lime jelly beans, fudge and more.
Finally after trying everything we decided on three sepcialities – the Key lime pie (of course), but we also branched out to try the strawberry Key lime pie and Key lime pie on a stick. You heard me right, they've put Key lime pie on a stick, smothered it in chocolate and froze it. Drool!
While it wasn't my favorite Key Lime Pie, it's definitely something you must experience while in Key West, because everything tastes good on a stick, right?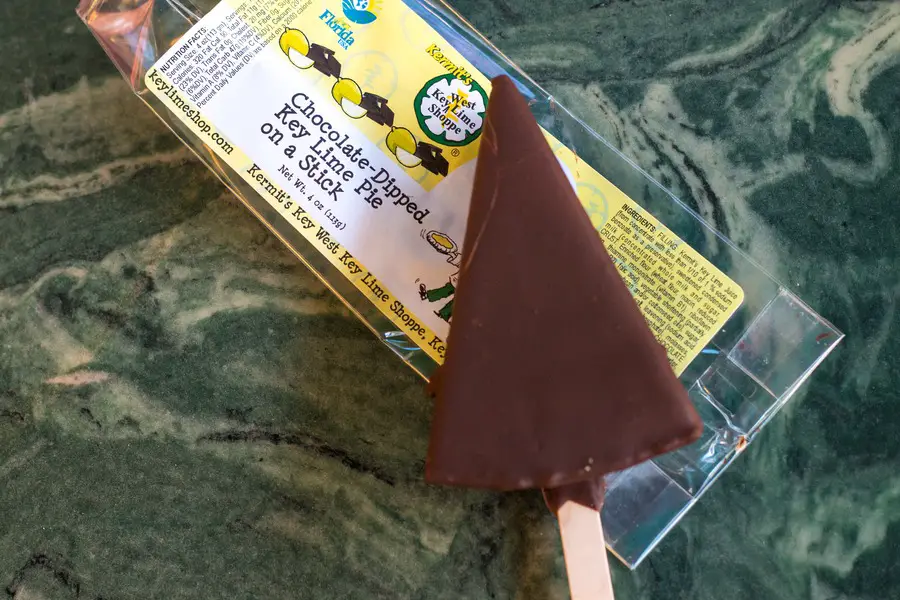 806 Caroline St, Key West
Finally Pepe's café has history, in fact it's considered the oldest eating house in the area, dating back to 1909. It also serves some of the best traditional key lime pie around, as all of the desserts here are homemade, with the traditional whipped cream top.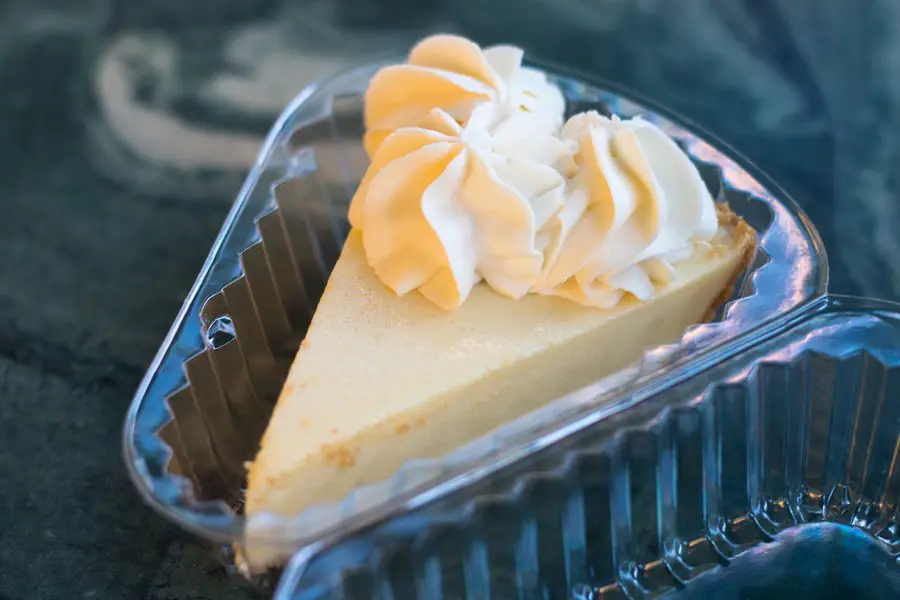 Explore With Erin Wrap Up
Is your mouth watering? I'm dreaming of heading down to the Florida Keys right now to cure my craving tastebuds. But if I can't make it, won't you please express post me a slice of Key Lime Pie as a thank you for this drool-inducing article? I would be forever in your debt.
LOOK HOW EASY IT IS TO PIN THIS!
FOMO - do you have it?  Well there is no need to Fear On Missing Out here at Explore With Erin. Sign up to receive updates directly to your in box. I won't spam you, but I do promise a whole lot of awesomeness. What are you waiting for? Join Me!