Selamat Siang.
How do you kick off nomadic travel? With super cheap flights! I love a good sale and when AirAsia has a sale, they have a sale. A flight to Bali for 4 people in May 2012 was AUD$409, including 20kgs of luggage each. I have had it cheaper and I have also paid a lot more, but that was a great start to our 6-month nomadic travel adventure.
The flight left our home in Perth, Western Australia at 8:00 pm and arrived in Bali at 11:30 pm. While generally a 3.5-hour flight is considered a quick flight, it can sometimes feel like an eternity with children.
The highlight of this particular journey was a gut-wrenching scene on landing. It was like a movie. My 3-year-old daughter who had been asleep had to be woken to get her seat belt on. Upon waking she immediately wanted to go to the toilet, however as we were landing she couldn't. I asked the staff, they refused and so I did my best to encourage her to wait. She got very upset and pleaded with me, "mummy, please let me go do wees".
Perhaps it was the late flights, perhaps it was the mounting tension of what I was actually doing, or perhaps it was just a mother's breaking heart but I started to cry with her as the basic human necessity was denied her and I could do nothing.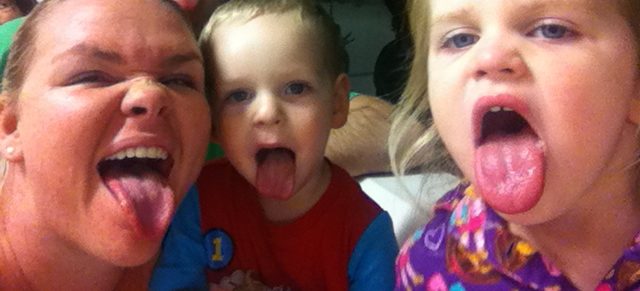 Bali Airport Arrival: Money Exchange, Taxis & Visas
It was almost midnight. My little girl was tired, exhausted and not allowed to go to the toilet. My heart was breaking. Sure enough when we could finally get our belts off she had gone to the toilet on me and my jeans were wet through.
Was this the warning of things to come, or was this simple a rough start to the beginning of our nomadic lifestyle?
Once we got off the plane, the evening went quite fast. We got a taxi fairly quickly for 70,000 rupiah to the Harris Hotel on Sunset Road. We are usually regulars at the Dynasty in South Kuta, however decided to try this new hotel as it had two full bedrooms and a lounge. Plus it was a one night stay and at $81 for the night, it seemed like a bargain.
At the time of writing this AUD$1 = 9,200 rupiah. We are happy to think of 10,000 as AUD$1 for easy translation. So just over $7 for all of us in a taxi is still relatively cheap in my western mindset.
The taxi rank is to the right when you walk out of the airport. It is a small window with set pricing. Once you pay the guy your money (and please make sure it's exact because they can be very cheeky) a taxi driver will help you with your bags and carry them to your car.
You also might want to skip the porters, as they will ask for quite a large sum of money to "help" you with your bags. Instead opt for a free trolley and do it yourself to save money.
While at the airport I recommend only changing a small amount of money at the airport if you have none as the exchange rate in town will be much better. You can however use credit cards and take money out of an ATM safely in Bali.
Lastly, don't overstay your welcome. At time of print you have 30 days in Bali for USD$25 Visa including your day of arrival, even if it's 11:45pm. We purchased an extended Visa in Canberra via post for $60 each. It was a huge hassle with birth certificates, letters, bank statements, etc. I don't recommend it. Stay for 30, leave, then come back if you like.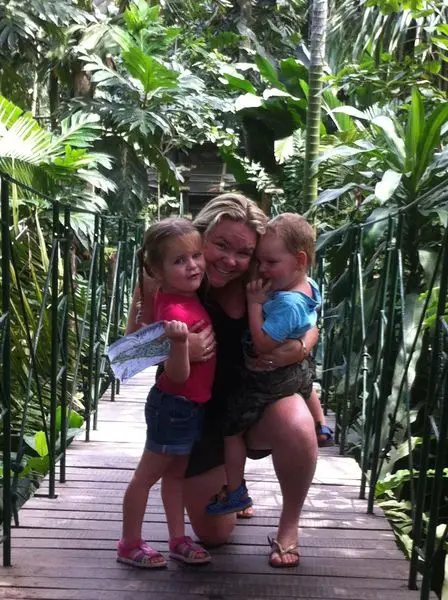 Our First Night as Nomads
The new Harris hotel is not located in a convenient spot. They do offer a shuttle, but you cannot walk out of the hotel and just be somewhere (well not with kids). The hotel itself is lovely, though. New and great service. Once the bellboy was taking our bags to the room we quickly noted one suitcase was missing. It was 1am and the staff quickly called the airport taxis, had the bag returned and delivered to our room within ½ an hour.
The room was great, a family suite with 2 bedrooms, 2 bathrooms & a lounge/kitchen in the middle. Great set up, lots of room. LCD TV. Free Wi-Fi. 24 hour room service delivered, which I put to use for an average 2am dinner.
The pool was clean and the kids loved it. Kids club looked nice, but a bit boring. The swings by the pool my daughter loved. The breakfast buffet was yummy and only $6 per adult, kids were free.

Ubud: Our First Home For Nomad Travel
Checkout was midday and they had a great transport team who we bartered a fare to Ubud for approximately $21. This is a 1.5 hour slow car ride through beautiful jungle landscape.
Our driver was very pleasant and the vehicle a comfortable, new air-conditioned van. Our new place was still being cleaned so he offered to take us into Ubud for lunch and then to a supermarket for some small supplies. We bought him lunch as a thank you. I have so many recommendations now of where to eat in Ubud.
We had lunch at the divine Bali restaurant Padri Padri. The 4 dishes of Nasi Goreng (rice), Mie Goreng & Skewer Kebab, plus two milkshakes, a beer and a coke totalled $35.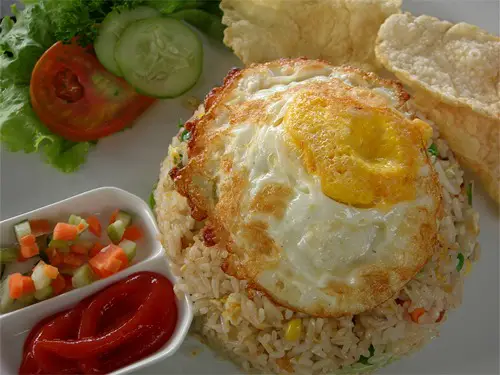 After lunch we went to the new supermarket in Ubud, it was pretty pricey for Bali, but still cheaper than my local Coles. We got a whole rockmelon $2, a big bunch of bananas $1, large bottles of water 30 cents.
Finally our driver took us back to our new residence. 6 people came out to help with getting the luggage to our room.
My jaw dropped when I saw our place. It was stunning.
Our first nomadic home
Bali T House is about 5/10 minutes outside of Ubud. It is suppose to replicate authentic Balinese living and be in harmony with local villages. It cost us AUD$1300 for one month, which works out to be $44 a night, including wifi, breakfast, electricity, water, pool & the most amazing views.
There are 9 different houses all run by different owners so you can get cheaper ones and more expensive ones. Ours was a two bedroom, plus loft (which has a desk for working & mattresses for any guests). It also had two open air bathrooms – which is so divine, I love showering under the stars. Also included a small kitchen and lounge.
Most walls are sliding doors which can stay open all day and night, if you prefer. There is no aircon or TV, and probably our first mistake since we were not use to the humidity. The days can be warm, and although the house is equipped with a number of fans, it did not make the rooms cold, but it did make them more comfortable.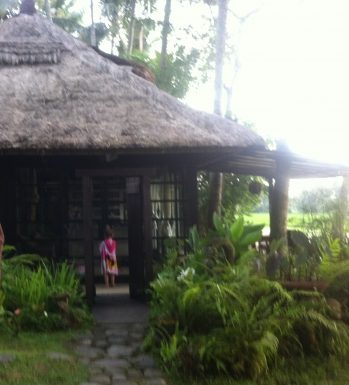 The beds were a beautiful king size with netting, ceiling fans and pedestal fans. The whole house had a very Breaking Dawn honeymoon house feel to it, but with a rice paddy out the door instead of beach.
The pool is cold and a quick dip before bed helped everyone sleep well. Today we even made some new friends at the pool and went and checked out their house, it was just as great as ours. The pool also overlooks the rice fields and has a small kiddies pool too with sun lounges and a little hut.
Dinner was prepared by our staff & delivered to our table. Three local dishes of Mie Goreng, Nasi Goreng and a Chicken Curry with rice, cost total $10. The staff also returned to clean the dishes and mess.
The T Houses offer all sorts of brochures on places that do free delivery and they also offer drivers to take you into town for about $3 or $4. Which is where I am headed now on our second day of nomadic travel. It's been super relaxing swimming, and lying here writing to you all, but it's time to go hit the streets of Ubud.
That first day was so very tiring and emotional. From my daughters tears, to the hot room, to the late night, and long journey. It was a very heavy day.
Today I am much cooler and quite relaxed – maybe I can do three weeks here? Maybe. But at the very least I can just do one day at a time.
Until my next entry, stay cool!
FOMO - do you have it?  Well there is no need to Fear On Missing Out here at Explore With Erin. Sign up to receive updates directly to your in box. I won't spam you, but I do promise a whole lot of awesomeness. What are you waiting for? Join Me!