San Diego is one of my favorite cities in the US. It's famous for its warm weather climate, wonderful beaches, and, of course, the world-famous San Diego Zoo. The city averages more than 344 days a year that are hotter than 60 degrees Fahrenheit, making it a great vacation destination any time of the year.
Having previously visited San Diego and loved the zoo we did not have the opportunity to visit the Safari since it was quite far out and difficult to get to. Since we had a car and the opportunity we decided to skip the zoo this time and discover the San Diego Zoo Safari Park. With the help of Hotels.com here's 5 things to do at San Diego Safari Park.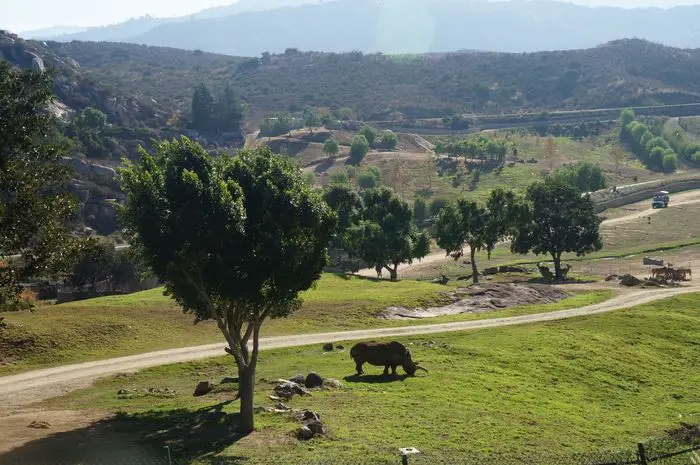 Getting There
San Diego Safari Park is located in the beautiful San Pasqual Valley. Take the Via Rancho Parkway exit off I-15 and follow the signs.
They have a large car park that was $10 to park and entry was, of course, included on our Southern California City Pass that we bought earlier.
Where to Stay in San Diego
If you're a first-time visitor looking at seeing all the top tourist attractions you'll want to stay in downtown San Diego. Hotels.com has many options for you to check out. If the beaches are your thing then consider a stay in Pacific Beach or Mission Beach. Perhaps you want a luxury beach stay, then head to La Jolla.
We stayed in the city since it offers excellent family resorts all near attractions like SeaWorld, Balboa Park, and San Diego Zoo. The Gaslamp Quarter would have to be my favorite part of the city to visit. Followed by Old Town.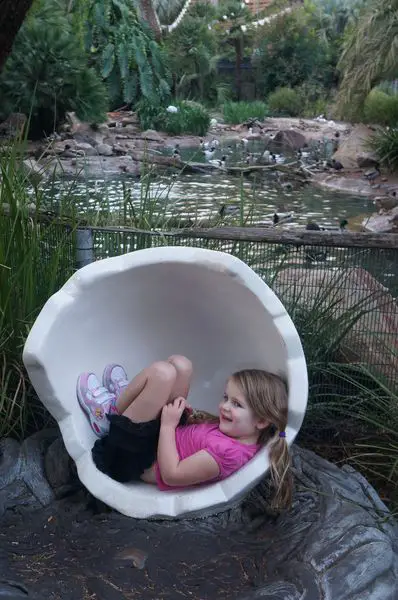 What is the San Diego Safari Park?
I am not sure if it was rose-colored memories of our time at San Diego Zoo, however, given the choice again I would choose the zoo. The Safari Park is very cool, however, the Zoo is unquestionably remarkable.
There are several different Safari ticket options and we decided to go with the cheapest Africa Tram Safari (included in our City Pass) at $62 per adult, $52 per child 3 – 11. It's an open-air expedition around the Africa field exhibits, replicating an open African Safari. Of course you do not get very close to the animals and the queue for this tram was fairly long. I hear we were there on a good day.
I've heard the other Safaris are so much better where you can actually be up close to the animals, but they are almost double the price so if you never plan on going to Africa it might be worth the money, but we will be saving our pennies for the real thing.
However, given you have never been on safari before it can be an exciting journey seeing the herds of rhinos, giraffes, and zebras.
Check out super cheap discounted tickets here.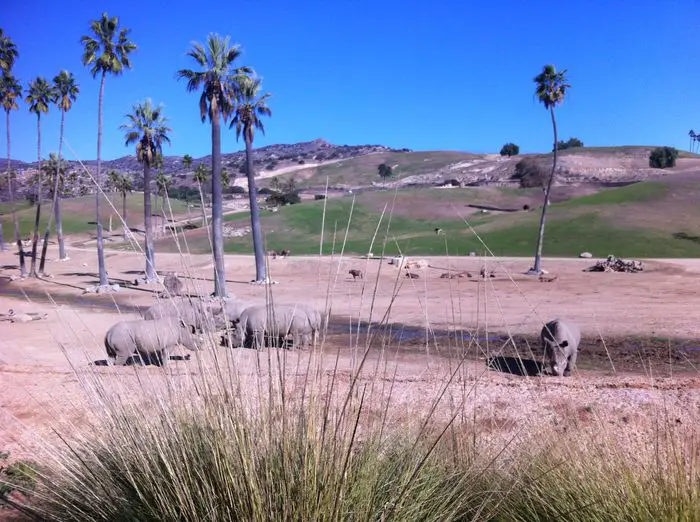 5 Things To Do At San Diego Safari Park
The Safari is really doing some amazing conservation with the animals, especially the Black Rhino we saw that is only 1 of 8 left in the world! We also loved the added touch of the car in the lion cage. They have made the roof reinforced so that the massive weight doesn't cave in.
Watch the Cheetah Run
My favourite part of the day would have to be the Cheetah run where we had prime seats to watch the expeditious journey of this beautiful creature. But don't miss it, because it's over in seconds.
The cheetah runs a straight 330-foot-long track going from 0 to 70 miles per hour in just 4 seconds.
Have a play on the Playgrounds
Located around the park are different playgrounds, which we found was a huge saving grace. Mia fell asleep at one stage and we planted ourselves in the sun on the grass while Caius spent hours playing on animals. Later Mia found an even better playground, very natural with plenty of holes to crawl through and hide.
There are 4 playgrounds scattered throughout – The Village Playground, the Savanna Cool Zone, Tiger Trail play area, and the Mawazo Jungle Gym.
Listen to the Keeper Talks
Located around the park are multiple keeper talks, and even a Bird Show at Benbough Amphitheater. You can hear about the Sumatran tigers at the Sambutan Longhouse in Tiger Trail. Or the interactive program that gives you an opportunity to have face-to-face contact with the Safari Park's animal ambassadors, such as a cheetah, alligator, serval, or other rare and exotic wildlife. Or my absolute favorite take a Lemur Walk!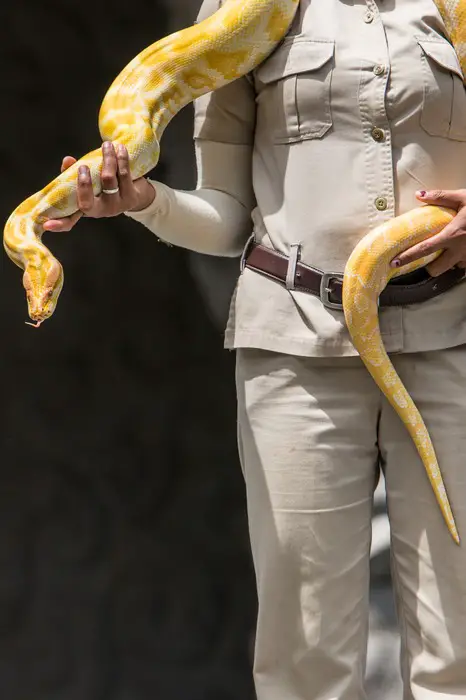 Petting Zoo
There is a petting kraal in Nairobi Village where you can touch and brush the goats!
Birthday Carousel
During our discovery of all the things to do at San Deigo Safari Park, a friendly staff member told me that Mia got a free ride on the carousel since it was her birthday. So before we left we made a quick detour for her free ride. The colorful Conservation Carousel features 60 ride elements to choose from, many depicting rare and endangered wildlife. She was also beaming as she left with a brand new Happy Birthday badge.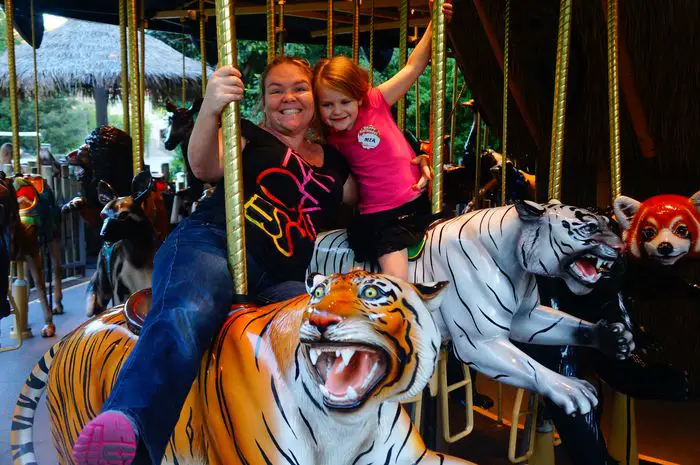 Food Options
There was not much food choice so we had to satisfy ourselves with hot dogs and pretzels, not at all filling or nutritious. So bring your own, or arrive after lunch.
Random Thoughts on USA Target
Driving home the kids and I spotted a Target. We needed some warm clothes after half our jackets and jeans went missing between Anaheim & San Diego and decided to make a stop.
Target America is not like Target Australia. First of all the carts get to go up the escalators, how cool is that!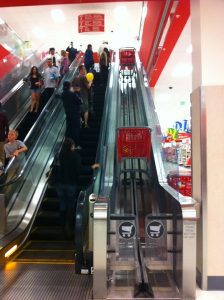 Second, they have a grocery section. We got a shopping trolley full of groceries for $70! Easily this would have been a $150-$200 back home in Perth. The food was so cheap and there was so much variety, I may have gone overboard with our food purchases.
With the car piled high, we drove home to cook up some dinner in our fabulous apartment kitchen and finalized plans for the rest of our week in San Diego.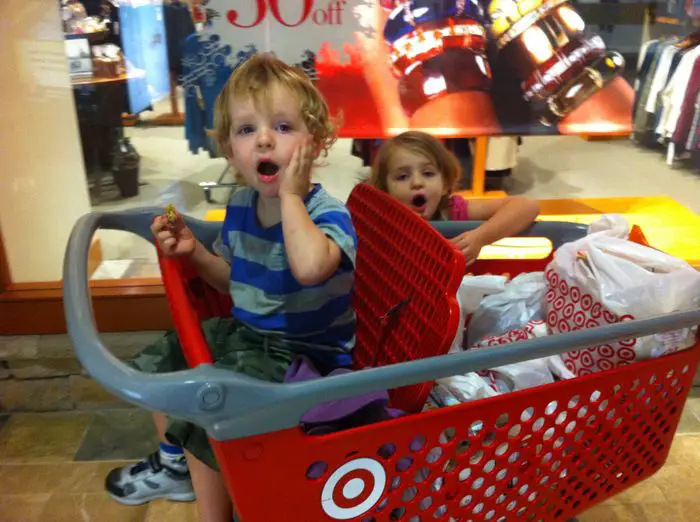 Do you have a favorite?
We liked the Safari Park, but we love the zoo. How about you? Which one is your favorite? Which one would you choose to go to, given the choice? Leave us a comment!
COVID TRAVEL TIP
2021 hasn't been the easiest year to travel in and safety is at the top of everyone's list. If you are comfortable with traveling, please travel responsibly and within the rules of each destination you visit, being aware that those rules change frequently and may be different from your home country.
If you are traveling in 2021, can I recommend:
Wear a face mask in countries that require you to do so. 
Bring hand sanitizer and wash your hands on a regular basis.
Check official websites before your trip for the latest updates on policies, closures, and status of local businesses.
Book a hotel with free cancellation in case you need to change your plans at the last minute.
FOMO - do you have it?  Well there is no need to Fear On Missing Out here at Explore With Erin. Sign up to receive updates directly to your in box. I won't spam you, but I do promise a whole lot of awesomeness. What are you waiting for? Join Me!