So many times we headed West road-tripping along the Great Ocean Road, but this time, this time we headed East to a small island, Phillip Island. And in less than 3 days we discovered more than 10 things to do on a Phillip Island weekend getaway.
Located about 90 minutes southeast from Melbourne, Phillip Island is easily accessible by car. There is a short bridge that connects the mainland to Phillip Island. Alternatively, you can find any number of day tours catering to the mountains of tourists heading to the island.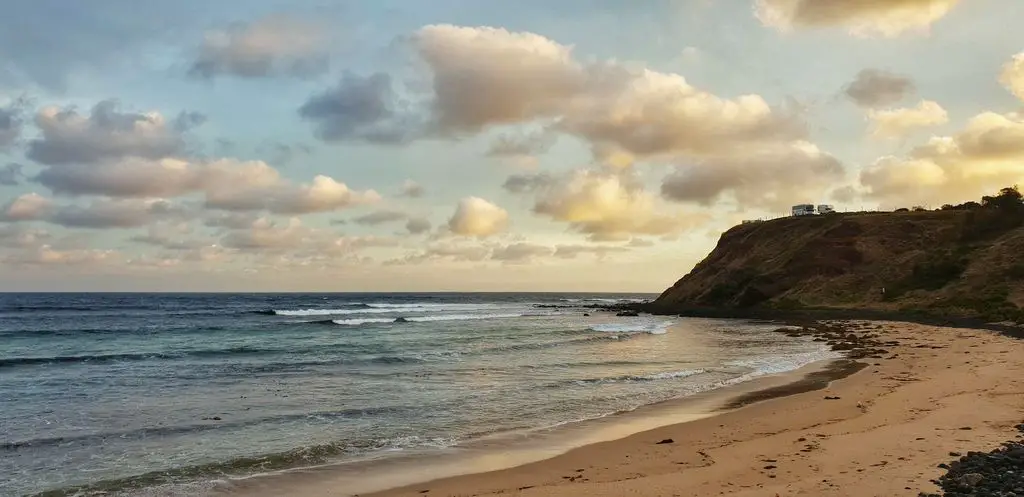 Surprisingly the island is chock full of things to do. So don't take a day trip, go for the weekend. Longer if you can.
As soon as you are on the island navigation is simple, with well laid out signs everywhere. If you head to the Visitors Centre you can pick up a free map along with a 4 Parks Family Pass.  Phillip Island Nature Parks had invited us to try out their 4 Parks Family Pass for 2 adults and 2 children. The pass costs AUD$146.90 and provides entry to the 4 most popular attractions on the island – the Antartic Journey, the Penguin Parade, Churchill Island and the Koala Conservatory.
But there is more than just 4 things to do on Phillip Island!
Family Fun Accommodation
Location: 272 Church Street, Cowes
Time: We stayed for 2 nights
Located right outside Cowes is Anchor Belle Holiday Park. Perfect for the whole family. We were offered a 2 bedroom self-contained unit. We had 3 kids in one room with twin bunk beds and 2 adults in the other room. It had a small kitchen, which was perfect for keeping costs down during your travel. We ate breakfast and several other meals here. The TV was small, so don't plan any massive movie nights.
The grounds are what drew us. We barely saw the kids as they flittered from one activity to the other. Jumping pillow, heated pool, arcade room, games room with pool tables, ping pong and foosball. Plus, we could walk to the beach!
Click here to check availability.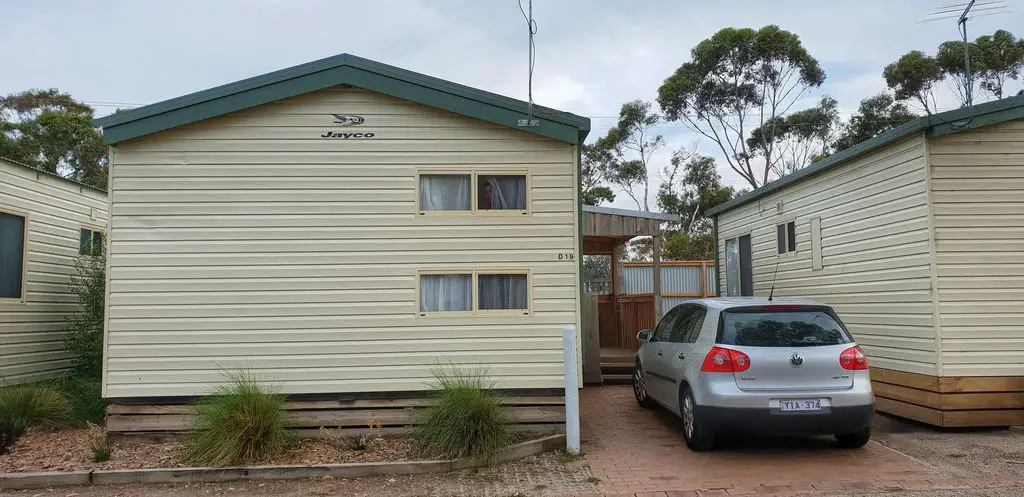 Beach Time
Cost: Free
Location: Everywhere, it's an island!
Time: As long as you like
Kids love the beach. They can play for hours and never get bored. Phillip Island is no different. We walked to the beach, where the kids wrestled, swam and even boogey boarded down a fake sand dune.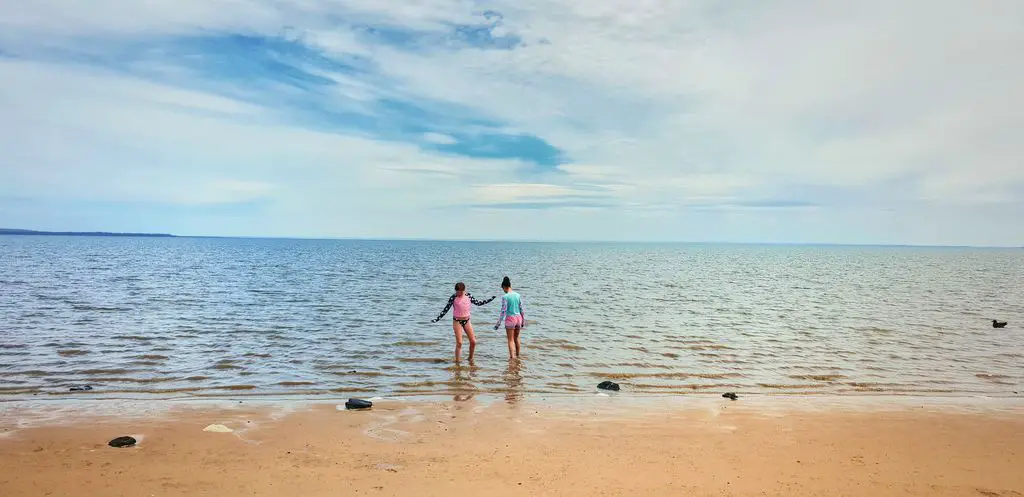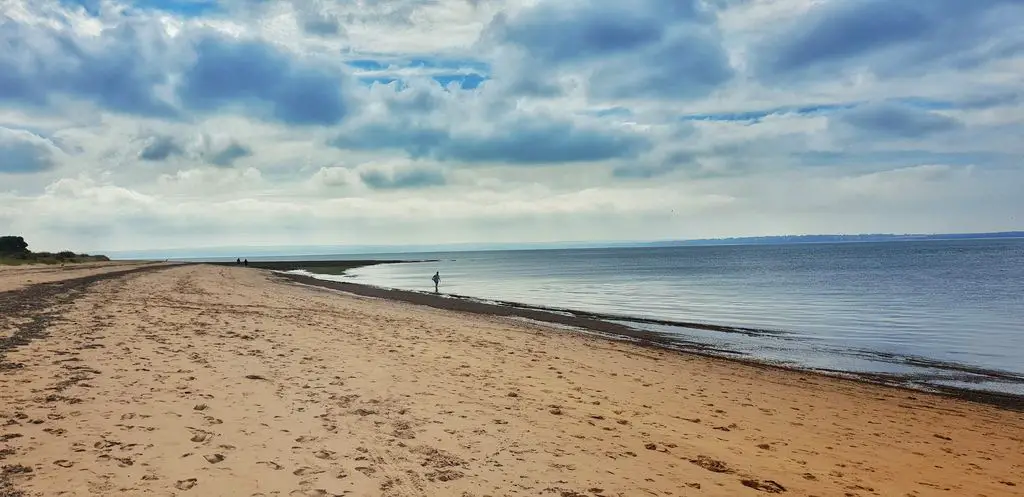 The Nobbies
Cost: Free
Location: Located on Ventnor Road
Time: The short boardwalk circuit was less than 15 minutes. The longer can take up to an hour.
Located on the western part of Phillip Island, overlooking the Bass Strait, the Nobbies is a magnificent headland boasting spectacular clifftop boardwalks, an interactive Antartic Journey, an explosive blowhole, and an outcrop of rocks called Seal Rocks, home to the largest colony of  Australian fur seals in the country.
The Nobbies Centre closes approximately one hour before sunset each day to protect the native wildlife.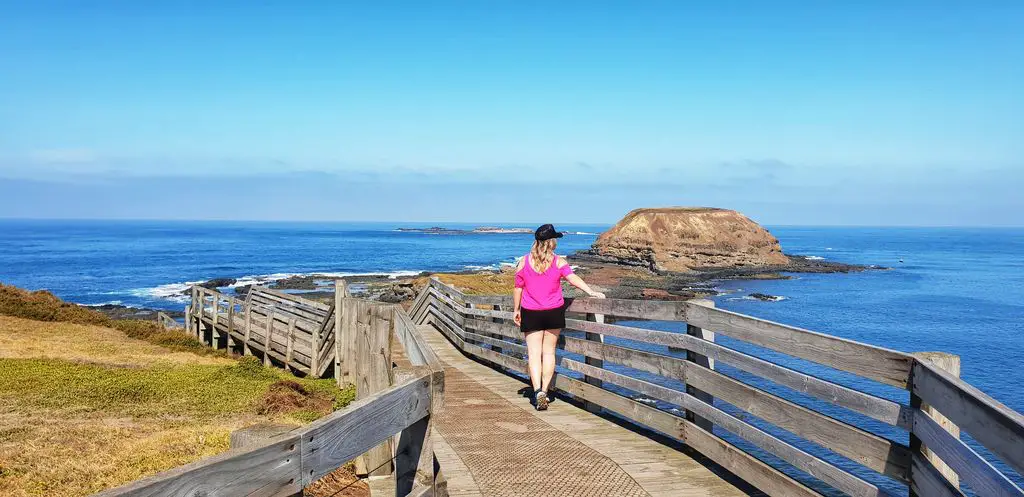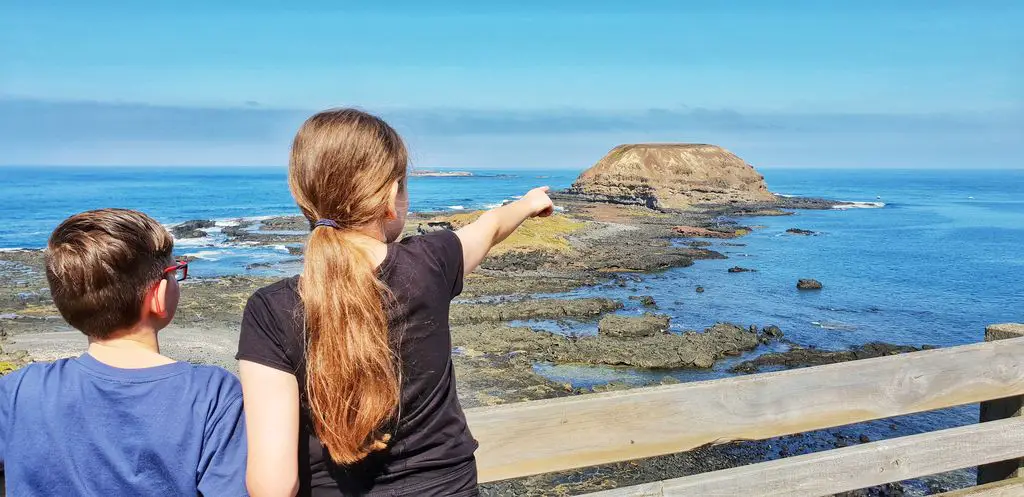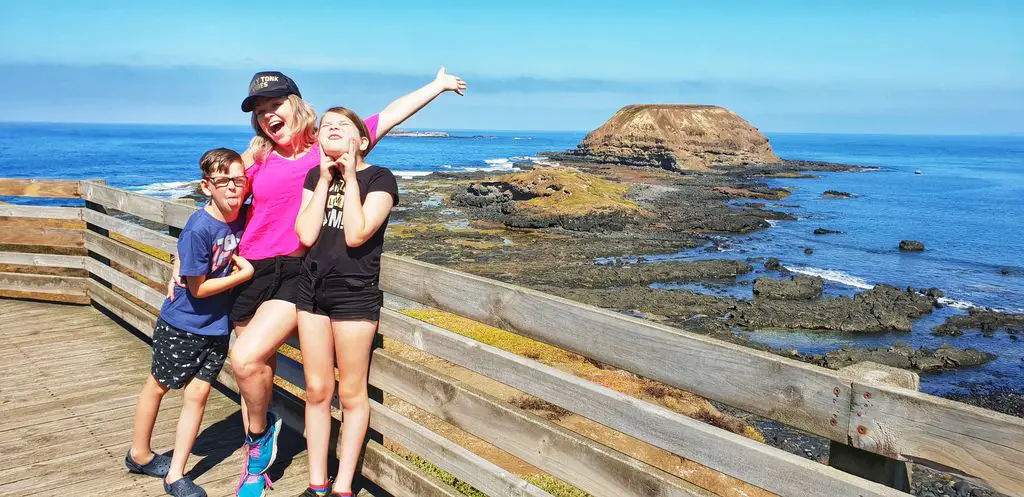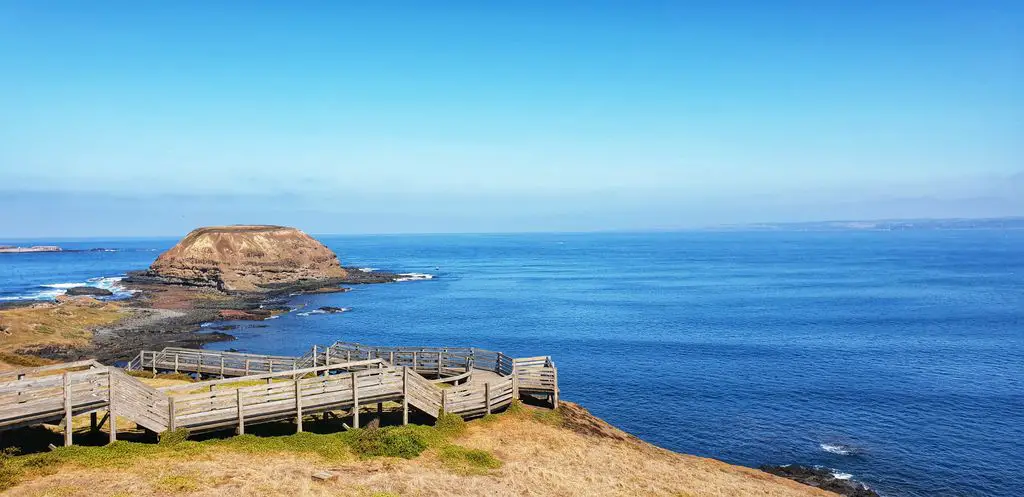 Antarctic Journey
Cost: Part of the 4 Park Pass
Location: Located on Ventnor Road at The Nobbies
Time: We whizzed through in about an hour
Located inside the Nobbies Centre, this is a fun and interactive journey into the wonderful world of the Southern Ocean and Antarctica.
The biggest hits with our 9, 10 and 11-year-olds were the microscopes were they discovered what their skin really looks like. Plus, the Antarctic Chill Zone where after exiting they compared their thermal images to Emperor penguins and each other.
Further in is a Chamber full of floor to ceiling multimedia experiences. The kids felt like they were at SeaWorld on one screen where they could see themselves interact with orcas, seals, and penguins.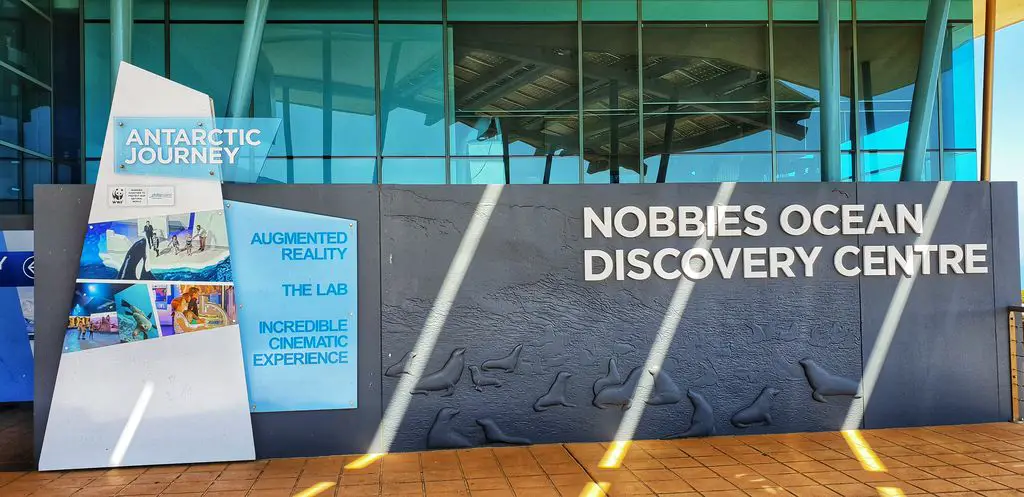 Churchill Island Heritage Farm
Cost: Part of the 4 Park Pass
Location: Connected by a bridge on the northeast side of Phillip Island
Time: Leave at least 2 hours from 1 – 3pm for the best activities
How can I describe this? It's like taking a step back in time. A period where life was simpler and hands were rough and tough. My partner kept saying it was a time he wishes he had been born in.
Churchill Island is the site of the first European garden in Victoria. As the first farm in Victoria, its pioneering history is still evident today.
You can wander through the old homestead and see how life was like pre-TV and internet. The kids loved the fashion, but most of all they loved discovering the ways of the olden days with the daily heritage farming activities.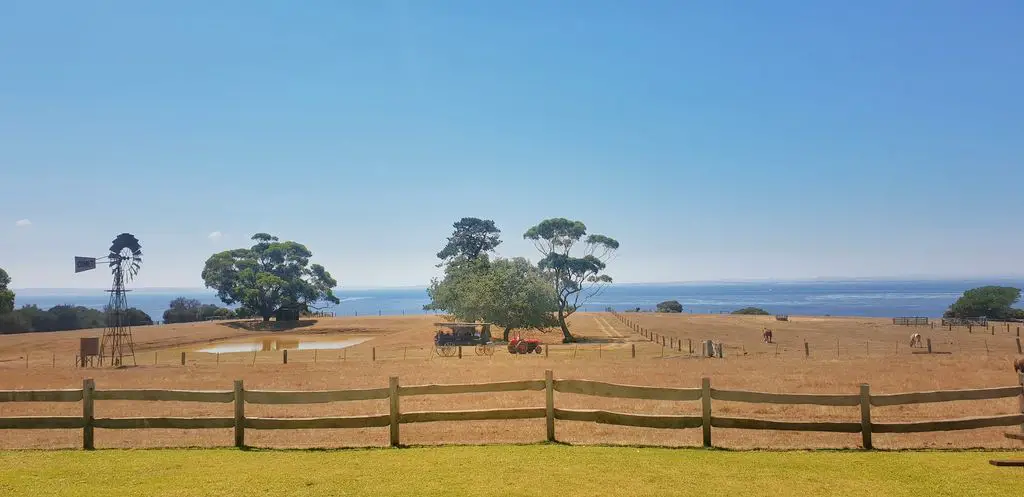 We spent time on a wagon ride around the paddock, the kids giggled at the grossness of milking a cow, we watched a sheep sheerer and laughed as adults attempted to crack a whip.
Sure it's a little touristy and visitors uninterested in Australian history may find it dull, but the scenery is yesteryear idyllic and kids will love getting up close to the animals. There are so many animals to touch and cluck at. Tall, handsome Clydesdale horses, Highland cattle, sheep, birds, pigs and more.
Koala Conservation Centre
Cost: Part of the 4 Park Pass
Location: 1810 Phillip Island Rd, Phillip Island
Time: About an hour
I'll be honest, having seen koalas in the wild and captivity in several other locations around Australia, I wasn't expecting much. However, this was a really beautiful part of the island and I was pleasantly surprised.
We literally had opportunities to come 'face to face' with koalas via a network of treetop boardwalks that have been created so you can witness the koalas in their natural habitat.
If there is no one around taking pictures and ooing or ahhing then look for the small red dots placed around the railings to show you where the last sightings were. Some of the koalas are high up, but we were lucky enough to spot many at face level or even crawling across the ground.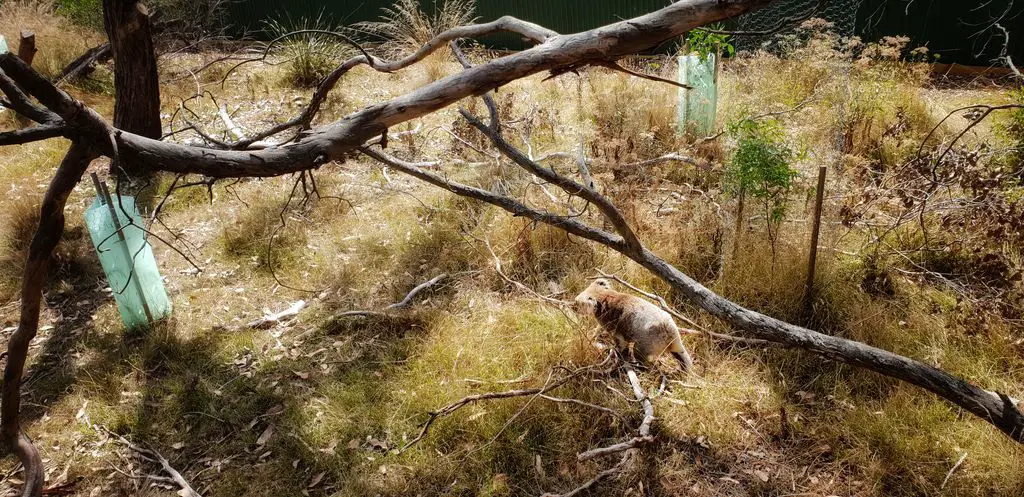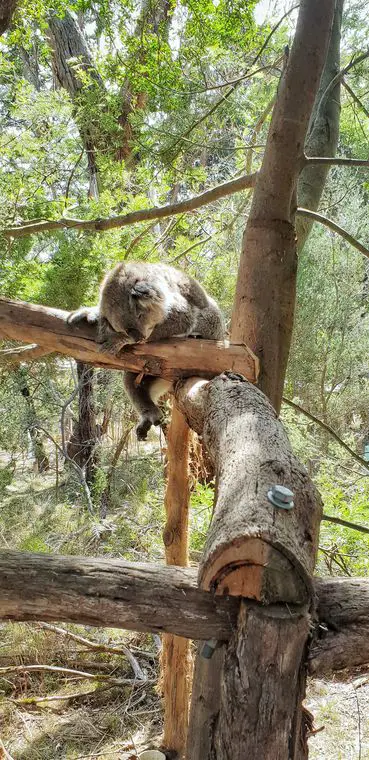 Wild wallabies, the adorable little cousins of kangaroos, can be spotted in the bushland. As well as echidnas and bats.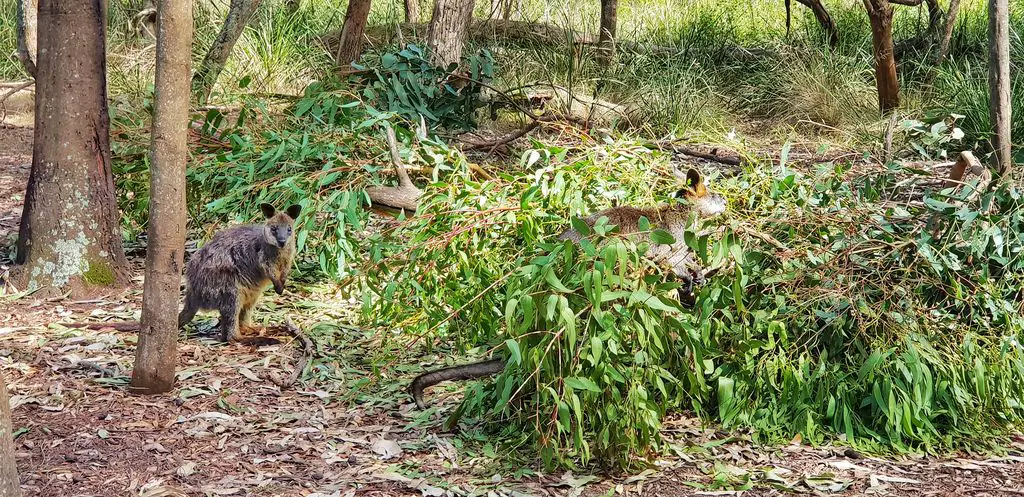 The visitor centre offers hot food and souvenirs, as well as a small yet informative hands-on educational display promoting awareness and conservation about Australia's beautiful wildlife.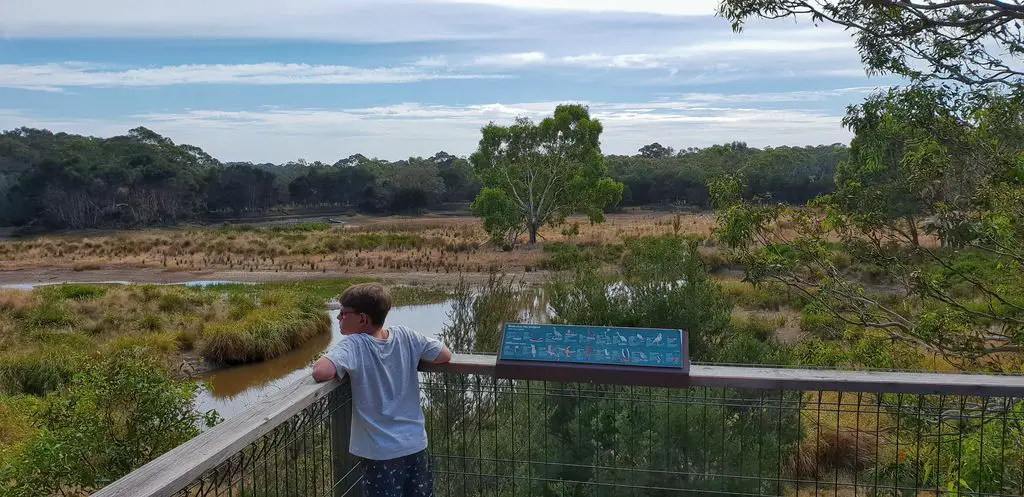 New Adventure Boat Tour
Cost: Family Pass approx $235
Location: Tour departs from either Cowes or Rhyll jetty
Time: 90 minutes
The kids and I did this the last time we were in Phillip Island in 2015. Unfortunately, the day we went there was menacing grey clouds and foamy waves tossing to and fro. Nevertheless, we decided nothing would stop our Eco Boat Tour and hopped on board at the Cowes Jetty located at the end of Thompson Avenue.
This adrenaline-laced thrill ride let us experience rugged coastlines and remote wildlife that can't be reached any other way.
It would definitely be a much better ride on a clear sunny day. But on a stormy day with angry waves taller than a house pounding the boat, and winds strong enough to blow a small child over, it was almost terrifying. The kids were frozen to the bone and Mia (6 years) started crying due to the ferocity of the waves that tossed the boat. Caius (4 years) on the other hand was quite nonchalant the whole trip.
We did finally reach the Australian fur seal colony and were able to stand and watch the seals absolutely oblivious to the storm, diving in and out of the water and sunbathing on the rocks. They were so beautiful and a joy to watch.
I was told on a clear day you can also spot whales, dolphins, and penguins from the boat, but not on the day we went. The staff pointed out the features of our surroundings and shared information about the different wildlife we spotted.
The return trip was smoother as we rode with the swell rather than against it. I almost kissed the ground when we disembarked. It was a relief to be on solid ground again. Recommend this trip, but take it on a beautiful sunny Australian day.
Phillip Island Chocolate Factory
Cost: Free to visit, however, the Amazing World of Chocolate is $50 for a family pass (2 adults, 2 kids)
Location: 930 Phillip Island Rd, Newhaven
Time: About 1 hour is enough chocolate to make you sick
The grounds are not as great or vast as the Yarra Valley chocolate factory or the Great Ocean Road one, but the Amazing World of Chocolate is, for lack of a better word, amazing. So don't skimp out on it.
Sideshow alley was a hit where you can play old school skill testers to win wooden balls, which you exchange for chocolate. In another room, a penguin will grab you a chocolate button. Plus the making of chocolate and the history of it makes it an educational stop too.
After we had frozen bananas dipped in chocolate, which was delicious and messy.
Penguin Parade
Cost: Part of the 4 Park Pass
Location: 1019 Ventnor Rd, Summerlands
Time: Between 2 – 3 hours
I bet you didn't know that the smallest penguins in the world could be found in Australia – the Blue Penguins. These cute creatures are about 33cm in height and also referred to as Fairy Penguins or Little Penguins. And each night they waddle home out of the cold scary ocean to their warm pint-sized burrows on Phillip Island, Victoria.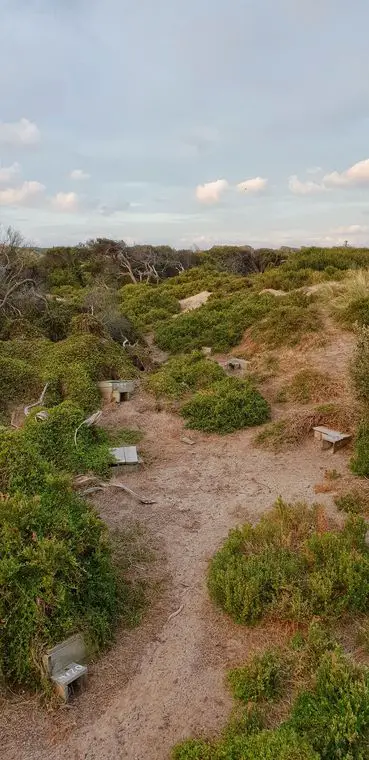 This has to be the highlight of the island. Every evening large crowds gather on the Summerlands at sunset to quietly witness the smallest penguins in the world timidly return home.
You can stay inside the visitor's centre where it's nice and warm and then about an hour before sunset the doors to the beach open and the crowds flock to secure prime vantage spots. Try sitting on the beach at the front or to the right for best vantage.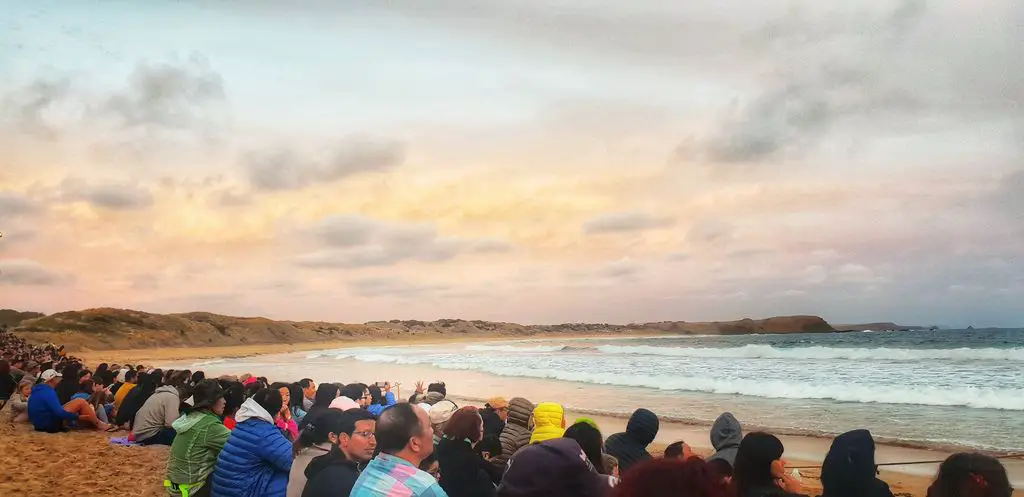 The wait can be tedious for young kids as the penguins do wait until all natural light has gone before venturing to the shores.
As soon as the first penguins reached the edge of the waves, the silent crowd broke into a collective "awwwwwww". These tiny, flightless birds stood apprehensively, cautiously watching the sky for any signs of predators, such as Sea Gulls or Eagles. At the slightest sound, they got spooked and hastily retreated into the sea with a mad dash and flailing of wings. It was absolutely adorable. Finally, once the dark was in full force, groups of penguins reached the beach and began pouring out in droves, heading inland to their homes.
But let me tell you a secret. You don't have to sit on the beach and wait for those little penguins to stream out of the sea. The beachfront seating area is not the best seat in the house – the boardwalk was! On the boardwalk leading back towards the visitor's centre you could spot any number of little penguins waddling by in their packs or on their lonesome towards their burrows (and sometimes a special someone waiting patiently). They looked so much braver in the dunes, compared to their nervous performance on the beach.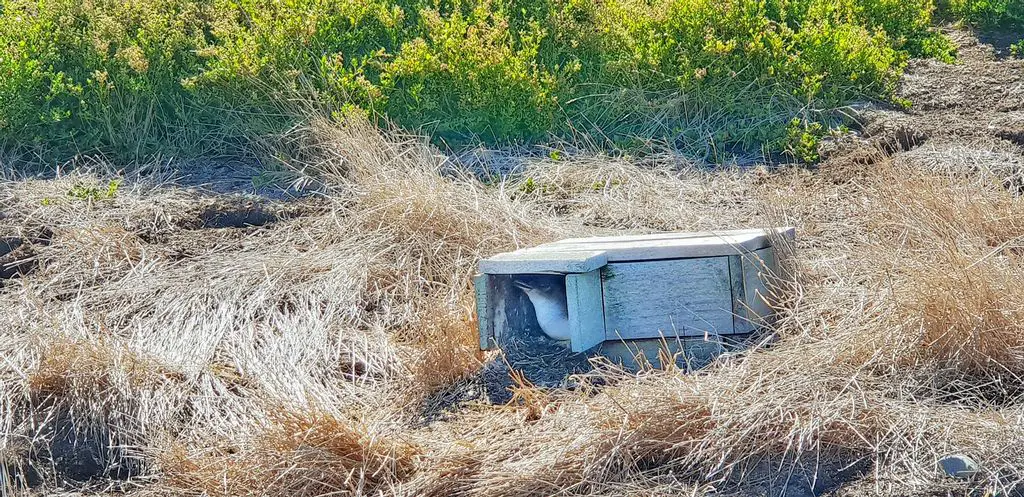 Top Tips For The Penguin Parade
Wear really warm clothes. It gets cold out on the beach at night. Better yet bring blankets. I mean it – it's cold. We have been in summer and autumn and both were chilly. Kids wore two jackets and a beanie in the middle of summer.
Bring umbrellas or ponchos. Check the weather forecast the day before so you can be prepared.
Bring something to sit on. The beachside concrete stepped seating is cold and hard. Bring a picnic blanket to sit on or if you want a little luxury for your backside, an outdoor cushion.
No photos. The penguins can be very timid. Not to mention bright lights can seriously damage their eyes. So there is absolutely no photography or videography allowed (including mobile phones).
Don't worry about going early to get front row seating. The best view is on the boardwalk once the penguins have come out of the water and are waddling to their homes.
Even if you start getting drowsy by the end of a big day on your Phillip Island getaway don't miss those darling fairy penguins. They are so darn adorable. We all just wanted to hold them and squish their little cheeks.
LOOK HOW EASY IT IS TO PIN THIS!
Accommodation
Travelocity has nearly 270 properties on Phillip Island including hotels, apartments, and hostels. You get free cancellation on most rooms and the best price guaranteed. Click here to start your vacation! 
Tour
Want to take an organised tour on Phillip Island? Then I recommend these ones through Viator.
Rental Car
We love RentalCars.com because they have the best car rental prices – Guaranteed. Try it. 
Flights
Skyscanner is a comparison website that searches millions of flights. The best part of Skyscanner is it is simply a flight aggregator so in the end, you book directly through the airline.
FOMO - do you have it?  Well there is no need to Fear On Missing Out here at Explore With Erin. Sign up to receive updates directly to your in box. I won't spam you, but I do promise a whole lot of awesomeness. What are you waiting for? Join Me!