England's green and pleasant land is packed with places you must visit at least once.
It might be the deep blue lakes of Cumbria, the rolling Cotswold Hills or historic cities such as York, Bath and Lincoln. Thrill seekers might find climbing the mountains of the Lake District is a must, whilst hikers will hope to traverse Wainwright's Coast to Coast. You may wish to visit the sandy beaches of the Devon coast or the metropolitan bustle of London.
In fact, when choosing something to do in England, you might even miss some places of historical importance because they're right under your nose. Some of the best places to visit might be seemingly everyday places with hidden secrets, multiple functions, excellent architecture, and history. Step forward, football stadiums.
That's right, football stadiums can be found in almost every town and city across the UK, and some are beginning to carve out a niche as a tourist destination. Which ones should you put on your itinerary? Which have significant attractions and features to keep even partisan sports fans happy? We've picked the best four.
OLD TRAFFORD
Old Trafford is to English football what Camp Nou is to Barcelona. It's an iconic venue that offers daily tours through a packed trophy room and into the stands that have seen some of the best matches in England played out.
Sadly, Manchester United are no longer the powerhouse they once were; they're only outsiders for the Premier League title in Ladbrokes current odds, and they opened the current season with a defeat on the hallowed turf against Brighton.
Still, Manchester is a vibrant city in the modern era, so visiting the famous ground is more likely to be part of a wider cultural trip. Remember, it's the city that gave us Madchester, and played host to one of the first true super clubs, the Hacienda.
WEMBLEY
A trip to Wembley is a trip to the home of English football, where history is made all the time. Just recently, The Guardian reports England's women's team, the Lionesses wrote their chapter of history there, beating Germany 2-1 in the Euro 2022 final.
It's not just for football; Wembley plays host to some of the biggest gigs in London and some of the finest sporting events. You might find a non-sporting reason to visit, but everyone should visit Wembley at least once.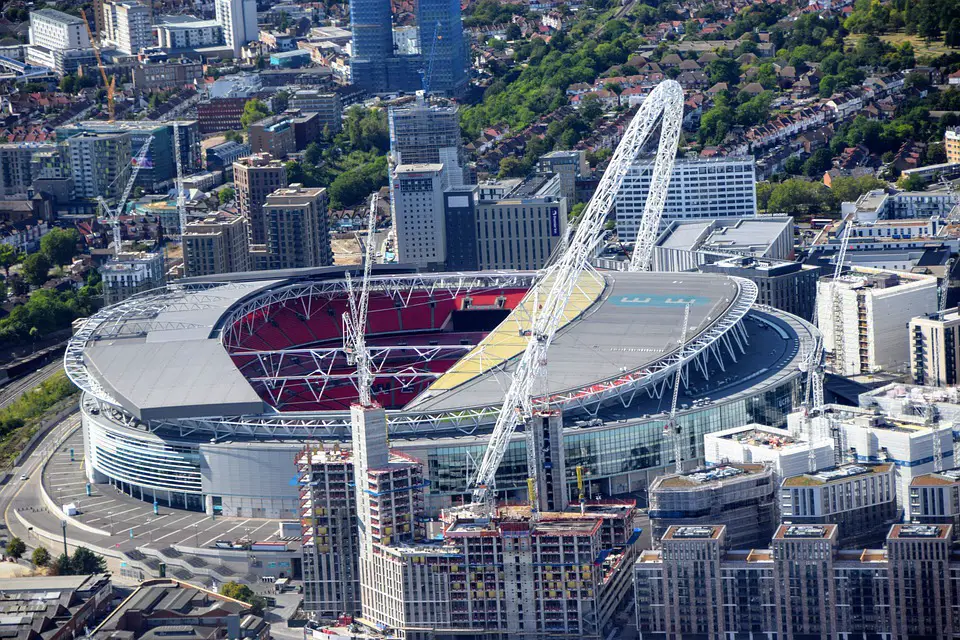 GOODISON PARK
This is one for the dedicated sports fans, although with the stadium being in Liverpool, you can combine a culture trip with the football diversion. After checking out the Cavern Club, home of the Beatles, and Liverpool's other wonderful sights, you should nip along to Goodison Park.
They're Liverpool's second club, but their stadium is a homage to the classic designs that dragged English football through to the modern age. Archibald Leitch is the architect behind much of the original structure, and his influence can still be seen today. You might need to be quick if you want to see for yourself an old-style ground; the club are preparing to leave shortly.
TOTTENHAM HOTSPUR STADIUM
The Tottenham Hotspur Stadium, yet to be branded in a corporate name, is an example of modern stadium construction that acts as a contrast to Goodison Park. It's shiny and new but also cutting edge, with the latest technology and building technique used to build it from the ground up.
However, a visit here isn't about Spurs, one of the top teams in the Premier League; it's about the sky walk. You can get some stunning views of London, although it isn't for the faint-hearted, which is why it's called the Dare Skywalk. It's an attraction in itself, offering a unique perspective on London and one of the few times you'll visit a stadium and spend time looking away from the pitch.
FOMO - do you have it?  Well there is no need to Fear On Missing Out here at Explore With Erin. Sign up to receive updates directly to your in box. I won't spam you, but I do promise a whole lot of awesomeness. What are you waiting for? Join Me!