The Philippines is an underrated adventure and luxury destination. For adventure lovers, there is no shortage of fun-filled destinations and off-the-beaten tracks to discover. Luxurious travellers, on the other hand, will have numerous private islands and fancy resorts to choose from where they can revel in nothing but comfort and blissful seclusion. With over 7000 idyllic islands, traveling in the country is never going to be a mediocre experience as there will always be plenty of surprises waiting at every corner.
This beautiful country of turquoise waters and white-sandy beaches, emerald lakes and countless mountain peaks scream of adventure beyond compare. Thanks to the booming tourism industry, there is also an increase in the number of luxury resorts all over the country where the most intrepid and affluent travellers can find respite from the normal busy lifestyle.
Here are the 10 best spots for luxury and adventure in the Philippines.
1. Marinduque
Marinduque is not a very popular travel destination in the Philippines. It has managed to keep a low profile all these years even though it is very close to the popular Puerto Galera. Rich in natural attractions, history, culture, and religious traditions, this small coastal province should be on the bucket list of those looking for a luxurious and adventurous getaway.
Bellaroca Island Resort and Spa is found in Marinduque and this luxurious private island sits on a huge property with that most familiar Mediterranean flair similar to Greece's very own Santorini. The resort itself offers everything to make one's stay memorable with numerous options for island-hopping, diving, snorkeling, water sports and beach bumming.
2. Palawan
Any travel site about the Philippines will never miss mentioning Palawan. This paradise will always be on top of the list as it is not only packed with adventure and natural attractions (where some are one of the world's best) but it is also the go-to place of affluent personalities like celebrities and aristocrats.
Some of the best-rated and most luxurious resorts in the country are actually found in Palawan. To name a few, there is Amanpulo where one can see both local and international celebrities; El Nido Resorts which is a chain resort composed of 4 different properties exuding the Maldives feel; and Huma Island Resort and Spa in Coron where one can look out into the vast ocean from their own private Jacuzzi. Dos Palmas is also a private island resort off the coast of Palawan and the only resort that offers a true island experience in the province.
3. Bicol Region
Located in the Southern part of the mainland Luzon, Bicol is mostly land-locked. It is home to the famous Mayon volcano which is already an adventure in itself. Mayon is the most active volcano in the country and certainly the most beautiful with its perfectly symmetrical cone shape. There are also hundreds of islets to discover especially in the nearby Pacific Ocean like Calaguas and Caramoan. Adventure is not only limited to nature, but there is also food adventure to try for food lovers.
Misibis Bay Resort is the most luxurious accommodation in the region. This property enjoys a tropical jungle landscape and the resort itself offers outdoor adventures like dune buggies, ATV rides to the volcano, water sports activities like jet skis, sailing, and kayaking.
4. Boracay
The very first destination that landed the Philippines in international tourism radar, Boracay has suffered under the weight of uncontrolled tourist influx and irresponsible policies. Fortunately, due to the concerted efforts of the locals and the government, Boracay is now back to its former glory. The rehabilitation of the island will be over soon and tourists from all over the globe will see for themselves just how beautiful Boracay was before it was heavily commercialized.
As the party capital of the Philippines, adventure and fun is nothing like in Boracay. If you love to be pampered, head to Shangri-La Boracay Resort and Spa where you are guaranteed to enjoy top-notch service and luxurious amenities. Since the hotels are so expensive, at least compared to other parts of the country, it is better to use a local travel agent for booking them.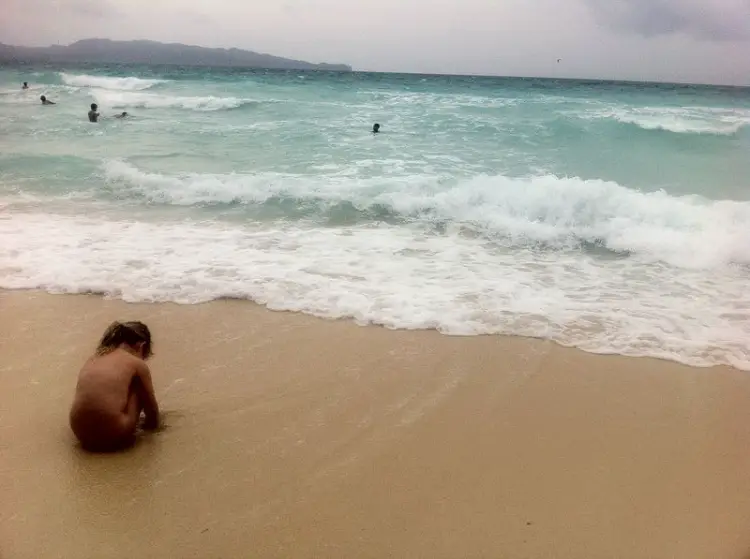 5. Puerto Galera
When it comes to underwater wonders, Puerto Galera is one of the best in the country for macro diving. Underwater adventures are awe-inspiring with some of the greatest concentration of marine species in the country. The healthy coral reef system and the beautiful white sandy beaches coupled with waterfalls and lakes make Puerto Galera a must-see destination both for adventures and luxurious vacation.
Buri Resort and Spa in Puerto Galera offers 12 deluxe villas with an intimate setting and luxurious amenities. Being 3 hours away from the capital city of Manila, affluent travellers and adventure lovers can easily dance the night away and spend the ultimate relaxation at Buri Resort and Spa. Although fairly new in the tourism scene, Buri has made a name for itself by being one of the top 32 Most Beautiful Bays in the World by the prestigious Paris-based club des Plus Belle Baies du Monde.
 6. Bohol
With thousands of chocolate-looking hills, tarsiers (smallest primate in the world), dark green rivers and the signature white sandy beaches, it is no wonder that Bohol is one of the most sought-after adventures and luxury travel destination in the country. The strategic location makes this province an ideal base point for an ultimate island-hopping experience where tourists can easily hop on a ferry and travel all-around Visayas area. Travelers with limited time frame also have the opportunity to maximize their options by staying on the island as there are loads of beautiful natural attractions and luxurious accommodations.
Eskaya Beach Resort and Spa in Panglao Island is one of the newest addition in the local luxury scene. Inspired by Filipino culture and local customs, this flamboyant resort offers 15 villas with fancy room amenities, infinity pool, and whirlpool. Most thatched villas have spacious bedrooms and own private pools where guests can enjoy the most expansive views of the sea, cliffs, ravines, caves, and mountains.
7. Cebu
If you think Cebu is just a typical city, you are sorely mistaken. Cebu is a different world in itself. Fondly referred to as the queen city of the south, Cebu is also the adventure capital of the Philippines. Here, you will find numerous things to do like white water rafting, spelunking, canyoneering, scuba diving, snorkeling, thresher sharks spotting and swimming with the biggest fish species in the world, the whale sharks.
There are many options for luxurious accommodation in Mactan Island and Cebu city but the most popular is Plantation Bay Resort. This large privately-owned resort situated in a waterway along a secluded and spacious property offers top-of-the-line amenities, world-class Filipino service and a wide array of activities like beach volley, rock/wall climbing, tennis, and archery. The most expensive rooms also have their own private pool and gazebo and easily costs more than $800 a night.
8. Siquijor
The mystic province of Siquijor sits a bit secluded from the mainland. Although small in size, the compact tourist spots more than make up for the uncomfortable sea-ride. This tiny island is covered in mystery largely due to the local folklore on monsters and fairies believed to inhabit the place. There are a number of very good waterfalls and caves to explore. The beaches are mostly low-tide but Salagdoong beach is one of the very few exceptions.
Some of the luxurious accommodation options include Kalachuchi Resort, Salamangka Beach Resort, and Coco Grove.
9. Siargao Island
Tagged as the surfing capital of the Philippines, Siargao also offers different options for nature trips with plenty of activities to do like spelunking, island-hopping, waterfalls hunting, beach-bumming, and hiking. This tiny tear-shaped island in Surigao Del Norte is a top travel destination for both adventure and leisure.
Luxurious travellers can choose to stay in a number of fancy resorts fronting the ocean but the most popular ones are Kawayan Siargao Resort and Kalinaw Resort. Both resorts make use of the local products and design mixed with modern comforts and luxurious amenities like private pool, Jacuzzi and outdoor shower area for a maximum seclusion and relaxation.
10. Balesin Island
This list won't be complete without the most exclusive tropical paradise in the country, Balesin Island Club. This Island of outstanding natural beauty is exclusive to club members only. Located in the Pacific Ocean just 60 miles from Manila, Balesin offers luxurious villas patterned to some of the most in-demand destinations in the world. It is lined with 7.3 kilometers of powdery white sands and amenities that could rival the best with conscious effort to keep the environment protected. There is no luxury similar to what Balesin has to offer. The exclusivity just says it all.
FOMO - do you have it?  Well there is no need to Fear On Missing Out here at Explore With Erin. Sign up to receive updates directly to your in box. I won't spam you, but I do promise a whole lot of awesomeness. What are you waiting for? Join Me!