They told me about Melbourne. That the weather was dreary, that the sun didn't shine, that it got cold. They were right.
What they didn't tell me is despite the winter weather Melbourne is still alive. The weather doesn't keep people indoors, people get on with it. And despite the weather, there is a multitude of marvellous things to do in the city.
And just outside of the city.
Enter Puffing Billy Emerald.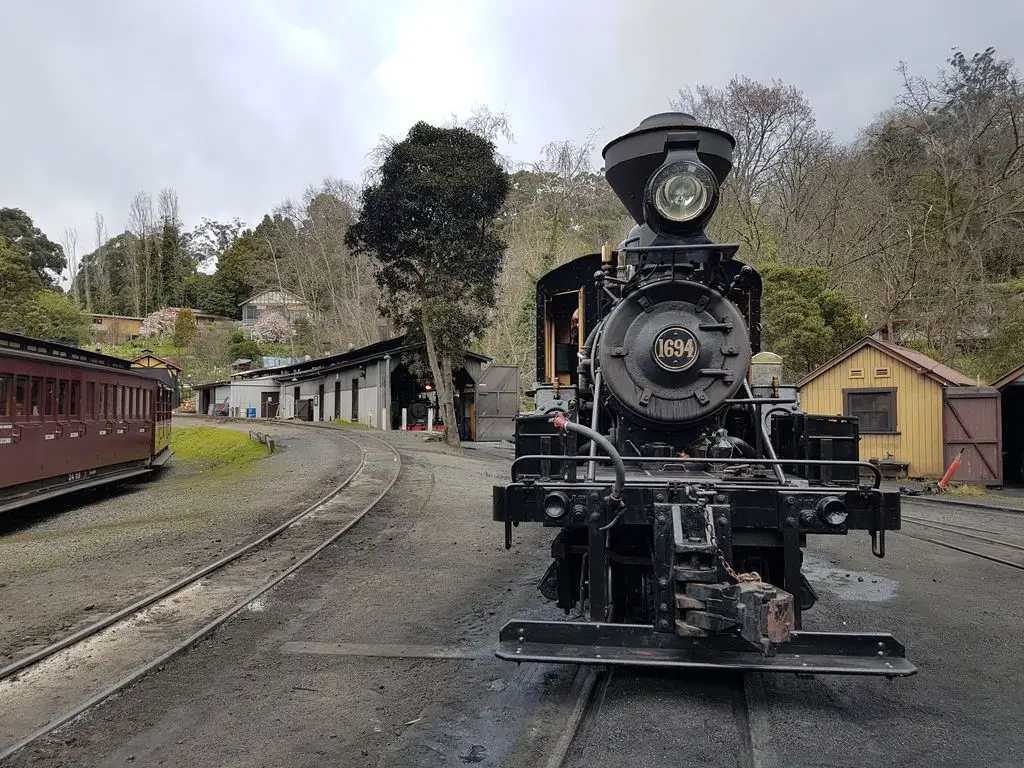 When Puffing Billy invited me to Emerald for the weekend I had no idea what was in store. I spent the first 13 years of my life in Sydney, followed by another 19 in Perth. Melbourne was foreign to me. So excited to see parts of Victoria I had yet left undiscovered I agreed.
Getting There
Unfortunately for me, I had a prior engagement that day and so when I left just after 4 pm on a Friday the rest of the city was also heading home. This meant my 1-hour drive out of the city, turned into 2. But the last hour was through some pretty incredible scenery.
On the way back, it was only one hour and that makes a pretty easy getaway from Melbourne city central.
Where To Stay
With my primary goal to enjoy Australia's favourite steam train, Emerald was the prettiest spot to stay. It's a stunning little village oozing country charm and quaint B&Bs. And it doesn't get more cosy and romantic than a stay at The Heart of Emerald B&B.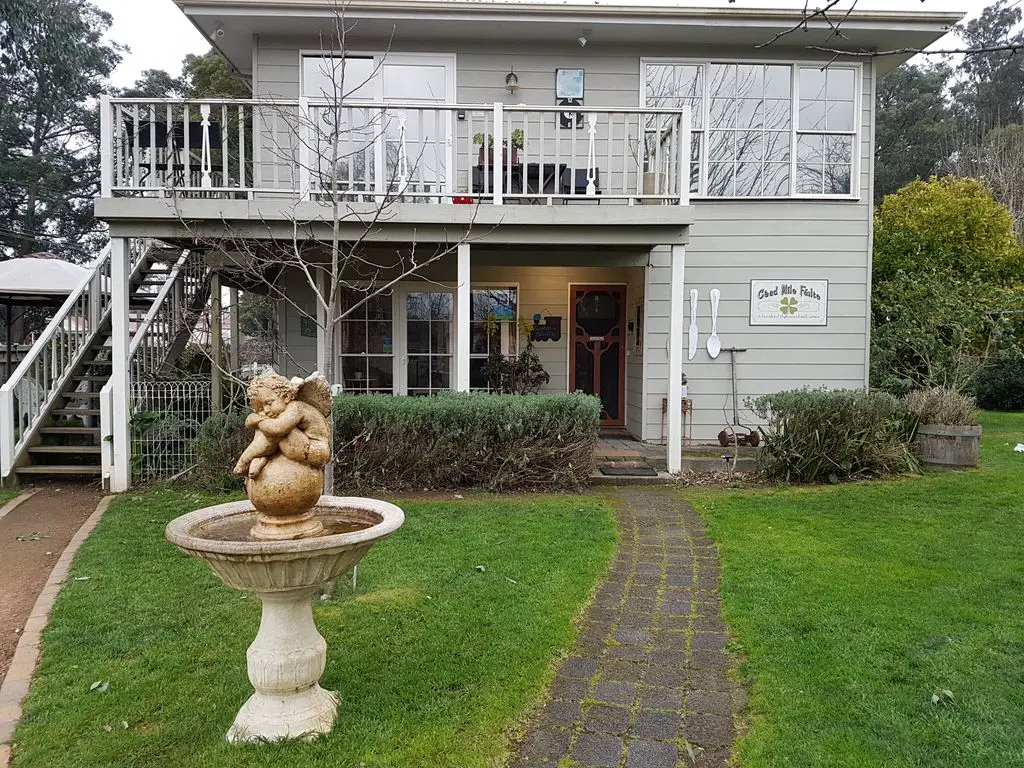 I stayed in the front of this beautiful house. Two queen rooms, plus a private bathroom upstairs. And downstairs I had my very own kitchenette, lounge, and private entrance. It's a massive space for a B&B and perfect for a family or a few friends.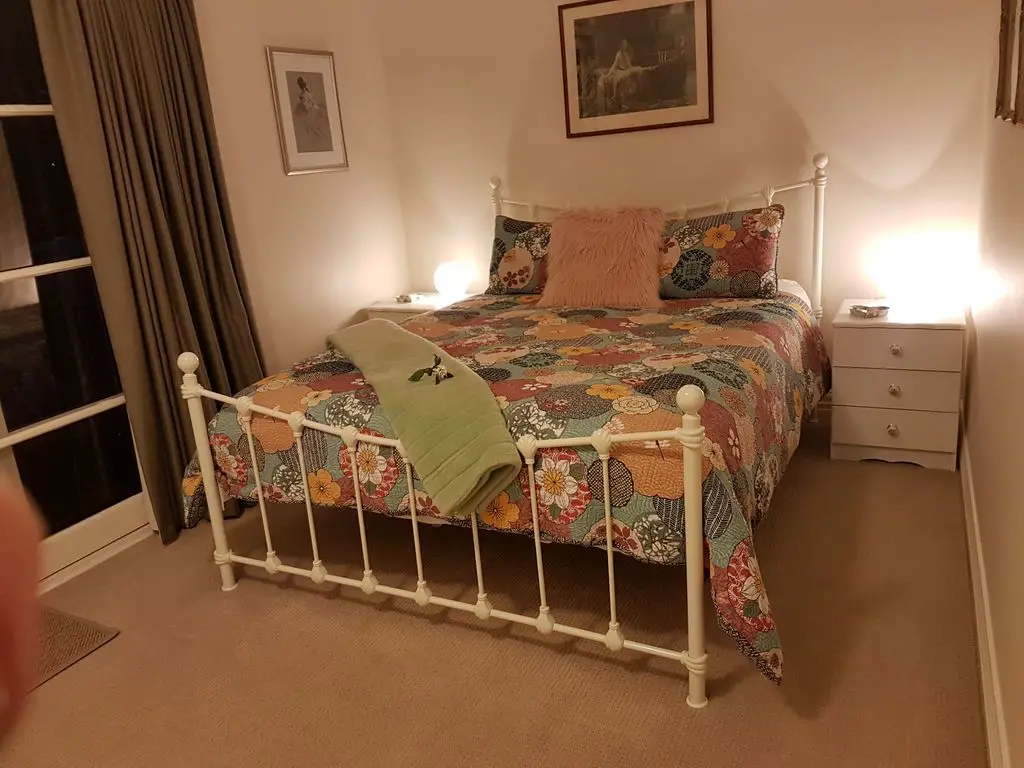 The bathrooms were clean, the bed plump and soft. My only negative feedback would be missing that second B – Breakfast. While a continental breakfast is provided I always loved the idea of B&B's because you could sit at a table for a hot home-made breakfast and pass hours talking to other guests or be filled with the local knowledge from the B&B Owner.
But there were no other complaints. The house was in the perfect location complete with walking distance to restaurants and shops. The extensive wrap around veranda was perfect for sunsets and evening drinks.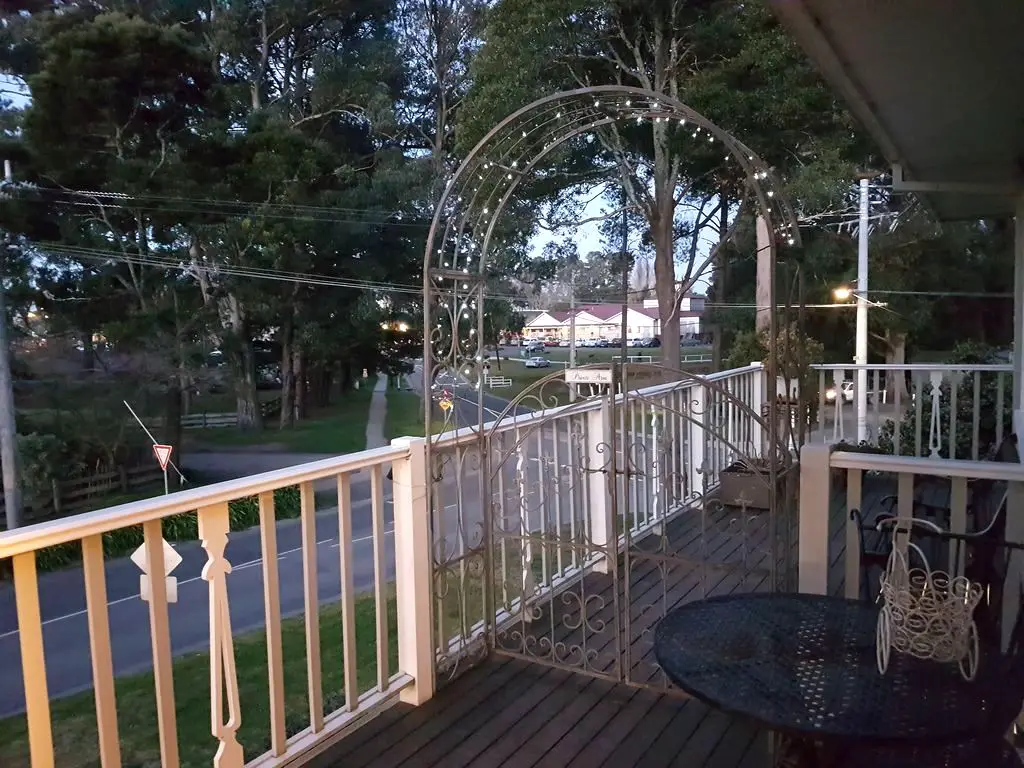 I loved the amount of privacy the room offered. Often B&B's can feel like living in someone's house, but this was completely accessible and private. It's the perfect lodging to surprise someone with a romantic country getaway… More on that story below.
Check prices @Booking.com | Check prices @Travelocity.com
Alternatively, consider a stay at Fernglade on Menzies. They offer to stargaze with some pretty impressive telescopes!
Check prices @Booking.com | Check prices @Travelocity.com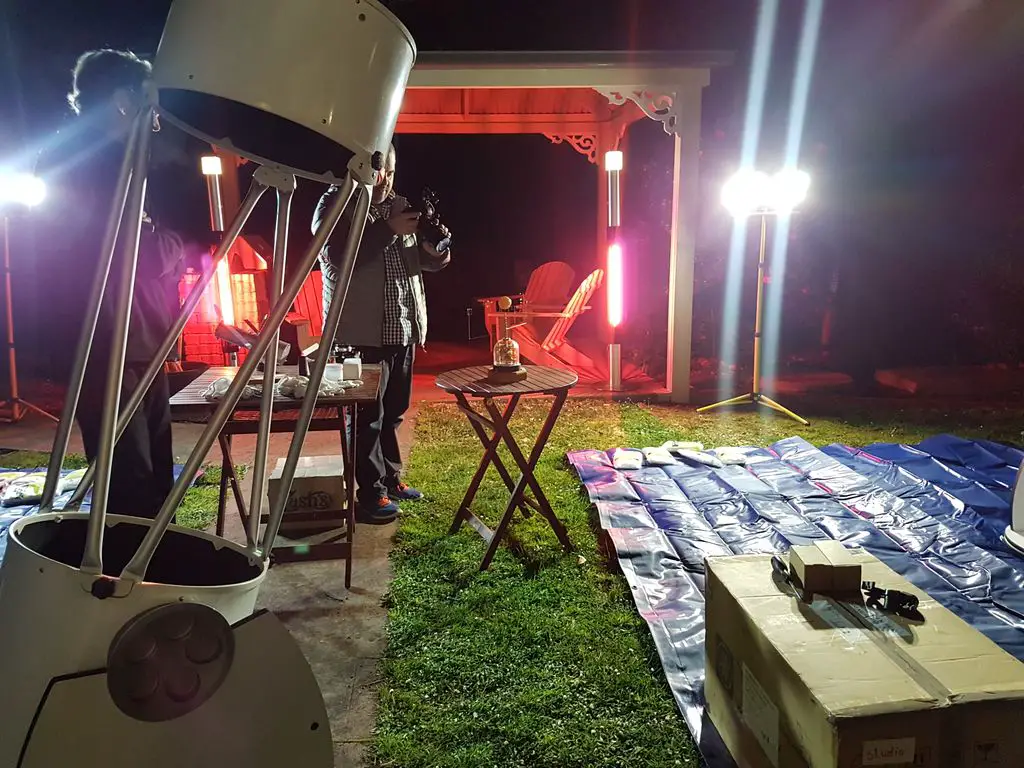 A Surprising Touch of Romance
If the country air doesn't get to your head, then a cute and cosy Bed and Breakfast certainly will. There's no way romance won't seep into your bones.
In fact, that evening as I returned from my night of stargazing and got tucked into my plump and lonely Queen size bed I was startled by a knock at the door. Not knowing anyone in Emerald and being 10:30 pm in the dark countryside I was very cautious opening the door to my room.
Understandably I had been quite lax in locking my lounge room door since we were in the middle of nowhere surrounded by beautiful countryside. Thinking perhaps the Owner of the B&B had forgotten something you can imagine my surprise when I creaked open the door and the BF was standing there, grinning like a Cheshire cat. Fresh from a one-hour drive where he had sent several texts leading me to believe he was out with the fellas back in the city. What a sweet surprise!
No can resist the romantic call of the Dandenong Ranges. Or a B&B in beautiful Emerald.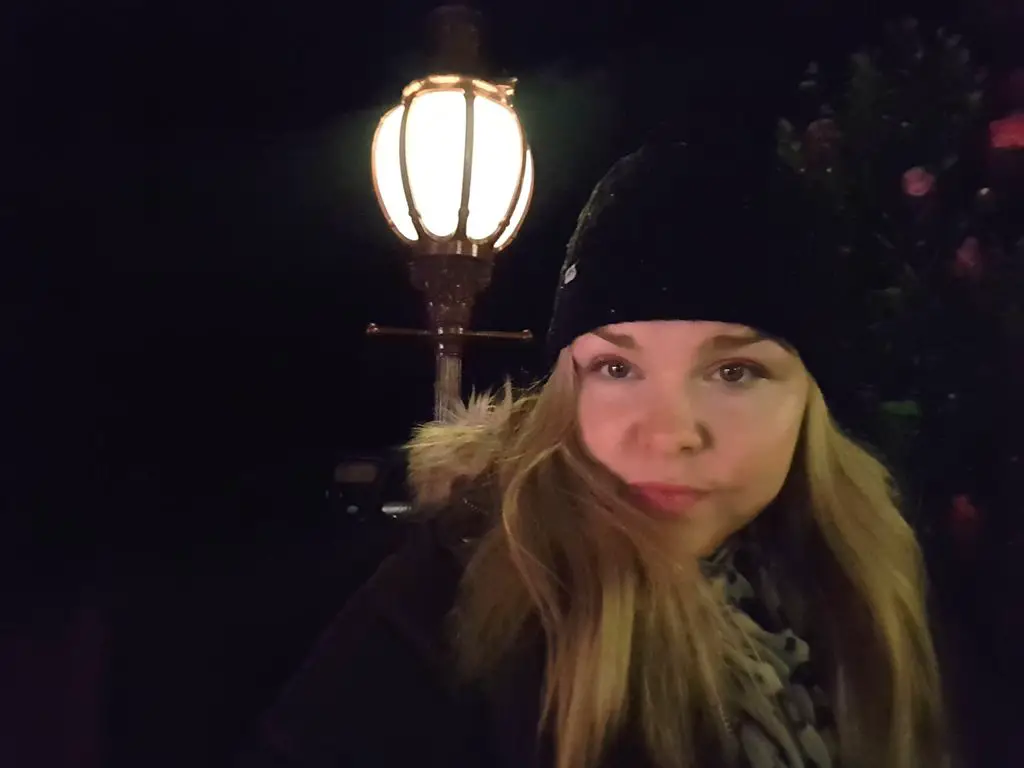 Favourite Places To Eat
Elevation @ Emerald
374 Main St, Emerald
A robust wood cabin with a large toasty fire offering good, hearty meals. Must try the duck risotto for dinner.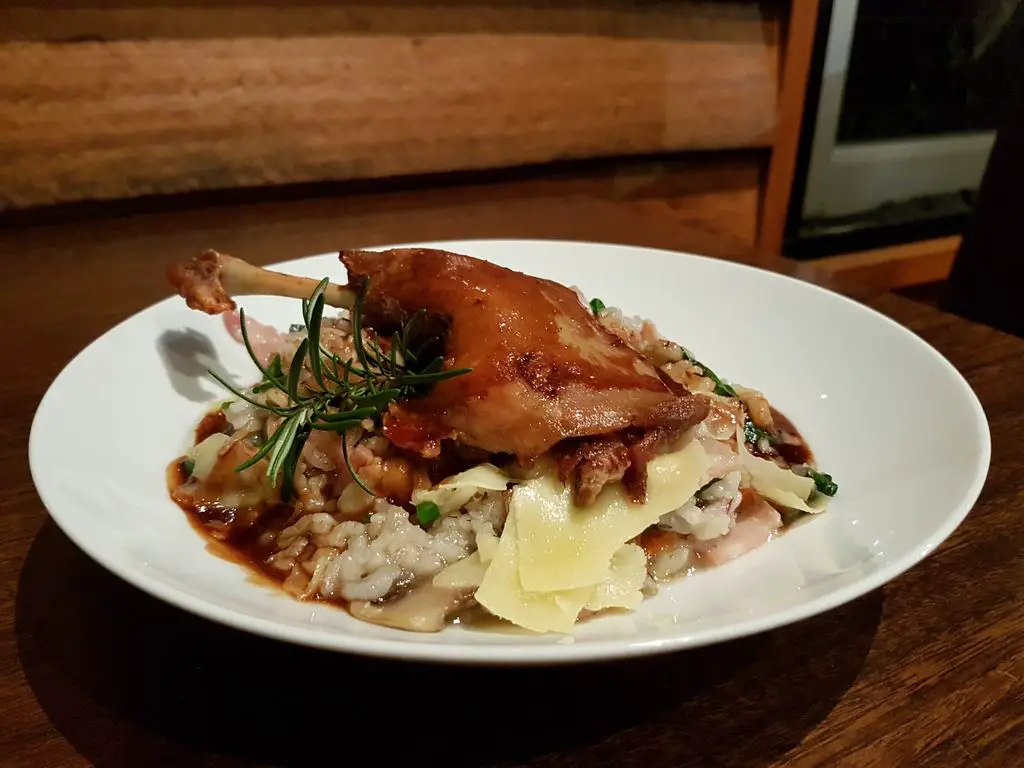 Ranges Hotel
73 Main St, Gembrook
We stopped here for lunch during our Puffing Billy experience. I cannot recommend it enough. Mainly because of the drool-worthy, sinfully sweet, Nutella Mudslide. But also the food was delicious and mouth-watering, the service impeccable and the vista stunning. But really… Nutella Mudslide.
The Puffing Billy Experience
It was an early start for me, as I was picked up for delivery to Belgrave Station at 8:30 am for a day with the famous Puffing Billy Commissioners Train.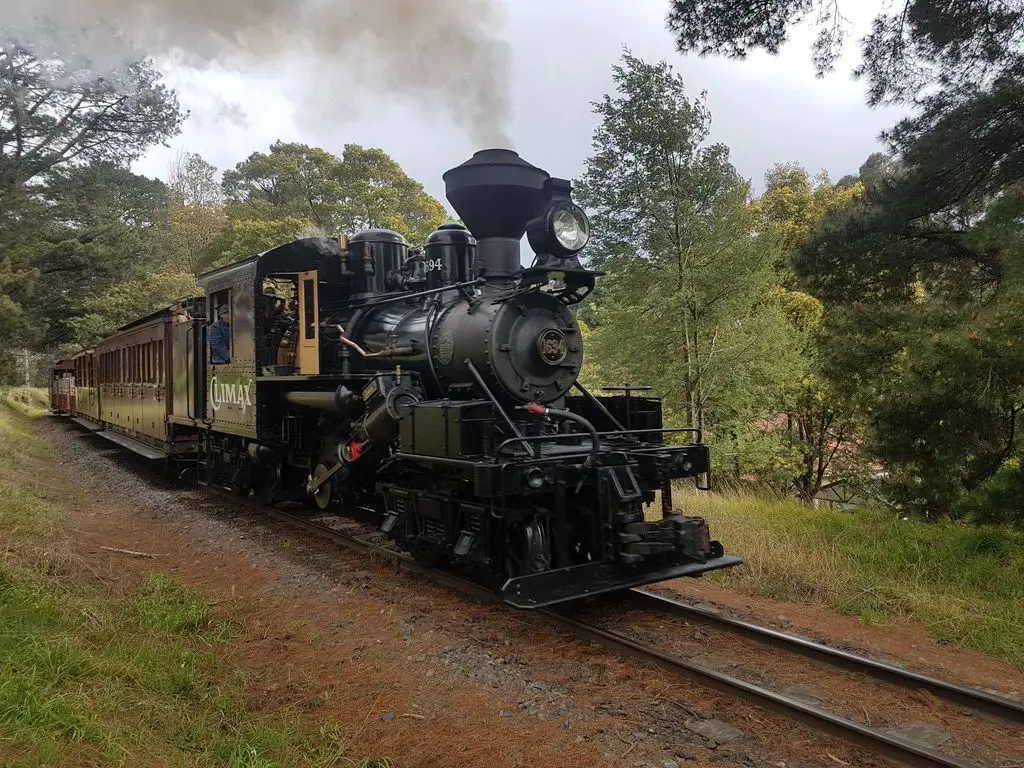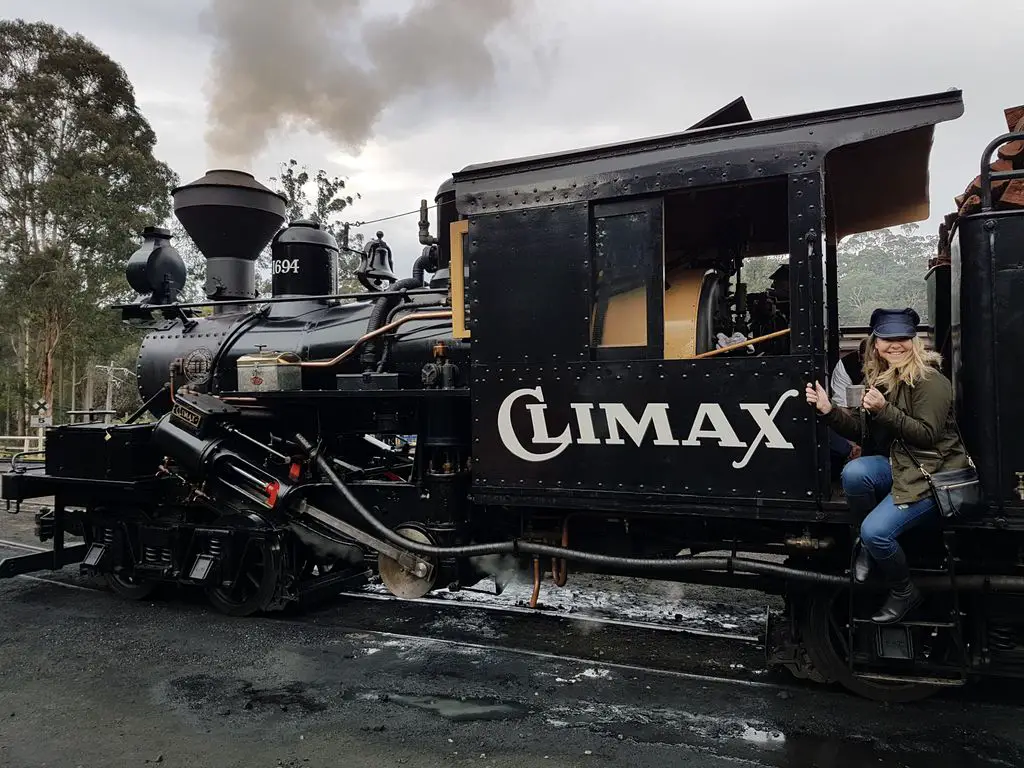 The railway route was built in the early 1900's to develop rural areas. This century-old steam train now continues to run the original 25-kilometre mountain track from Belgrave to Gembrook in the magnificent Dandenong Ranges.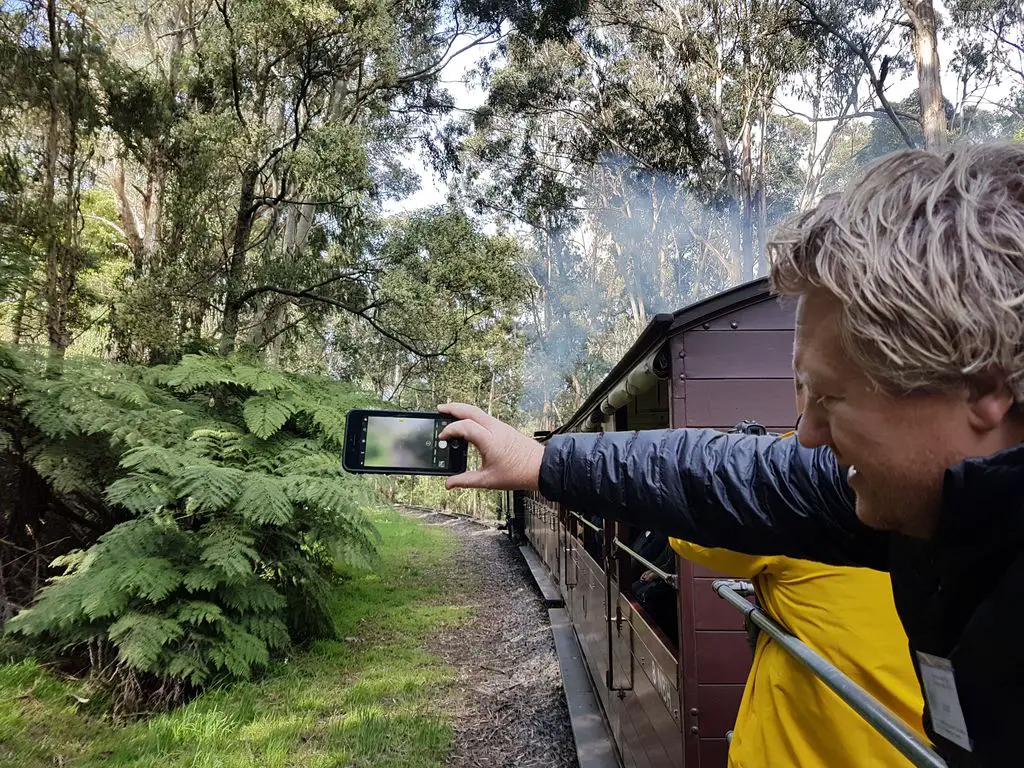 You will be astounded by the scenic vista this train ride offers as it makes its way through lush fern gullies, over farmlands, squeezing between forests, passing gorgeous hiking trails, and clacking over the historic Monbulk Creek Trestle Bridge.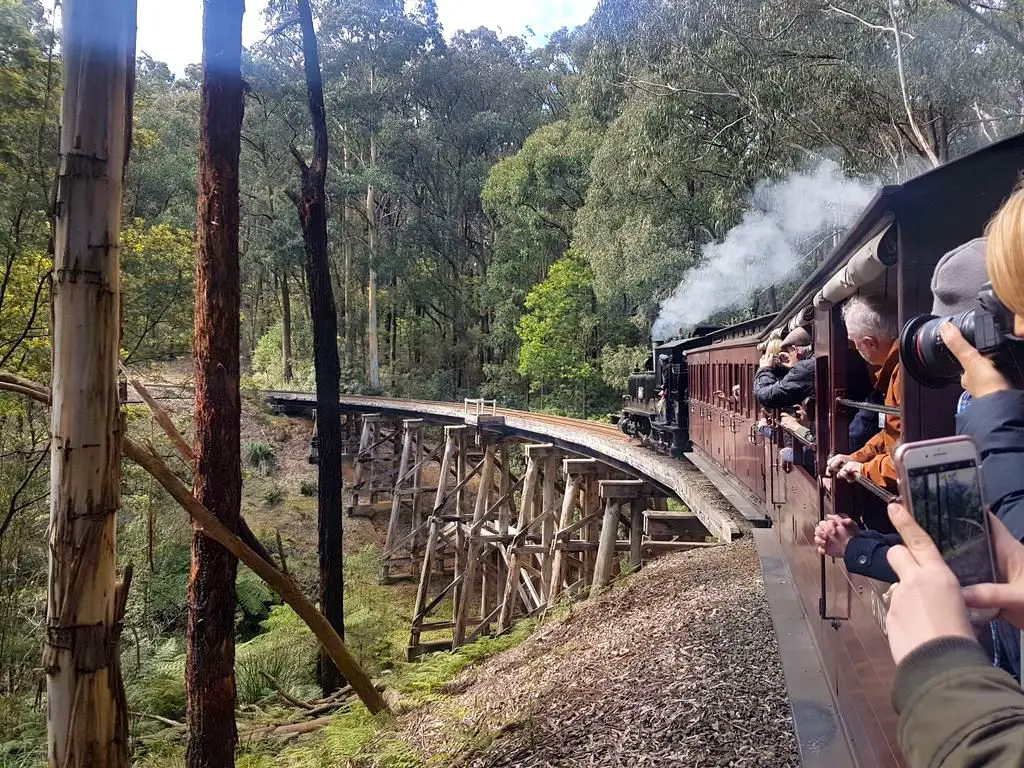 Sit inside warm and comfy, or brave the winter chill in an outdoor carriage where you can freely swing your legs over the side, breathing in the fresh rainforest air.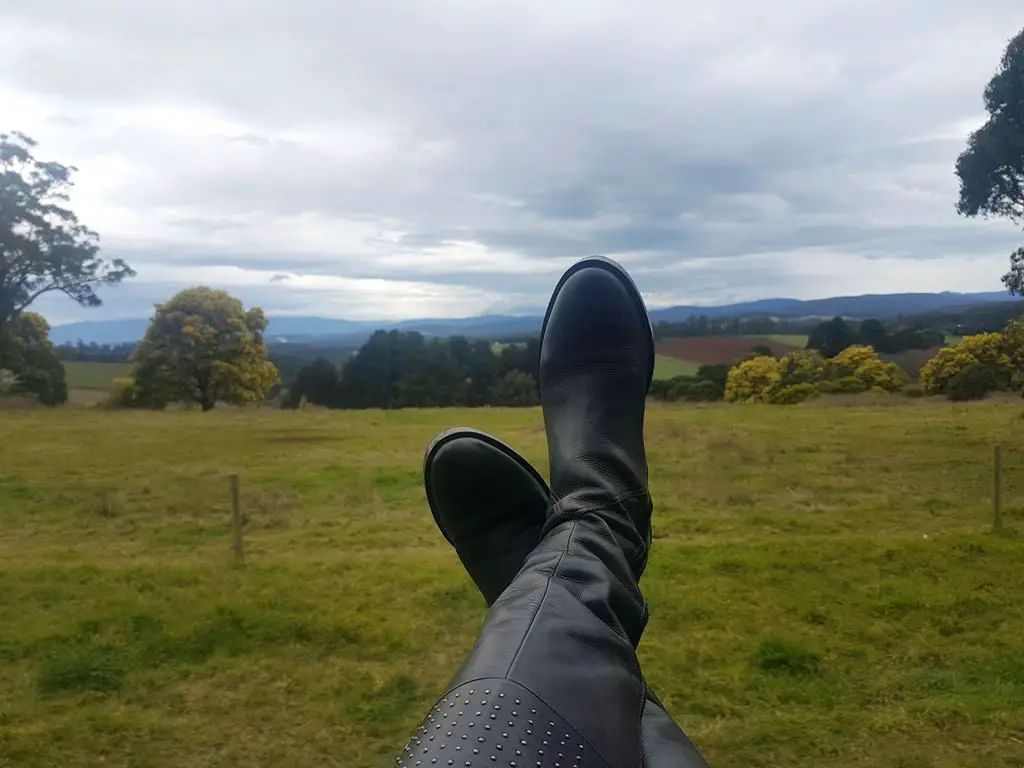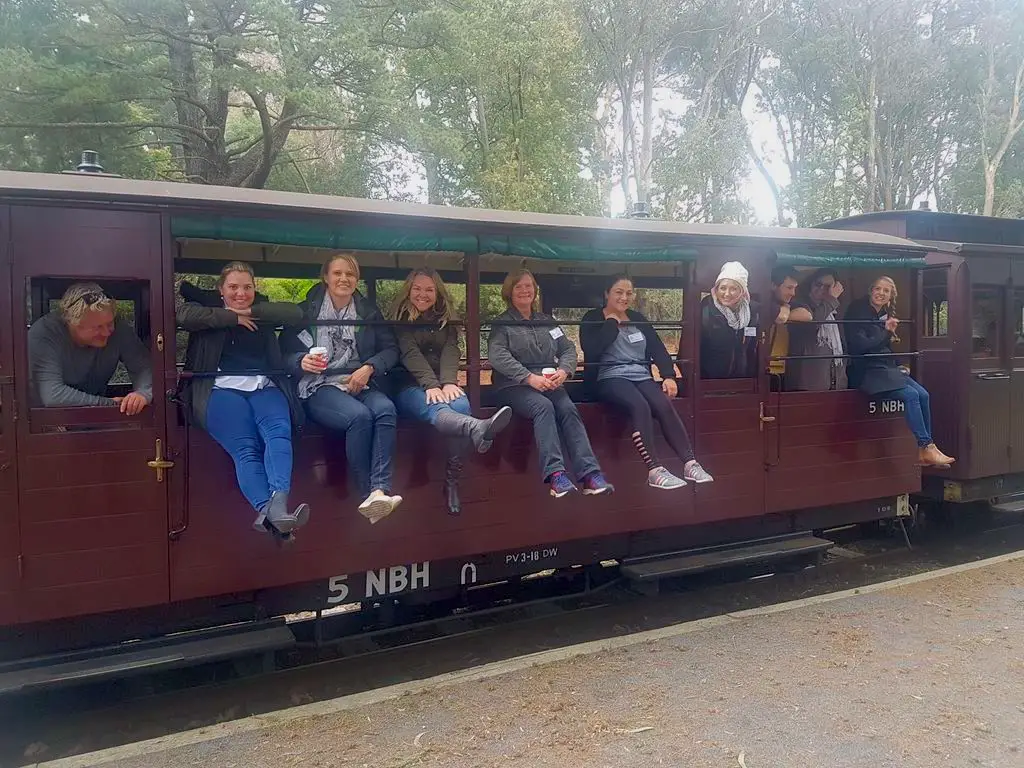 Despite the chill, I braved the outdoors with a thick winter coat because I simply could not get enough of the simple nature rushing past, the wind turning my cheeks pink, the smell of past rain on soil.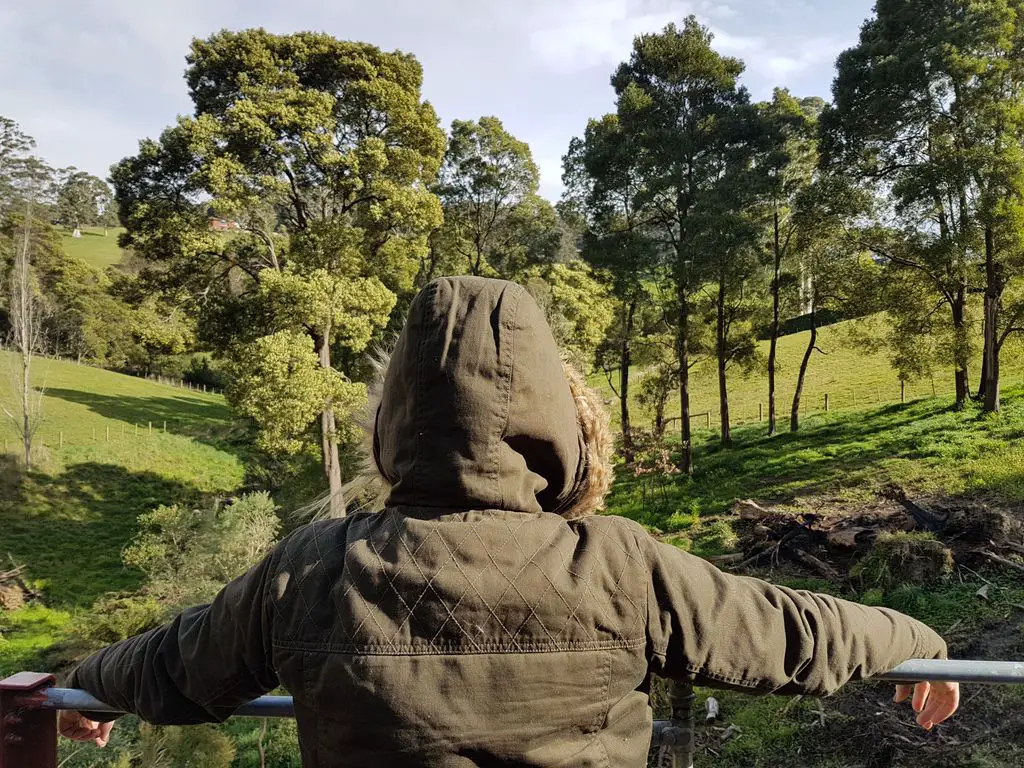 The train makes stops at several stations where you can quickly get off and stretch your legs. My favourite stops:
Belgrave Locomotive Workshop – Right where the train starts you can check out the workshop to see how the volunteers take care of these beautiful ancient steam trains. A messy workshop cluttered with tools and train parts that will fascinate even beginner train lovers like myself.
Puffing Billy Emerald – Morning tea is served at Emerald Station. Hot drinks, juice, cakes. A fun stop to stretch the legs and chat to some of the staff or other guests.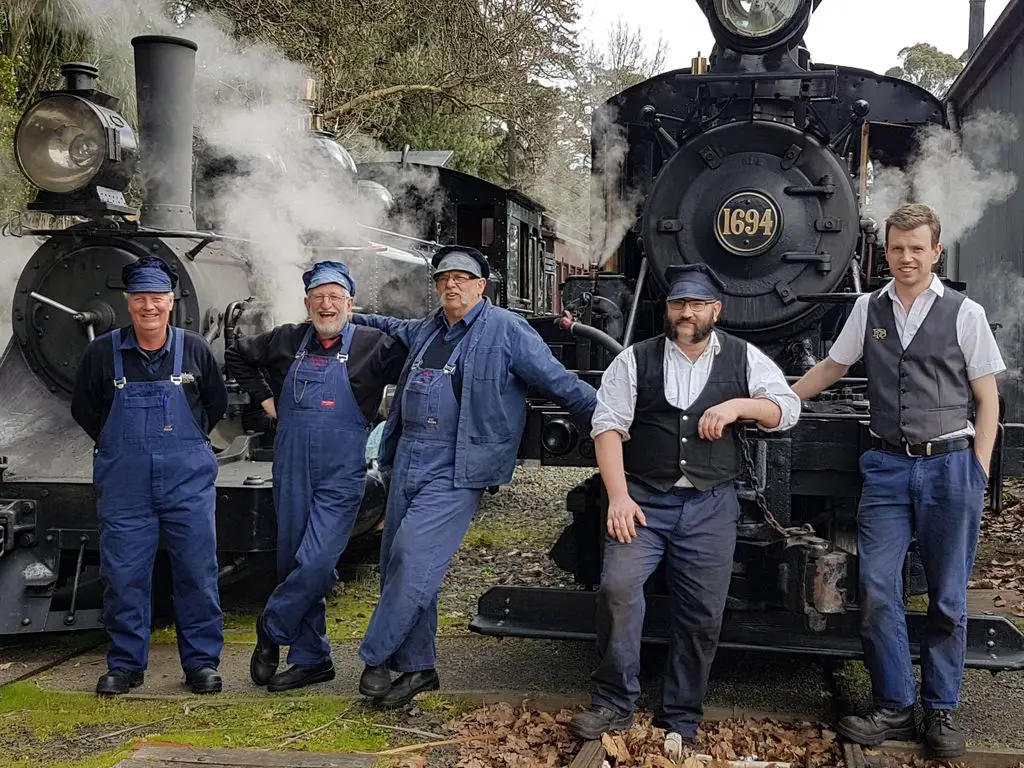 Triple Train Shot – One of the stations afforded us with a unique opportunity to see 3 of the steam trains all lined up, if only for the smallest of minutes. Now I can't say I've ever collected toy trains or had a dying passion for them, but steam trains really are pretty.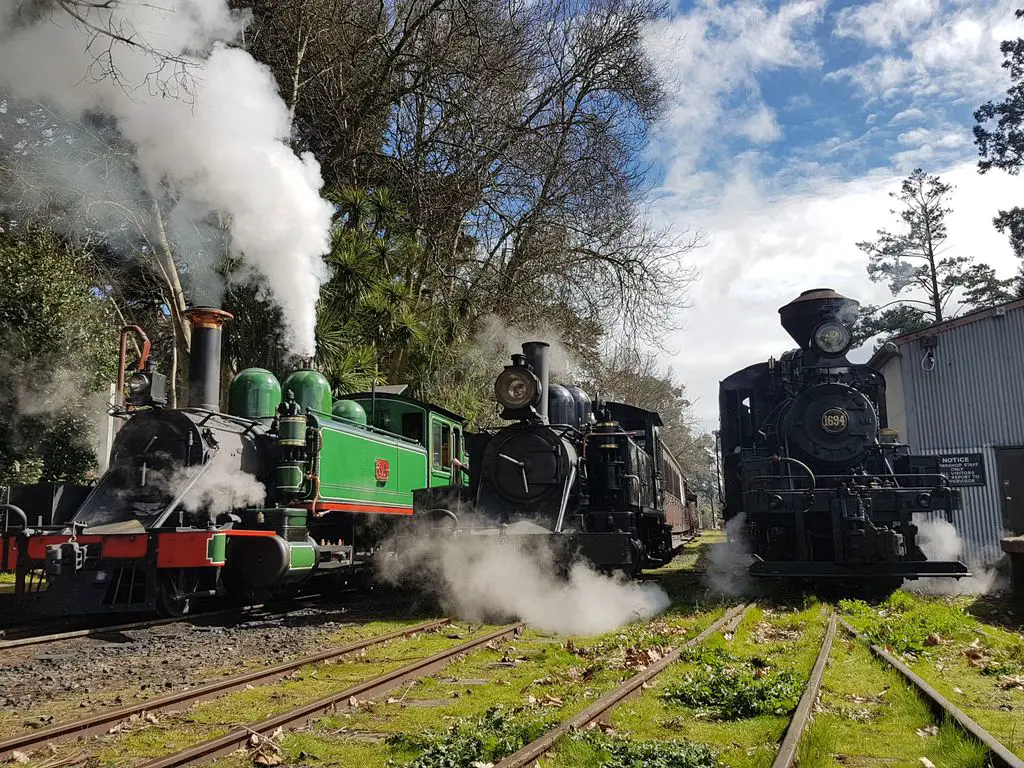 It was also the perfect spot to grab the friendly volunteers together for a photo.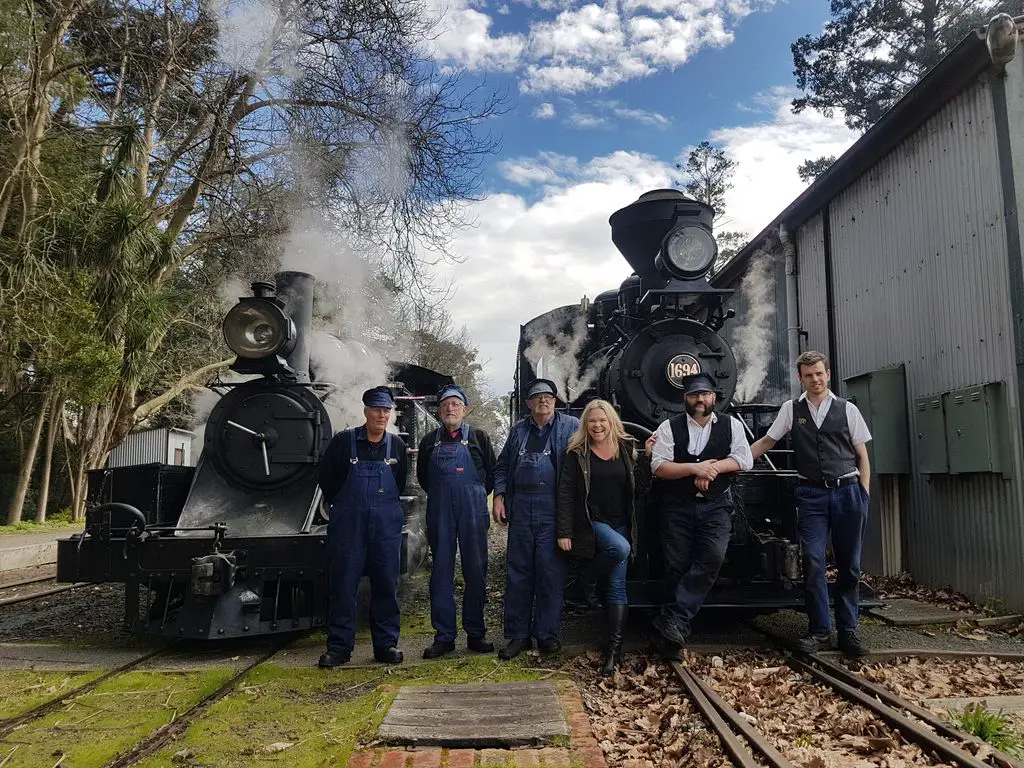 You can even have a steam bath at this spot 😛

It was a long day from 8:30 am to 4:30 pm, but there is plenty of opportunities to hop off, take photos, and enjoy that clean forest air. I saw some people playing cards, others had brought their own picnic basket. For me, I couldn't tear my eyes off of the passing greenery.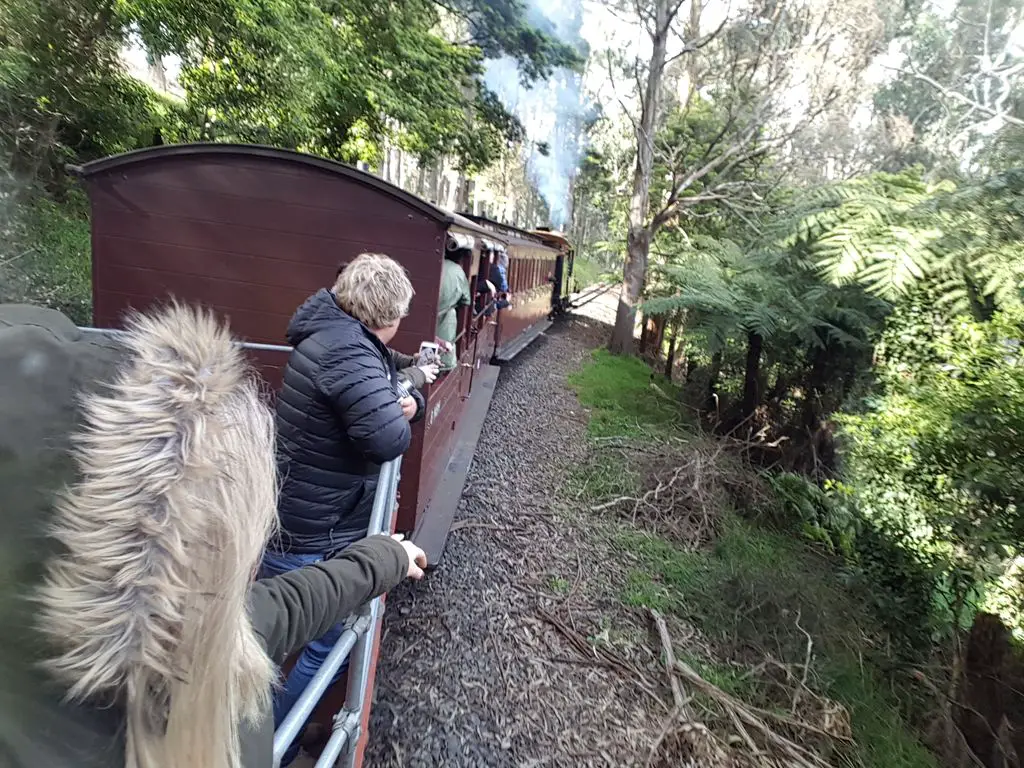 I want to come back! And Puffing Billy does all types of trips so that you'll never have to do the same one if you don't want. Top of the list? "Murder on the Puffing Billy Express" or I just know the kids would love "A Day Out with Thomas". I'm really hoping we can get back up for "The Polar Express" in December complete with a Santa visit.
Explore With Erin Wrap Up
It's a whole other world. For an hour out of a big city, I can't believe the change in scenery, the ultimate relaxation, the incredible food. It's really a wonderful escape from city life.
And whether it's for a romantic B&B weekend with your special someone. Or next time when I bring my kids and take them for a ride on Thomas or Polar Express I can see Puffing Billy being the perfect Melbourne getaway for all ages.
What I love is that it's an experience you can do more than once, because they are always planning and changing. And attractions like that go far. A big bonus is that it can also be done in any season. So what are you waiting for? Go say hi to Puffing Billy for me.
A big bonus is that it can also be done in any season. During winter you get so much lush green and fresh air. Spring is filled with flowers and birds, while summer would be absolutely delightful with the wind in your hair and the sun shining brightly. And let's not forget autumn with swirling leaves and coloured trees.
So what are you waiting for? Go say hi to Puffing Billy for me.
Look how easy it is to pin this!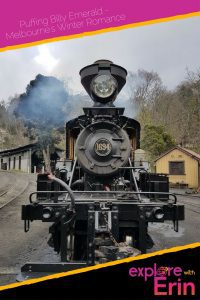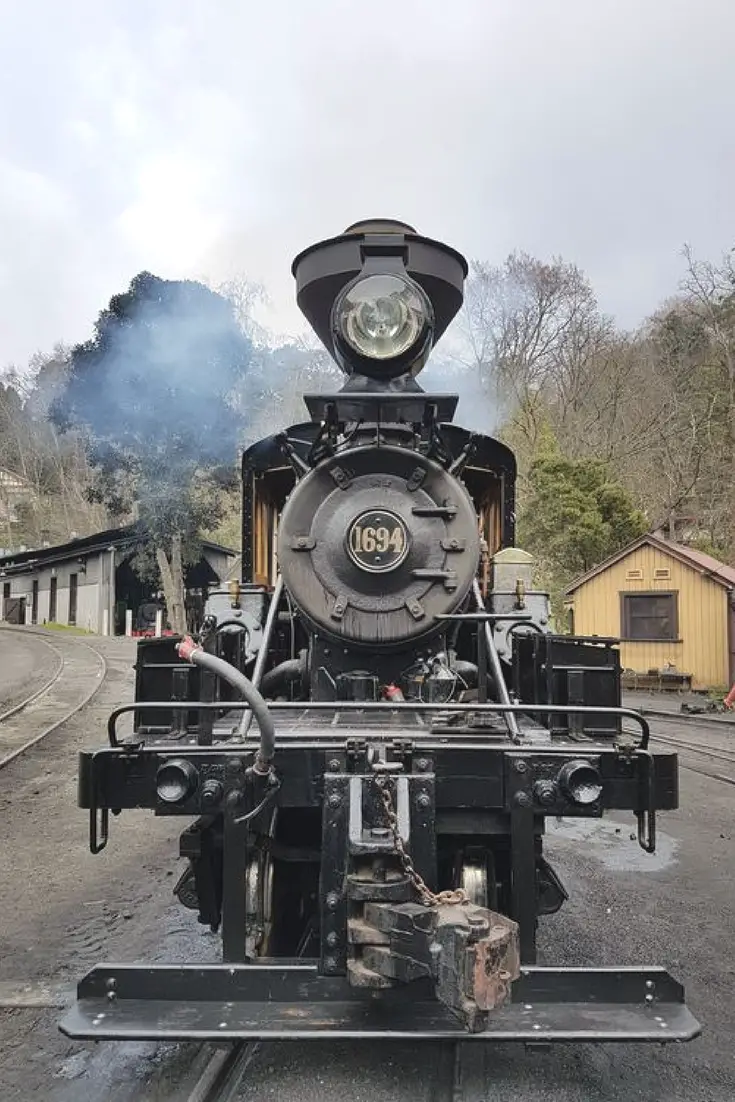 FOMO - do you have it?  Well there is no need to Fear On Missing Out here at Explore With Erin. Sign up to receive updates directly to your in box. I won't spam you, but I do promise a whole lot of awesomeness. What are you waiting for? Join Me!