I'm a huge Game of Thrones fan. I was late to start and caught up 2 seasons within 2 weeks. But one of the real highlights of my Game of Thrones obsession was a tour I did in Dubrovnik, Croatia. It was the best Game of Thrones tour I've done. This tour has consistently broken the records and is the one tour that everyone wants to do.
I spent one month in Split and was super excited to see the trailers and production team for Game Of Thrones all set up for filming. Then I attempted celebrity status when I heard that casting was happening. But my acting career was over before I started because one phone call was all it took to find out they were looking for males under 190cm.
Depressed I started drowning my sorrows googling Game of Thrones and soon enough I came across the best Game of Thrones tour with Tours By Locals. And it was in Dubrovnik. So close! I piled the kids in the car with some of our good friends and we commenced our Split to Dubrovnik road trip.
If you have not succumbed to this popular TV show yet then perhaps I can entice you.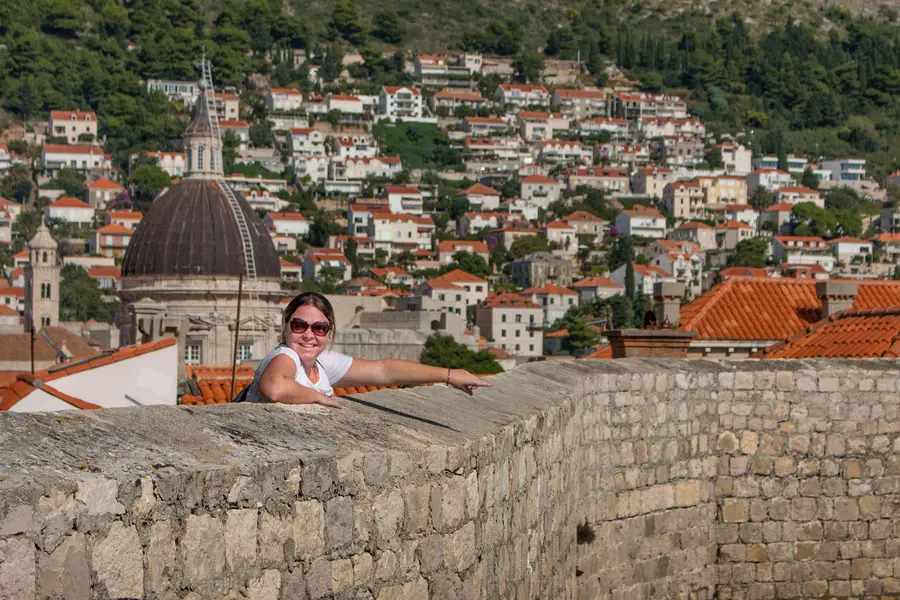 Meeting the Tour Guide
We met Tom, our tour guide, at the Pile Gate. It's the busiest gate in the city as all the cruise ship tourists enter from here, so make sure you know who you are looking for.
Tom is a Dubrovnik local for 30 years and is not just fluent in Game of Thrones, but in Dubrovnik. His mastery of the city and its culture were an excellent bonus to the best Game of Thrones tour.
On top of what Tom knows about Dubrovnik, he's lucky enough to have a sister who was a Game of Thrones extra.  This meant he had in-depth insider knowledge on the different locations and plenty of sordid stories on the famous HBO series.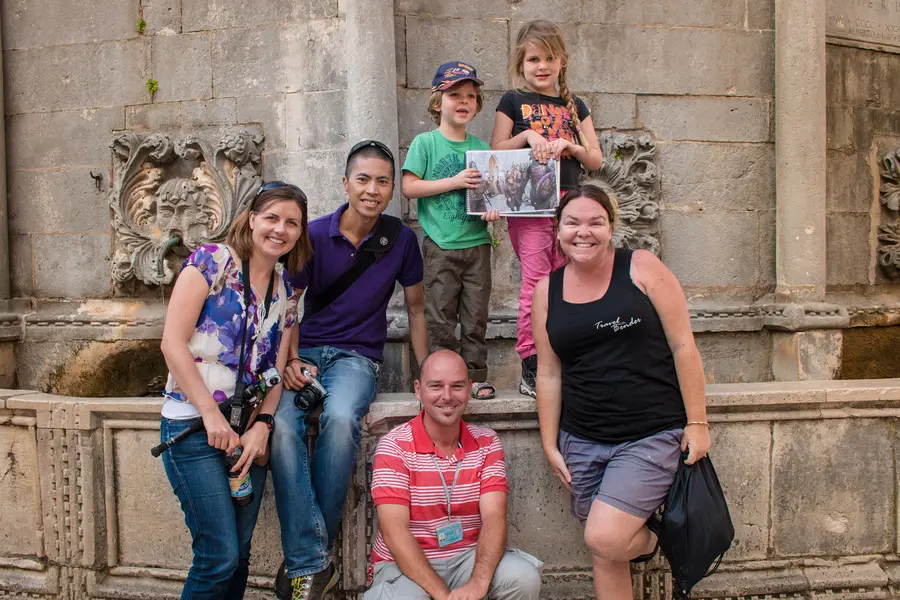 The Best Game of Thrones Tour
Describing the tour is hard because you really just have to be on it to get it. Our guide brought along a thorough picture booklet of scenes from the show that we could hold up and compare to the actual place he was showing us.
We visited places within the city walls, outside the city walls and even walked up to the nearby fortress. Entrance to the fortress was included in our old city wall ticket that we had purchased the previous day, otherwise, you may need to purchase one.
Do you recognise some of these show locations?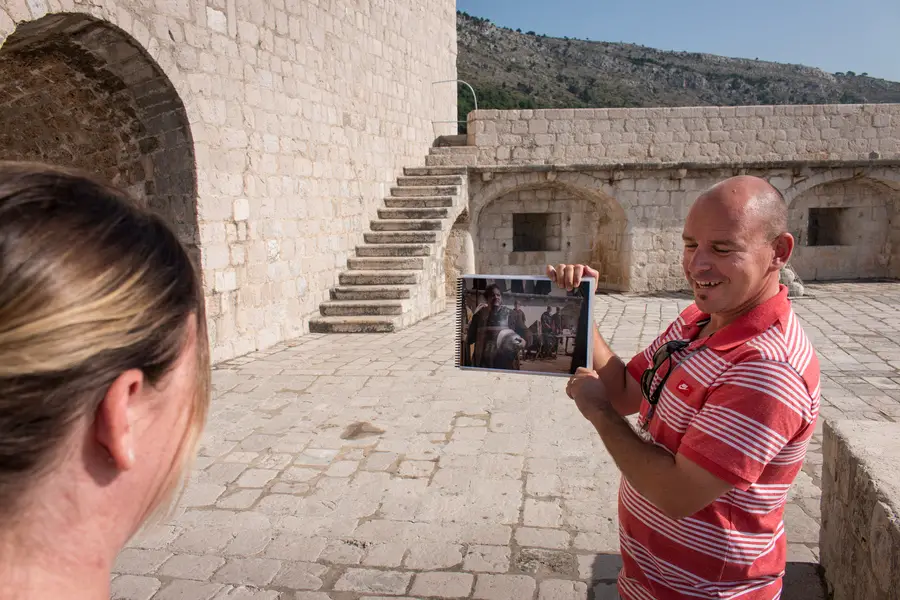 I don't want to spoil the tour so I'm not going to describe everywhere we went. But there is a good dose of Dubrovnik and it's history, plus you get to visit multiple locations where filming was done.
What Do You See?
The best Game of Thrones tour will have you wandering the Walls of Dubrovnik and meandering through Fort Lovrijenac which were used for scenes in King's Landing and the Red Keep. In fact Dubrovnik is often referred to as 'King's Landing' these days.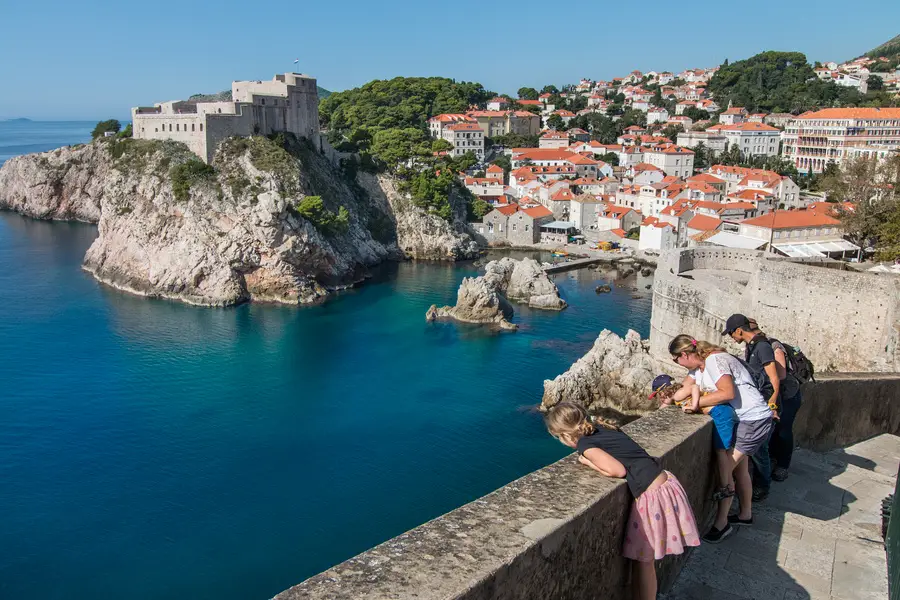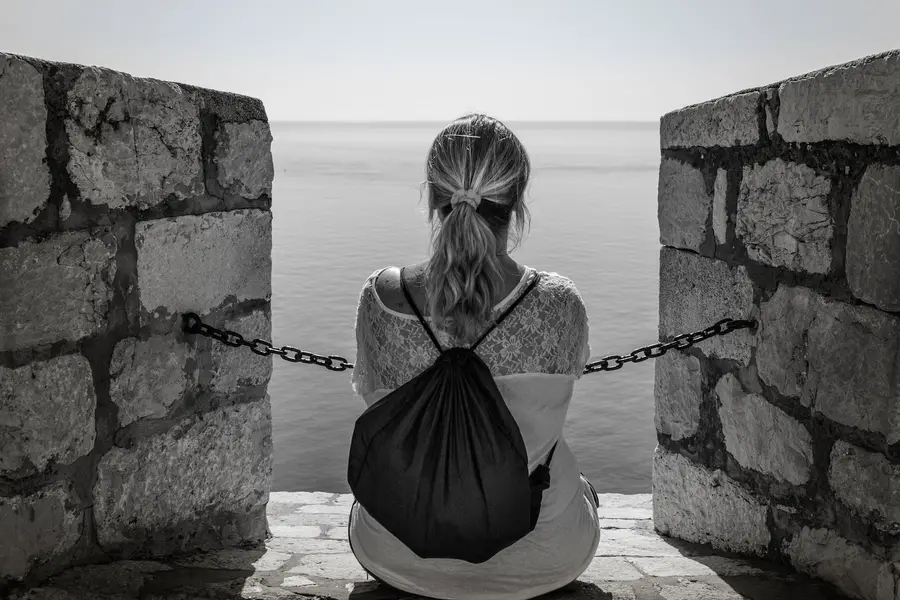 From the fortress, you can see the island of Lokrum which is used for scenes set in Qarth.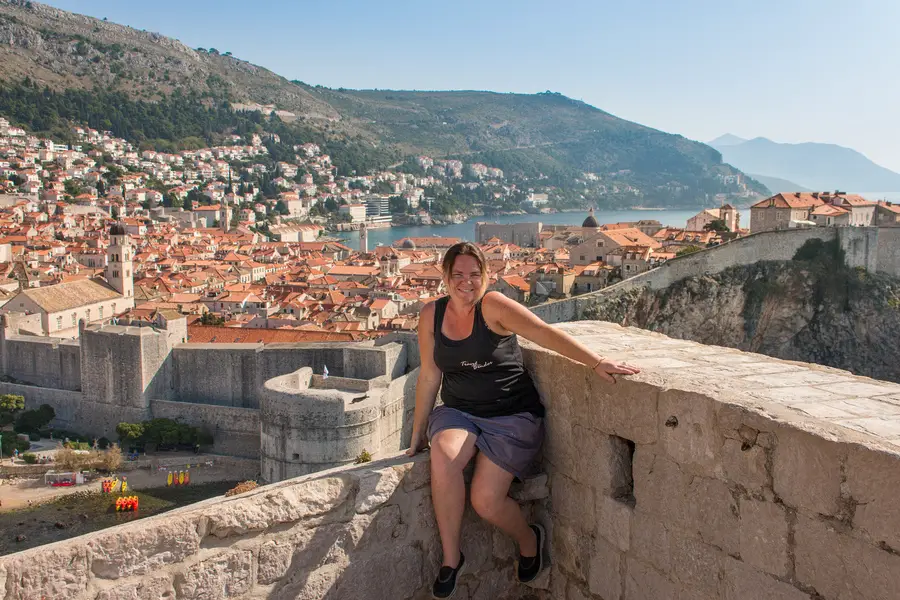 The fortress itself was used for many scenes, including King Joffrey's name day. And from there you can see the Minceta Tower, which was where Daenerys entered the House of the Undying.
The rest you'll have to find out for yourself…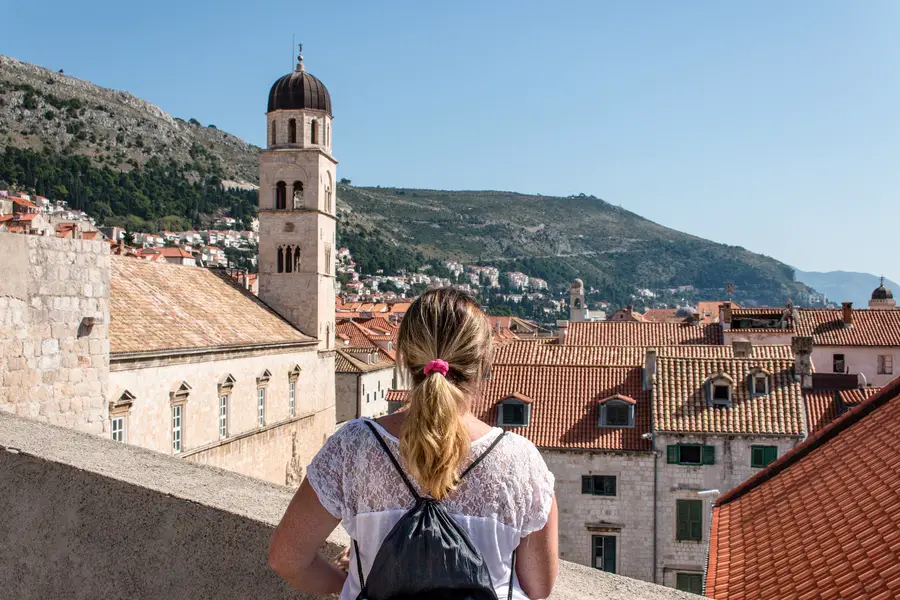 The Secret Hole-In-The-Wall
After our tour, Tom led us down several winding back streets in the old city to a small, gated hole in the wall. It was an absolutely epic surprise to head through the gate and down the stairs to the most happening, scenic bar/café I've ever encountered. Perched on the rocky cliff overlooking the Adriatic Sea – picture perfect. Buza Bar or Buza Café translates to "hole in the wall". Very appropriate.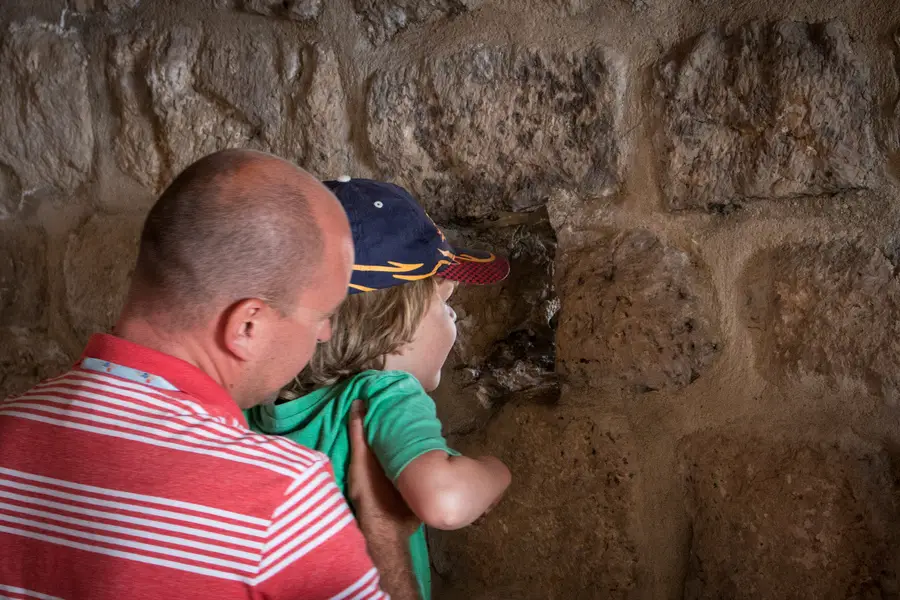 It also happened to be the best spot for cliff diving into the gorgeous blue seas below.
This is the place you've been looking for your whole life!

Favourite Game of Thrones Character
Who's your favourite character? Mine is Tyrion Lannister (AKA Peter Dinklage). So you can imagine my delight when after our cafe swoon we stumbled into a tiny hostel with an unbeatable calling card.
The story goes that late one night after drinking on the town, Peter Dinklage made friends with some laid back Aussies and joined them at their hostel to continue drinking.
The next morning the hostel staff found him passed out on the couch. She had no idea who he was (and neither did the Aussies) and demanded he pay for all the mini bar alcohol that had disappeared and for the night on the couch.
They know now and you can find a proud sign above the couch. The Owners of this place are legends, I mean they even offered my kids a jam donut while I eyed off Peter's comfy couch bed. If only he'd still been there that day.

Other Places To Visit
If the best Game of Thrones tour is not enough there are plenty of other places to visit in Croatia. Head to 4th season filming locations such as Diocletian's Palace in Split, Klis Fortress north of Split, Perun quarry east of Split, Mosor mountain and Baška Voda further down to the south.
Did you know Game of Thrones was the most-pirated TV series of2012, 2013 and 2014? Which means Tom keeps very busy, running over 100 tours during the summer months in Dubrovnik.
For fans and soon-to-be-fans, I would have to say this is a great amalgamation of Dubrovnik history, secret local spots and pure Game of Thrones obsession. The only thing that could possibly have made it better was if Peter Dinklage replaced Tom as my guide. Sorry, Tom. 
LOOK HOW EASY IT IS TO PIN THIS!
Accommodation in Dubrovnik
Travelocity has over 659 properties in Dubrovnik including hotels, apartments, and hostels. You get free cancellation on most rooms and the best price guaranteed. Click here to start your vacation! 
Take other tours in Dubrovnik
Want to take other organised tours of Dubrovnik? Then I recommend these ones through Viator.
Rent a Car in Dubrovnik
We love RentalCars.com because they have the best car rental prices – Guaranteed. Try it. 
FOMO - do you have it?  Well there is no need to Fear On Missing Out here at Explore With Erin. Sign up to receive updates directly to your in box. I won't spam you, but I do promise a whole lot of awesomeness. What are you waiting for? Join Me!