A dreamy Mexican vacation is something I had dreamed about all year. Sun, sand, surf, cocktails in the pool, zip lining through the jungle, sunbaking by the warm Caribbean waters. Self-indulgence to the max. But what if it could be more than just good memories? What if I could travel for good?
Releasing sea turtles on a dreamy Caribbean Island seemed like the perfect way to turn my vacation into something a little bit more than just the usual self-indulgence.
So it was one fine day that we headed to Cozumel for a play at Mr. Sanchoz Beach Club. All you can eat, drink, massages by a private pool, ATV bikes, jet ski fun. It was a complete day of adventure,  excitement, and indulgence. See the $500 a day suite here!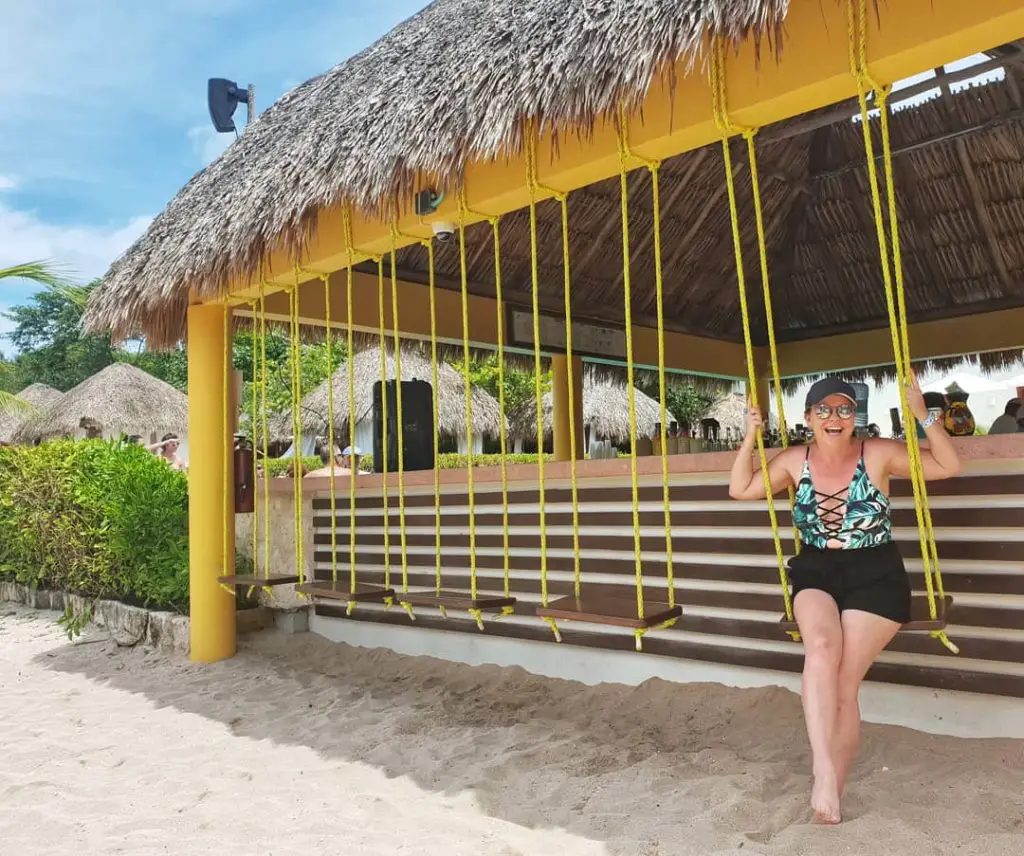 Towards the end of the evening, we decided to indulge one other desire. The need to do good. So we headed to Punta Sur for a visit.
What is Punta Sur?
Punta Sur is a 1,000-hectare ecological park with beautiful white sand beaches, numerous flowers, and green water lagoons. It's located on Cozumel, a short ferry ride out of Playa Del Carmen, Quintana Roo, Mexico.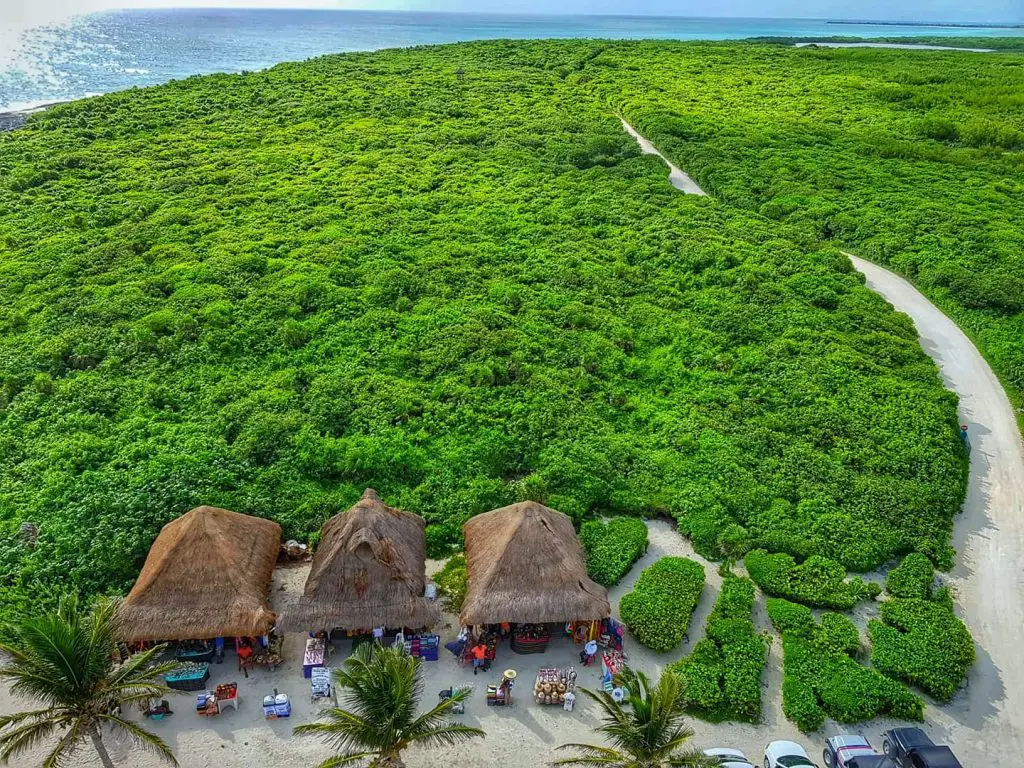 Because of its extensive beaches, Punta Sur is the nesting place for sea turtles who are under a strict conservation and protection program with the Sea Turtle Workshop, in which you can participate during the arriving season.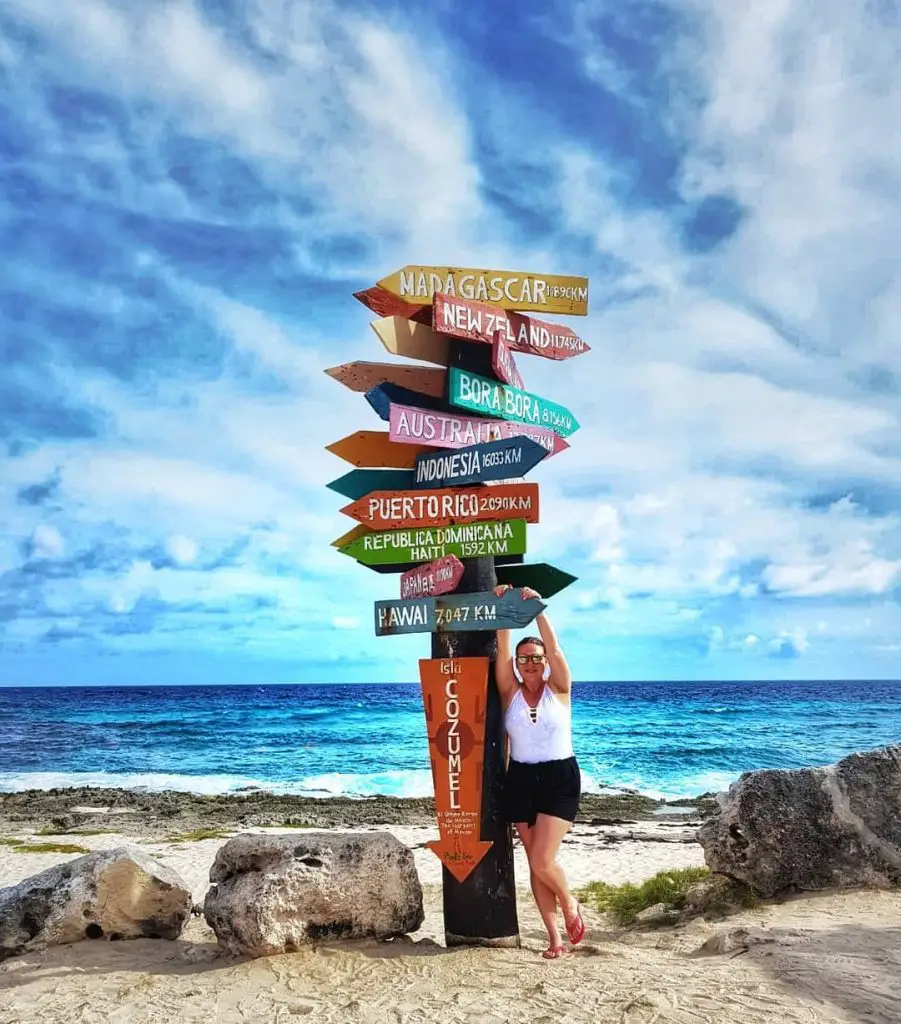 Baby Turtle Truths
Thank God we were in Mexico at just the right time of year to join the workshop. Volunteering on vacation? What a brilliant idea!
The workshop is organized by biologists who partner with Cozumel's parks' authority to help conserve sea turtles on the island.
Our team explained that there were two species on this part of the beach, the Loggerhead Turtle and the Green Turtle. Each mama turtle generally lays around 150 eggs and can nest as many as 6 times in one season.
Approximately 2 months after they lay their eggs, the Baby Sea Turtles dig their way out of their sandy nest pit and head to the surface.  This can take almost three days. Instinctively these newborns wait until there is less light and cool er temperatures to break through the sand. At dusk they then take a treacherous journey over the beach towards the Caribbean Sea, using the vibration of the waves and the light reflecting from the water as their guide.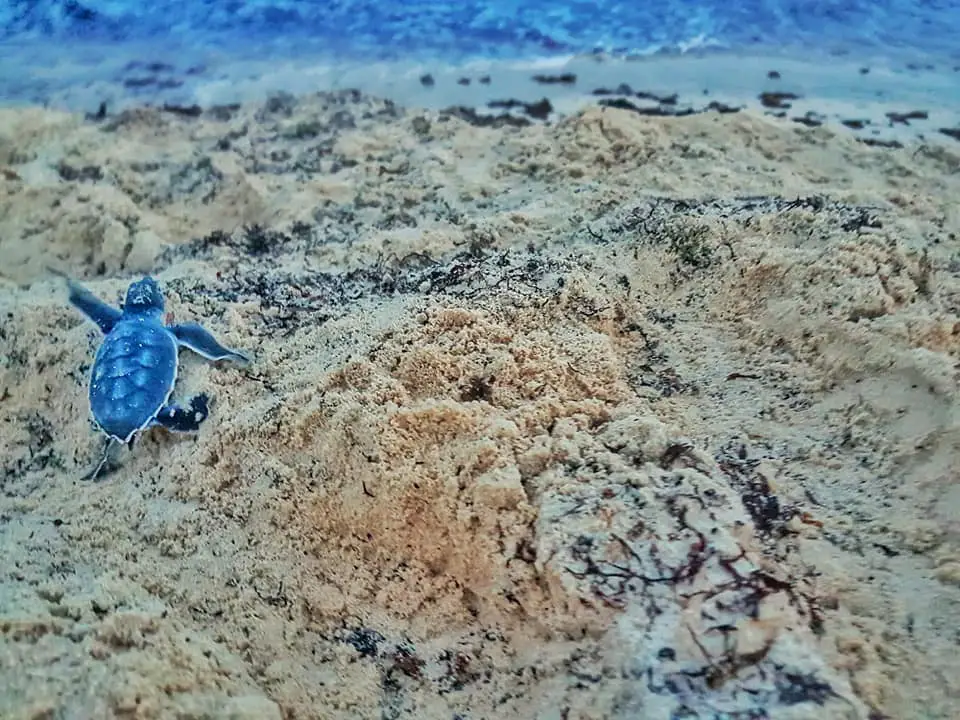 If they make it and survive these turtles can live up to 80 years. But the biggest problem if is IF they make it. It's so sad that there are many odds against them. Which makes volunteers an important part of the effort to ensure healthy populations of sea turtles.
Obstacles can include the first baby's escaping leaving their eggshells on top of the later risers who then find it hard to escape the nest. Then there are predators like crabs and seagulls who attack while the little babies make their way towards the ocean.
Releasing sea turtles
Our evening with the team started around 5 pm as the temperatures dropped and the sun started its way towards the ocean.
It took some time for the team to dig and hunt for the babies who were ready to head out into the big wide world. It required a lot of patience and understanding. It was almost two hours before we found a nest that was ready. But when it happened, it happened fast.
Finally, our team leader started to dig and we were called to come and have a look. Down, down, down into the sand he went until he found a small hole. This small hole was filled with squirmy baby sea turtles. Nearly 80 of them.
Our guide explained about belly buttons, the importance of observation and the truth about what we thought was releasing sea turtles in Mexico. In the end, I loved this team. We were not there to collect the turtles and take them to the waves. We wanted them to do it by themselves, we would just be there to offer a little help.
So right away we got to clear a path down to the ocean for them. We placed any driftwood we could find down two sides so they couldn't escape our watchful eye. We removed some of the heavier seaweed and then dug a slow tilted ramp out of their nest and up to the surface.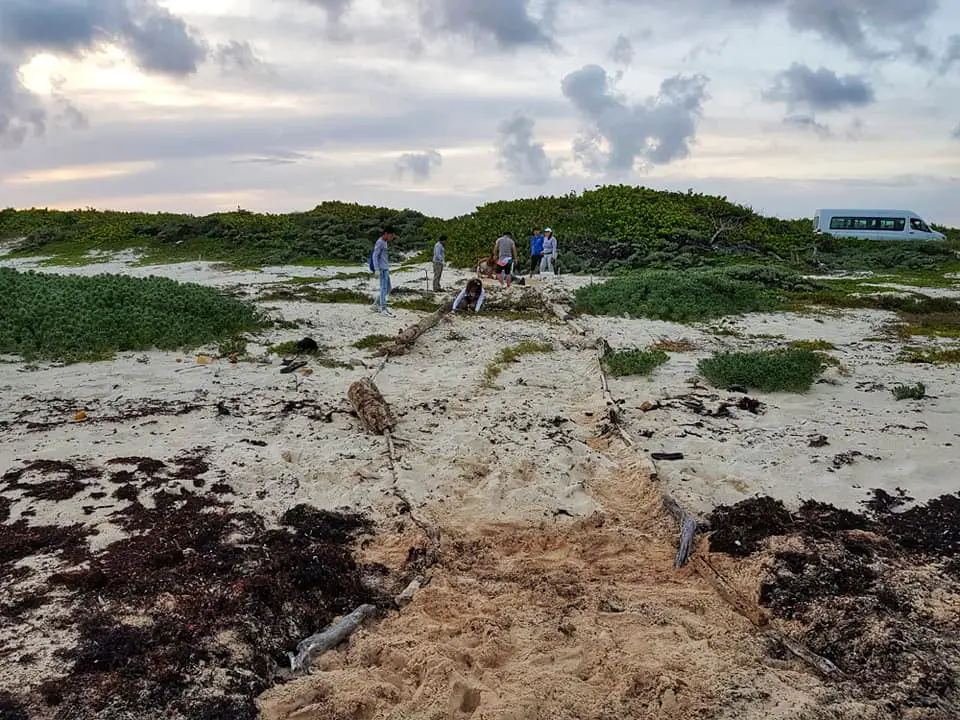 All of a sudden they came in droves. One after the other, swiping their legs back and forth to travel over the sand and seaweed towards their new ocean home.
Some attempted to escape and gently (wearing gloves) we placed them back on track so they could continue their journey towards the ocean. Some were still sleeping, so our guide gently nudged them awake and start their way towards their new home.
At the same time, we cheered for the little guys we remained watchful for any predators. Hoping against all odds that these 80 little lives would all make it to maturity and outlive us all.
As the darkness fell and the last of the little sea turtles disappeared into the warm Caribbean waves we breathed the biggest sigh of fulfillment. We had possibly saved 80 lives or at the very least give them a great chance of survival. And all it had taken was one evening on our vacation. An evening that will forever stand out in my memory.
Check out my YouTube recap and please Subscribe Here!
3 Tips for volunteering on vacation:
1. Choose a reputable company
Your volunteer company should benefit its community. Anything that belittles or degrades local people should flag warning signals. Another way to pick a reputable company is to see where the money goes.  At least 80% of its profits should always go back to the community. It's not wrong for the organisations to have a margin, but they shouldn't be exploiting the volunteers and communities for profit.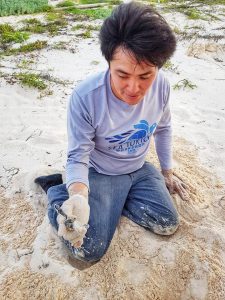 2. Manage your expectations
As the saying goes good things come to those that wait. We waited near two hours before we found the nest of baby turtles that were ready to emerge into their new life in the ocean. Don't expect animals or wildlife or any volunteer work to be on your timeline. They tend to have a mind of their own. Make sure you listen to your volunteer leaders. You may want to hold and cuddle the turtles, however, they will direct you onto the appropriateness of your expectations.
3. Be prepared
The excitement may render you giddy and completely useless. Try to keep your wits about you and be prepared. For this particular volunteerism remember a jacket, the beach can be cool at night. You will be given gloves to wear so that your bacteria does not infect the turtles, make sure you keep them on. Be prepared for the wait and make sure you eat before you go, it can be a long evening.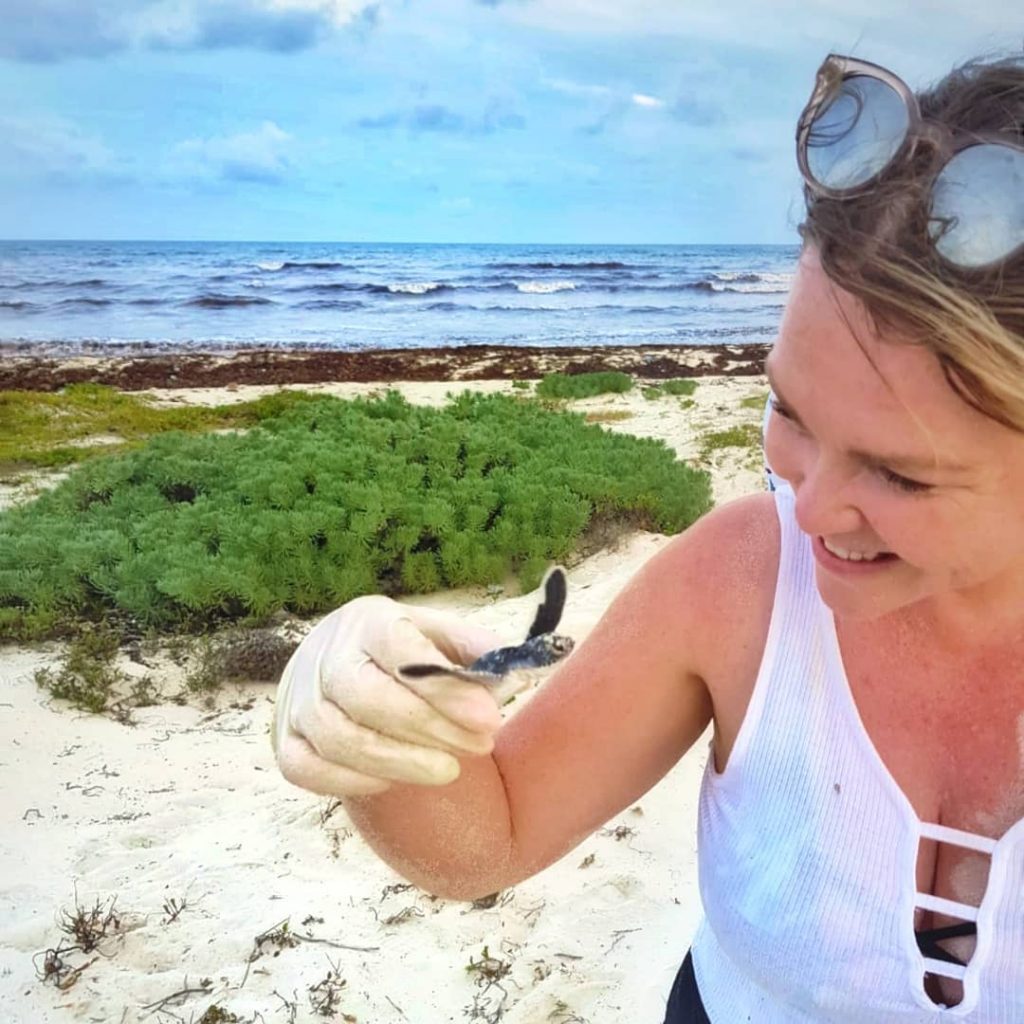 LOOK HOW EASY IT IS TO PIN THIS!
Accommodation
Travelocity has nearly 300 properties on Cozumel including hotels, apartments, and hostels. You get free cancellation on most rooms and the best price guaranteed. Click here to start your vacation! 
Tour
Want to take an organised tour in Cozumel? Then I recommend these ones through Viator.
Rental Car
We love RentalCars.com because they have the best car rental prices – Guaranteed. Try it. 
Flights
Skyscanner is a comparison website that searches millions of flights. The best part of Skyscanner is it is simply a flight aggregator so in the end, you book directly through the airline.
FOMO - do you have it?  Well there is no need to Fear On Missing Out here at Explore With Erin. Sign up to receive updates directly to your in box. I won't spam you, but I do promise a whole lot of awesomeness. What are you waiting for? Join Me!