Nestled on Italy's legendary Amalfi Coast, Praiano is a picturesque Italian village that offers a perfect blend of seaside charm and tranquil relaxation. With its idyllic location and breathtaking views, Praiano has become a popular destination for travelers seeking an authentic Italian experience away from the crowds.
The town's coastline is dotted with a variety of hotels, each offering its unique charm and amenities. From luxurious resorts to cozy boutique hotels, Praiano has something for everyone. And for us, it was Hotel Margherita Praiano.

Where is the Amalfi Coast?
It all started when we picked up our Citroen car lease in Rome and made our way down to Southern Italy for our 18-day Mediterranean Coast road trip.
The Amalfi Coast is a stretch of coastline on the southern portion of the Sorrentine Peninsula in the Province of Salerno in Italy.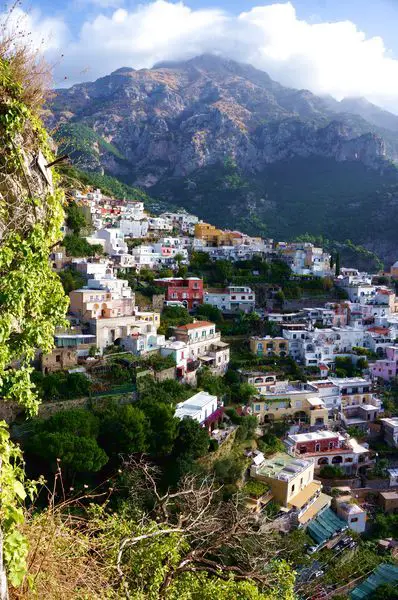 Where is Praiano Italy?
Praiano is a town in the province of Salerno in the Campania region of southwest Italy.
It is an Amalfi Town situated between Amalfi and Positano.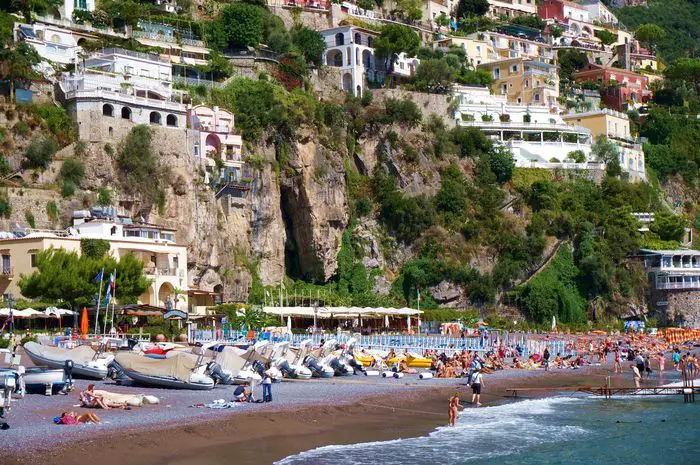 How do I get from Rome to Praiano?
The easiest way to get from Rome to Praiano is by car. Praiano is located halfway between Amalfi and Positano (about ten kilometers away from each). If you are traveling by car, head for Positano and then continue towards Praiano along the SS163.
Alternatively, consider taking a day trip from Rome to Positano.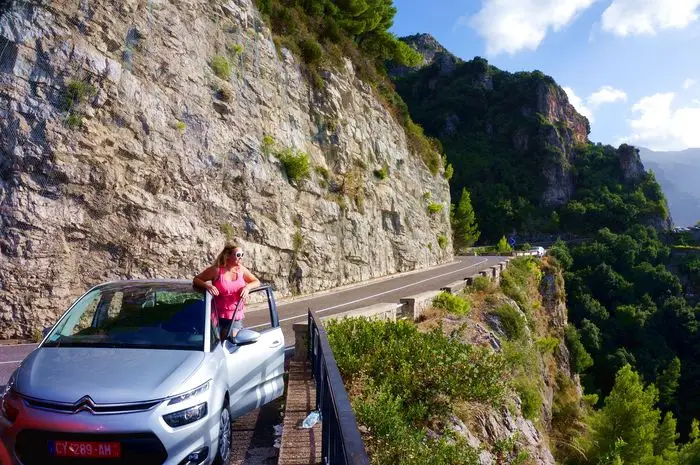 Praiano or Positano?
Great question. We wrote a whole post on the topic: Positano vs Praiano: The answer may surprise you. My answer is no surprise – Praiano!
Where To Stay In Praiano?
When we pulled into Hotel Margherita Praiano that afternoon and got out of the car, we could quickly see why the Amalfi Coast is regarded as one of the most spellbinding locations on this amazing planet. The sea view took our breath away.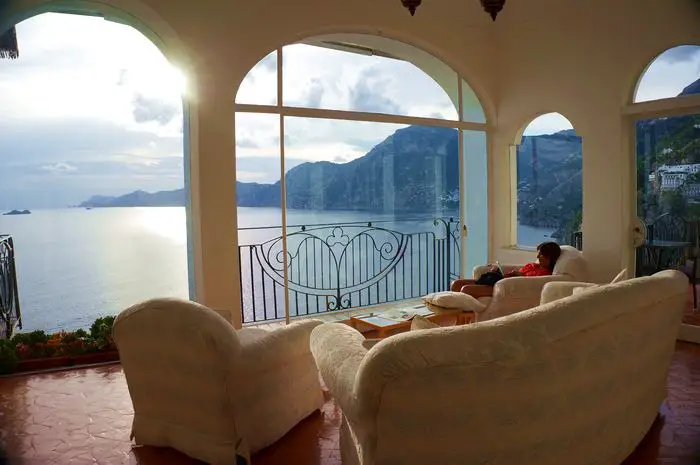 Hotel Margherita is a charming boutique hotel that belongs to a lovely family. It is situated on a mountain slope, offering breathtaking views of the town of Praiano and the stunning coastline. It's no wonder that visitors from all corners of the world are attracted to this area.
Hotel Margherita Rooms
Luckily, we were able to reserve a classic triple room guest accommodation with a private terrace and air conditioning. The Lemon garden terrace was an ideal spot to unwind and enjoy a refreshing beverage while taking in the delightful fragrance of lemons.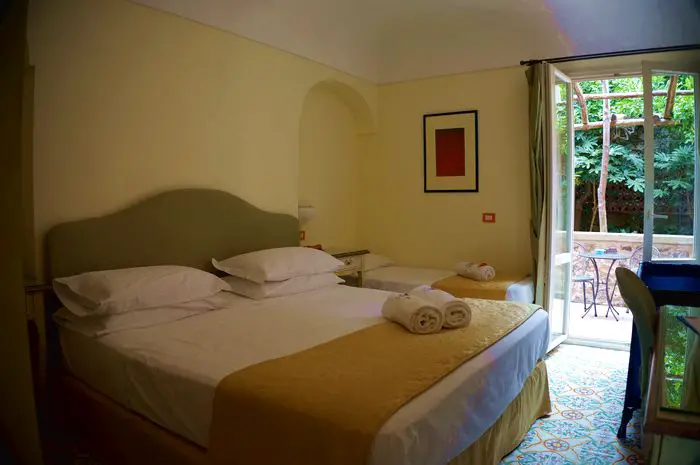 I had thought my daughter would like some time in her bed, so the staff set up a cot for Caius next to her extra bed. He didn't seem to mind at all.
The room was well-equipped with an authentically styled private bathroom.
We also had free wi fi, satellite TV, and the cutest free toiletries.
Hotel Margherita Facilities
Opposite our room was a gymnasium that overlooked the spectacular coastline so if you love to exercise on vacation you could take a morning walk and admire the view at the same time.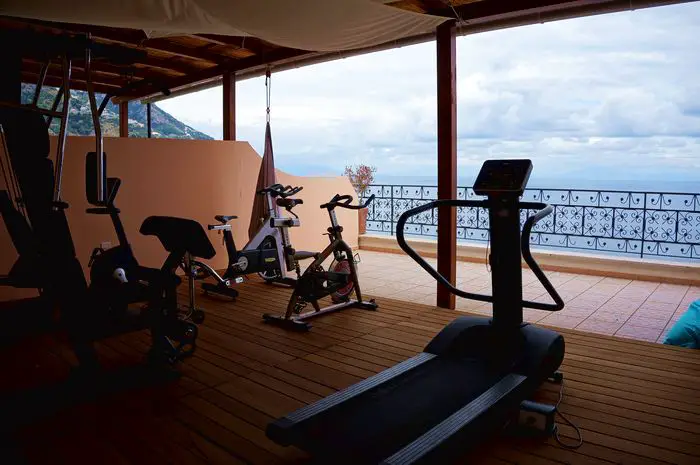 Ever since our check-in, the swimming pool had been tempting us, and we finally gave in to its allure on our second day. We came back to the hotel in the early evening after spending the day out, and the temperature had dropped a bit, making it an ideal time to take a dip.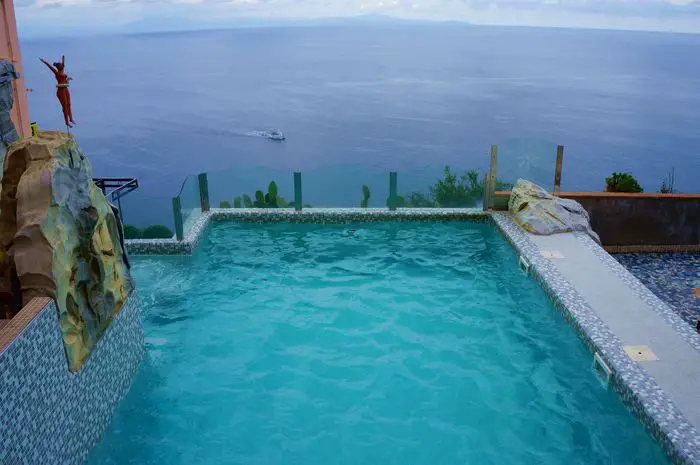 Although the kids didn't mind the temperature and enjoyed the outdoor pool, I could only last for about 15 minutes before seeking refuge in a cozy towel. The best part of the pool area is the stunning views of the coastline, making it a delightful place to relax. In truth, there isn't a wrong spot anywhere in this hotel.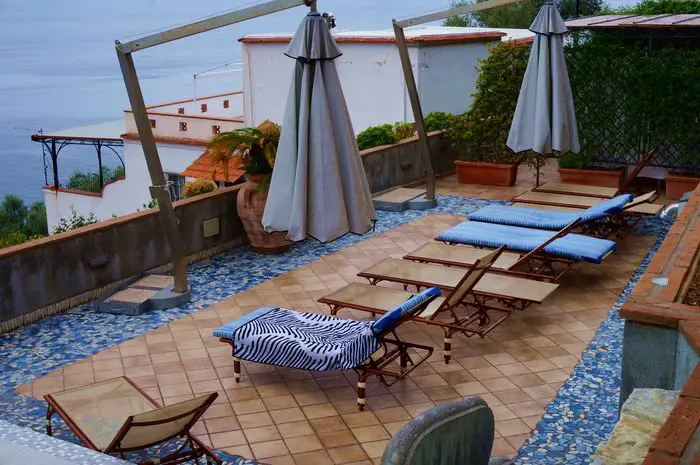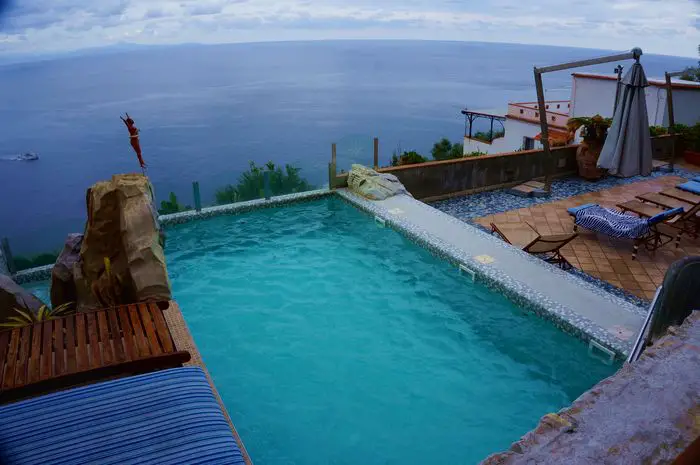 Hotel Margherita Dining
Each morning a delightful classic Italian buffet breakfast was hosted downstairs in the restaurant. We indulged in cornetti, expertly made cappuccino, fresh fruit, eggs, toast, and juice.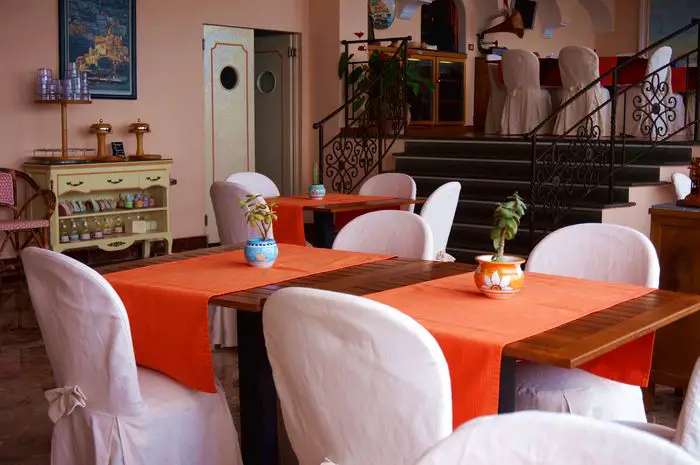 On our first day, a friendly staff member brewed up a hot chocolate for Mia with a cute smiley face on top. As you can imagine this became her daily request.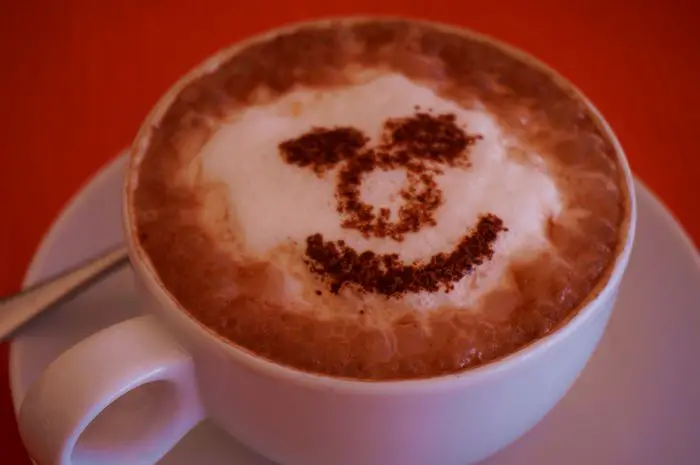 The highlight of our stay in Praiano was the dinner on the rooftop restaurant M'ama at Hotel Margherita. Or Ristorante Mama.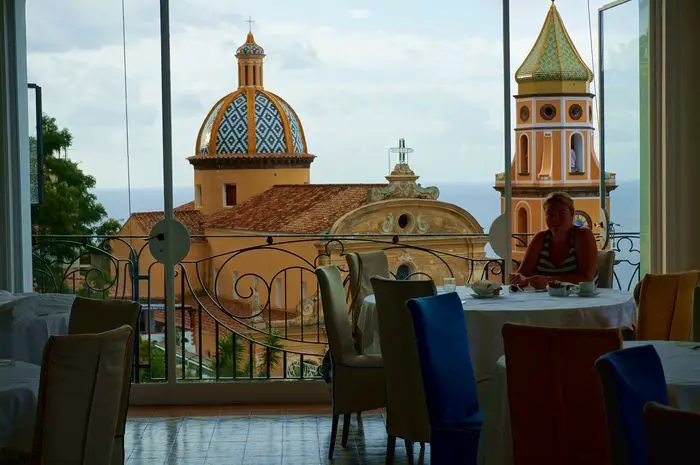 My parents and I enjoyed sundowner drinks in the plump lounges on the panoramic sun terrace, overlooking the Italian coast and the Amalfi Cathedral.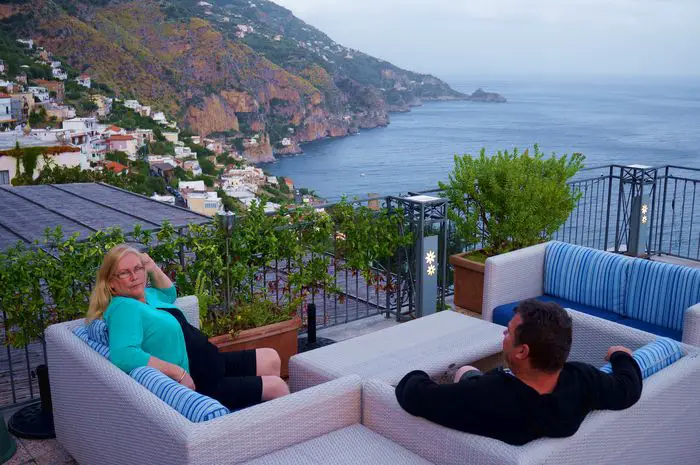 After the sun had set on the panoramic terrace we headed inside to enjoy one of the best meals we had in Italy at Hotel Margherita's famous restaurant.
I ordered a perfectly seared juicy steak and the others, of course, devoured delicious pasta.
As the sun set the temperature started to drop, but the staff were very kind and provided blankets to us so we could stay toasty warm.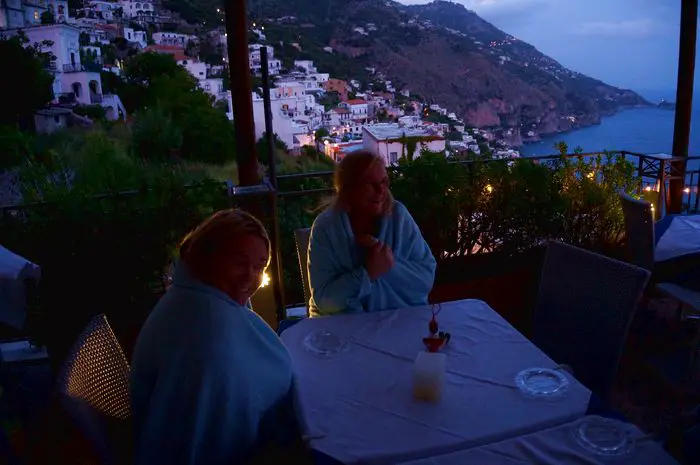 I can barely tell you about dessert, I'm still smacking my lips together.
Such a perfect way to finish off our holiday in one of the most perfect places on Earth.
I'm not sure if room service is available, we didn't put it to use.
Hotel Margherita Location
Following a week-long cruise, we had amassed a substantial pile of laundry. Luckily, a Laundromat was situated less than 50 meters away from our hotel, so we carried our bulging bag of clothes for cleaning.
We had two options: either DIY for €13 or pay €15 to have it washed and delivered back to Hotel Margherita. We decided on the latter and went on our way, happy and carefree.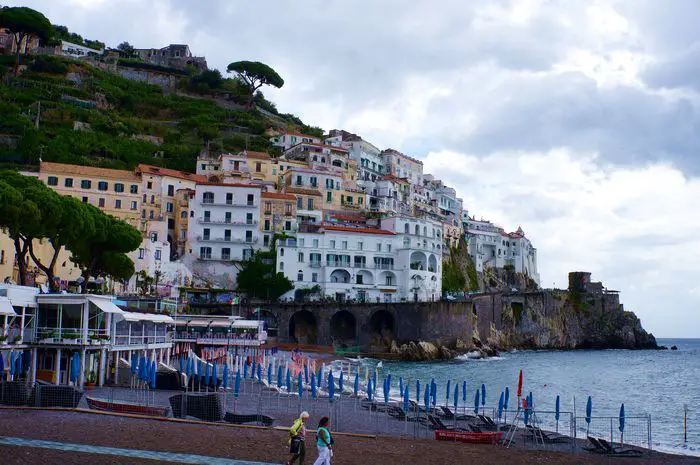 Hotel Margherita Parking & Shuttle
Navigating an unfamiliar town's narrow roads and erratic driving style can be daunting, if not downright dangerous.
However, there's no need to worry, as Hotel Margherita offers a convenient free shuttle service to the town center, on-demand. We had to inform the front desk when we were ready, and the van would promptly pull up in front of the hotel.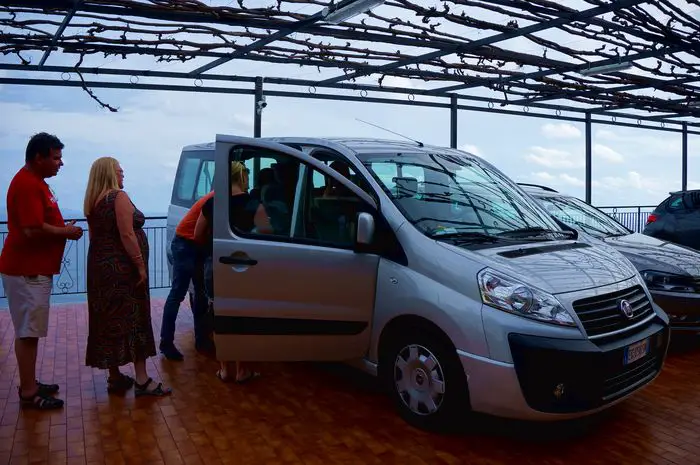 Returning was equally effortless as we asked a local to call the property, and they met us in the center of Praiano, which was a short and manageable walking distance, even with kids, from almost any part of town. Moreover, the hotel was one of the few in the region that provided a parking garage to securely store our cars during our stay.
Where else to stay?
You may like to stay elsewhere so I can recommend booking discounted hotels below.
What to do in Praiano?
Above are some of my favorite activities to try, and below is a list of what most people wish to visit when in Praiano.
Praiano Beach
Church of San Gennaro
Marina di Praia beach
Footpath of the Gods
Torre a Mare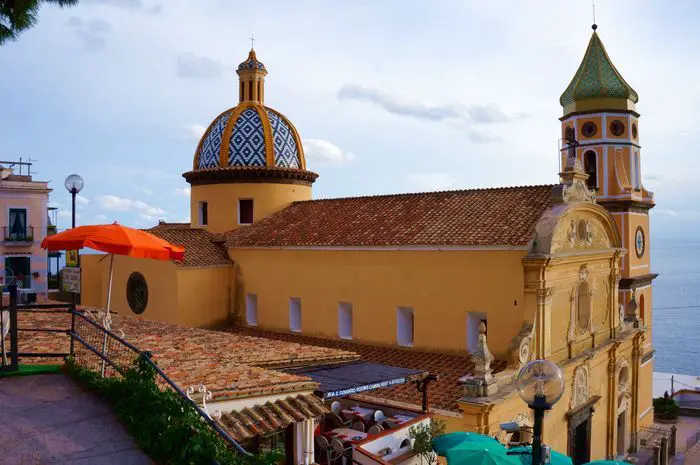 Convinced? Check your dates here.
Whether you're seeking a romantic getaway, a family vacation, or a solo adventure, Praiano's hotels offer a variety of options to suit your needs.
From lounging by the pool with breathtaking views of the coast to indulging in delicious local cuisine, the hotels in Praiano provide a quintessentially Italian experience. With its perfect combination of relaxation and luxury, Praiano is truly a hidden gem on the Amalfi Coast.
So, book your stay at this charming hotel with its spectacular view, in this enchanting town, and discover the beauty of Praiano, Italy for yourself.
LOOK HOW EASY IT IS TO PIN THIS!
FOMO - do you have it?  Well there is no need to Fear On Missing Out here at Explore With Erin. Sign up to receive updates directly to your in box. I won't spam you, but I do promise a whole lot of awesomeness. What are you waiting for? Join Me!