If you are blessed with a nice, spacious grass patch outside your house, do not waste it by just throwing out a rugged, worn-out chair and call it a day. Sprucing up your garden can add a nice dimension to your house, creating a more livable space for you and your family to spend quality time in and make you feel like you're on holiday.
Imagine sipping some hot chocolate out in the mornings during fall, or watching your kids run around the backyard on the weekends. Or hosting bbq dinners with your family and friends during special occasions and warm summer nights drinking cocktails with your lover.
The possibilities are endless with a few well placed, affordable (yet luxurious) pieces of furniture to liven up your garden space.
1. Sunlounger
Sun loungers are great for taking a quick tan out in the open, or for reading a book in the chilly weather. Not only are most of them cushioned to maximize comfort, but some also offer a reclining option to allow you to adjust your position. Though most of them require you to assemble, the easy-to-follow instruction manuals and limited strength needed will have it all set up in under a good hour. Scour a little on the internet and you will be able to find some decent yet affordable sun loungers that will be perfect for your patio.
2. Hammocks
Lounging beachside nothing is better than swinging lazily in a hammock. And for those who would love nothing more than to take a nap outside, this article reviewed a range of rope hammocks that might be suitable for you; you can even read a book in one of these! which Whisks you away on any beach vacation the moment your body sinks in.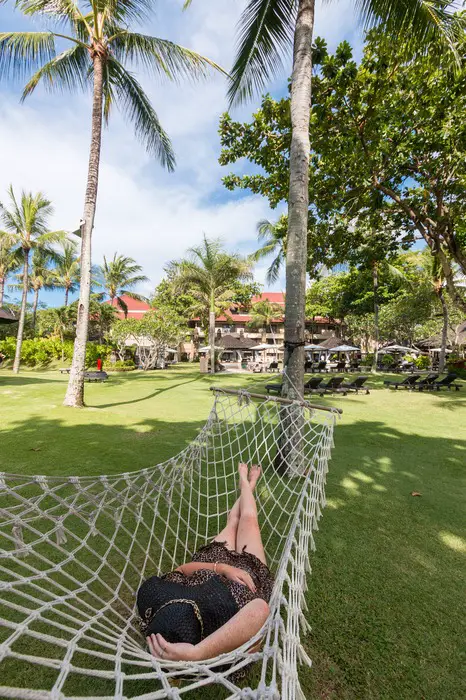 3. Garden sofa set
If hosting is in your blood, then you would probably want to invest in a garden sofa set that can seat up to five to 10 guests, depending on the length of your sofa set. While you prepare some party snacks in the kitchen, or BBQ some sausages on your grill, your guests can make themselves comfortable on this patio furniture and soak in some Vitamin D while having a drink in their hands. Opt for a rattan sofa set to create a chic yet rustic feel, its waterproof quality makes it perfect for the outdoors. Available in an assortment of colors and lengths, you can purchase one to cater to your usual weekend party crowd.
4. Garden bench
While a garden bench does not give you the ultimate comfort, it does add a touch of country to your backyard. We suggest opting for one that is made of eucalyptus wood since its sturdiness and slightly oily texture make it good at resisting moisture, and perfect for use outdoors. Get one with a backrest that is slightly arched to provide a little comfort, and throw on some throw pillows to make it cozier. This is a garden staple if you are not planning on spending too much time out in the garden.
5. Dining set
Having a dining set in your backyard can give you the option of dining outdoors instead of always having them in your dining room. On days with good weather, you could whip up something simple and have your family dine in your garden alfresco style. Stylish yet practical, this set of 5-6 seater is perfect for slightly larger families, and it can even accommodate up to eight people if you throw in stools at the end. As mentioned earlier, eucalyptus is a great material to withstand the classic hot summer, so be sure to choose something of similar characteristics if you prefer something else.
6. Family swing set
If you have a family with kids, or maybe it's just you and your significant other, getting a swing set will take the stress away as you relax on it while reading your favorite book. Swing sets are not only loved by children but are also adored by adults in destinations all over the world. Instagram worthy. It takes normal benches and chairs up a level, allowing the gentle movement to rock you into serenity. Certain swing sets also come with an additional shelter from the scorching sun, so it may be a good idea to invest in those if you do not have a huge apple tree in your backyard to provide some shade. Snuggled in with a couple of pillows and a cup of coffee and voila — you've got yourself a mini respite area away from everything.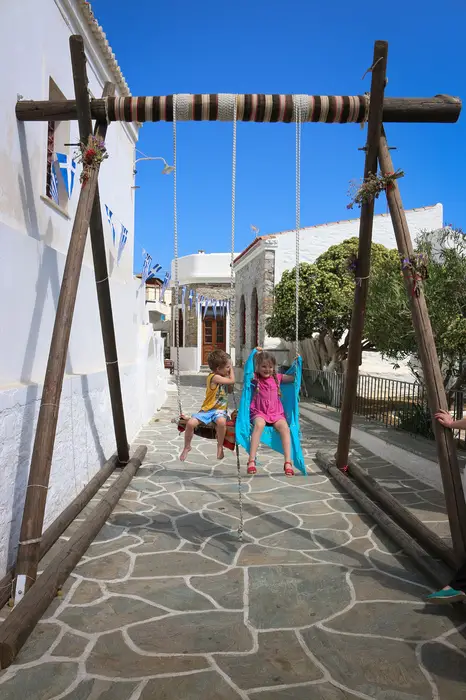 7. Parasol
A parasol not only serves to safeguard you from the harmful sun rays as it blocks out the UV light, but it also gives you the added privacy away from nosy neighbors while helping to keep your backyard looking fresh. Like a small piece of France. If you are someone who enjoys listening to music as a form of relaxation, certain brands out there offer a mashup between a parasol and a speaker. What's more, some are even equipped with LED lights to set a romantic mood for a mini getaway for you and your partner. With a three-in-one function, you can now connect the parasol to your phone via a speaker, and blast your favorite songs as you snuggle up with your partner under the man-made LED stars. If this isn't the ultimate piece of furniture for your garden, then I don't know what is.
8. Hanging chair
If you want a quirky upgrade from your standard swing set, then a comfy hanging chair may just be for you. I love hanging chairs in picturesque locations so why not have one at home? With some being able to accommodate more people, getting one that fits two may be the perfect size for a lone retired couple. Most of the ones in the market are equipped with cushions to provide maximum comfort, while others just come in their bare wood skeleton shell. The product varies in size, shape, color, and style, so there is one out there that passes the vibe check for your patio.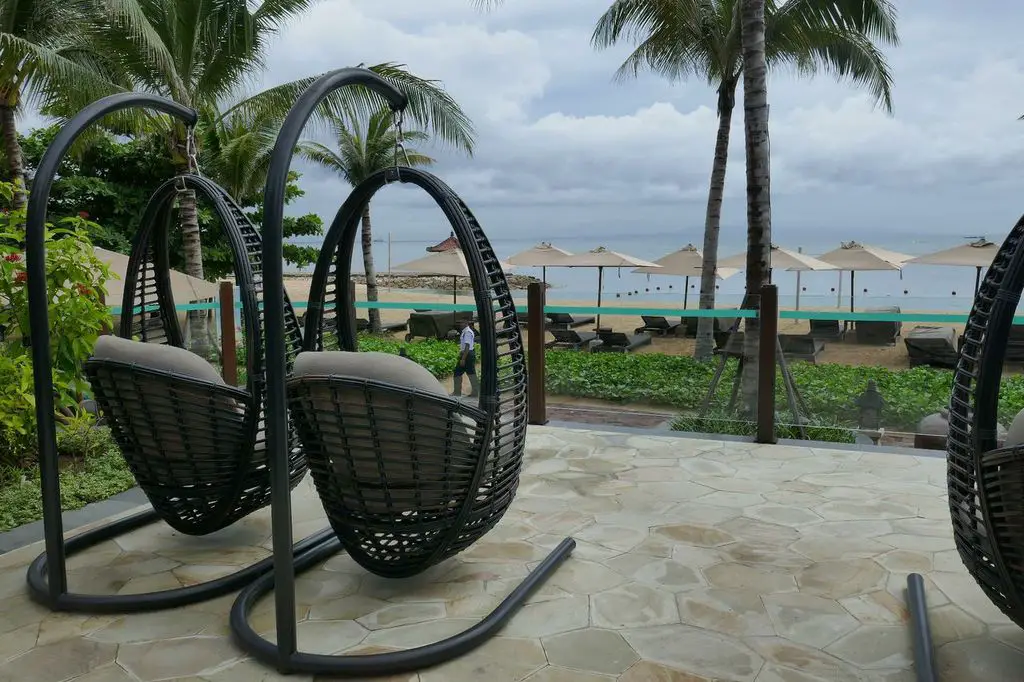 Wrap Up
If your garden requires a complete costume change, or you simply want it to be more than just a patch of uneven grass, then these are some of the best furniture that you will need. Choosing the right pieces of furniture will level up your patio game, and selecting the right equipment for your varying needs is important to determine which are more important than the others.
While some may see the importance of entertaining guests, others may just want their gardens to be a mini getaway from the stresses of life. Regardless of your priorities and needs, there is a way to spruce up your garden without too much elaborate designing, with just these add-ons to your otherwise ordinary grass patch.
FOMO - do you have it?  Well there is no need to Fear On Missing Out here at Explore With Erin. Sign up to receive updates directly to your in box. I won't spam you, but I do promise a whole lot of awesomeness. What are you waiting for? Join Me!