From mighty feline predators and ancient reptiles to the gentle giants of the ocean, we take a look at some of the most amazing wildlife encounters on the planet – and how you can get in on the action!
Tiger sightings in India
Few more exciting and amazing wildlife experiences can be imagined than seeing tigers in their natural habitat – which means going to India, of course. And in India, one of the best destinations to ensure sightings of this most magnificent of beasts is the Bandhavgarh National Park, which covers about 694 square kilometers.
Set in the Vindhayan Hills in Madhya Pradesh, a large state in Central India, it has the highest tiger population in the country. The Tala Zone in the park has the highest tiger density. It is also amazingly rich in terms of biodiversity, in particular, birdlife – of which the park has no fewer than 250 different species, including various different barbets and parakeets.
This is the park that was home to the world's most famous tiger matriarch, Sita, and her mate, Charger, as well as Bokha, Mohini, B2 and Bamera. Though these tigers are no longer alive, their descendants now roam the forests, including Blue Eyes and Mukunda, two of the dominant males in the park.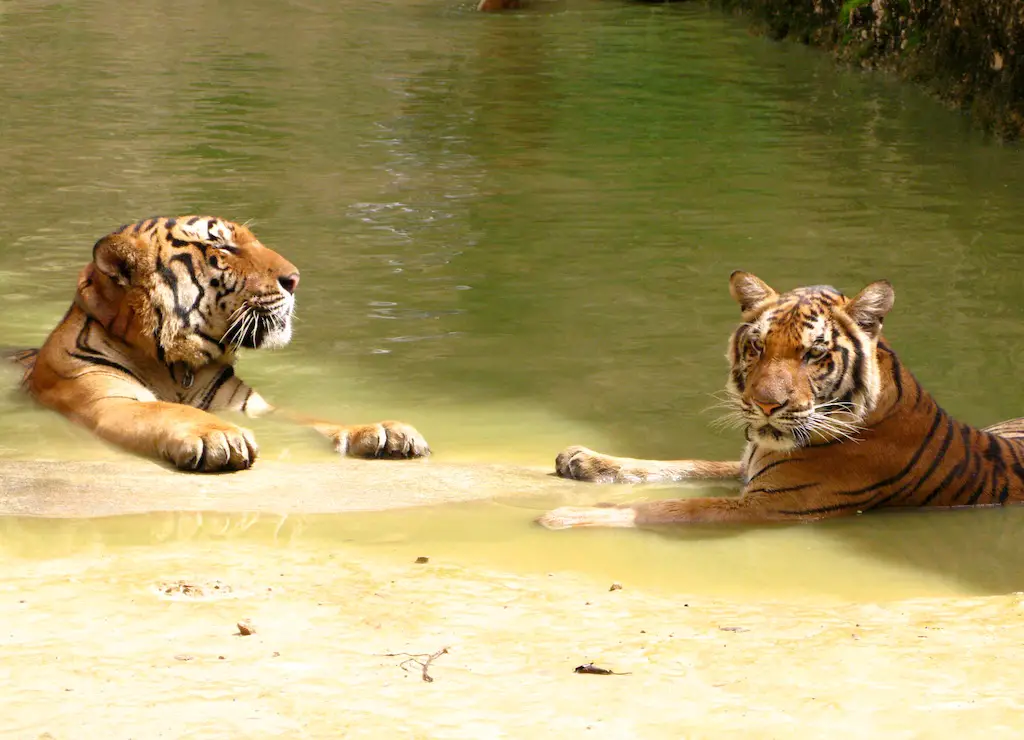 See blue whales in the Azores
The Portuguese islands of the Azores are located in the Atlantic feeding grounds of the world's largest animal, the blue whale. Blue whales start passing Pico Island, an island in the Central Azores, around February on their northbound spring migration to their feeding grounds further north in the Atlantic; with the highest concentrations of blue whales having been recorded from March onwards and into the month of June.
This offers visitors a wonderful opportunity to witness the migration of the biggest animal alive on our earth, as well as many other whales and dolphins. Huge numbers of blue, fin and sei whales are attracted to the Azores by the phytoplankton bloom in spring in the waters around the Azores.
Sperm whales are often seen here too, as are short-finned pilot whales, orcas and no fewer than other seven dolphin species, as well as numerous seabirds, manta rays, and sea turtles. Tours are often led by marine experts and employ land-based look-outs to sight the whales coming in to feed so visitors can have the optimum chance of seeing these wonderful animals by boat and catamaran!
Tracking cheetah in the Karoo, South Africa
In line with luxury safari game lodge Samara's policy of treading lightly through our vulnerable ecosystems, walking tours are a staple at the resort. And one of the absolute highlights of a stay here is the unique opportunity to track wild cheetah on foot. In the absence of bigger predators, at Samara, the cheetah holds the top spot in the food chain. And because the resort has a number of habituated cheetahs that view visitors with an amazing degree of equanimity, Samara has been able to offer guests unparalleled opportunities to view and get close to the wild cheetah in their natural habitat.
Tracking cheetah on foot has been described as a truly unforgettable and humbling experience. It is also is a wonderful opportunity to explore the often hidden and disregarded magical minutiae of the four different biomes of the Karoo under the guidance of experienced guides.
Bird watching in Hungary
Though Hungary is possibly not the first birding destination to spring to mind, it holds simply wonderful opportunities not only for birdwatchers, but also for nature enthusiasts. Birding tours often start in the national parks of Hortobágy and Kiskunság that once formed part of the continuous Eurasian steppe with its unique grasslands and marshes that attract both breeding and migratory birds in large numbers.
The densely forested Bükk and Zemplén Hills in the North-Eastern part of Hungary offer excellent habitats for owls (you might even be fortunate to spot a diurnal Ural owl), woodpeckers, raptors and woodland birds. In autumn, thousands of common cranes visit Hungary, and during the winter thousands of geese, including red-breasted geese, descend on the country.
Hungary is still home to high densities of red-footed falcons and Eastern imperial eagles, as well as high populations of the great bustard. The Bükk Hills and surrounding wood- and farmlands are home to wryneck and almost all the species of the European woodpecker. In spring the woodlands abound with hawfinches and collared flycatchers; the numerous wetlands teem with wildfowl, marsh terns, pygmy cormorants and night herons.
Wolf tracking in Yellowstone
To see a gray wolf, that to many embodies the spirit of the American wilderness, in its natural habitat, is like being given a privileged glimpse into the past before civilization placed its stamp all over the North American continent.
Wolf tracking in Yellowstone is conducted like a safari, with the aid of an expert guide with in-depth knowledge of the park and its roughly hundred wolves (reintroduced into Yellowstone in the 1990s). The guide's expertise will make it more likely that you will see some of these elusive animals. Rangers and guides use CB radios to communicate and report sightings.
Because wolves are most active at dawn and early evening, most tracking excursions start very early in the morning, at about 4 am. When a likely vantage spot is reached, optic scopes are set up to try and get the best views of the animals. But patience will almost certainly be required – even with experienced trackers, a sighting of wolves is not guaranteed. However, as wolves normally run in packs, if you see one, you may just be lucky enough to spot several wolves together, feeding, looking after young, or just playing. And waiting for a sighting will not be boring – the knowledgeable guide will be a mine of fascinating information about Yellowstone's plant life, animals and history throughout the day too.
Meet Komodo Dragons in Indonesia
The only place in the world where komodo dragons can be viewed in their natural habitat is the Komodo National Park. It covers 603 square kilometers and includes three major islands, Komodo, Rinca and Padar. It is home to about 2,500 of these unique and fascinating 'dragons", the world's largest (and most dangerous!) lizards.
They share this habitat with a variety of other wildlife, including water buffalo, horses, Timor rusa deer, wild boars, crab-eating macaques, as well as a large variety of birds, including the extremely rare Flores hawk-eagle.
The park is an area of outstanding natural beauty. One of the world's only seven known pink beaches can be found here, and its beautiful and pristine coral reefs abound with manta rays, giant turtles, dolphins and dugongs, to mention but a few.  The park was declared a UNESCO world heritage site in 1991.
FOMO - do you have it?  Well there is no need to Fear On Missing Out here at Explore With Erin. Sign up to receive updates directly to your in box. I won't spam you, but I do promise a whole lot of awesomeness. What are you waiting for? Join Me!