In my 15 years of travel, I have never stayed in a hostel. Not in my time travelling as a solo. Not in my time travelling as a couple. And never have I considered a hostel for families. In my mind hostels are roaches and thin mattresses, drunken people making too much noise and shady characters stealing your valuables.
Abraham Hostel proved me wrong.
When we were invited by Tourist Israel to Jerusalem and given quarters at Abraham Hostels I was nervous. I wasn't sure what to expect, but Abraham blew my expectations out of the water.
Located on the main street in Jerusalem (Jaffa St), directly in front of a tram stop, in a nondescript building is Abraham Hostel, named after the very first backpacker (and founder of the Jewish, Islamic and Christian faiths) – Abraham. The entrance to the building is pram/wheelchair accessible with a ramp as well as stairs. The door has a buzzer for secure entry.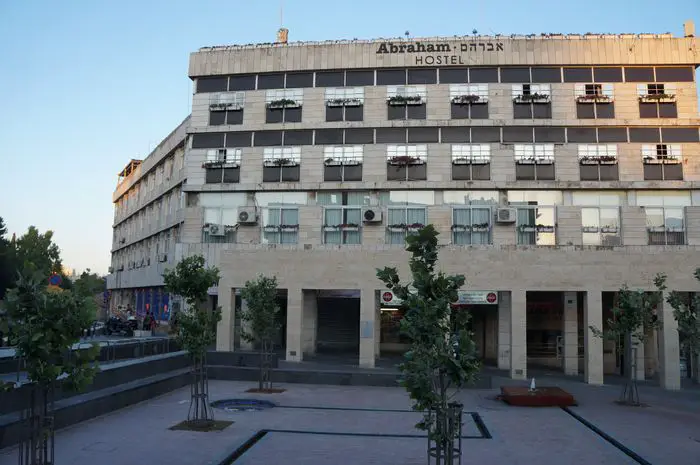 Inside the lobby is seemingly always filled with some type of traveller, more often than not, the backpacker.
The reception was quick and easy with a map handed out, towels and sheets, the room key and a point in the right direction. We boarded the lift to the second floor and down a hallway filled with brightly coloured travel quotes.
My initial thoughts were it looked cleaner than I expected. No roaches, clean floors, clean beds, 2 bunks, a shower and sink on one side of the room and a toilet and sink on the other.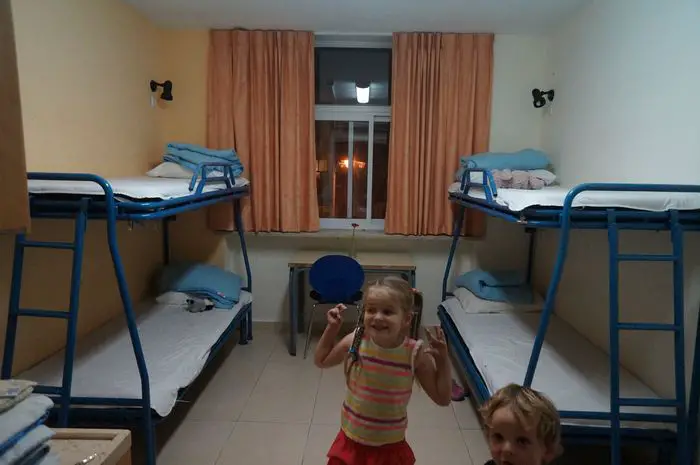 We made the beds, put away our towels and decided to look around.
Up one level on the roof was a chill-out area with lovely city views.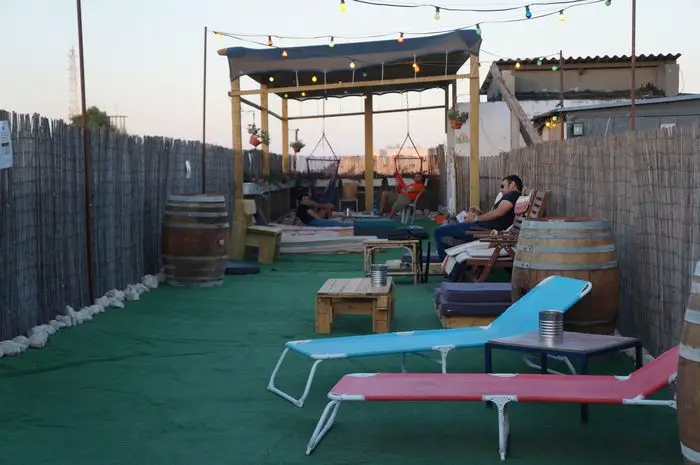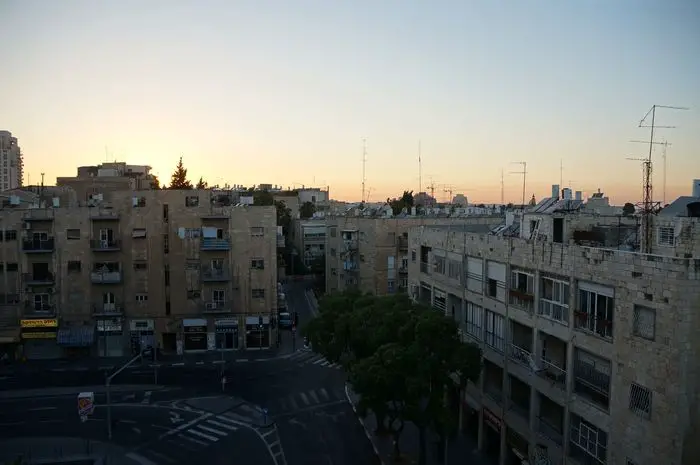 Down one level, on level 1 was the dining room and chill-out area, a communal zone. In one corner sat a bunk to lounge on, beanbags, and scattered throughout people were playing pool or foosball. It also featured a dining area, a piano, a bar, even a movie room, and guest kitchen.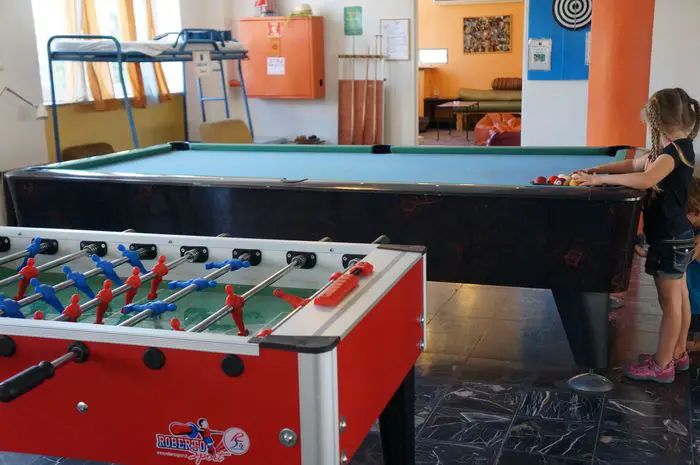 Breakfast was served every morning and ranged from cereal & toast to traditional feta and salads. There was usually a bowl of in-season fruit too. All that guests were required to do was wash their plates and cutlery before leaving.
When people weren't eating breakfast in this room, they were lounging around, talking together. We met so many great people every morning for breakfast, by far an advantage over a regular hotel. I have never experienced the same level of interaction with people as I did each morning in that communal dining area.
Not only at breakfast, but other meal times. Friday night we attended a communal Shabbat. Having done Shabbat dinner in New York with our family we were excited to share it again. There must have been over 60 people sharing the meal. The staff and volunteers (of which you can choose to help) did a wonderful job preparing the meal and for only 35NIS you had an all you can eat Israeli buffet – plenty of hummus and salads, even meatballs. It was a wonderful night, filled with socialization and good food.
How come no one ever told me hostels could be this way? Why had I resisted for so long? But thankfully, as I hear it I wasn't wrong. Abraham is very unique, winning several awards for its good nature and fine accommodations.
The beds were comfortable and I had a wonderful sleep. I barely heard a noise in our little 4-person dorm and everyone was so friendly. We met folks from all the nations of the world – even Australia!
Abraham also offers a number of different day trips (and multi-day trips) all across Israel if you want to get around the country and see more cool places. The rates are fairly reasonable, but just ensure you read the brochures to understand what is included in the cost, as some of the sites require additional entry fees to get in. Our favourite tour ended up being the hop-on-hop-off tour bus which does a loop around Israel over a 2 day period. You're able to get off at a number of stops for as long as you want. This is perfect if you want to see a broad range of great sites fairly quickly or if you're a more independent traveller and just want to explore each town further and take your time.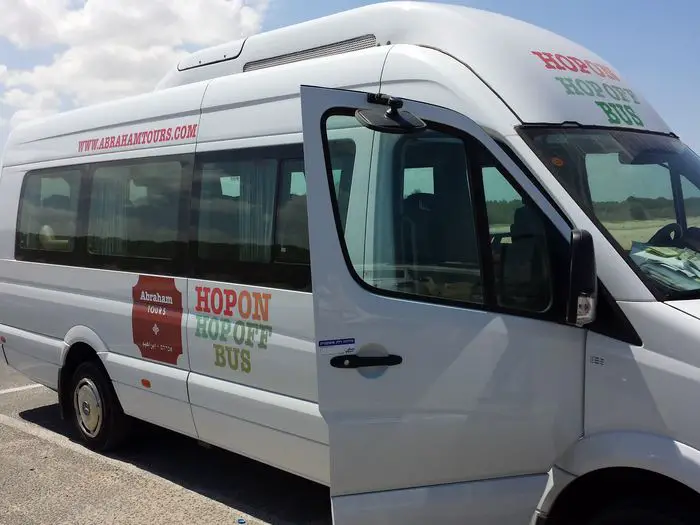 The only downer was the wifi speed, which was a little sporadic at times, but I heard that was going through an overhaul while we were there. And we had a bit of a tough time getting hold of our laptop after accidentally leaving it on one of the tour buses. We got more responsive service from them when dealing in person rather than over the phone.
We stayed a total of 4 nights at Abraham Hostel and I would do it again. If you have kids and have never stayed in a hostel, then it's worth a try – you may even be pleasantly surprised like us.
Our next hostel was not as pleasant. In fact, it resulted in a fractured wrist for my son.
LOOK HOW EASY IT IS TO PIN THIS!
FOMO - do you have it?  Well there is no need to Fear On Missing Out here at Explore With Erin. Sign up to receive updates directly to your in box. I won't spam you, but I do promise a whole lot of awesomeness. What are you waiting for? Join Me!