I had no idea how big Easter was to Spanish-speaking countries until the 2 months I spent in Antigua, Guatemala.
From the moment we arrived, several weeks before our Australian Easter dates, the streets were already closed with work being carried out on beautiful carpets, and religious processions.
I didn't know much about Antigua, Guatemala before I arrived. I speak no Spanish, and I had never visited Central America (or South America), and yet the sweet city surrounded by volcanoes intrigued me.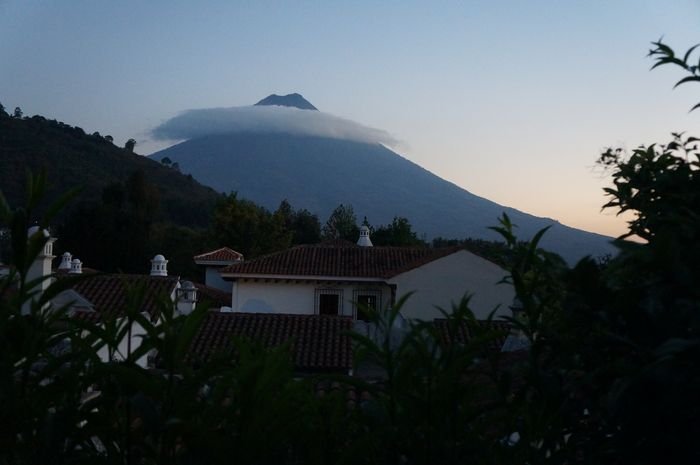 Where is Antigua, Guatemala?
Antigua is a location in southern Guatemala.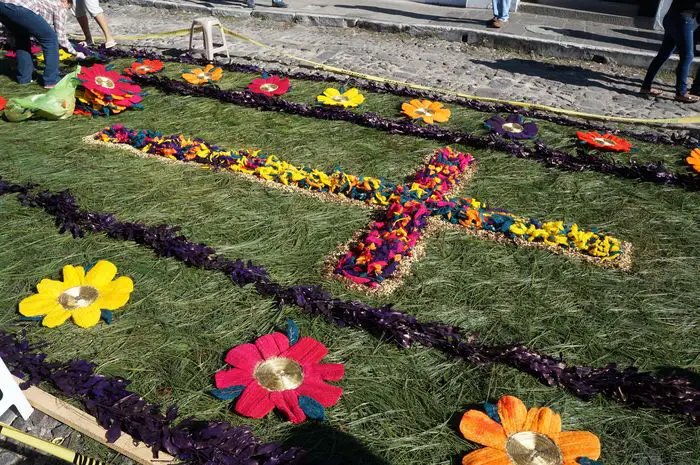 What is Antigua known for?
Antigua is renowned for its Spanish colonial buildings, many of them restored following a 1773 earthquake that ended Antigua's 200-year reign as Guatemala's colonial capital.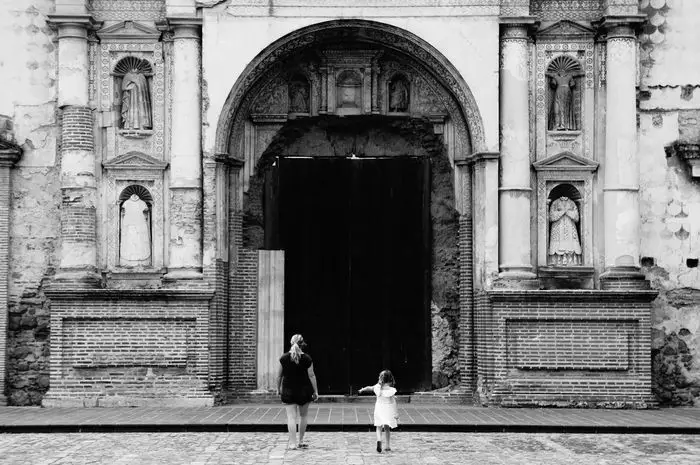 Where to stay in Antigua, Guatemala?
We stayed in an Airbnb villa for 2 months during our stay in Antigua, Guatemala.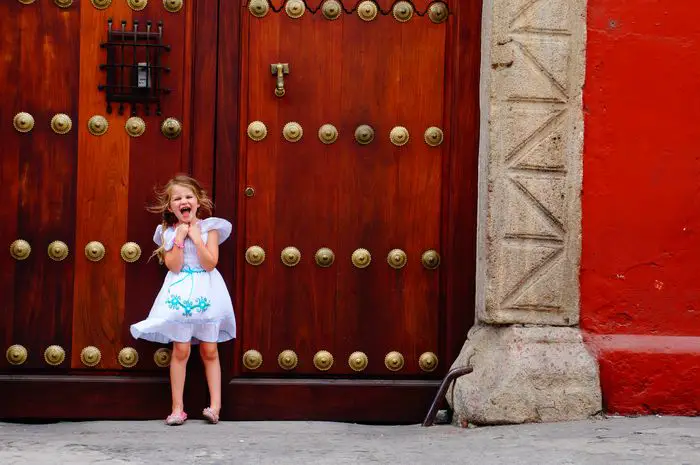 What is there to do in Antigua, Guatemala?
Notable architectural buildings to visit include the baroque La Merced church.
Nearby is the beautiful Lake Atitlan, which is worth a visit. You can book accommodation in Panajachel here.
But most people flock to Antigua, Guatemala for the city's famous Semana Santa celebration.
What is Semana Santa mean?
Holy Week
What is Semana Santa and why is it celebrated?
Semana Santa celebration, is a Catholic holiday celebrated worldwide, as Holy Week. During the week, schools, businesses, government offices, and even the entire town will close down for festivities.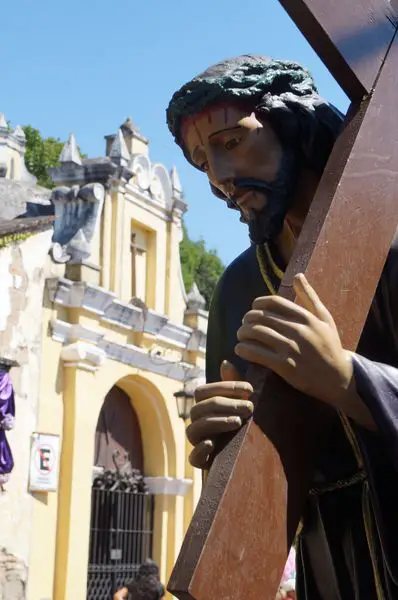 When is Semana Santa?
Semana Santa commences Palm Sunday, the week before Easter, and ends in celebration on Holy Saturday evening / Easter Sunday morning.
In 2023 it will be held from 2nd April to 8th April.
And while that is the official date, the celebration goes on a lot longer than that. When we first arrived 2 weeks before the Holy Week processions were already underway and both weekends before we witnessed the beautiful sawdust carpets.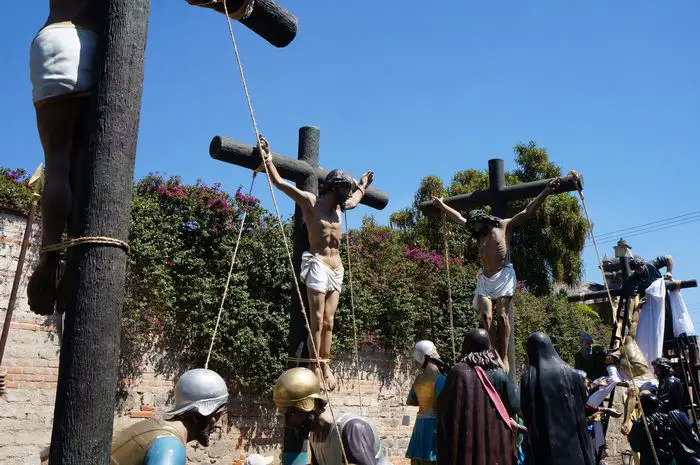 What is the difference between Semana Santa and Easter?
Semana Santa and Easter are entwined. Both are celebrated over two weeks. The first week (the week before Easter) is called Semana Santa or Holy Week. The second week (the week after Easter) is called Semana de Pascua.
Is Semana Santa a happy or sad week?
Semana Santa is a religious holiday that starts solemnly honoring the last days and passion of Jesus Christ ending cheerfully when celebrating His resurrection.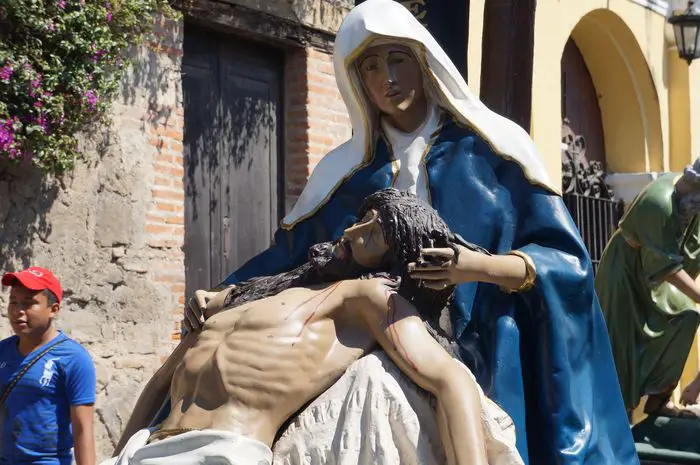 How is Semana Santa Antigua Guatemala?
The biggest Easter celebration in the world is set in the colonial streets of Antigua.
According to the 2007 census, the city has a population of 34,000. During Easter? It's estimated over 200,000!
The year we visited was believed to be the first year to surpass even Spain's celebrations and in 2015 an estimated 1.5 million people was visiting the small colonial city during the holy week.
What happens during Semana Santa?
What happens at Semana Santa? Semana Santa commemorates the crucifixion and resurrection of Jesus.
What are three popular traditions during Semana Santa?
The Passion Play – a reenactment of the Passion of Christ, namely his death and resurrection. This may also include some unique traditions of physical torture, public displays of ridicule, resolutions, or carrying crosses.
Burning of the Judases – when the Spanish burned people at the stake for heresy during the Holy Inquisition, Mexicans protested by making Spanish inquisitors into dolls and burning them instead.
Alfombra – a temporary piece of art made from mostly sawdust, but can also include other materials.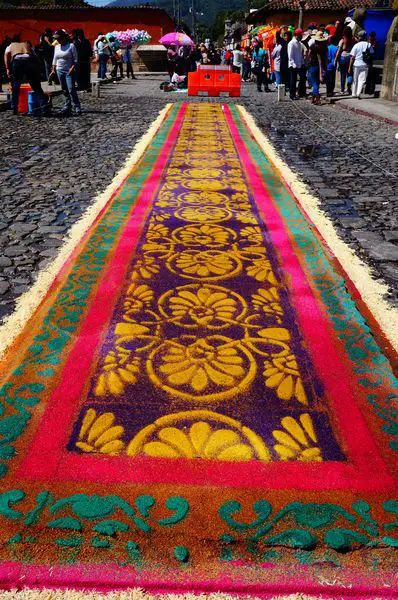 What is a Holy Week carpet?
The Spanish word for carpet is Alfombra, which is the technical name for these delightful beauties. It's a temporary piece of street art that replicates a sawdust rug/carpet.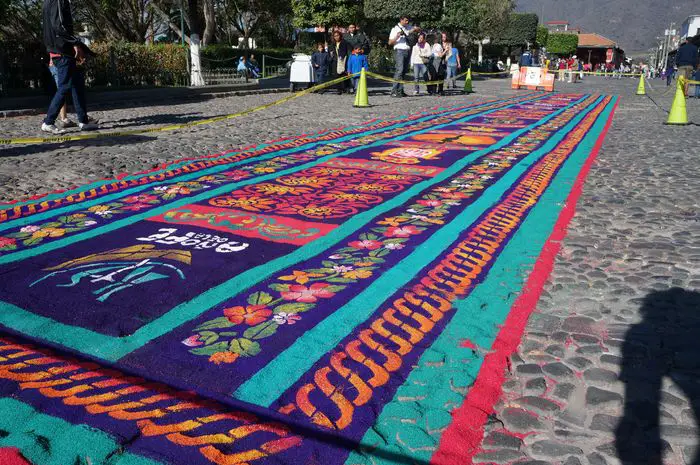 Most are made from colored sawdust, but we saw ones with flower petals or other materials. For example outside a bakery we found a rug made from bread and outside the chocolate museum, they had their carpet made from chocolate and cacao beans. We also spotted carpets made from vegetables, fruit, playdoh, you name it.
Many were labored over with platforms and stencils; others were free-form.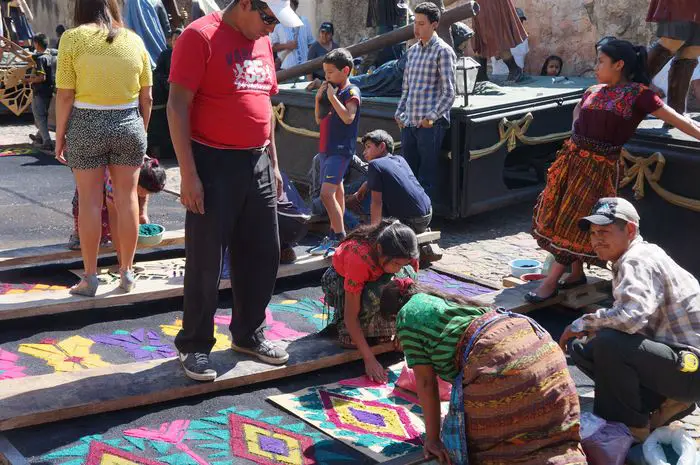 One of the ones we passed had kids preparing. My 4-year-old daughter was very meticulous in placing her sawdust down, whereas my 2-year-old son was a bit more… free-form.
What Happens To The Elaborate Alfombras?
Once these beautiful pieces of art are made there is only one end to them. The parade or processional float walks right over them. It is their purpose, but it's almost heartbreaking to watch.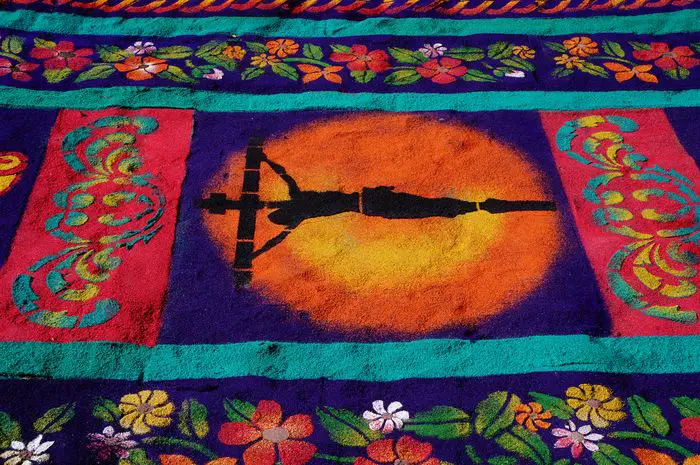 What Is A Semana Santa Procession?
The processions are giant displays of Easter stories, with people and sculptures. During our time in Antigua, I saw a Palm Sunday re-enacted, also Roman soldiers searched the cobblestone streets for Jesus and lastly I also saw Jesus found, tried, and crucified. There are a lot of purple robes!
Some of these processions happen during the day and some in the evening.
The processions can last a few hours, but some go over 15 hours with teams of people swapping duties and carrying the Andas for miles and miles. One day we watched a procession route start around 7 am near our house and heard it returning just after midnight.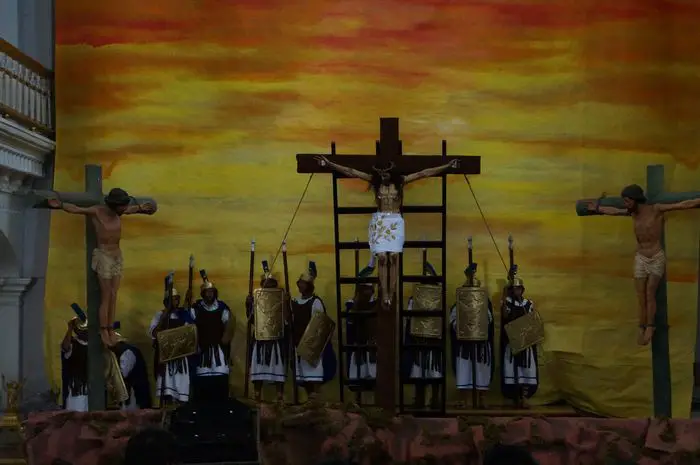 What is an Anda?
The Anda is a large hand-crafted wooden float, in which the re-enactment sculptures rest as the volunteers carry it through the streets.
Some of them weigh over 3,500kgs and can be carried by up to 100 people.
What Processions Are at Semana Santa Antigua Guatemala?
We decided we needed more information in went on a walking tour. During our walking tour our guide told us that the statues come from each Church.
The Central Park church was home to a 500-year-old Jesus who was going to be released from his glass coffin for the procession. The men carrying these floats also did so with physical pain, as while their shoulders go in a curved padded area, the padding realistically did nothing and some men have broken shoulders from carrying the procession.
These men do not mind the pain, of a broken shoulder, because they consider it a penance for their sins.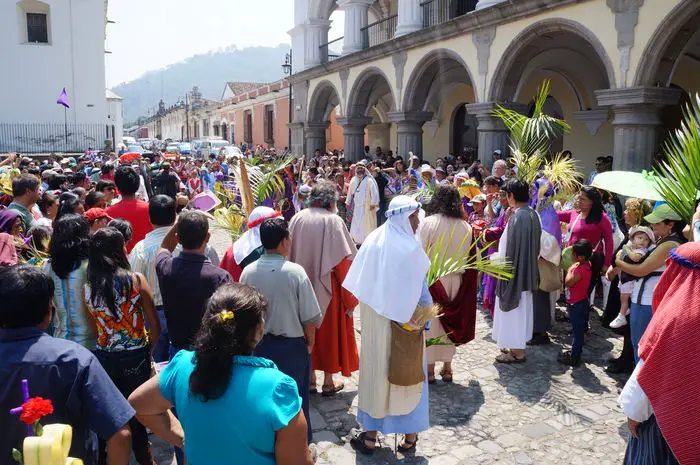 The biggest procession I witnessed was on Friday morning. It started at 4 am and continued on way after sundown. We saw it in the light of day and the dark of night.
When we stumbled upon it in the night I was hesitant to explain it to the children, as the scenes can get quite graphic and gory.
Picture the Disney parade without the fun and characters and that's what you have. A horde of people watching a parade with floats of Jesus bleeding and dying.
Being a mixture of Catholic and Mayan traditions, Good Friday is the biggest day of the Easter weekend.
The finale was the Good Friday procession and Saturday and Sunday were a toned-down version. Easter Monday was very quiet and almost back to zero tourists. It was nice.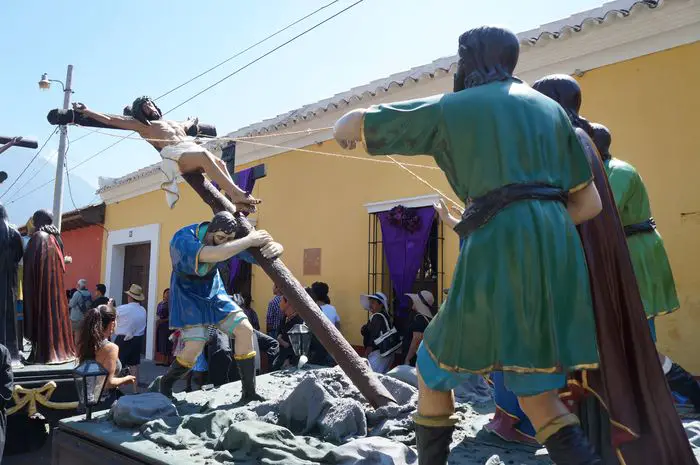 My 3 Best Tips for Semana Santa Antigua Guatemala
Be informed
Head to the information booths for your brochures which cover when the holy week procession start and where. Even then the brochures can be confusing so have a local help you out.
We had several people we met who live in Antigua who were indispensable to us seeing the right things, even though they had no interest in being in Antigua. Many locals disappear for the event as the crowds crush the colonial town.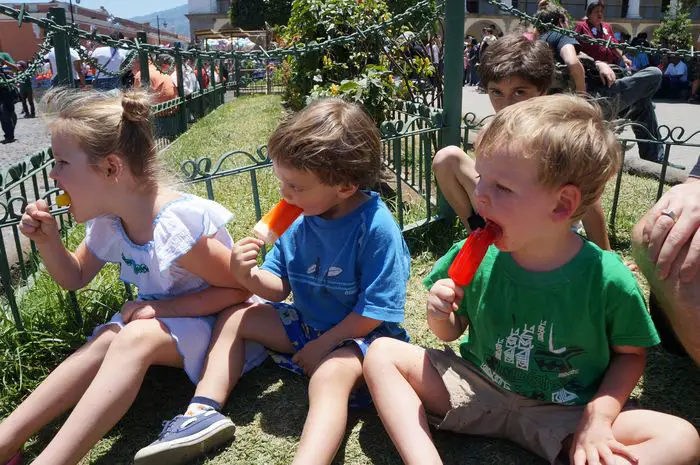 Be prepared to walk
If you have time to wander, forget the maps and just stroll. During our stay, we had a scooter, but the best thing we did was leave it at home. The streets are blocked off or parking lots.
Wednesday to Friday was impossible. Saturday and Sunday we did not have so many problems. Our suburb is relatively large, so we drove the bike to the gate, left it in the secure driveway, and walked into town.
As we walked from our house to town on Good Friday we found many carpets including the one that the kids got to help make.
Thursday night I tried to get a tuk-tuk home, but I could have walked faster. Both kids fell asleep in the tuk tuk so I stayed put, but it was a long slow process.
Watch your belongings
Before Semana Santa Antigua seemed like a very safe, small town. We had been out several times without any incidents.
However, Thursday night before Good Friday we were pickpocketed. We had been warned and now you have to. It happens, it's true, leave everything at home and stash cash in your bra from Wednesday right through Easter until Sunday.
Why I loved Semana Santa
As a Christian, Easter is special to me. Seeing the floats and re-enactments, the Roman soldiers dressed up on horses calling out, and people going through pain for their religion I felt amazed, blessed, and inspired. My faith differs from the Catholic faith, but I was still amazed at the devotion represented.
My faith places a great emphasis on Easter Sunday. That's when we celebrate with chocolate, see family and feel great joy. Feeling the sadness and heaviness Antigua placed on Good Friday was new to me and certainly confronting.
I feel the whole epicness of Semana Santa gave me a much bigger sense of the true meaning. However, unlike the procession's focus on sadness and depression, I felt greater relief and enjoyment over the day Jesus was resurrected.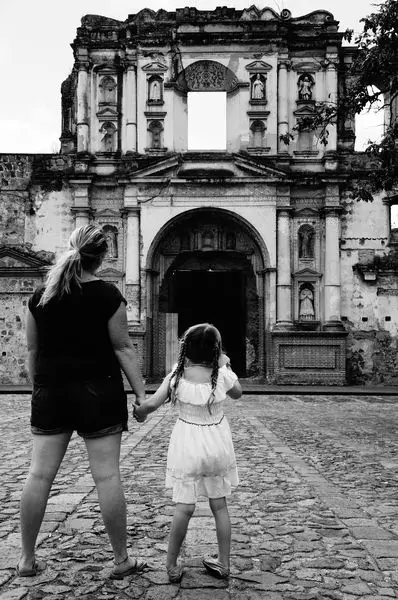 Are there Easter Eggs In Antigua Guatemala?
Easter for my kids was new too. We had just seen Rise of the Guardians, in which my 4-year-old daughter learned about the Easter bunny. That was a first. So she was wondering what was going to happen on Easter Sunday.
But there was a lack of Easter Eggs. In Australia, they hit the stores in early February and we are often guilty of buying too many. But here we saw no eggs, no bunnies, nothing.
Thankfully I did purchase two small bunnies during my visit to Guatemala City Walmart two weeks prior. Other than that there was no chocolate. But that didn't seem so bad since our overdose at the chocolate workshop we did.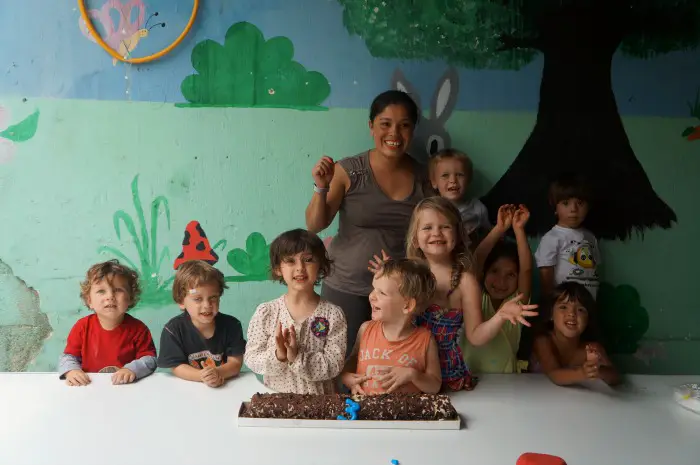 Should you do Semana Santa Antigua Guatemala?
Would I recommend Semana Santa for a visit? Completely. It is an experience one should see. To view the beautiful arts and carpets, to watch the Processions and the passion of the believers.
BUT. While I am glad I went, I would probably not be likely to attend again. It's one of those once-in-a-lifetime experiences.
It was busy, like a crazy school holiday at Hong Kong Disneyland busy. Which meant it was not as pleasant as I imagined. My stolen iPhone sure was a dampener as well.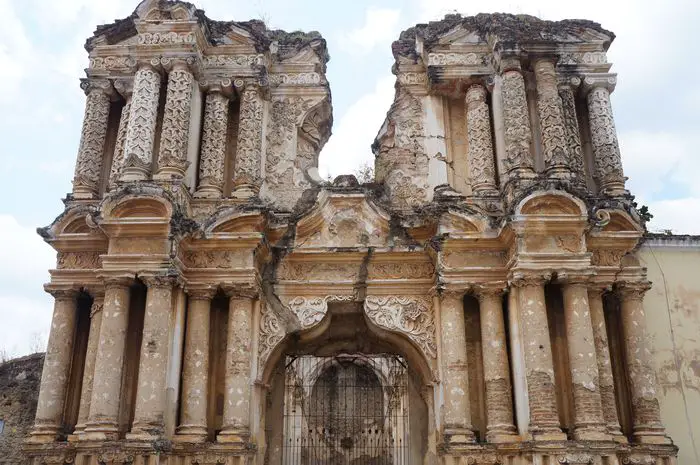 Is Semana Santa Family Friendly?
Perhaps a backpacker, single or couple would fare better, but with two kids to watch Semana Santa in Antigua and navigating the town was hard work.
I constantly faced the fear of them being swept away in a crowd and found it way easier to wander the cobblestone street alone, even though they wanted to see and help with every carpet.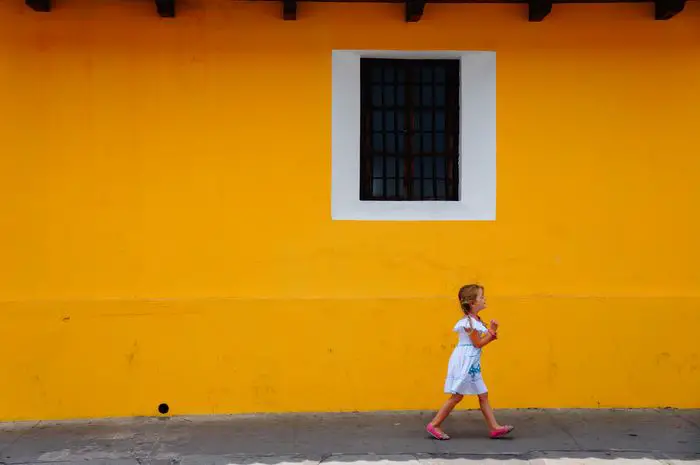 The scenes on the Processions can also be very graphic, so please be mindful of that.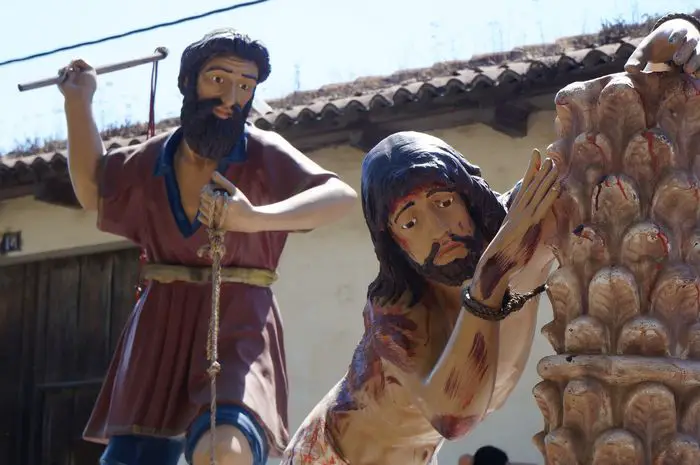 Semana Santa in Antigua Guatemala is an incredible display of culture, tradition, and faith. The city's colonial charm combined with the colorful processions, intricate carpets, and powerful religious images creates a unique and unforgettable experience.
From the solemn processions of Good Friday to the joyous celebration of Easter Sunday, Semana Santa in Antigua is a time to reflect, connect with others, and celebrate the triumph of good over evil.
Whether you're a devout Catholic or simply a curious traveler, Semana Santa in Antigua Guatemala is an experience not to be missed.
LOOK HOW EASY IT IS TO PIN THIS!
FOMO - do you have it?  Well there is no need to Fear On Missing Out here at Explore With Erin. Sign up to receive updates directly to your in box. I won't spam you, but I do promise a whole lot of awesomeness. What are you waiting for? Join Me!