My first time in Bali was 1999. I had graduated high school the previous year and my parents decided to take the whole family on our first overseas vacation as a graduation gift to me.
I hated it.
I never wanted to go back.
It was hot, humid, dirty, busy, and so different to anything I had experienced in my 18 years of life that I was in total culture shock.
Fast forward almost 20 years later. It's now my 15th or 16th time to Bali, I've actually lost track. Bali has changed. A lot. It's busier, it's crazier, and it's more Western. I've embraced the Island of the God's as if it were my second home, but I maintain a slight disappointment in the tourist nature of certain areas of Bali.
Until now.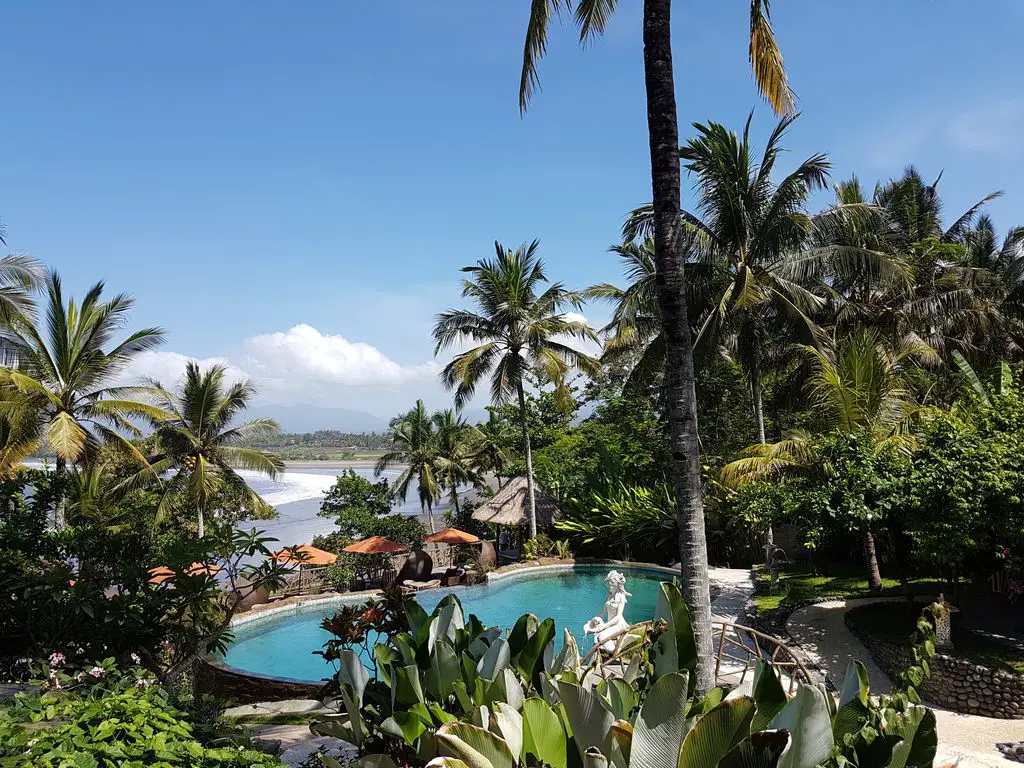 When Puri Dajuma invited me to their Eco Resort in West Bali I must admit I was intrigued. I had never been that far North or that far West of Bali. But they promised me something that I have longed for as far back as almost 20 years.
"It's the way Bali use to be."
The Location
The biggest downfall of Puri Dajuma is the location. It was a solid 3 – 4 hour drive from the airport on winding, small, pot-holed roads. After an exhaustive flight, it's the last thing you want to do.
However, in saying that, it's what also gives Puri Dajuma it's air of secluded tranquillity because it is literally out in the middle of nowhere.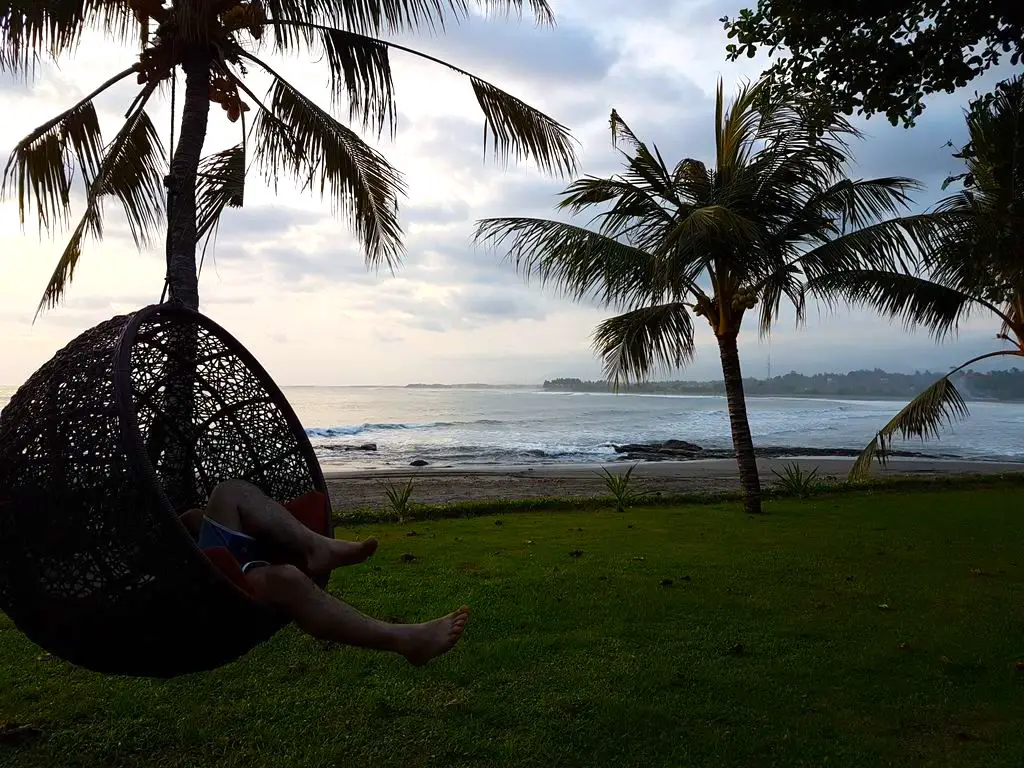 The Locals
One of my favourite parts of visiting Puri Dajuma and the reason why it is such an example of how "Bali use to be" is the people. A total of 50 employees work at the resort and they all live in the surrounding villages. It has a real friendly, local feel. And the employees make you feel like you have walked into their very own home.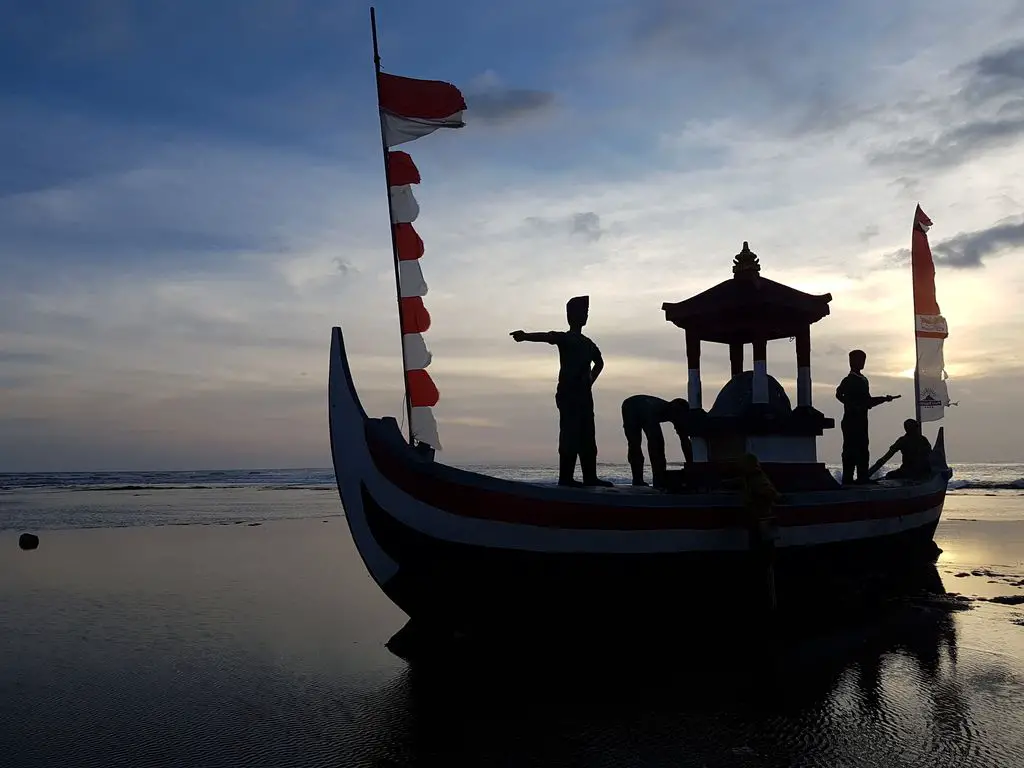 The Yurt-Style Rooms
It's a fabulously small, but large resort. I know that's a contradiction. You can feel overwhelmed by the space and distance to walk from one end to the other. But at the same time, it's welcoming and quaint. There are only 18 cottages, 2 suites, and 5 villas.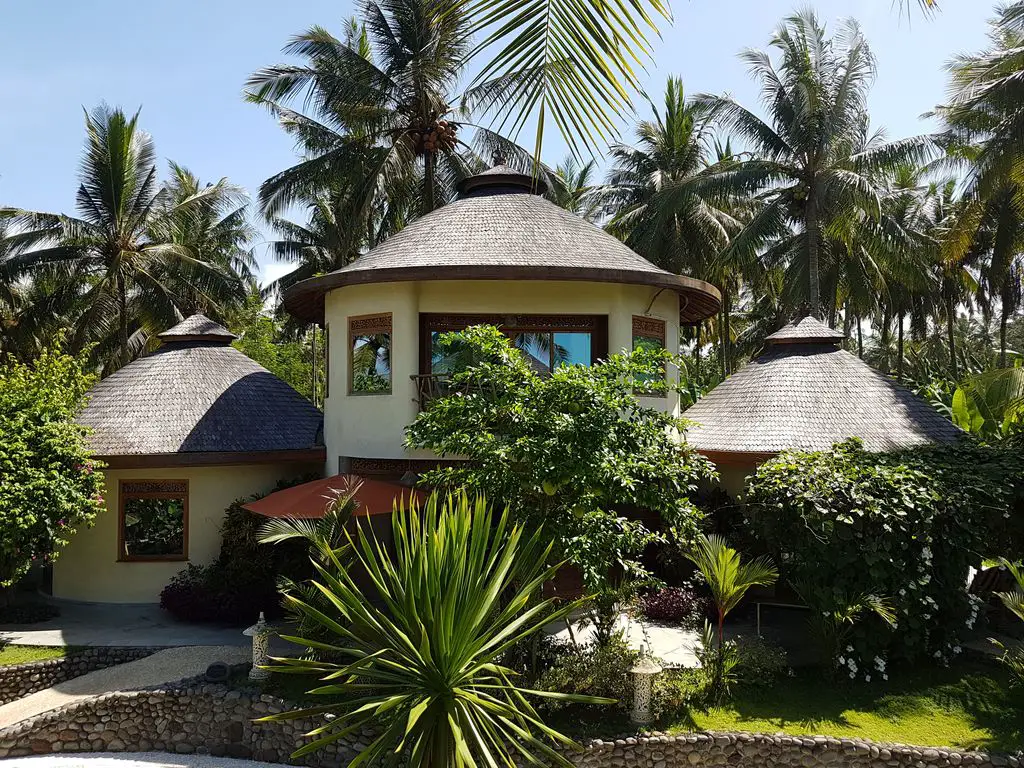 We stayed in one of the Deluxe Cottages. It was like nothing I've ever stayed in before. I can only describe it as a very posh yurt. A round room with a beautiful straw triangle roof, an exquisite outdoor bathroom, and a massive, plush super king bed.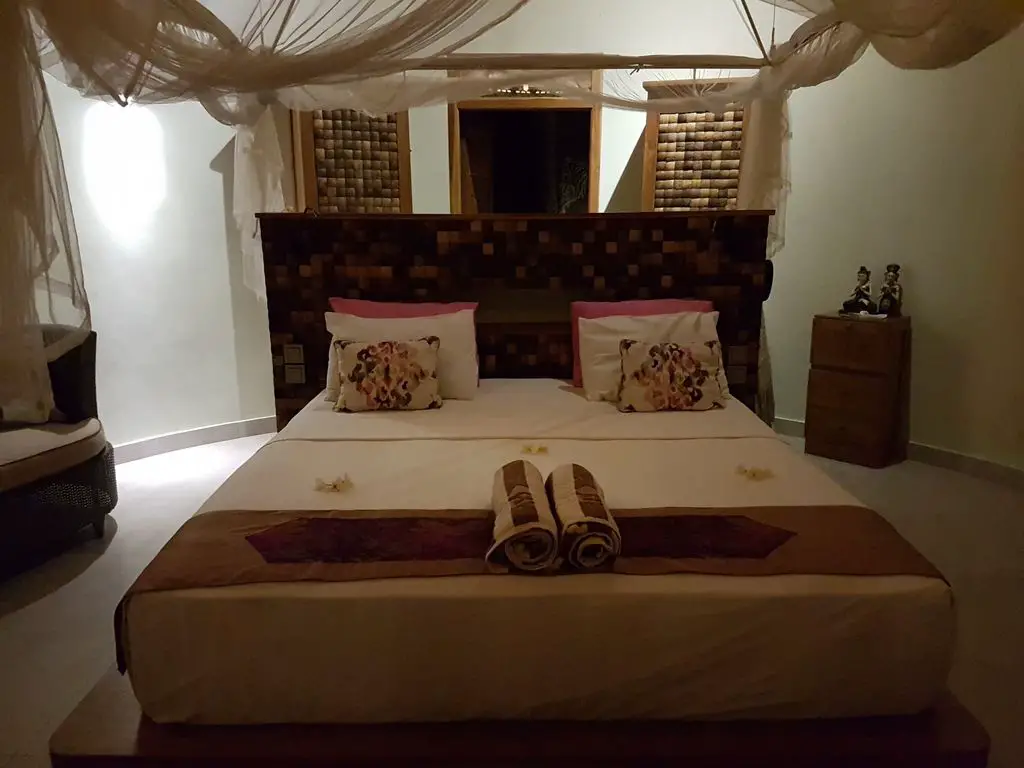 You've never stayed in Bali until you've showered outside in nature. It's just divine.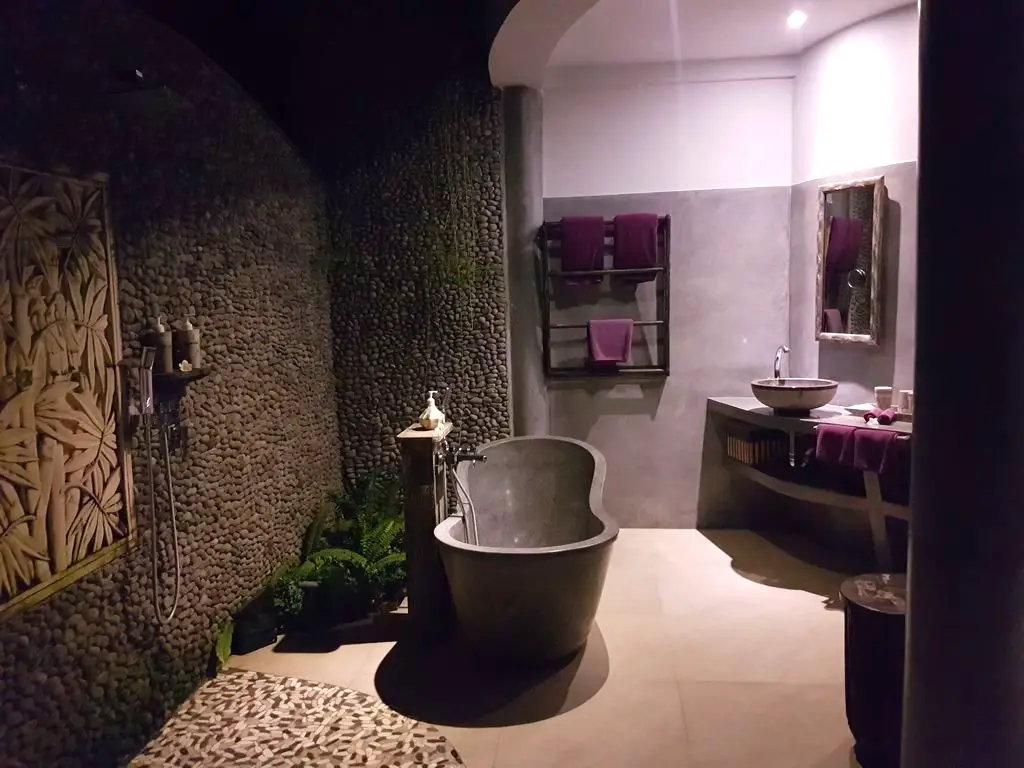 In the room, the aircon was cold and I liked the added touch of a ceiling fan. There was a bar fridge in the bathroom with cold drinks. Looking at about $1.50 for a glass bottled coke. Plus, a big bonus, even though you do feel like you are in your own little world, they still have room service!
The Resort
The rooms are just incredible, I didn't really need to leave, but when I did… Well, I didn't leave the actual resort at all.
Other than the absolutely incredible views of the beach.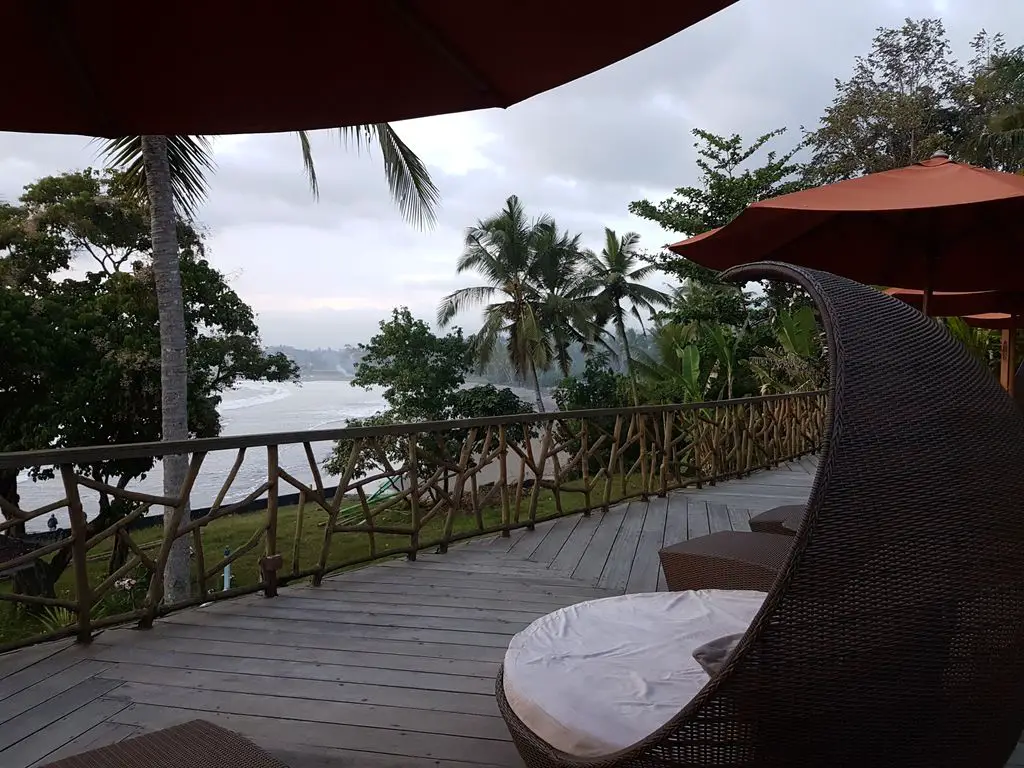 Or the absolute delight of beachfront living.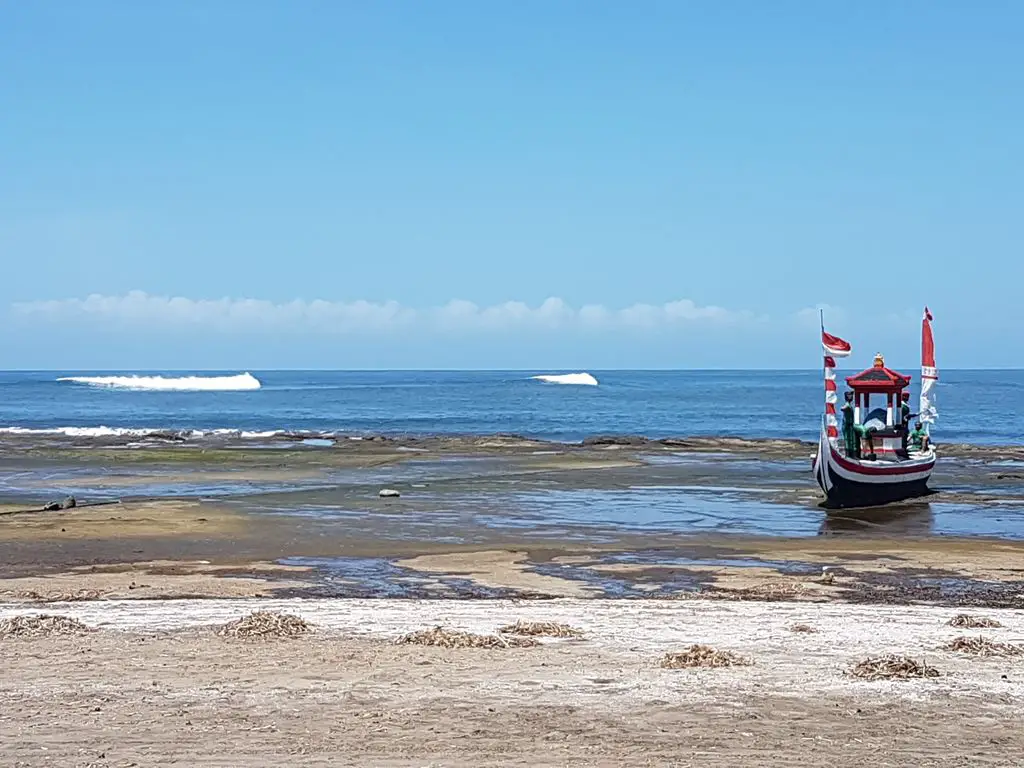 There were a ton of other amenities.
Like the choice of 3 restaurants and 4 bars. By far my favourite was Sinta the yummy Teppanyaki restaurant.
There were 2 infinity pools, and one of these had a slide linking the top pool to the bottom pool. Now my kids didn't come along for this trip, but that didn't stop the adults taking a turn.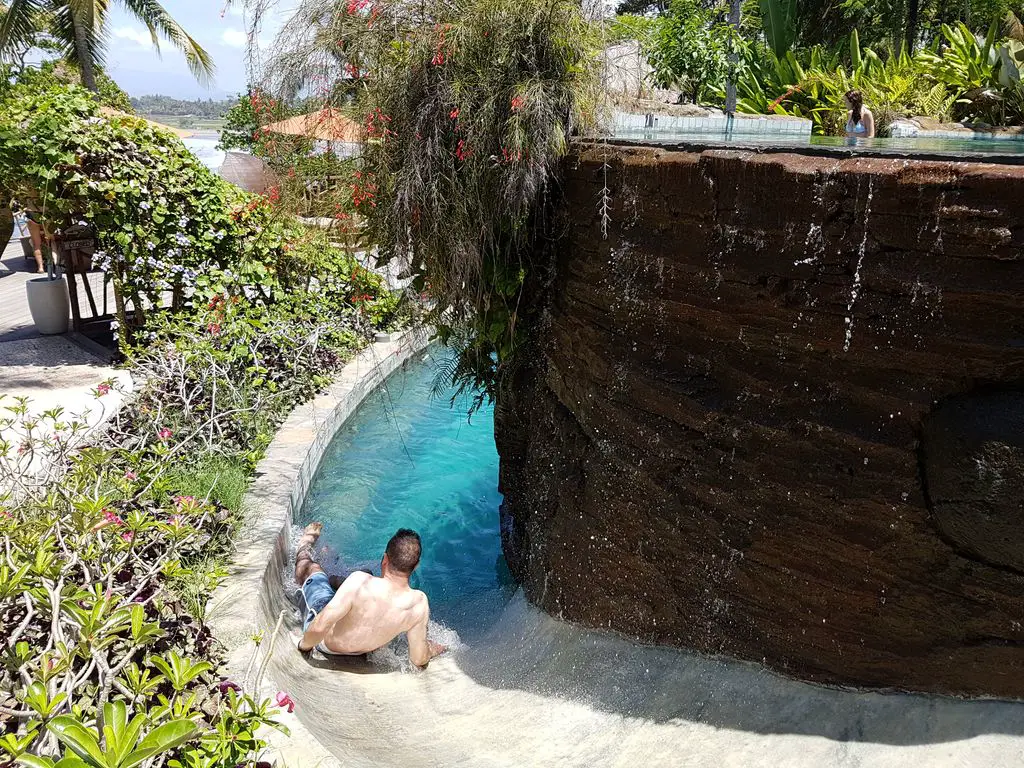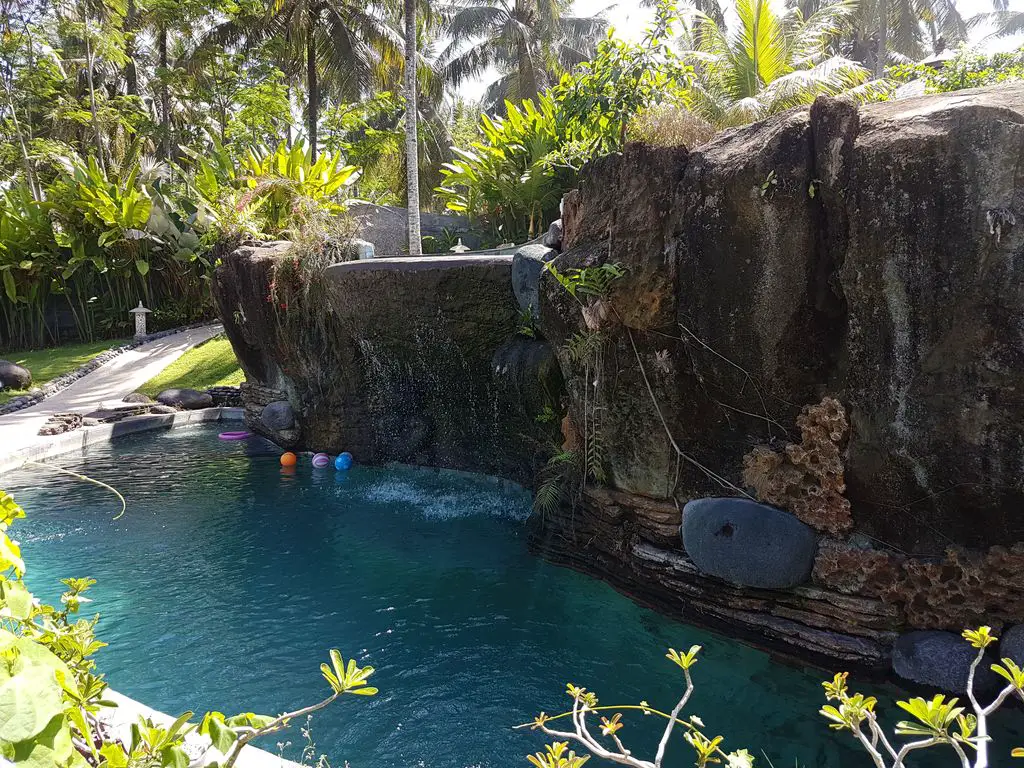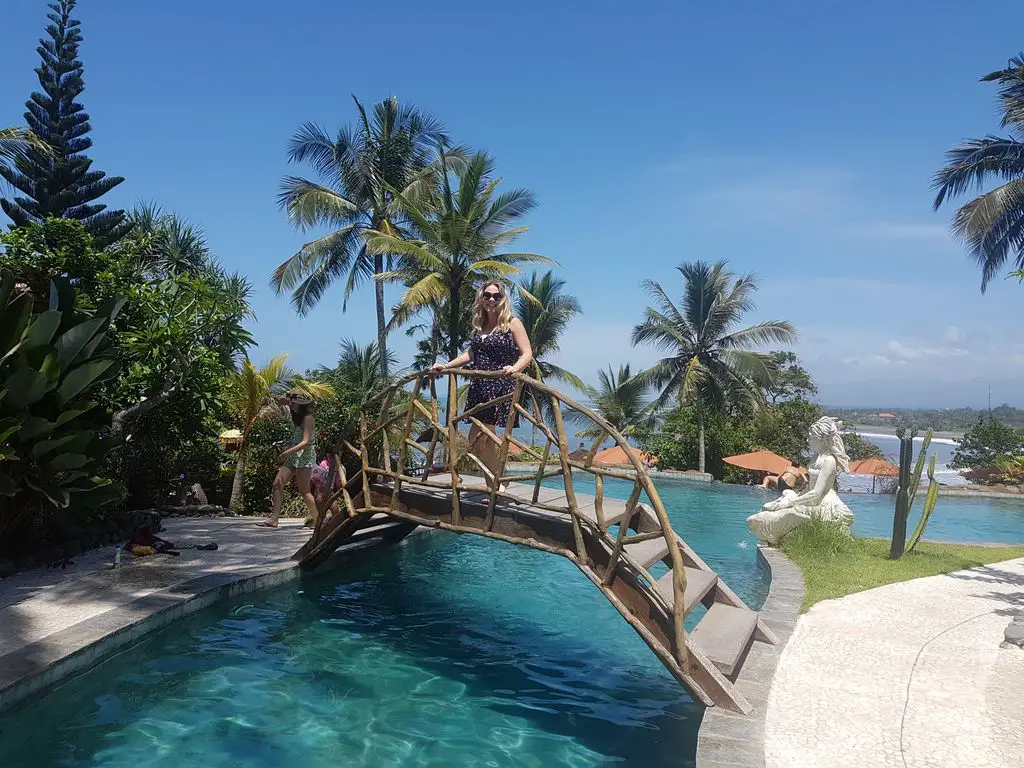 One of the days I fell asleep to the sound of the ocean lapping the shore, while hands kneaded my back. Yes, you can choose a delectable Balinese massage outdoor in a hut, with nothing but beach views.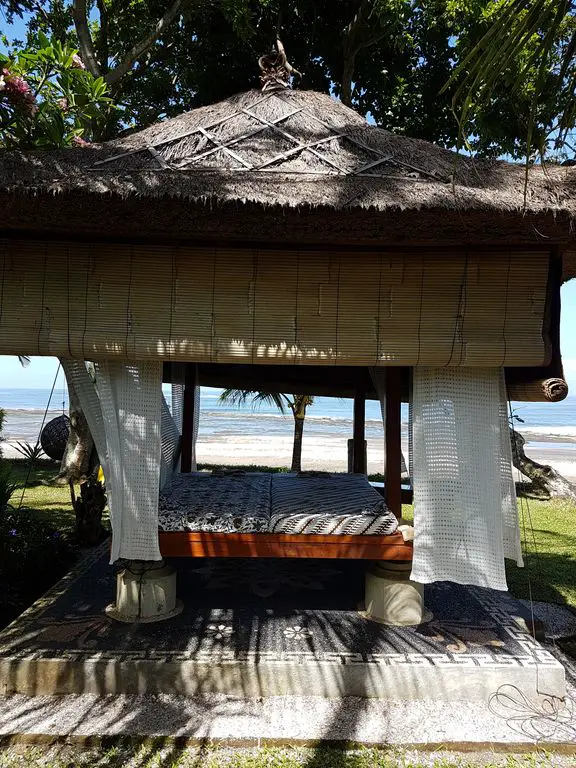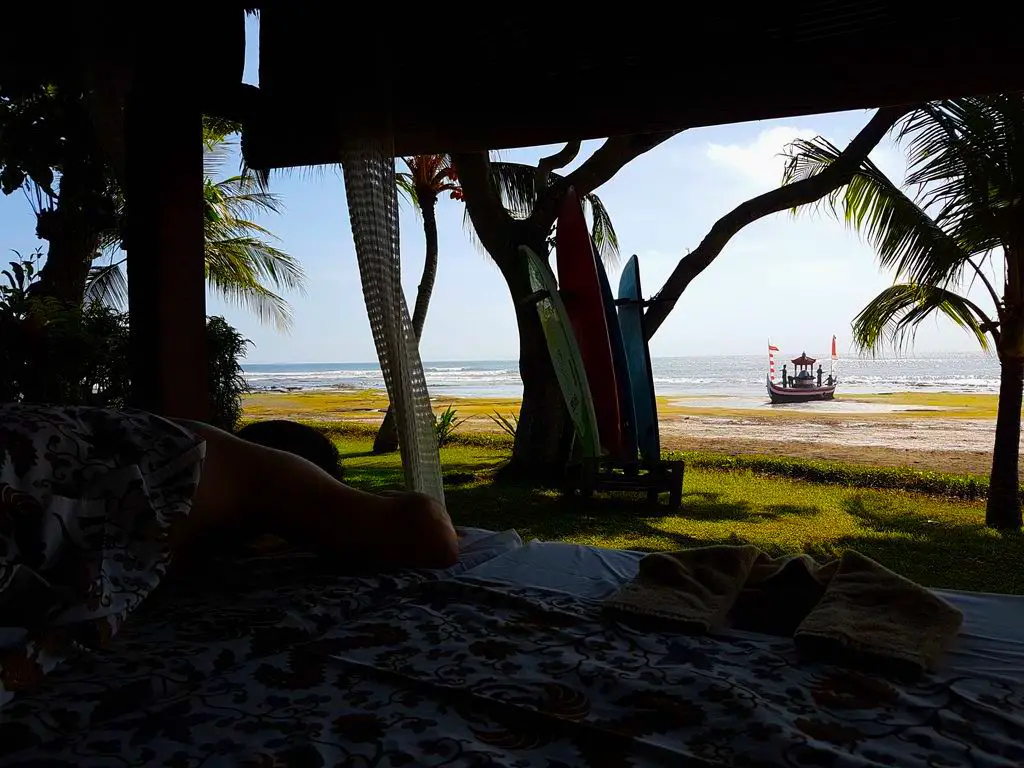 Oh, and did I mention the sunsets?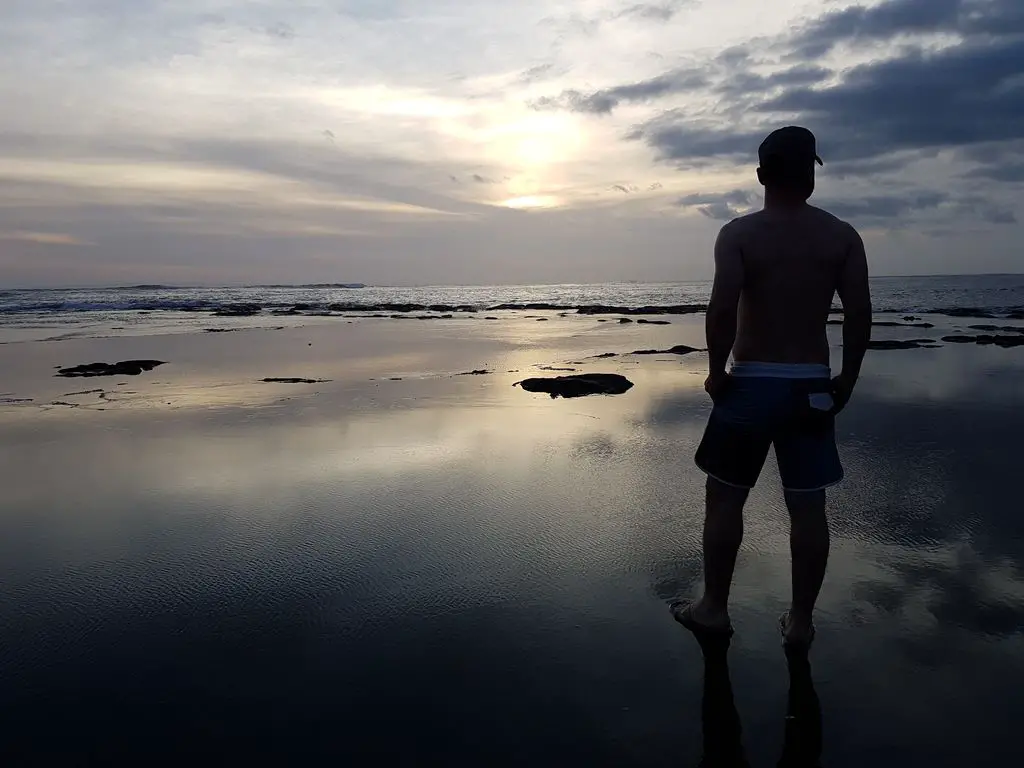 The Eco-ness
Puri Dajuma prides itself on its beachfront location and the ability it has to remain eco-friendly. They form part of Book Greener, which prides itself on being green champions promoting sustainable and responsible tourism in Bali.
The resort maintains it's green attitude with zero marine pollution, compost from organic waste, glass & plastic recycling, rainwater collection and green procurement.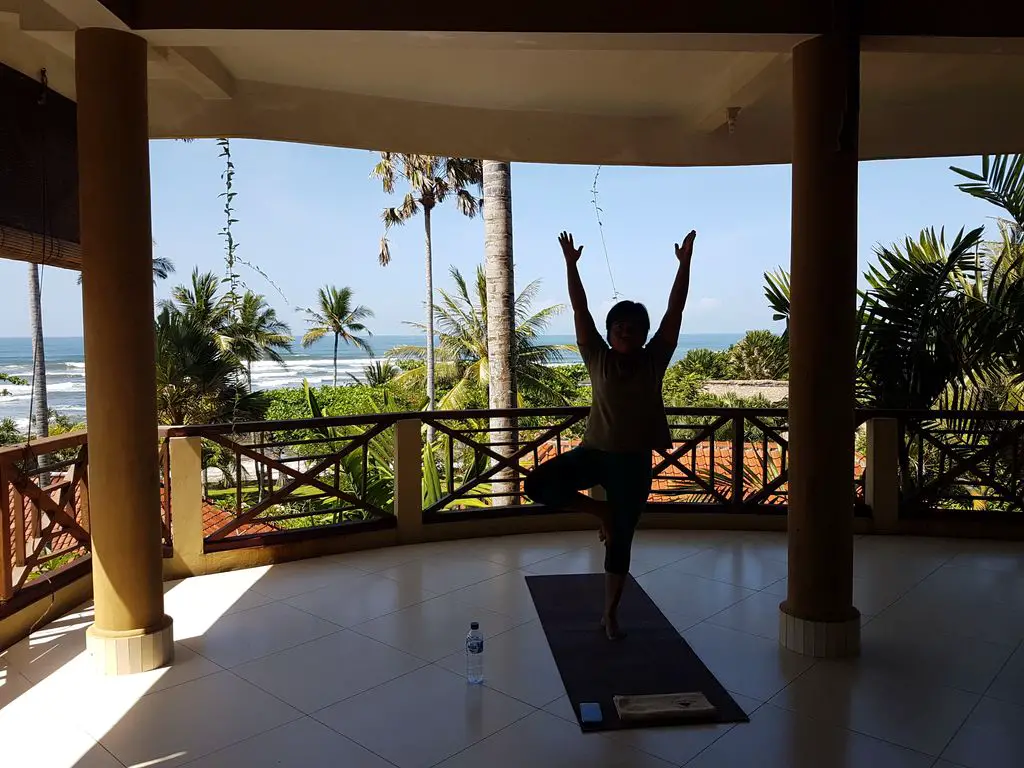 If you are really into eco-tourism and helping the surrounding villages then don't forget to hook up with the eco-friendly and sustainable tour company, Five Pillars.
Explore With Erin Wrap Up
The beaches are quiet. There is no one selling anything, there are no people. It truly is a secluded getaway that is perfect for the relaxing part of your vacation. My ideal Bali visit would be a stay down South in Nusa Dua or Legian doing Waterbom, shopping, Sukhavati, the Zoo and then take the family up to Puri Dajuma for a few nights of ultimate relaxation. And, watching sunsets, of course.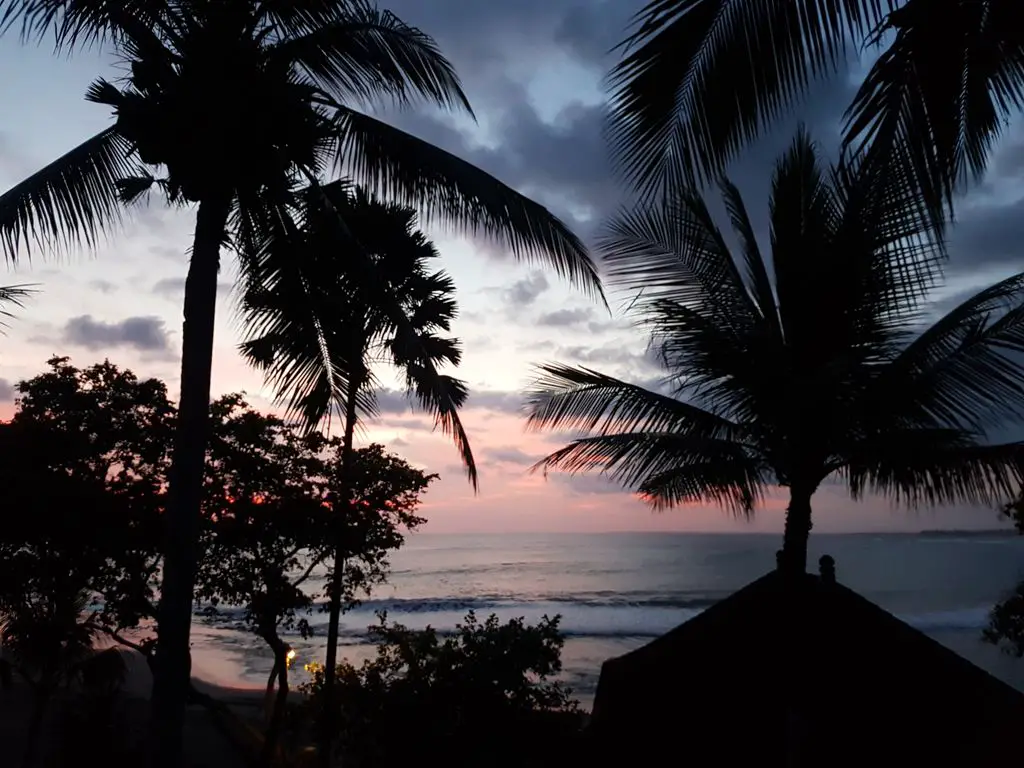 Special Offer
Best of all if you want to do that now I managed to convince the team to give you a 45% discount. All you need is the promo code: EXPLOREWITHERIN when making your booking here: http://www.dajuma.com/#booking
But you need to book before December 31st, 2017. And you can stay any time until June 30th, 2018. What a smashing way to start the New Year!
LOOK HOW EASY IT IS TO PIN THIS!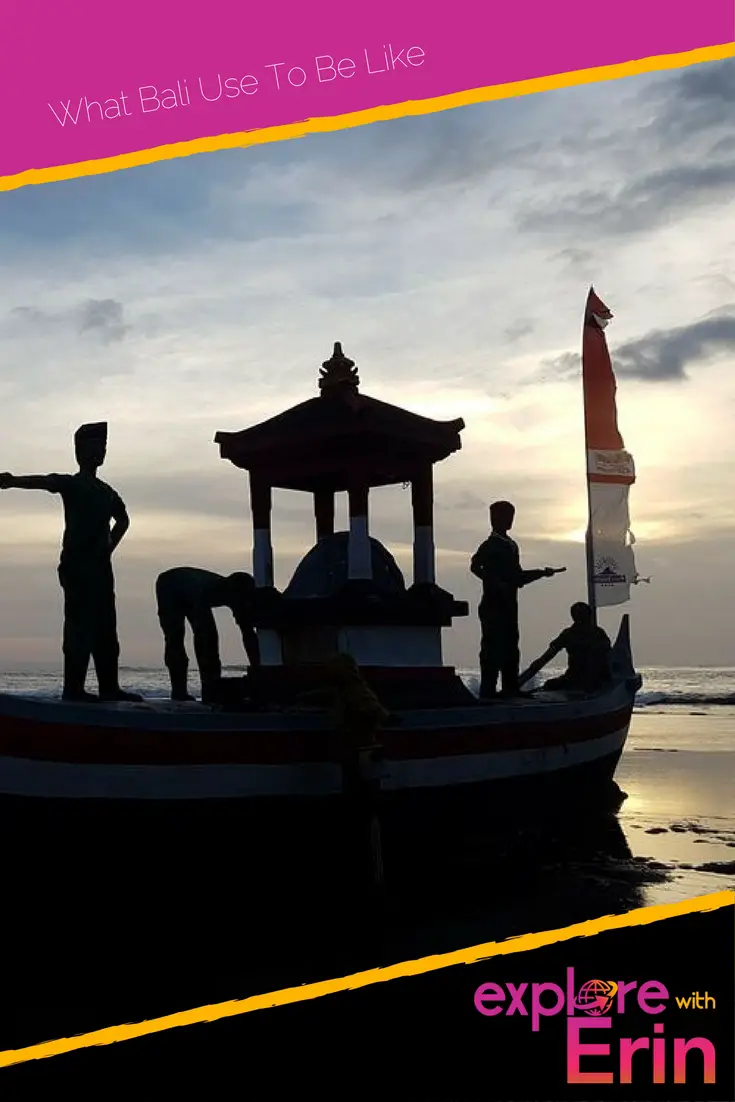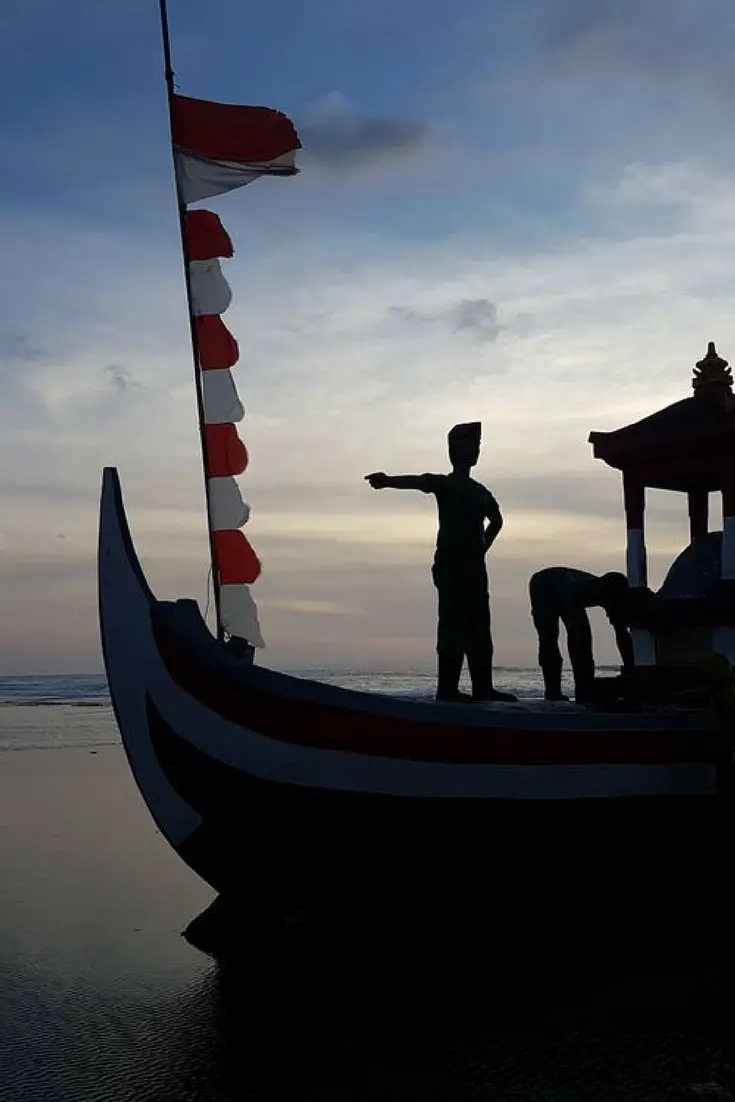 FOMO - do you have it?  Well there is no need to Fear On Missing Out here at Explore With Erin. Sign up to receive updates directly to your in box. I won't spam you, but I do promise a whole lot of awesomeness. What are you waiting for? Join Me!