As I gazed over the cliff from the driver seat of my Citroen car I could feel the breeze pulling my hair and smell the salty sea air through the open window. Amalfi Coast may have been a challenge, but it certainly was a challenge I was glad I accepted.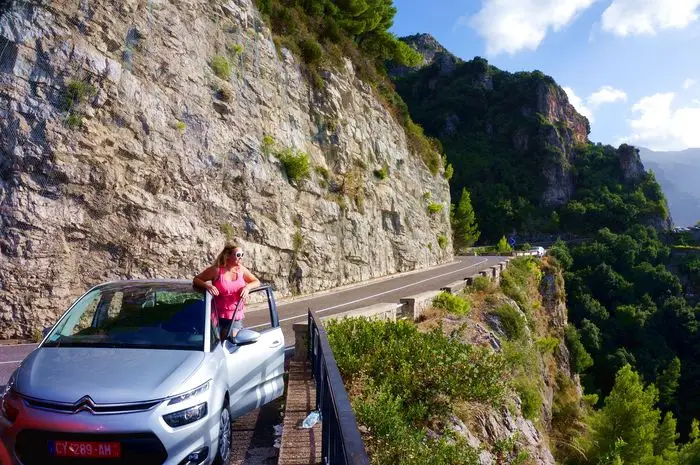 When my parents approached me about the idea of an 18 day Mediterranean Coast road trip I was thrilled. I couldn't express the joy I felt meeting them at the airport in Rome after nearly 1.5 years of being separated due to my nomadic lifestyle.
During the lead-up to that joyous reunion, we did plenty of planning. And the majority of that planning went back and forth over car leasing Europe versus rental car Europe. We had rented a lot of cars in our time abroad, however, I had heard there was a better way in Europe, especially for Australians.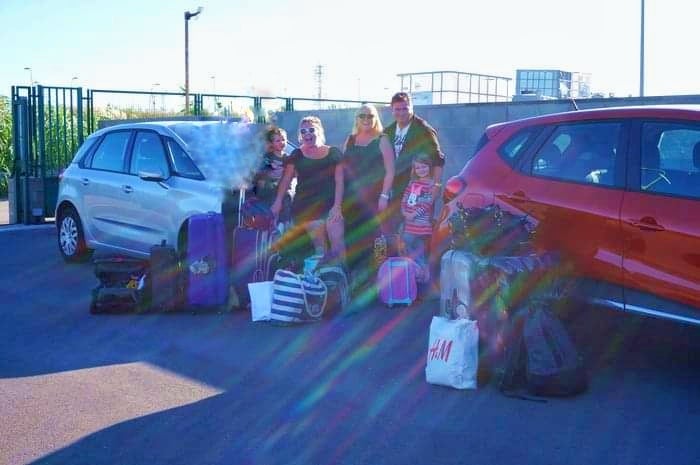 Rent or Lease A Car In Europe
If you are looking to do under 2 weeks then I would choose a car rental over a short-term car lease in Europe.
Check out rental car aggregators like RentalCars.com or hotwire.com when looking to book a rental car. Make sure you check insurance, one-way fees, location fees, etc. It can add up. Then check it all against the actual agency websites as well. To be honest, I've always done better with an aggregator.
Renting a car for a long period can get costly and we found that even though we wanted to rent for a longer period the prices didn't get any cheaper, unlike an Airbnb listing.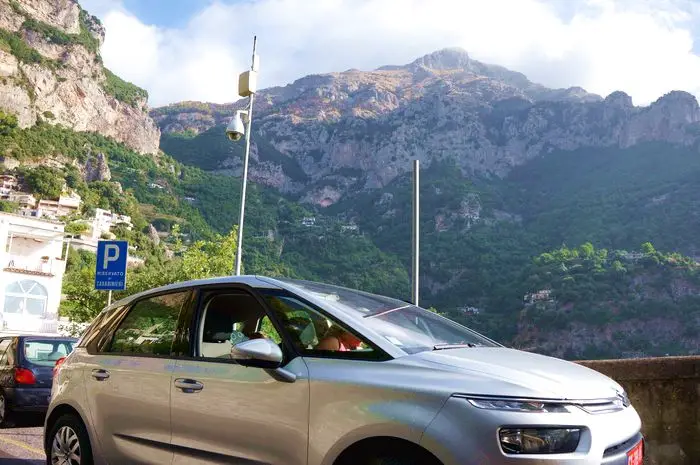 Enter Car Leasing Europe
During my research of car rentals in Europe, my parents informed me that they had decided on Renault car leasing in Europe.
"Can you lease cars in Europe?" I said.
Having only every rented car during our travels, I was intrigued by the idea of leasing a car in Europe long-term.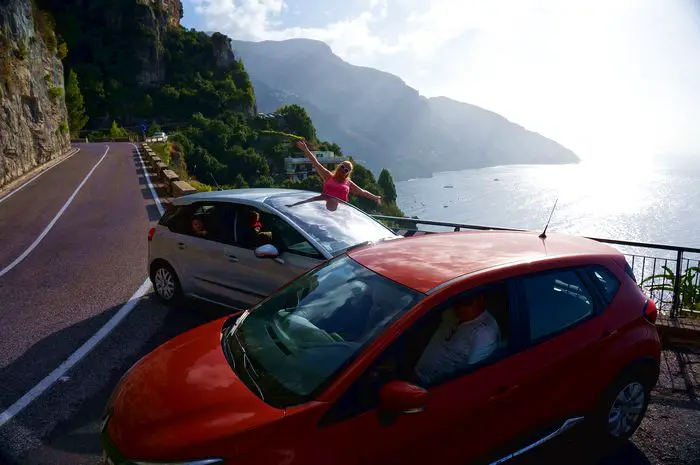 What Is Europe Car Leasing?
You may be wondering can Americans lease a car in Europe? If you are a resident outside the European Union, over 21 years of age, and have had a valid driver's license for at least one year you can qualify for a tax-free short-term auto lease, which France designates with a "TT" (Transit Temporaries) registration.
When you're leasing a car in Europe long-term between 17 – 165 days you can arrange a buy-back agreement. What that means is you "technically" buy a brand new car, but agree to sell it back to the company within a period, leaving you only the difference of the buy-back rate. This difference is generally substantially cheaper than a rental and includes everything, no hidden extras.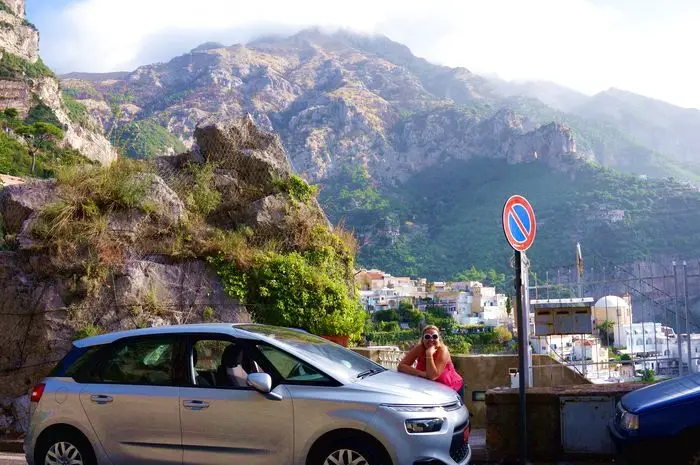 Who can drive the Europe lease car?
How many people can sign the contract and who can drive the vehicle?
When leasing a car in Europe for holiday leasing companies allow the driver, spouse, and any children (over the age of 21) to drive the vehicle. It is all included in the price.
You only need one person to sign the Europe car leasing.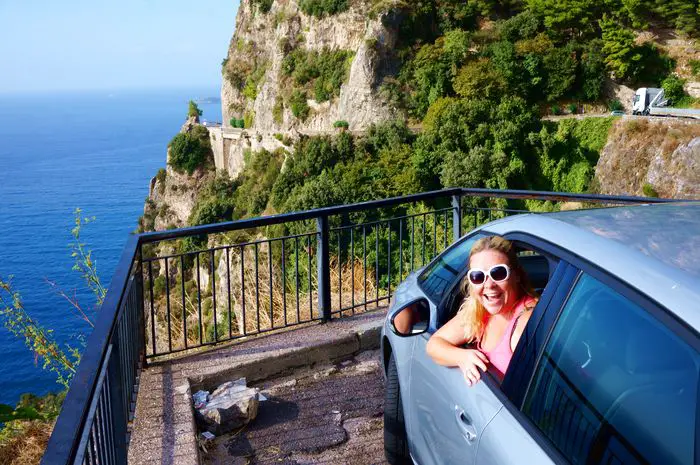 What is the minimum lease duration?
Depending on where you live and whom you choose to drive with, you can reserve a tax-free short-term leased vehicle for a minimum period of 17 or 21 days. We choose Citroen car leasing Europe 17-day minimum lease.
When considering renting or leasing a car in Europe if you require a car rental for 17 days or more than leasing will work out cheaper than regular car hire.
Benefits of Citroen car leasing Europe
Can I keep it? The kids and I loved our brand new Picasso C4. It easily fit all our luggage of 2 large suitcases, 3 small ones, a double pram, and 2 backpacks. Not to mention my 2 children and all the stuff they ended up with.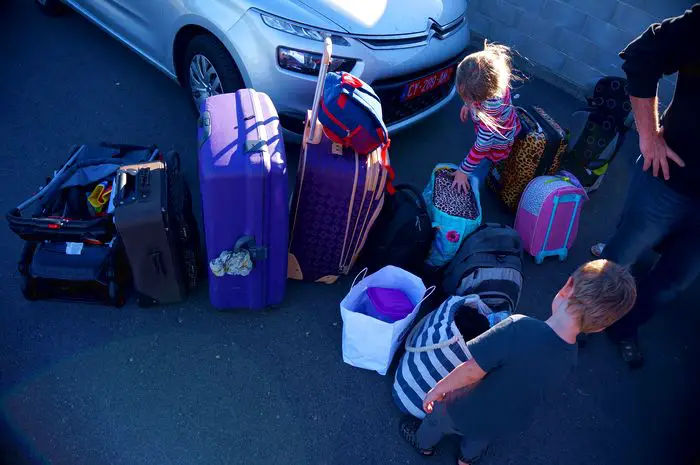 The back seat was 3 separate seats instead of the usual bench seat, which made it extra wide and roomy enough to fit my parents in on the odd occasion. It came with a GPS and also featured a super large front window with retractable sun visors to let in plenty of light.
I probably sound like some walking advertisement, but I fell in love with that car. If you want to buy me one for my birthday I would be very happy.
Some of the benefits of leasing a car in Europe long term are:
Full comprehensive insurance (including third party liability and theft) – No excess, no worries!
Pick up and drop off at different locations – helpful for our one-way Mediterranean Coast road trip from Italy to Spain.
It's a brand new car, model of your choice – smaller or bigger depending on how much luggage you have.
Significantly lower cost than the average car rental.
Unlimited kilometers – make the most of it and drive as far as you can.
Full factory warranty – bonus.
All vehicles are equipped with A/C, ABS, airbags, anti-theft, central locking, electric windows, and power steering – such a comfortable car.
24-hour roadside assistance – not that you need it on a brand new car, but good to know.
All vehicles with CD player – Actually had several charging points and my iPhone music played through very easily.
No extra driver charges – this cost us a fortune in Ireland, so bonus.
No airport supplements – Again something rental agencies love to jack up the price with.
All paperwork completed before travel, you just rock up and drive off – so handy, quickest pickup ever.
Vehicles can be driven throughout Europe, including Britain & Ireland
Free pick up and return of vehicle within France
10 liters of diesel or 15 liters of petrol is provided free of charge – a nice start to the trip.
To me, it was a no-brainer since we wanted the car for longer than 17 days. And what fun we had with that car!
If you considering renting or leasing a car in Europe then I hope this helped with your decision-making. After all, a road trip can be made or broken with a car. And Citroen car leasing Europe made our Mediterranean Coast road trip a dream.
My parents went with Renault car leasing Europe. Or you can also try Peugeot car lease Europe.
car lease Europe long term | car lease Europe holiday
LOOK HOW EASY IT IS TO PIN THIS!
FOMO - do you have it?  Well there is no need to Fear On Missing Out here at Explore With Erin. Sign up to receive updates directly to your in box. I won't spam you, but I do promise a whole lot of awesomeness. What are you waiting for? Join Me!